You've got an online store. Your site traffic is booming and customers rave about your products. But if cart abandonment emails aren't a part of your marketing plan, chances are you're missing out on a significant number of sales.
According to Statista, by 2021 ecommerce sales are expected to reach 17.5% of all global retail sales. That share is more than double what it was in 2015. This makes for a lot virtual shopping carts rolling around out there… but a lot of them don't actually roll through the check-out page.
Data from Smart Insights shows that the global cart abandonment rate in Q1 2017 was over 75% across all sectors. An estimated $4 trillion of merchandise never makes it over the finish line, but about 63% of that is recoverable, according to Business Insider.
One way to get shoppers back to complete their purchases is through cart abandonment emails, which can be very effective form of email marketing. Nearly half (48%) of abandoned cart emails are opened, and about a third (33%) of these result in a purchase. In this post, we'll cover 8 great cart abandonment emails.
1. Whisky Loot
This email is genius because it leads with a bunch of fun and surprising ways to use whiskies then ends with some helpful product FAQs. The perfect combo of cheeky humor and helpful information, this cart abandonment email draws you in and piques your curiosity.

We love the CTA button copy too. Because really, why not treat yourself?
2. Dollar Shave Club
With a clear call-to-action and several value props checked off at the top, it's hard not to resist this email for razors.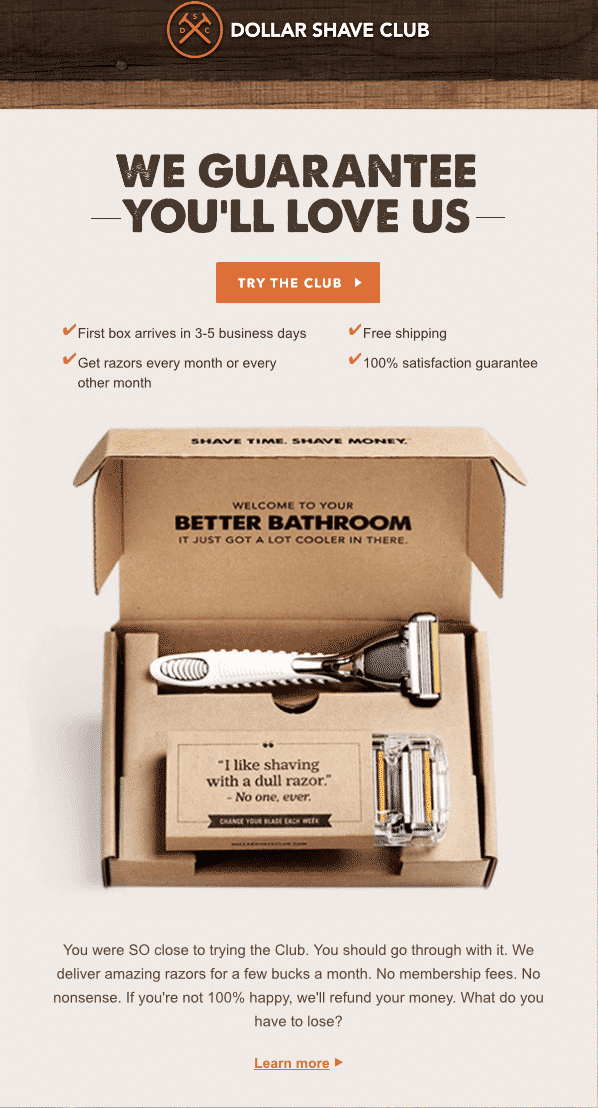 The gist of the messaging is that trying the razors is completely risk-free, which is just the kind of offer someone on the fence might need to take a chance on a new product.
3. Brooklinen
This email combines a promise of free shipping with a sense of urgency. Several product recommendations are also included, as are some impressive media brands that have featured the company's products.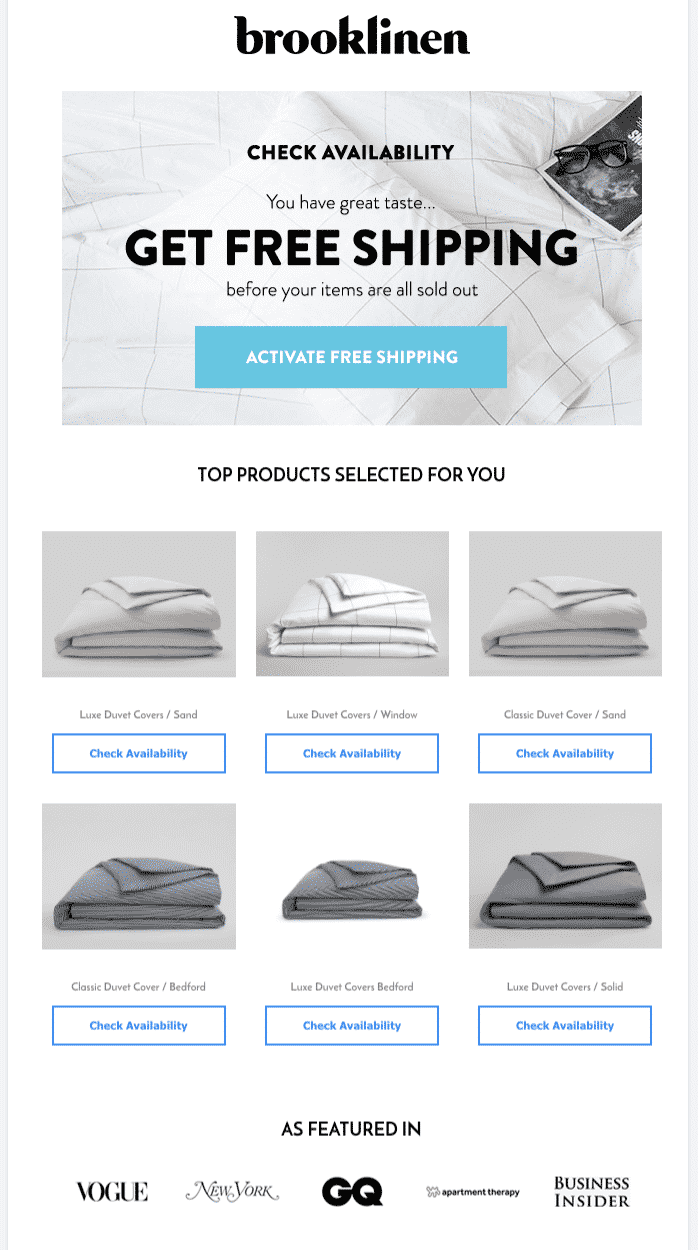 If you were wondering whether those sheets were as awesome as you thought they were, now you know — and you'd better snatch them up before they're gone.
4. Virgin Atlantic
Pretty skyline (check), potential itinerary (check), multiple CTA buttons (check) — this email basically has you daydreaming about that vacation you almost booked, and makes it super easy to get back to your cart.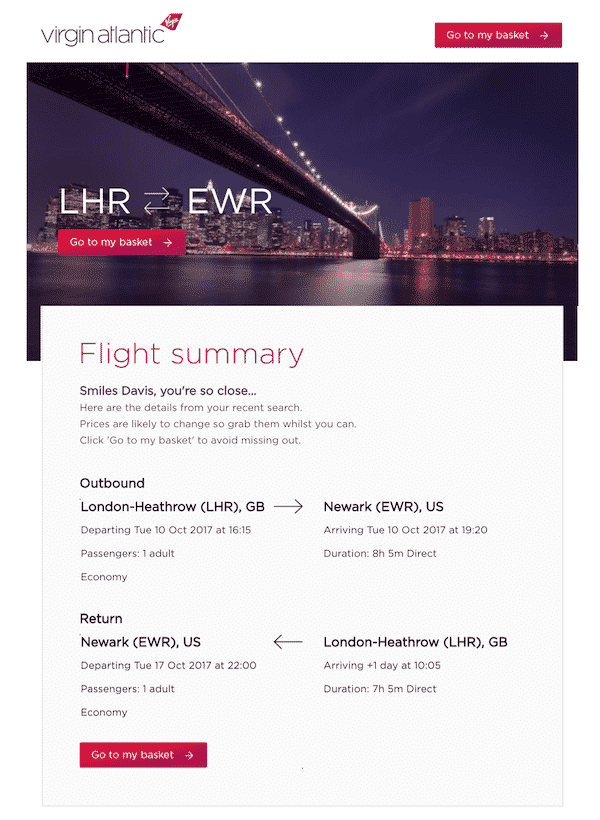 On top of that, you're being told that prices are likely to change (gasp!). Better book that getaway asap.
(Related: The Average Marketing Email: Open Rate, Click-Through, and More)
5. Adidas
This email puts the spotlight on user reviews and the ability to customize your sneakers to suit your personal taste.

The iconic shoe brand paired real-life comments with cool lifestyle shots to really put the recipient… wait for it… in their shoes.
6. Bonobos
Silly and delightful, this email brings a smile to your face while reiterating just how easy it is to complete your purchase.
Offering responsive customer service is a bonus, and the CTA button copy reminds you that your purchase was so close to being done, why not just "finish the job". 
7. Winc
Winc drops a decent discount into a cart abandonment email to entice customers back to buy. There are two CTA buttons with different copy, and both versions have first-person point-of-view, which subtly forces the reader see the purchase as an (awesome) affirmation.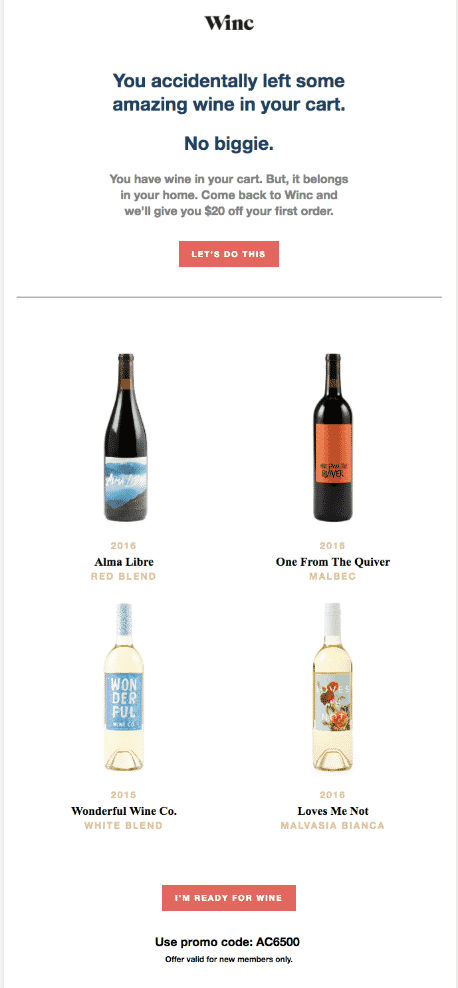 Promo code, enticing product images, multiple CTA buttons — we're ready to raise a toast to this email.
8. Saatchi Art
This email drops the FOMO (fear-of-missing-out) feeling along with a discount code. The CTA buttons even say "Check Availability" to add urgency.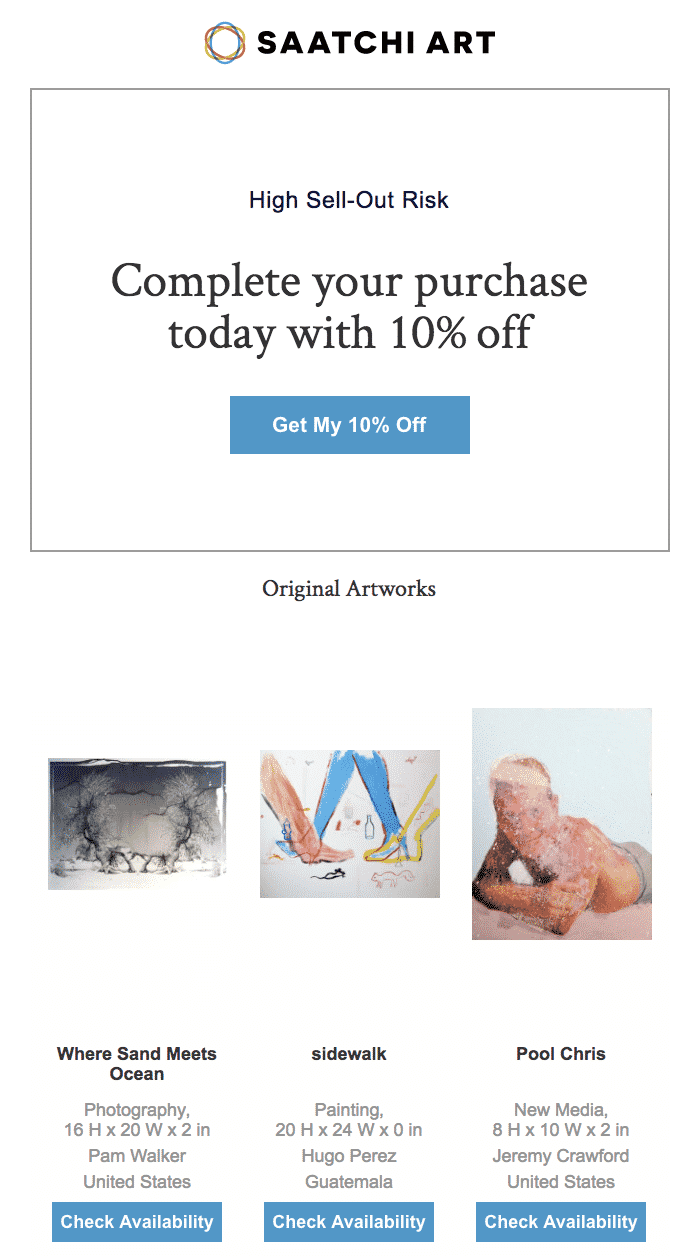 Most of the email's real estate is taken up by the discount offer, which is probably where most click-throughs happen. If you try to replicate this model, consider testing different percentages of discounts, or offering bigger percentages off as the days go by.
The Business of Cart Abandonment 
Whether you're offering a discount, free shipping, telling folks all the reasons why your products are awesome, or just delighting them with a friendly reminder, cart abandonment emails can go a long way in bringing your shoppers back to complete their purchases. Be sure to integrate programmatic cart abandonment emails into your marketing strategy, and watch the sales roll in.
(Related: How to Create an Email Newsletter)
Another great way to bring shoppers back is through retargeting. The latest data shows that only 4% of site visitors end up making a purchase. To convert the 96% who leave without buying, consider Criteo Dynamic Retargeting. It's a strategic way to remind shoppers of their initial interest and is a cross-device, omnichannel solution that lets you deliver a consistent message and experience across desktop, mobile, and apps. Cost-effective with proven ROI, Criteo Dynamic Retargeting serves up personalized ads at the right time for maximum results.
Learn more about how to market better this holiday season by downloading our new guide!