Digital marketing is a crowded space. In the early 2000s, marketers could rely on a handful of tactics: email marketing, direct mail, brick-and-mortar displays, and display ads.
Back then, the average consumer typically used two touch points when buying an item and only 7% used more than four. There were no smartphones, tablets, or social media. When you wanted to buy something, you would order online and wait a long time – or you would just go to a store.
Things have gotten complicated. Internet users spend hours every day online, but they aren't usually browsing for products. And, when they do visit ecommerce sites, they usually bounce before converting.
As more messages clamor for their attention, shoppers become blind to advertising that isn't relevant to their needs. Criteo first worked to solve that problem with our Dynamic Retargeting tool, which delivers highly customized ads to the right shoppers across different channels.
And, over time, we've seen the vast majority of shoppers become omnishoppers. Building relationships across multiple channels is critical to staying top-of-mind – both for existing shoppers and acquiring new ones.
Solving for the Problems of Tomorrow, Today
Ask your average marketer about the challenges they face today and it all comes down to acquisition, conversion, and re-engagement.
Campaigns are disjointed and finding the right audience is difficult when you don't have the right tools.
Conversions are hard to track and siloed data doesn't allow for a single picture of the shopper journey.
And, with limited touchpoints and data, you can spend all the money you want but only end up showing your shoppers irrelevant ads that don't re-engage them after a visit or a purchase.
Criteo solves for all of those problems with powerful, open commerce marketing solutions that can activate an unparalleled data set at every stage of the shopper journey.
Shopper Graph: 3 Powerful Collectives to Connect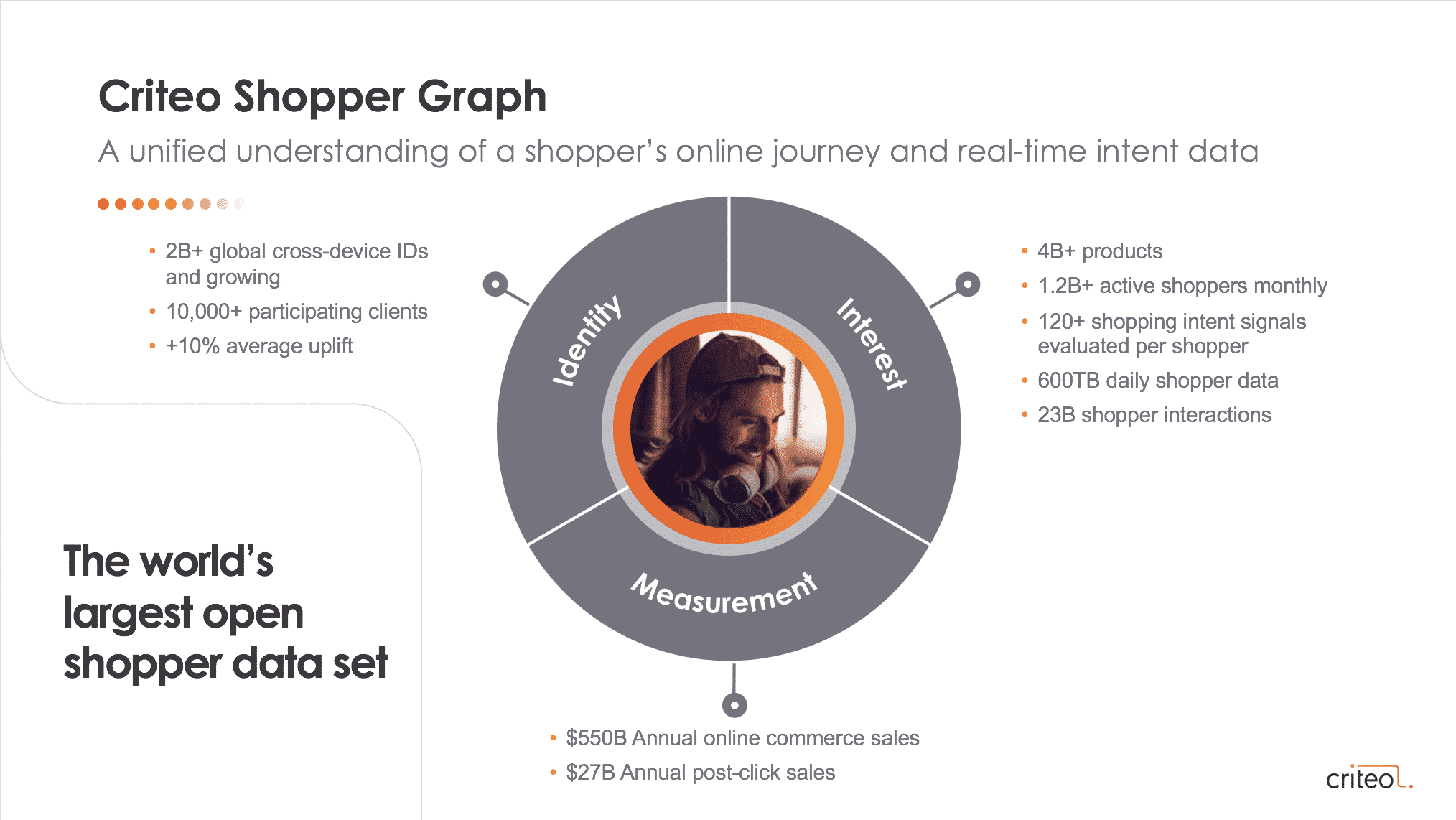 Criteo's solutions are fueled by three data collectives:
1. Identity Graph contains over 2 billion cross-device, same-device, and online ids enabling the on-boarding and activation of audiences and offline transaction data.
2. Shopper Interest allows visibility across four billion products.
3. Measurement Data empowers conversions and sales tracking across retailers, including closed-loop measurement of offline sales driven by online interactions.
It doesn't matter if you don't have the same amount of data as Amazon. The Criteo Shopper Graph offers you data around:
$550 billion in online sales
1 billon monthly shopper interactions
17,000+ retailer and publisher websites
The Criteo Commerce Marketing Methodology
By activating that data, our commerce marketing solutions allow you to build a marketing stack that closes the loop on the shopper journey across each step.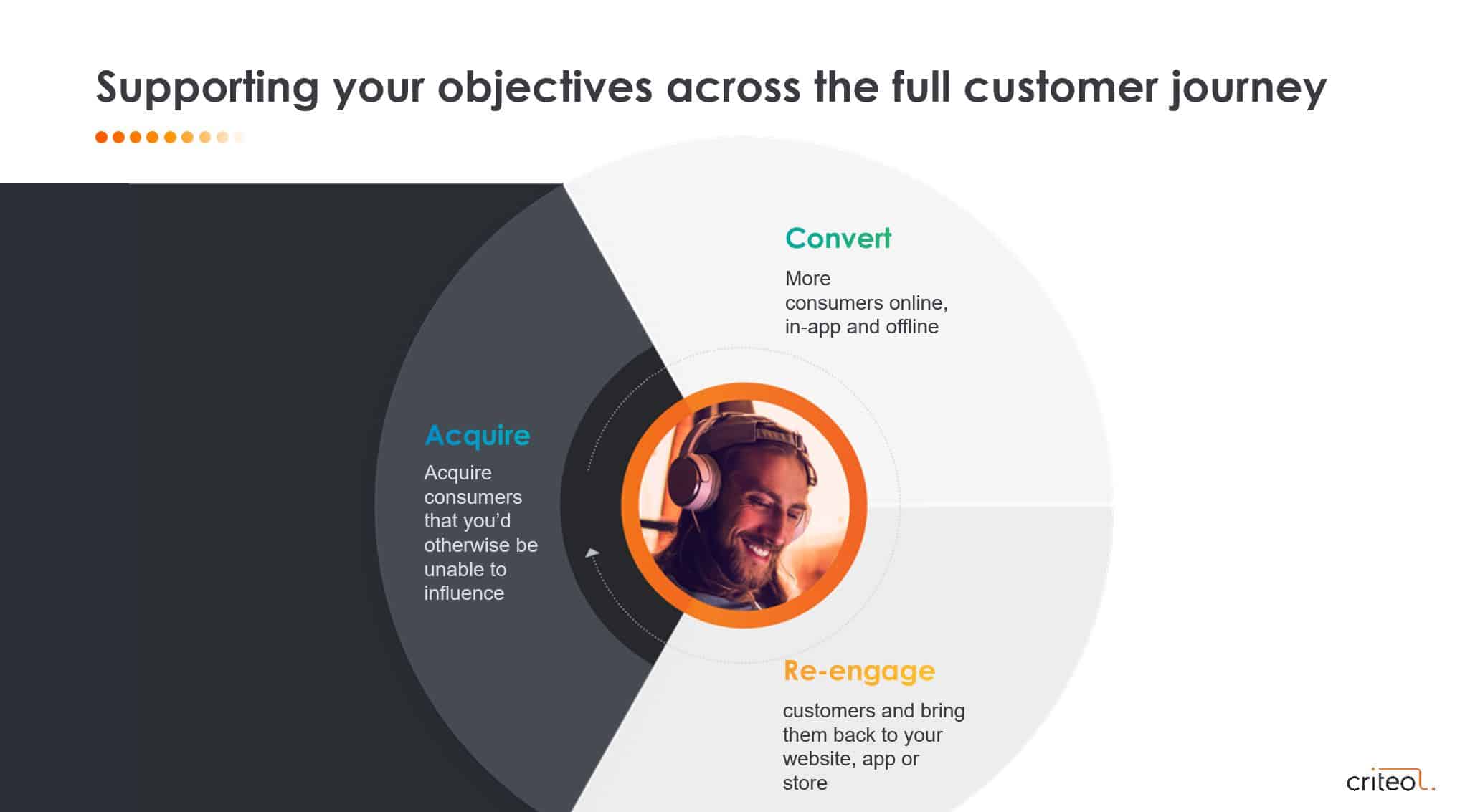 ACQUIRE
To reach a new audience, you first need to focus on finding the right audience.
Criteo Customer Acquisition allows you to connect with potential customers by analyzing the best possible shoppers for your brand based on data from the 1.2 billion users that pass through Criteo's network of brands, retailers, publishers, and partners each month.
CONVERT
Most shoppers don't convert right away after browsing a website. Criteo Dynamic Retargeting offers a way to keep in touch after a shopper leaves the site, showing personalized offers across different websites and publishers.
And with Criteo Sponsored Products, you can ensure that you have the top visibility for your products on any shopping destination.
RE-ENGAGE
Whether you're trying to connect offline shoppers to online campaigns or target people who bought a long time ago, reengagement is a crucial phase of the Commerce Marketing Methodology. Brand loyalty is only built from brand awareness, repeat visits, and conversions.
With Criteo Audience Match, you can upload your offline shoppers from a CRM and target them across 10,000+ websites with relevant content and offers.
A Comprehensive Commerce Marketing Strategy
Commerce marketing connects shoppers with the things they need and love, however and wherever they research, evaluate, and buy. A successful commerce marketing strategy connects a phone, a website, a store, and every other channel into a single shopper journey. This empowers retailers and brands to measure performance of each channel by direct attribution, not impressions or clicks.
Unlike tactics like content marketing and social media marketing, which are based on media consumption, a commerce marketing strategy focuses on one thing: sales.
Criteo's commerce marketing solutions allow you to have all the power of a global database at your fingertips while measuring the results of your ad spend in a granular way. And, thanks to technologies like Criteo Customer Acquisition, you can be sure that your ads are only shown to the most high-value shoppers.
We're working hard to ensure that retailers and brands have all the tools they need to compete with the tech giants. By building a comprehensive commerce marketing strategy, you can bridge the silos between different channels, activate your data in innovative ways, and revolutionize your marketing campaigns