Women make up nearly half of the workforce yet hold just 25% of executive, senior-level, and management roles across S&P 500 companies. It's clear there's work to do to increase gender diversity and level the playing field.
Criteo FLOW (Future Leaders of the World) aims to do just that. An initiative started by Criteo's Emily Sinsheimer and Dhoreena Ventura, FLOW is dedicated to building, supporting, and inspiring leadership at Criteo. On August 20th, FLOW launched the first of their Hot Seat series, in which one Criteo interviews someone in the Hot Seat to expand on their experiences and learnings.
Up first in the Hot Seat? Criteo's Senior Vice President of Marketing, Jen Whelan, interviewed by Creative Services Art Director, America's, Denise Data. Here are some highlights from the interview, edited for clarity.
(Learn more: At Criteo, Future Leaders FLOW Together)
From Server to SVP
A native of Alaska, Jen came to Criteo with over twenty years of experience at some of the world's top tech companies (Intel, Microsoft, T-Mobile and Qualcomm, to name a few). But some of the most important career lessons she learned came before she ever set foot in the corporate world, as a restaurant server.
"I learned more waiting tables than at any of my other jobs. It made me realize the power of transferrable skills," said Jen.
Starting as a bus girl making $2.10 an hour plus tips at the Juneau Airport Restaurant, Jen "learned early on that your co-workers make up  a community and everyone, no matter their position, helped each other out."
That lesson stayed with her throughout college as she waited tables and bartended. By the time she started her career at Intel, she was well-armed with valuable career and life lessons:
"In marketing, the more we help sales, the better the company as a whole does. As a bus girl at the Cookhouse Grill, I learned that the faster I cleared the tables, the faster the tables turned, the more money the waiter/waitress made and the better they would tip me out."
On the Worst Advice She's Ever Gotten and Emphasizing Empathy
"You're too nice," a former boss told Jen. "You have to make other people fear for their jobs to get them to do what you want and give you what you need. "
"That's just not my style," said Jen. "I don't have that skill; nor do I want it."
What she does have in spades is empathy. Now at Criteo, Jen finds herself six months in and leading the biggest team she's ever managed. Tasked with bringing together the sales, product, and marketing teams, Jen starts with listening.
"Sometimes the less you say the better. Giving someone else the chance to pause and think about something and respond is extremely valuable. Hearing different perspectives gives me the chance to recognize my own gaps and course-correct."
Above all, there's compassion, the one skill Jen thinks everyone needs to foster for life and career success. When asked how she balances doing her job well with communicating with a new team, Jen emphasizes:
"Put yourself in someone else's shoes and try to understand their perspective," said Jen. "Ask yourself, 'What's their context? How is someone else going to receive this [feedback]?'"
Interviewer Denise Data responded that some of the feedback she's received during her career is to be less direct, Jen smiled, "Sometimes you have to be direct. But first you have to build trust and let them know you genuinely care  about them."
On Competition and Filling in the Gaps
When it comes to building great teams, Jen suggests leaders look at what they're missing and "fill in your own gaps."
As a female marketer, Jen admitted that even though we have a long way to go, the playing field is more level now than when she first began her career. Now she can focus on finding the best talent for each role, but how?
"I always look for people that inspire me and then try and identify why.   Are they an awesome working parent? Are they really smart and thoughtful about how they present information?  Are they segment matter experts? Are they empathetic? How can I mirror some of those things in my own life and career."
Jen's advice was to, "Seek out someone different from yourself. Know yourself well enough to shine a light on your own gaps and fill it in with amazing people around you.  Understand how they make you better and how you do the same for them.  You immediately become better together than you are apart. That's how you mitigate being in competition with others in your same department, company, demographic."
On the Importance of Negotiating
"Early on in my career, I was awful at negotiating," Jen admitted. "I got better as time went on, but even at Microsoft, which was mid-career, I didn't negotiate anything aside from the start date when I was offered my job."
Fast forward to her leaving Microsoft and her boss pulled her aside with some memorable advice:
"I'm going to tell you the number one thing you did wrong at Microsoft so you don't repeat it: you accepted the job."
Confused, Jen replied that she was happy with the offer.
"It doesn't matter. When you accept the offer right off the bat, it makes companies think they paid you too much. 'How much less would she have accepted?'"
"It's not about the dollar amount," her boss said. "It's about knowing how to negotiate."
People who don't know how to negotiate often fear that by asking for more they risk getting rejected, but Jen reminded listeners that it doesn't work like that.
"When a company offers you the job, they've decided that you're the person for the role and the biggest mistake you can make is to under-value yourself."
On Bringing the Best Questions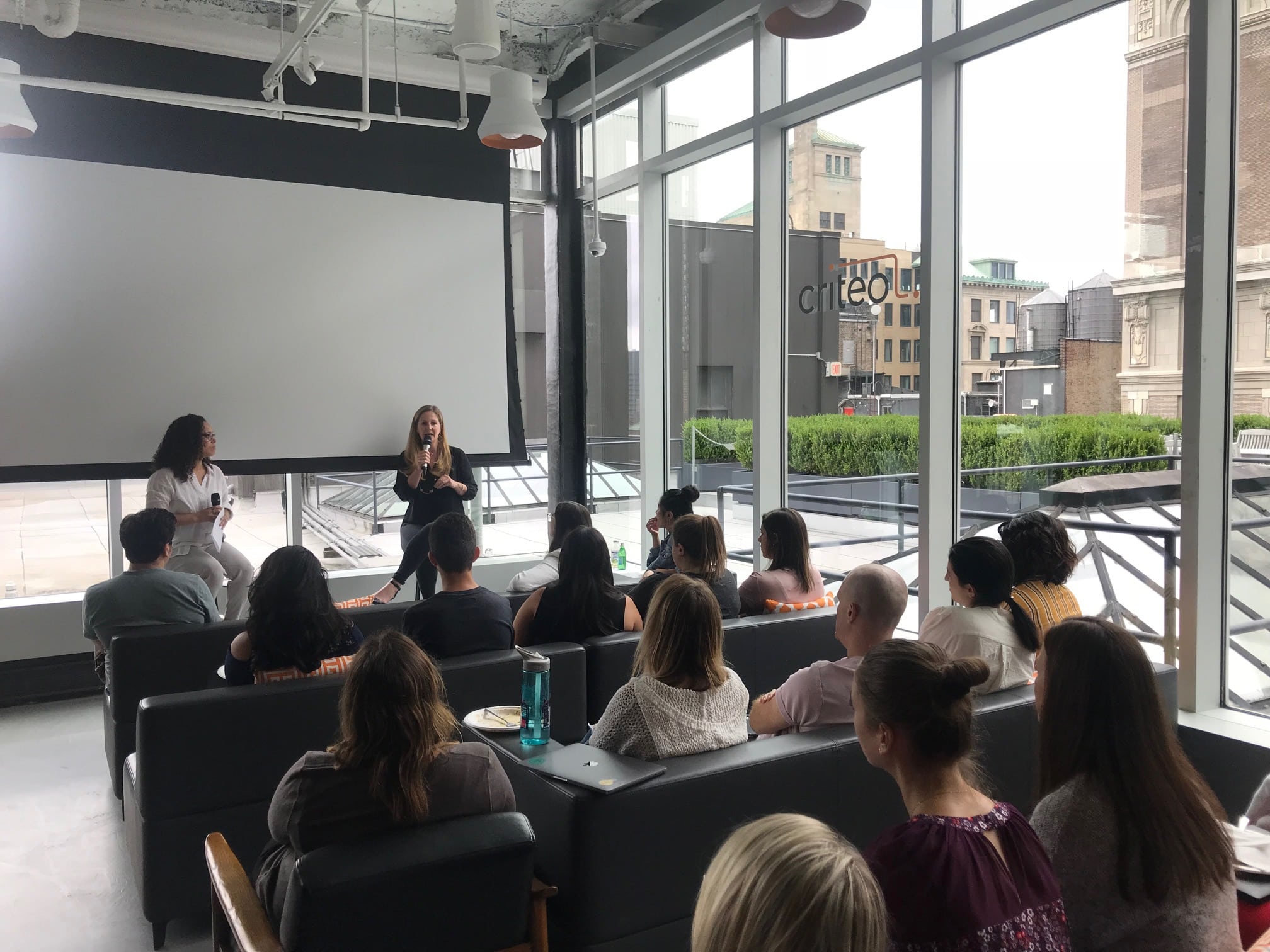 "The people that are the most respected in the room, and the people that I think are the smartest, never bring the answers. They bring really good questions," said Jen.
"That seems counter-intuitive, but when people ask thoughtful questions, it means they've thought through all the different scenarios and stumbling blocks and are bringing that to the group. And that's really valuable. If you're the first to provide an answer, then you haven't thought through all the different possibilities."
FLOW: Building a supportive network
Criteo FLOW aims for members to inspire and support one another to achieve their goals within a safe and nurturing environment – and to empower Criteo women by providing:
A comfortable space for employees to reflect honestly
Regular sessions and discussion groups that get employees out of their comfort zones and into challenging territory
A solid pipeline of leaders for the future
Access to critical feedback and training opportunities
Stay tuned for updates on more awesome FLOW sessions, and check learn more about Criteo Culture here.