Creative designer Linh Ha is a math teacher turned creative designer with a background in visual effects and game animation. A native of Vietnam, Linh studied Interactive Media at Singpore's Nanyang Technological University before diving into animation software. Now a Designer for Criteo Creative Services, Linh designs and optimizes interactive banner ads for some of Criteo's top advertisers. This week, we chatted with Linh on how teaching math helped her become a better designer, and why crocheting helps her decompress.
Let's start from the beginning, tell us about you background?
I was born and raised in Vietnam. Ever since I can remember I've always been interested in art and design. My first childhood dream was to become a fashion designer. However, after graduating from high school, I decided to major in English at a teaching University in Vietnam since I also like teaching and it seemed like a more stable choice.
A half year later, I had lost interest in teaching English and was more determined to go after for my true passion. So I dropped out of that program and applied for a design program at university in Singapore, thus beginning an exciting four years that fortified my skills, mindset and passion as an artist and designer.
I was briefly a math teacher before coming to Criteo. While you might think it's irrelevant, I think teaching really contributed to how I work at Criteo now. It helped me learn how to break down complicated concepts (for example, how our engine works) and explain them in simple terms. It helped me look at things from another person's perspective to understand. And Math helped me become more critical and analytical when looking at large amounts of data, which is really important at Criteo, as we're presented with so much data every day.
Who's your favorite artist?

Sergey Kolesov is a game concept artist which I have huge respect for. I found him because he worked on the game Dishonored which has an awesome aesthetic and atmosphere. I love how he mastered digital art but still retains the roughness and wild brush strokes that are definitely inspired by traditional mediums like oil painting. He has amazing control and an ability to create beautiful, elaborate shapes with few brush strokes that seem random at first glance. I like looking at some of his more sketchy, unrefined works as you can clearly see all the brush strokes that make up the piece. My favorite work of his is also probably the most well-known one. 
What drew you to Criteo?
At the start ad-tech was a totally new and intriguing field to me. I was especially drawn to machine learning and how it's utilized in design, especially since my then-boyfriend (now husband) is a data scientist.
 I joined Criteo only a year ago, but my understanding of the ad-tech and machine learning has greatly improved.
What have you gained from working at Criteo?
I've gained a lot of experience in working both directly and indirectly with clients and my proudest moment at Criteo is when I was promoted from Junior Designer to Creative Designer! As mentioned before, a deeper understanding of designing with the aid of machine learning is quite different from traditional graphic design. I've learned first hand how to analyze big data and use the data to improve my designs. These are all great tools that are not otherwise accessible without the help of technology.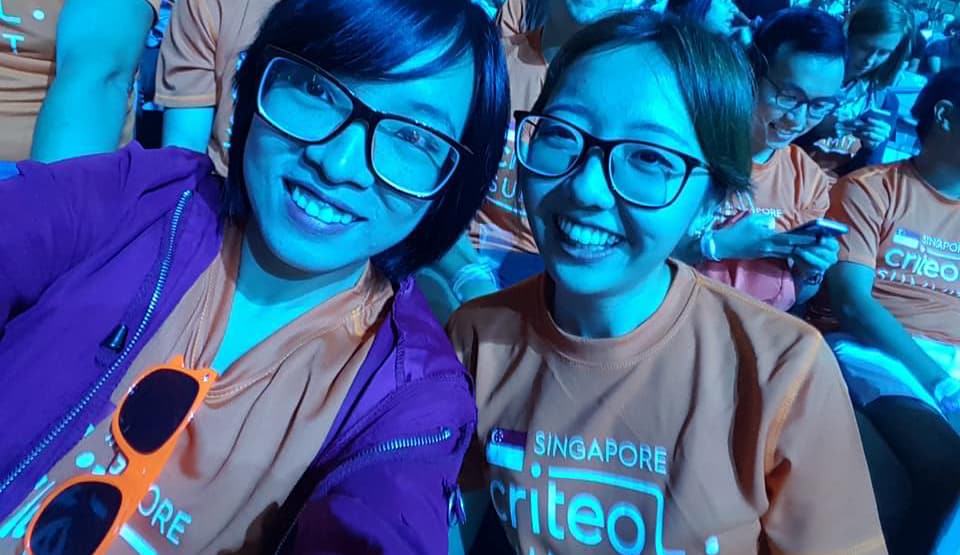 I also love my local CS APAC team. Everyone is so supportive with each other and fun to talk to! Also, the fact that I am not in the same office as most of my team but we still communicate frequently and our conversations always feel lighthearted and delightful.
(Read more: Criteo's Creative Services: Humans + Technology = Beautiful Performance)
What has been your favorite project at Criteo?
We have a Quarterly Creative Review (QCR), where look at creative performance and introduce relevant revenue-driving optimizations, e.g. new features, layouts, and products. The QCRs are an opportunity for our commercial team to give clients an overview of their business with Criteo. This is often contributed to by all operations teams (creative, analytics etc.) 
In South Asia, the creative aspect is often overlooked, so we became more proactive and created a toolset that includes an in-depth analysis of the client's current creatives, creative proposals for better performance and special campaigns, explanation of new features, and a roadmap of upcoming creative products. This tool allows all designers to have a common starting point and ability to better develop recommendations for each client. At the same time, it's more scalable for smaller clients too.  
So creating a standard, client-facing QCR template for my local Creative Services team and for our Account Strategists to include in their Quarterly Business Review (QBR) presentations has been one of my favorite projects. Since doing so, we've seen a lot more interest in creative topics. It's helped change how people view Creative Services – we're not just designers, we're creative experts too! We've created over 50 analyses so far and received strong positive feedback from our clients!
What are your hopes for our industry? 
To continue fine-tuning the balance between technology and control of design. I understand this has always been a challenge, as it's like a balancing scale and more of one will affect the other. If you limit the design too much you're not letting the technology do its best job and if you leave everything to technology, it's harder to manage the design. It's a powerful thing to have both working together.
Thoughts on data-based optimization and personalization of creative advertising?
I think it's an amazing feature that would not be possible without the help of machine learning. The one challenge for designers is using machine learning to develop our design strategy and also ensuring that our clients are educated on how our creative decision work with the engine's intelligence.
At Criteo our dynamic offer allows for a wider reach of users and also personalization based on user's behaviors and preference. While dynamic, it can also allow for as much control as the brands require.
What's something your fellow Criteos would be surprised to learn about you?

I can crochet toys and make stuffed toys! I started crocheting because I love cute things and saw some really creative things people have created from yarn. After I started doing it, I couldn't stop because it's just so much fun.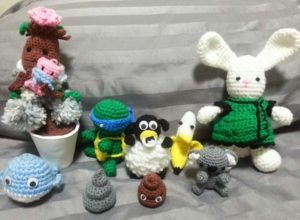 Crochet takes a lot of patience and focus because you have to keep counting in your head. Once you lose focus, you lose count and have to start over. It feels almost like meditation to me since I have to clear my head of all irrelevant thoughts and focus solely on the single repetitive action I was doing. Basically crochet helps declutter my mind in the same way meditation would. I would highly recommend this activity to everyone. I can also solve a Rubik's cube in about three minutes!