Alessander Firmino, Criteo's Manager Director of Latin America and Brazil knows a thing or two about operations and expanding a global business. Since joining Criteo seven years ago as a Commercial Director, Ale – as he's known to his colleagues – has helped Criteo expand business and operations into Brazil and Latin America.
This week, he sits down with us to tell us a bit about his career path and why he loves Criteo.
Let's start from the beginning, where are you from?
I´m originally from Uberlândia, Minas Gerais, in southeastern Brazil, with 670,000 inhabitants. I studied International Business and Marketing at Florida Atlantic University and I also have two MBAs, one in Marketing and the other in Digital Marketing.

How did you start your career? What did you do before you started at Criteo and what brought you to Criteo?
My first experience with digital marketing was with Flowerfarm.com as an affiliate marketing manager. The company was then bought by 1-800-Flowers (now Proflowers.com). After that, I worked as a Channel Manager at Oracle and ScriptLogic doing software sales.
Then for nearly four years I ran my own company in Miami importing açaí to the US. This gave me a good base to run a business and more experience with digital selling açaí products online and through an Amazon store.
In 2009 I came back to Brazil and joined Booking.com looking after affiliates. And that´s when I discovered Criteo.
I was looking for a hotel and after I left the website, I was reached by a banner of that same hotel. I was impressed and started looking for more information on display advertising and retargeting, which led me to Criteo´s website.
I connected with Greg Gazagne, EVP, Global Revenue & Operations, Criteo's VP of Sales at that time, on Linkedin and told him I was interested in bringing Criteo to Brazil. I thought there was a big opportunity in our market.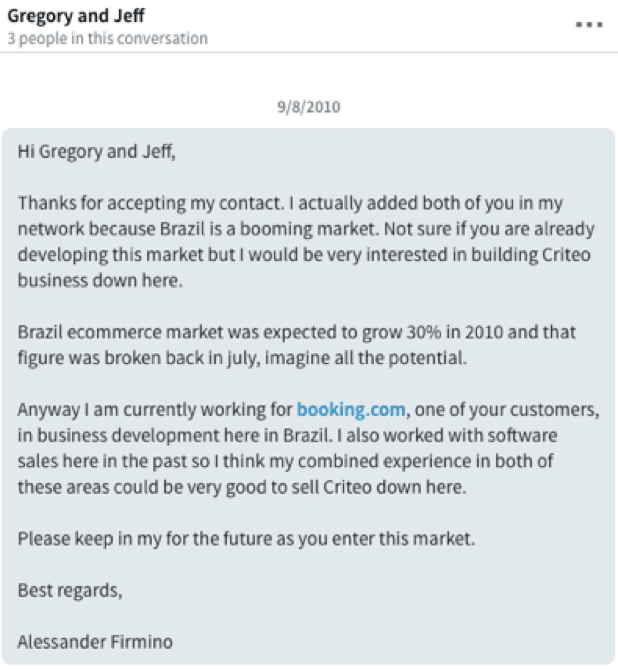 I had a Skype call with Greg back in September 2010 and we had a great conversation about the market, opportunities, and he asked me to prepare a business plan on how to enter Brazil.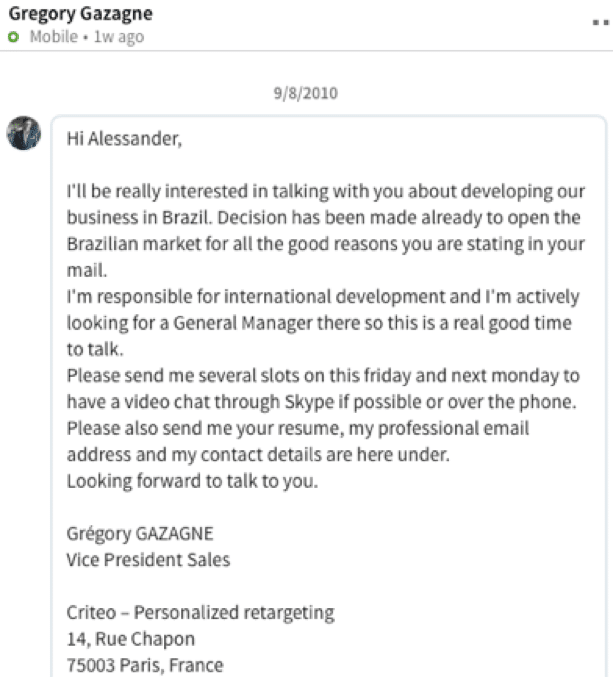 Fast forward 2 months, I met JB, one of Criteo's founders in the lobby of a hotel in Sao Paulo. We chatted about the opportunities, the market, clients and publishers. And he made me an offer to come work at Criteo and launch the company in Brazil.

How has your role changed since you started? What were some of your early challenges?
I started as Commercial Director Brazil. After almost 2 years I was getting more involved with different areas such as publishers and operations and I was promoted to Managing Director Brazil. After that, I became Managing Director LATAM.
The early challenges were tied to closing clients, getting publishers to meet us and understand our value proposition. I remember a meeting with a big publisher that they said: Who are you? How did you get this meeting?

What's the goal of your position now? What's the hardest thing about it?
My main goal and the hardest thing about my job is to keep our people motivated to continue to deliver the world class service we provide. People are key to developing our strategies in the region.

How has Criteo helped foster your career to where you are today? 
At Criteo I developed not only my sales side but also my business skills. At the early stages, even getting a meeting was hard and we needed to hold tight to our objectives. But in parallel to signing our first clients (Dafiti, Passarela, Mercado Livre, Netshoes), I was also helping Franziska, BD manager at the beginning of Criteo Brazil to chase some of our publishers, I think the fact that I was helping with at as well led me to the opportunity where I am now.

What have you observed from working in so many different countries?
Countries have very different cultures and you need to adapt yourself to that. For example, in Mexico people don't eat lunch before 2pm and you need to respect that. In Colombia, people take you to a drink after a meeting and you need to drink their regional drinks. In the US on the other hand people are more straightforward and as a Brazilian you are not used to it. The success is in how adaptable you are in all these different situations and cultures.

Where do you see yourself next?
I see myself exactly where I am now. Developing even more our markets throughout LATAM.

What projects/achievements to date are you most proud of?
I´m really proud of our people, our teams. They´re the most important asset we have and I´m confident that we have the best people with us.
If I were to interview people who have worked with you, what word would they use to describe you?
Tough one… I think they´d say "committed". I´m committed to everything related to people and the company.

What do you like the most about the BR office? And what's your favorite place in the office?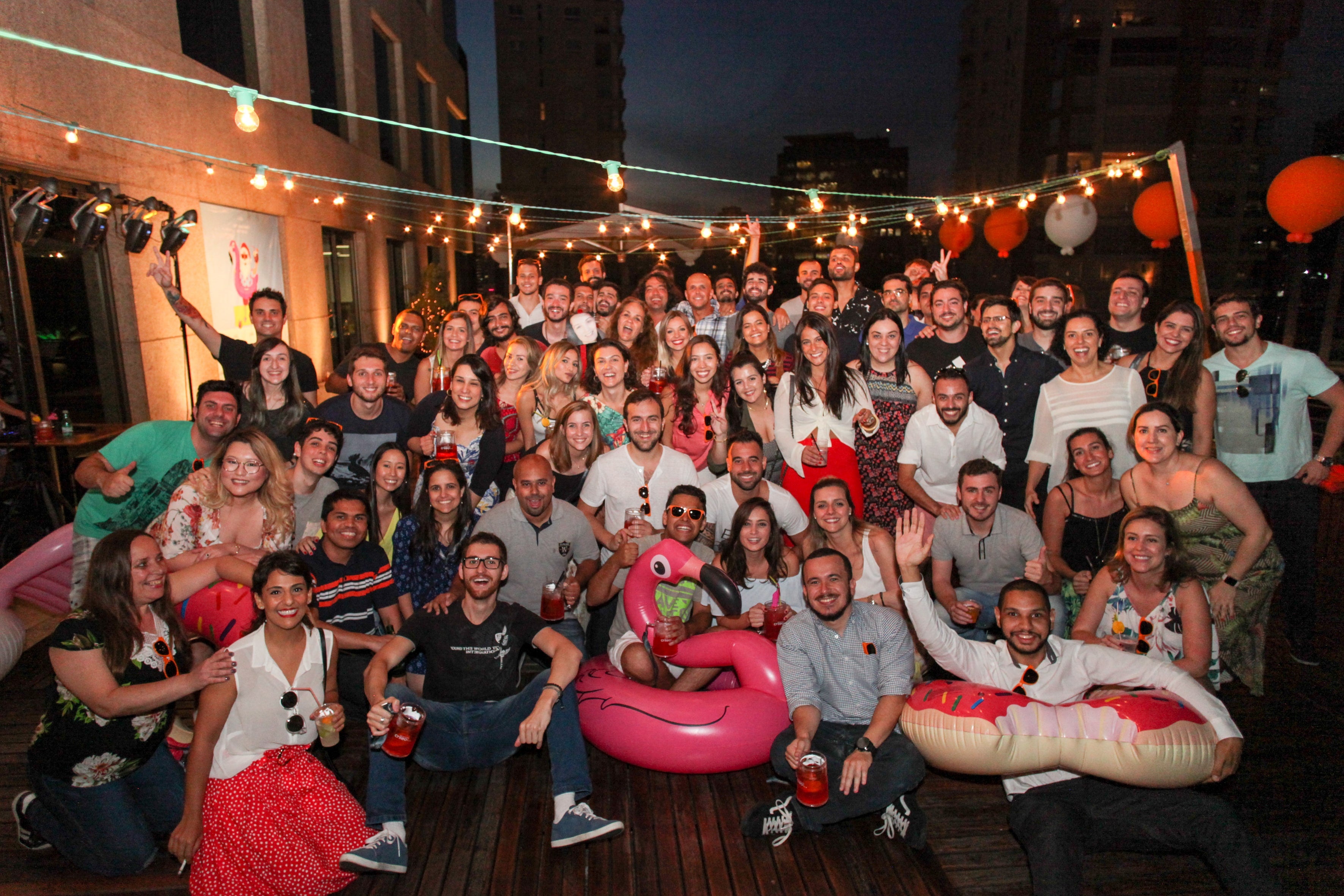 I really like the energy and atmosphere people bring to this office. I´ve been in different offices and here we have something different. And I really like our rooftop.

Lastly, any advice for newcomers or people who are looking to build a similar career trajectory?
Don´t wait for opportunities to come to you. Foster your own opportunities and pursue what you want as a next step. And work hard.