Criteo has always been a product-driven company. When you work with so much data – and cutting-edge technology! – that means having a great product marketing team, too. Alexandra Bannerman, one of our product marketing managers, is based out of Criteo's London office. She's gotten a lot of hands-on experience when it comes to helping lead the way for different parts of the Criteo suite. We talked with Alexandra recently about what she enjoys about Criteo and what has changed since she started:
Let's start from the beginning, where are you from?
I'm a Londoner, born and raised. My formative years were spent in North West London, and I've now 'defected' south of the river – any other Londoners will know that's a big deal!
I was always fairly technically minded as a child, enjoying math and the sciences at school and being a little too passionate about Product Design. I went on to study Mechanical Engineering at King's College London while fulfilling my creative passions for design, glass art, jewellery, gemology, and woodwork at home.
While I never planned to go into Product Marketing, I now find it a great fit for me as it provides a nice mix of technology, creativity, strategy, and lots of writing – something else I enjoy.
How did you start your career? What did you do before you started at Criteo and what brought you to Criteo?
After graduating from university, I went straight into Technical Marketing, and spent the next six years doing similar roles in the data center sector. Having studied Engineering rather than marketing, this was 'trial by fire' – which eventually proved useful by encouraging me to find the right environment to learn and develop my Product Marketing skills quickly,
I was exposed to requirements for software, for hardware, and the process of defining a company vision – all very different things. During this time, I was gaining experience within the then-burgeoning and largely undefined Data Center Infrastructure Management industry.
The great thing about Product Marketing is that it's applicable across so many different industries, and gives you the chance to learn about different things.
The digital marketing and ad tech space I now work in is vastly different to my previous experience, and I feel this variety helps build a better skillset. In addition, the pace at Criteo is fast and there's always something new on the horizon to keep me on my toes.
How has your role changed since you started?
I initially supported Criteo as Product Marketing Manager for Creative.
Since then I've taken on the Criteo Engine as a whole, including the Dynamic Creative Optimization+, Predictive Bidding, and Product Recommendations technologies which are all built around artificial intelligence. It's fascinating stuff which makes my job all the more enjoyable.
In addition, I'm now responsible for the Criteo Shopper Graph, which is an impressively large open data set on shopper behavior including their interactions with ads, products, and websites.
Finally, I'm also the Product Marketer for data transparency, brand safety, and invalid traffic (IVT) prevention, which are consistently hot topics right now for advertisers and digital marketers in general.
What's the biggest difference you see at Criteo from other companies you've worked at? What has been surprising or enjoyable or both so far?
So far, I've been surprised by how quickly things change at Criteo. Having worked at both small and large companies before, I've generally found that a bigger organization normally means a slower organization.
Not so at Criteo – things are very fast moving (in line with a fast moving industry) and people here are overall very energetic and committed to keeping things efficient throughout the company's evolution.
Related to that is the continued passion that is evident in Criteo employees. Everyone here cares about what they do.
What projects at Criteo to date have you most enjoyed?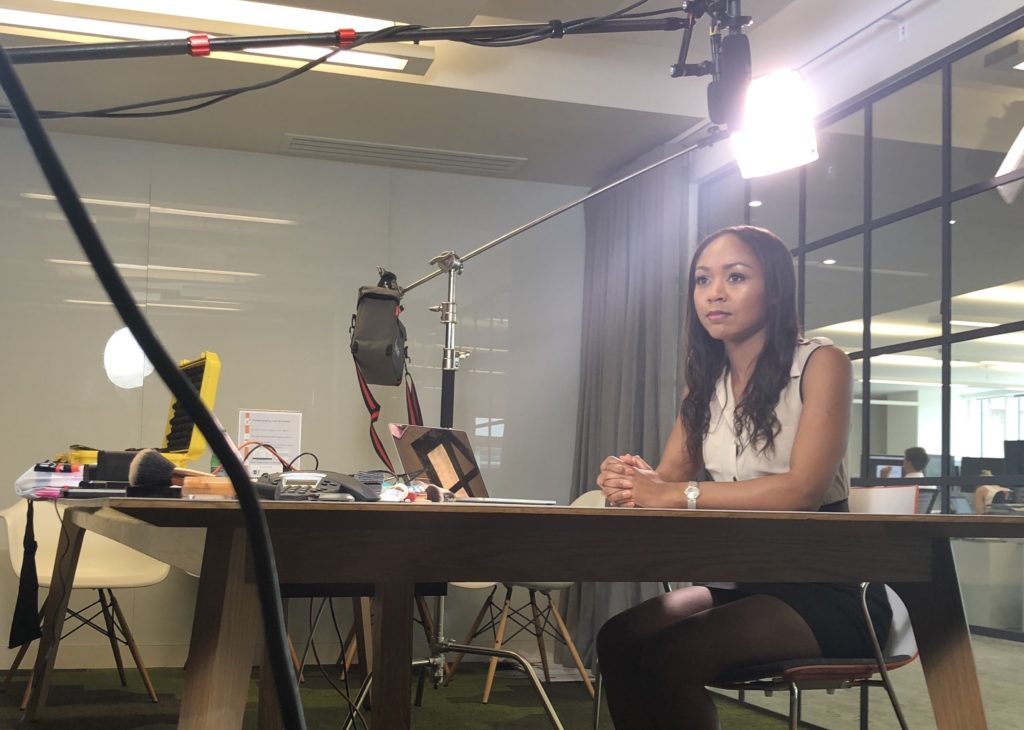 My favorite project has been our interactive video series, "Criteo Ad Tech Explained."
"Criteo Ad Tech Explained"  was conceived to help clearly explain our technology to advertisers, agencies, analysts and anyone else who's interested.
Being able to take this project and run with it has been so exciting! There's a ton of creativity required and I've particularly enjoyed the freedom to decide what topics, wording, visual aids, and delivery would best suit the purpose, and then doing whatever necessary to make it happen.
Seeing it come to fruition has been immensely rewarding so far, not least because I get to work with a global cross-section of enthusiastic people and talented teams throughout the company and externally, but also because the work involved is so varied.
On any given day on the project I could be discussing algorithms with our Product or R&D teams, writing video scripts or website copy, developing interactive web content with our designers, sketching out visual concepts for animation, or working with a film crew!
Another project I enjoyed was working with the analyst group IDC to create the white paper 'Can Machines Be Creative?', which focuses on creative capabilities of machine learning. I had to inspect the data, extract useful and relevant insights, and weave that into a story that would give a useful indication of how marketers view creativity and machine learning technologies.  It was a satisfying project to complete, on a topic I'm very interested in.
Any advice for newcomers or people who are looking to build a similar career trajectory?
The one key piece of advice for anyone in Product Marketing is to work hard and prepare to continue developing skills over the course of your career – never stop learning.
Get to know your subject matter, and find anything you can that piques your interest. The more interesting you find a subject, the easier it is to throw yourself in and master it, which is required if you're aspiring to be a true Subject Matter Expert.
The other advice I'd offer is to find a good mentor to learn from, and be open to constructive criticism! Guidance and frequent feedback is invaluable.
Lastly, interests outside of work? Anything else that gives us a more personal glimpse into your life?
I really enjoy getting into anything tech-y. Nothing beats the feeling of a new gadget purchase, whether it's a mobile phone, audio equipment, smart home systems, smart lighting – I am there for all of it!
And I'm intrigued by pretty much any technological development I can read about; in fact, I'm a little sad that I won't be around in 200 years to see how these things develop. All of this likely explains my enjoyment of sci-fi and fantasy books and films.
Apart from the standard interests of books, films, music and socializing, I have a big love for art & design, and gemology (the science of gemstones), and hope to have my own workshop one day where I can fulfil my product design passion with glasswork, or woodwork, or jewellery-making. In the meantime, I make do with small-scale pieces at home, and I take courses every so often – the last one I took was glassblowing, which was a great experience I want to repeat.
When I fancy being active, I generally partake in strength or gymnastics-based sports – but when I need to completely wind down from the worlds of ad tech and design, though, you'll probably find me eating pizza.
Want to learn more about Criteo? Check out the Criteo Culture section!