Design is a universal mission for Criteo's brand as well as our global partners. Associate Digital Designer Jacqueline Evers has an instrumental hand in both. Jacqueline collaborates cross-functionally on new creative integrations and optimizations for the brands we partner with. This week, Jacqueline walks us through her early beginnings juggling dynamic career opportunities while pursuing her college degree to now leading creative projects for big brands in the fast-moving industry of ad tech.
How did you start your career and what brought you to Criteo?

I began my design career interning at a music marketing company where I created brand and album designs for Grammy-winning artists and American Idol winners, eventually moving my way up to senior designer. In addition to working at the music marketing company, I had a design consulting business with a handful of clients ranging from UX/UI for a food delivery app and branding events for Case Western Reserve to a candy company where I branded and illustrated high-end chocolate packaging. I balanced all of this while going to school at the Cleveland Institute of Art, where I graduated this past May as valedictorian.

After graduating, I was looking to move back to the NYC area to be closer to family. I heard about ad tech and was interested in learning more about the industry. I saw a job posting at Criteo and the rest is history!  

Tell us about your day-to-day at Criteo. Goals and biggest challenges?

A lot of my day at Criteo is spent collaborating with account managers and operational teams on new creative integrations and optimizations for the brands we partner with. Working somewhere where so much of our creative is backed up with real data from a/b performance tests is a game-changer. Having this high-level view helps us make better design decisions that lead to better performance, which is really important when working with our clients. I'm the creative lead on some big accounts, so delivering ads that are not only on-brand but also perform well is crucial.

What projects to date are you most proud of?

Criteo has "design initiatives" where you can spend a portion of your day working on a side project that will benefit the company. This quarter, I have been collaborating with the analytics team and Columbia University analytics students in visualizing big data and presenting it in a digestible, easy to understand interface for our clients. I'm excited to draw upon my UX experience and leverage it in a way that will communicate our product better to our clients.

What's something your fellow Criteos would be surprised to learn about you?

I've worked on a cadaver!

Before getting into graphic design, I studied medical illustration, where I would collaborate with doctors to illustrate medical procedures. Still endlessly fascinated about the human body, but decided that career wasn't for me. 🙂

Who are your biggest design inspirations?

Michael Bierut, a partner at Pentagram, is definitely one of my top inspirations. He's worked on some major branding projects like Mastercard and the Hillary Clinton campaign. I had the opportunity to hear him speak a few times and always learned a ton about design and its function in the world from him.

We heard you won the Duvel glass competition! What was your motivation behind entering the contest, what was your approach, and how did it feel to win?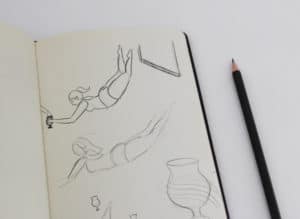 Duvel, a famous Belgium beer company, serves their beer in an iconic chalice. Every year they have an artist create an illustration that is printed on thousands of glasses and sold as a limited edition collector's glass.

I saw a flyer for their competition posted at my school, and the prize was an all-expenses-paid trip to Belgium for the winner and a guest. I was interested in entering, but honestly, I was running around like a chicken with my head cut off preparing for my year-long thesis presentation and didn't think I would have the time. I snapped a photo of the flyer just in case and went on with my day.

A few days later I had horrible insomnia and could not sleep a wink. I was scrolling through photos in my phone and came across the flyer. I broke out my sketchbook and began exploring ideas for the illustration and came upon a whimsical idea—a trapeze couple handing off the glass of Duvel mid-swing. I refined it a bit more, brought it into Illustrator to vectorize, and submitted it just in time the next morning. A week later, one of the Duvel distributors came to my school to deliver the good news. I couldn't believe it!

I ended up taking the trip to Belgium this past October with my mom and brother. We visited the Duvel headquarters and met collectors of the glass. It was so cool seeing my glass in the flesh and noticing the interplay between the illustration and the beer inside, almost like the trapeze artists were swimming through the beer.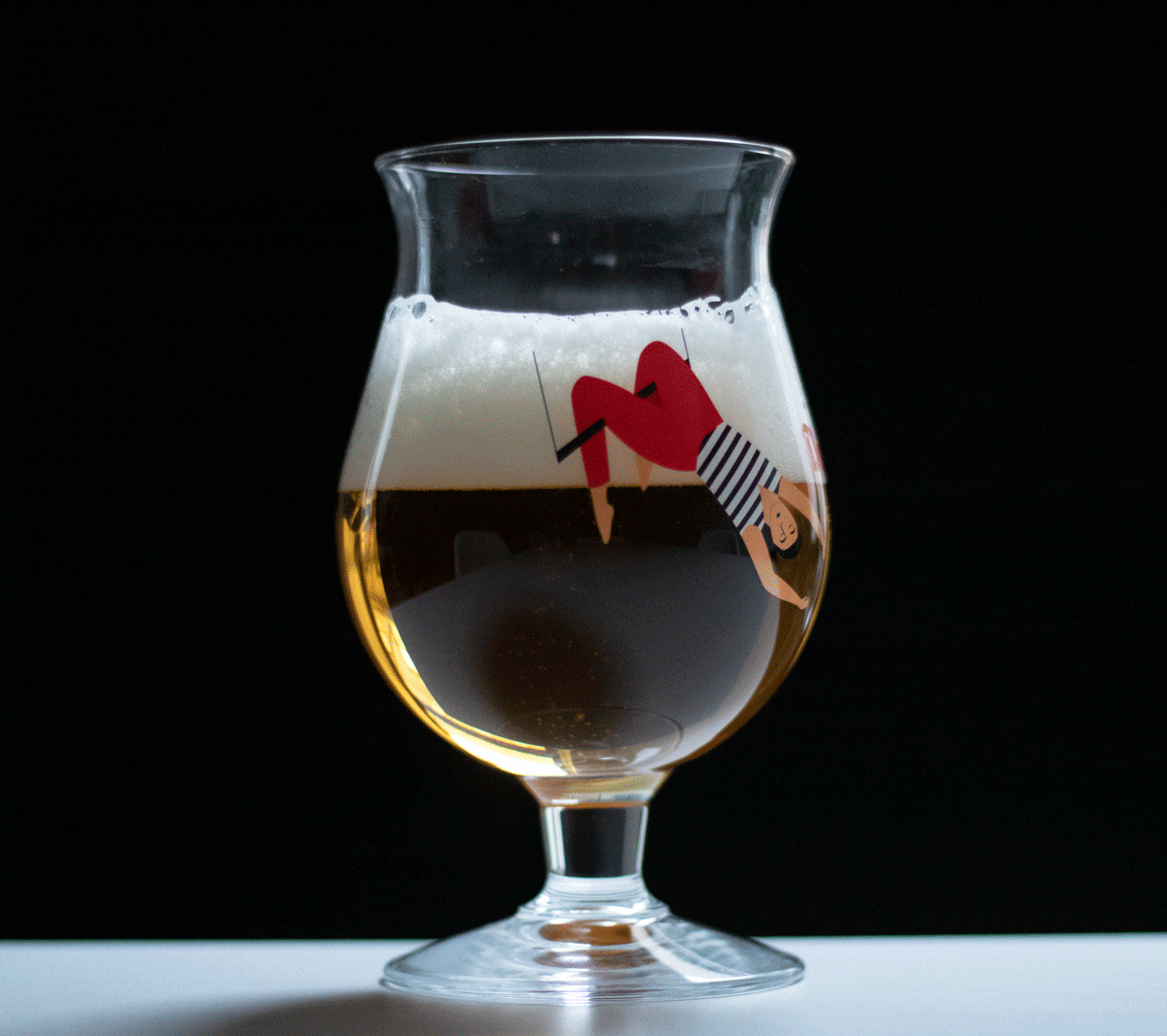 In addition to Belgium, we traveled to France, where I met some teammates and worked from the Criteo office for a few days. We also went to the Netherlands, where we got to explore where our family was from (turns out they lived in an actual windmill!), drove to Germany to meet more relatives, and finished it off in the Swiss Alps riding horses and hearing the cow bells echoing throughout the mountains. We packed a lot into a short amount of time, but it was truly the trip of a lifetime.
Thank you, Jacqueline! To learn more about the Criteo team, check out the Criteo Culture section.