A native of India, Premanjali Gupta – or Prem, as she's known around Criteo – is a self-professed geek who got lucky when she discovered the joys of marketing for tech companies. Based in Singapore, she manages marketing campaigns and events for Criteo APAC and knows the landscape inside out. This week, we sit down with Prem and talk about her career path and APAC marketing insights.
Let's start from the beginning, where are you from?
My home town is Kolkata, India but as a kid, I changed schools at least six or seven times because my dad kept moving around. I finally moved to Singapore in 2005 and it's the longest I've lived in any city. I have a double major in Information Systems Management and Corporate Communications from Singapore Management University and a diploma in Asia Pacific marketing from the National University of Singapore.
Because of my majors, people often ask me if I knew "Digital" would be this "BIG" and hence chose it. I like to say, yea of course I knew! But the truth? I was a geek and a coder since I was ten, but I got bored of it halfway through college and decided to try something completely different – hence corporate communications and marketing. And today, I've hit a sweet spot: I do marketing for tech companies and my tech background gives me a better grasp of products and thus, I hope, makes me a stronger tech marketer.
How did you start your career and what brought you to Criteo?
I started off my career in a consultative sales role – selling research and consulting products to the Retail, Fashion and Luxury industry and then moved to PR and marketing. My marketing experience has been primarily in the marketing-tech and ad tech industry.
It seems like I have been with French companies for at least 50% of my career. The first thing that attracted me to Criteo was the fact that it had French origins and I always have had a positive association with French companies (and food)! But mostly I was super impressed by the technology, the vibrant work-culture and scale of the company, so here I am.
Besides work, I dabble in painting, love collecting quotes, and am a wanna-be writer. I also love traveling. My two favorite cities in the world are Istanbul and Kyoto.
Tell us about your day-to-day at Criteo. Goals and biggest challenges?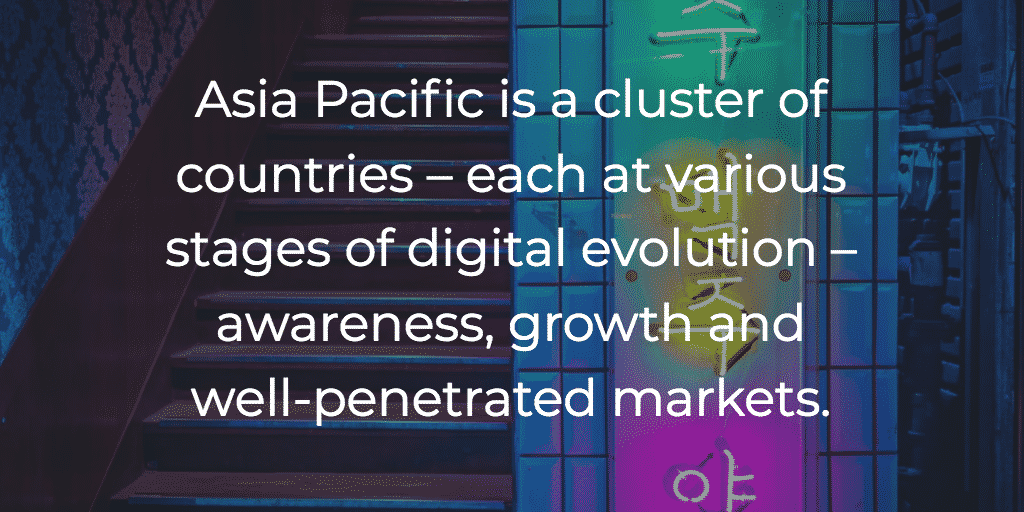 As the Marketing Manager for the Asia Pacific region at Criteo, I manage various campaigns across various pillars including thought leadership, demand generation, account-based marketing, partner marketing, customer advocacy, executive engagement and regional events.
Criteo is a huge global company, and my role needs to work with various functions and stakeholders spread across various offices. Hence, my biggest challenge is managing stakeholder expectations and communication across the various time zones. The other thing is that there is always a huge breadth of tasks and business needs that have to be addressed, so a close second when it comes to daily challenges would be time management and prioritization of tasks and regional budgets.
How has Criteo helped foster your career?
The great part of working for Criteo is that you are always encouraged to try new ideas, fail fast, and keep growing. We really live our values of no fear, #dotherightthing and #goGoGO. Very rarely you come across a company where everyone is super passionate about what they are doing, motivated on a daily basis to make a difference, and have fun.
Criteo has given me the platform to expand my understanding of account-based marketing and customer experience. I have also been given the opportunity to run many global projects out of the APAC region and hence honed my project management and stakeholder management skills.
Can you tell us about the APAC marketing landscape?
Contrary to popular western understanding, Asia Pacific is not a country but a cluster of countries – each at various stages of digital evolution – awareness, growth and well-penetrated markets. Hence depending on the market penetration and digital maturity of a specific country, the marketing strategies change and make you think out of the box.
As an example, comparatively speaking, Criteo's India office is younger and is primarily in the awareness going into growth phase. In terms of activities, there's a lot of paid media, trade shows, target list focused events and telemarketing.
However, in a more matured market like Indonesia, which is well-penetrated in terms of our core verticals, we are now beginning to explore new verticals. We're doing a lot of account-based marketing, and looking to roll out new products to find new revenue streams.
A market like India or Japan places a lot of importance on relationship-building with the management style can essentially be hierarchical. This means we need to be mindful and sensitive on how we speak and conduct business with senior stakeholders. And a market like Australia, for example, has a very casual work style with low power distance – giving us an opportunity to try out more fun and quirky ideas to market to the audience.
But one thing that joins APAC together is that the growth is here and the world knows it. With more than 50% of the world's young population based in this part of the world and with increased access to internet and smartphones, Asia Pacific is already seeing a lot of innovative ideas which the western countries are catching up to. Exciting times.
What projects to date are you most proud of?
The one project I am most proud of is the Criteo APAC summit that we organized for our top 40 customers and prospects in the APAC region. We flew in C-suite customers to Danang in Vietnam and gave them a crème de la crème customer experience. It generated more than 20x ROI but also left the impression that Criteo is not only a technology leader but also we understand the importance of personalization and customer experience.
What's something your fellow Criteo's would be surprised to learn about you?
I actually wanted to major in Philosophy but went with Information Systems Management, only because the former might not pay the bills. However, I do end up spending a lot of time reading up on Metaphysics, Epistemology and rules of rational thought i.e. logic. My all-time favorite philosopher is coincidentally French: René Descartes, who coined "Dubito Ergo Cogito Ergo Sum," which means, "I doubt, therefore I think, therefore I am." And my absolutely favorite movie is "The Man from Earth".
Lastly, advice for newcomers to ad tech?  
The best advice I received was from a chance conversation with a very senior executive: "Keep seeking to be uncomfortable, because as long as you are uncomfortable you are learning and becoming a stronger professional". This advice stayed with me. And being part of Criteo, especially the marketing team, is that things are always changing. Hence you are never "too comfortable" – we are forever stretching ourselves to be innovative and performance-driven.
Thanks Prem! To learn more about Criteo Culture, head over to our Criteo Culture Hub!