Retail media—brand-sponsored ads within retailer websites and apps—isn't a new concept. It's a channel that has been steadily growing, driven by its attributable performance and access to first-party data. But in the last few months, retail media has been given a shot of adrenaline, accelerating its growth and catapulting it to the top of many brands' budgets.
Where did this extra boost come from?
There are several reasons for the rising interest in the medium, but arguably the largest push comes from what will probably be known as the "great ecommerce migration".
In terms of ecommerce adoption, it should be 2023.
Meaning, the growth in ecommerce shoppers and sales that we've seen in the last few months was supposed to take three or four years. But the extraordinary circumstances created by the coronavirus pandemic drastically sped up the world's shift to online shopping.
How big of a change are we talking? Let's highlight some key stats across the US and EMEA:
eMarketer predicts that ecommerce will account for 14.5% of total US retail sales in 2020, which is "an all-time high and the biggest share increase in a single year".
UK retail ecommerce sales will account for 27.5% of total retail sales this year, and that proportion will approach one-third by 2024.
Retail ecommerce sales in France will grow by an estimated 17.1% in 2020
McKinsey says that most categories have seen their online customer base increase by 10% or more.
The US Census Bureau of the Department of Commerce (DOC) reported a 44.5% increase in Q2 online sales vs. the same quarter of last year.
Several of our Criteo Retail Media retail partners reported 100%-200% increases in ecommerce sales in Q2 2020.
The influx of new digital shoppers (eMarketer estimated 7.4M new digital buyers in 2020) will be a more permanent increase versus just a temporary swing. Our consumer survey findings confirm this.
The surge in online shopping is no fad.
Consumers were pushed online out of necessity—will they continue to shop there even after they're comfortable shopping in physical stores again? The findings from our consumer survey all point to "yes":
30% of global consumers surveyed discovered purchasing goods online during the pandemic that they plan to continue. 21% would continue buying groceries online. It appears that less spending on travel and restaurants and increased savings is funneling some of that money to online retail and grocery.

4 out of 10 shoppers worldwide discovered new online stores that they purchased from for the first time.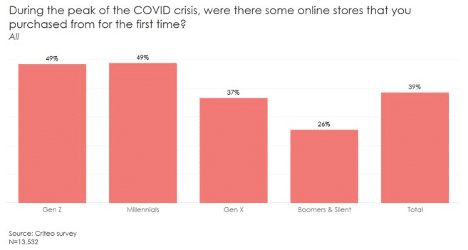 And across generations, an average of 85% worldwide would continue purchasing from those new online stores they discovered.

McKinsey's data echoes this, and shows that across categories and across the world, more people plan to shop online after COVID-19 than they did before.
Retail media ensures visibility on an increasingly crowded digital shelf
With this massive uptick in online shopping, brands are turning to retail media to help them capture shoppers at the digital point of sale on their retailer partner sites and apps.
Visibility matters – a lot. The first page of a retailer's search results accounts for about 90% of all revenue. And on that first page of results, the first 10 SKUs account for 25-30% of revenue.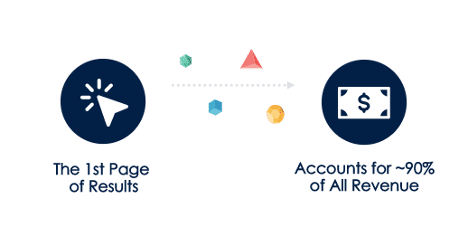 Retail media helps brands secure a prominent position on the digital shelf, using native and display ads to reach shoppers when they're looking for products they offer. Without it, brands risk being lost on page two or three of the search results.
Beyond boosting product visibility, retail media enables brands to clearly tie sales results back to campaigns and offers an advertising option that doesn't rely on 3rd party cookies.
Online shopping will only grow from here—now is the moment for brands to get in on the ground floor of retail media. What are you waiting for?
Ready for retail media? Learn more about Criteo Retail Media for Brands.