An ecosystem, by definition, is a group of interconnected elements, formed by their interaction with each other.
Using this word in relation to commerce media is deliberate. Without the direct connection between the players, commerce media wouldn't work. This is symbiosis at its best, where the success of each feeds the success of the whole system.
Who are the players working together in this new and growing category? And what are the needs that are driving them to commerce media?
The Commerce Media Players
The commerce media ecosystem is comprised of three main players: Marketers, Media Owners, and Consumers. Each have their own goals, challenges, and needs that we'll dive into.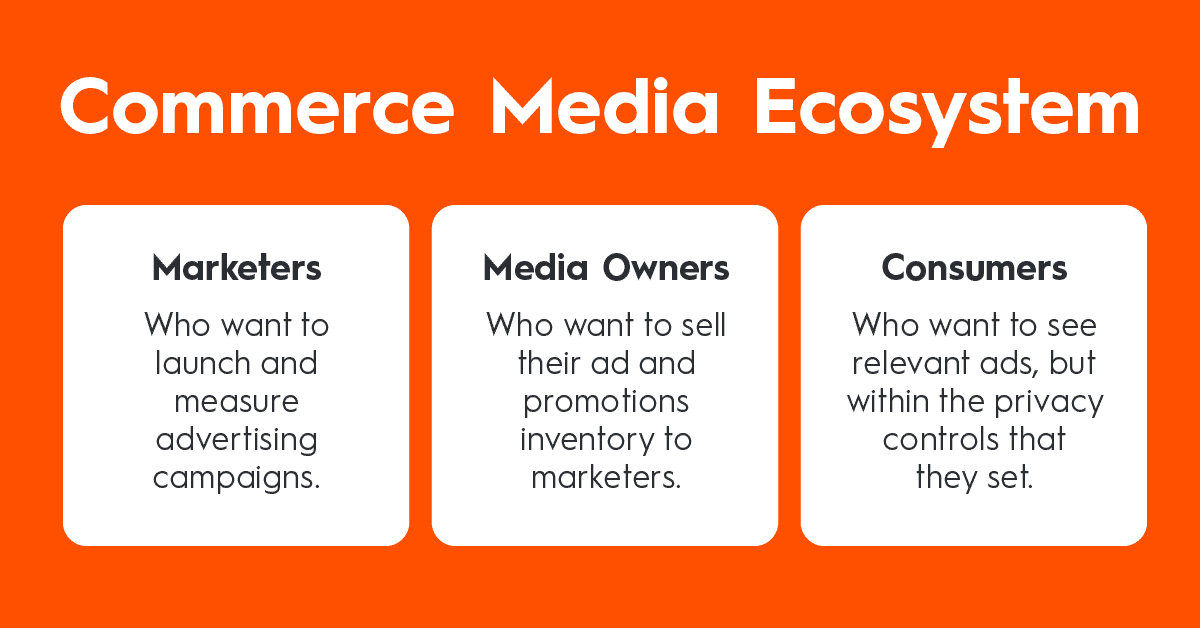 Marketers:
Brands, retailers, and the agencies that support them are the demand side of the commerce media ecosystem. They want to activate advertising campaigns that can reach in-market consumers from discovery through to purchase, with a focus on driving and measuring outcomes at each stage. The commerce data and AI that fuels commerce media enable marketers to launch more efficient and effective campaigns that reduce waste and increase returns.
Marketers need:
Commerce data and AI to better understand shopping interests and intent. Tapping into a global commerce dataset enables marketers to identify interest and intent patterns to enrich audience targeting and create predictive models to improve product recommendations and bidding. The more commerce data marketers can get their hands on, the smarter their campaigns.
First-party data-based advertising solutions​. When Google pulls the plug on third-party cookies, first-party data will be the way forward. Having enough first-party data is an issue, especially in the current system where many steps of matching and syncing can lead to data loss. Marketers will need commerce media solutions that help them both secure and activate privacy-safe first-party data to meet full-funnel objectives.
Options in addition to walled gardens for more reach and more control.  In a Forrester Consulting survey we commissioned​, 80% of North American1 and 77% of EU2 respondents want to reduce their dependency on walled gardens. Couple this with the fact that a majority of global ecommerce is done outside of Amazon, and there is a compelling need for commerce media on the open internet.
The ability to tie advertising spend to commerce outcomes. Whether it's awareness, traffic, leads, or sales, marketers need to be able to measure the impact of digital advertising as consumers move through the funnel.
As few platforms as possible to streamline management. Today, commerce media on the open internet is fragmented, with demand side platforms (DSPs), supply side platforms (SSPs), and retail SSPs all operating separately. But as privacy regulations continue to grow and third-party cookie deprecation looms, marketers and media owners will be looking for more streamlined solutions to manage, scale, and activate first-party data and addressable audiences.
Media Owners:
Publishers and retailers are the supply side of the commerce media ecosystem. These players want to sell their advertising and promotions inventory to marketers. Commerce media's data, AI, and connection to marketer demand offers a way to enrich and monetize their audience data and earn more ad revenue.
Media owners need:
Solutions to help them monetize their first-party audiences and data​ and increase yield. For retailers, the tech stack needed to successfully take on the role of publisher is too much for most to do in-house. Likewise, publishers looking to get more from their inventory need external commerce data and AI assets to help them do so.
To be able to capture more advertiser spend. A self-contained commerce media ecosystem can simplify the process and reduce fees that eat up media owner profits today.
Solutions to manage first-party data collection, rights, and activation. To build up their privacy-safe, opted-in data, publishers need commerce media solutions that can help them educate consumers, capture their consent, and give them the ability to manage their preferences.   
Control. Media owners need control, both over data access and pricing​ and over content to ensure relevancy.
Consumers:
Consumers are the beating heart of the ecosystem. It is their call for more privacy and control that is reshaping the ad industry and informing the nascent commerce media category. Only by working together can marketers and media owners deliver the experiences that will garner the trust and loyalty of consumers moving forward.
Consumers need:
The ability to control the marketers and media owners that they agree to share their data with and see ads from. Consumers need to clearly understand the value exchange of consenting to the use of their data and be able to manage that consent to opt in or out at any time.  ​
Relevant experiences. The appeal for more control doesn't mean that consumers are no longer interested in relevant experiences. Marketers and media owners that can meet consumers in a moment of want or need with the right content will be rewarded with more opt-ins.
To be able to still access high-quality digital content, discover new things, and have freedom of choice. Advertising is what makes all of this possible today by providing the funds media owners need to continue to provide original and diverse content on the open internet.
Commerce media seeks to give each player what they need to succeed, from data to technology to connections, to create a self-sustaining system. Marketers get measurable results to continue running campaigns, media owners get ad revenue to continue to develop content and experiences to attract audiences, and consumers get richer experiences from trusted marketers and media owners. A balanced ecosystem is a thriving ecosystem. And commerce media is poised to bear fruit for a long time to come.

1 A commissioned study conducted by Forrester Consulting on behalf of Criteo, North America, July 2020
2 A commissioned study conducted by Forrester Consulting on behalf of Criteo, EMEA, August 2020