Digital budgets on the rise in 2021, and all eyes are on marketing to help businesses rebound after a challenging year. This has marketers re-examining their usual strategies and looking for new ways to make an impact. Their relationship with walled gardens has long been fraught with mixed feelings, which puts them at the top of the list of strategies to re-evaluate.
We surveyed 1,000 senior marketing executives around the world, including those in the US, UK, France, Germany, Italy, Spain, Australia, Japan, South Korea, and India, to learn about their plans for 2021. Here's what they had to say about walled garden advertising.
1 in 3 marketers say their campaigns are too dependent on Facebook, Google, and Amazon
Our global survey of marketers revealed that one of their top digital marketing issues is their over-reliance on Facebook, Google, and Amazon.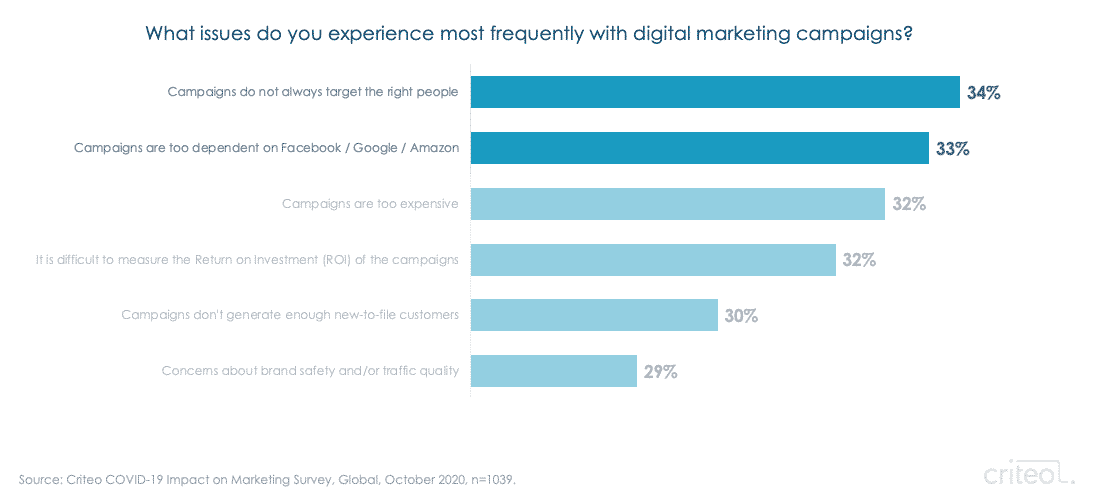 There's good reason for their concern. A 2020 US study conducted by OpenX and The Harris Poll found that 60% of ad spend goes to walled gardens, but consumers are only spending 34% of their time there.1
Beyond this disparity of budget versus time spent, there are other motivations for marketers to better diversify their ad spend.
Why are marketers re-evaluating walled garden advertising?
Lack of data and transparency.
The walled gardens got their name for a reason. What happens inside the walls stays there, including everything attached to advertising campaigns. Advertisers have limited or no access to the data, and reporting is opaque. And when someone leaves the walled garden to surf the open web, campaign learnings don't follow them, which creates a disjointed customer journey.
Brand safety concerns.
The proliferation of fake or hateful content, coupled with an increased need for policing on social networks has many brands rethinking their ad placements. Lawsuits against walled gardens also has brands paying closer attention to who they give their money to, and how that reflects on their own values.
Consumers are concerned, too.
Our recent State of Social Media Survey showed that for all generations in the US, fake news and misinformation are a major concern when using social networks. At least 40% or more of all generations were also worried about privacy, and scams and viruses.2 OpenX's 2020 survey also found that 31% of respondents reported using Facebook less than they did one year prior. 37% said they used the open internet more during that time.1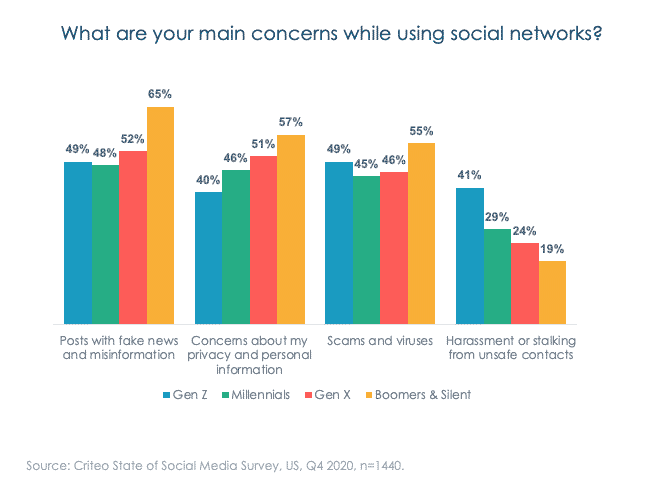 Where can marketers invest instead?
By diversifying ad spend across more channels, digital marketers can address the concerns above, and reach consumers in all of the various places where they are spending their time. No one is saying that marketers should abandon walled gardens. They should continue to be a part of the marketing mix – albeit a smaller one. Here are some channels that are getting more attention and budget in 2021:
The open internet.
This is comprised of all the sites and apps outside of walled gardens. It includes premium, large-scale publishers like NBC, DailyMail.com, and the Weather Channel, retailers like Target and New Look, and the millions of other properties not owned by tech giants.
The pandemic brought more people online than ever, where they are spending more time on the open internet, which they see as a source of trustworthy content and a place to find relevant products. From contextual targeting to customer engagement campaigns, the open internet is a channel where marketers can reach people across the full funnel.
Retail media.
Retail media is defined as the ads placed on a retailer's ecommerce site or app by a brand in order to influence the customer at the point of purchase. It can also include ads served to a shopper after they visit a retail site and leave, designed to bring them back to purchase.
When COVID-19 forced physical stores to shut down, shoppers found their favorite retailers, and new stores, online. This, in turn, has brands speeding up their digital transformations and shifting shopper and trade budgets to online activities. Brands see retail media as their way to own the digital shelf, reach high-intent consumers at the digital point of sale, preempt competition, and increase online product sales. Advertising in a brand-safe environment that doesn't rely on third-party cookies is a bonus.
CTV.
CTV ads appear on CTV or OTT devices, which are TVs or devices that enable the streaming of video content. People are streaming video content on smart TVs, mobile phones, or via devices like Roku and AppleTV in greater numbers than ever.
CTV ads are a great way to reach them where they're spending a significant amount of their time. In fact, an IAB poll revealed that 60% of US advertisers plan to shift budget from linear TV to CTV or OTT in 2021.3 As you look to diversify your ad spend and reach new audiences, consider whether building awareness with CTV ads are a good fit.
For more on marketers' plans, priorities, and challenges, download our State of Digital Advertising 2021 report.
1 Source: http://welcome.openx.com/rs/745-BUQ-779/images/OX2020_OpenWeb_US_Final.pdf
2 Source: Criteo State of Social Media Survey, US, Q4 2020, n=1440.
3 Source: https://content-na1.emarketer.com/us-programmatic-ctv-video-advertising-soars