Consumers expect experiences that make commerce easy. This means they want to be able to research and buy from anywhere and move from discovery to transaction in the same moment. These expectations come at a time when changes in the digital advertising industry are making it harder to meet them. And yet meet them, we must.
To learn more about how advertising strategies are evolving to better serve consumers in every shopping moment, we commissioned Forrester Consulting to conduct an online survey of brand marketers and retailers (as media owners) in September 2021. They spoke to decision-makers at brand and retailer organizations in North America, EMEA, and Asia Pacific about their current and planned approaches to media management to help achieve top business goals. The result is the study, "The Future of Commerce Needs a New Media Approach: Marketers Must Demolish Silos and Invest in Commerce-Enabling Technology to Better Serve Shoppers Where They Are".
A note on the study: All respondents have some desire to adopt a digital advertising approach that combines commerce data and intelligence to target consumers throughout the shopping journey and help marketers and media owners across all verticals drive outcomes. For the purposes of this study, Forrester used the term "commerce media" to define this approach.
A peek at some of the key findings that speak to the current media landscape and how respondents are moving toward more holistic media management are below.
To learn more, read the full commissioned study conducted by Forrester Consulting on behalf of Criteo: The Future of Commerce Needs a New Media Approach.
Media buying is scattered across too many platforms, hindering measurement and straining resources.
According to the survey, 55% of marketers use six or more platforms to buy media, and 51% work through six or more retail media partners to buy media. This complicated buying process creates many challenges for marketers. Nearly 4 in 10 said it's difficult to fluidly move budget and measure effectiveness across media partners, and 33% were frustrated with the amount of resources it takes to manage media campaigns.

There is a strong need for cross-channel, cross-retailer agility and access to first-party data.
Six out of 10 respondents want commerce media partners that give them the ability to compare and optimize performance across channels and retailers, and measure performance and adjust campaign spend in real-time.
More than two-thirds of marketers and retailers (as media owners) said that growing privacy regulations hinder their organizations' ability to personalize at scale. This is likely the reason why nearly half (47%) seek partners who can provide access to a large amount of first-party data.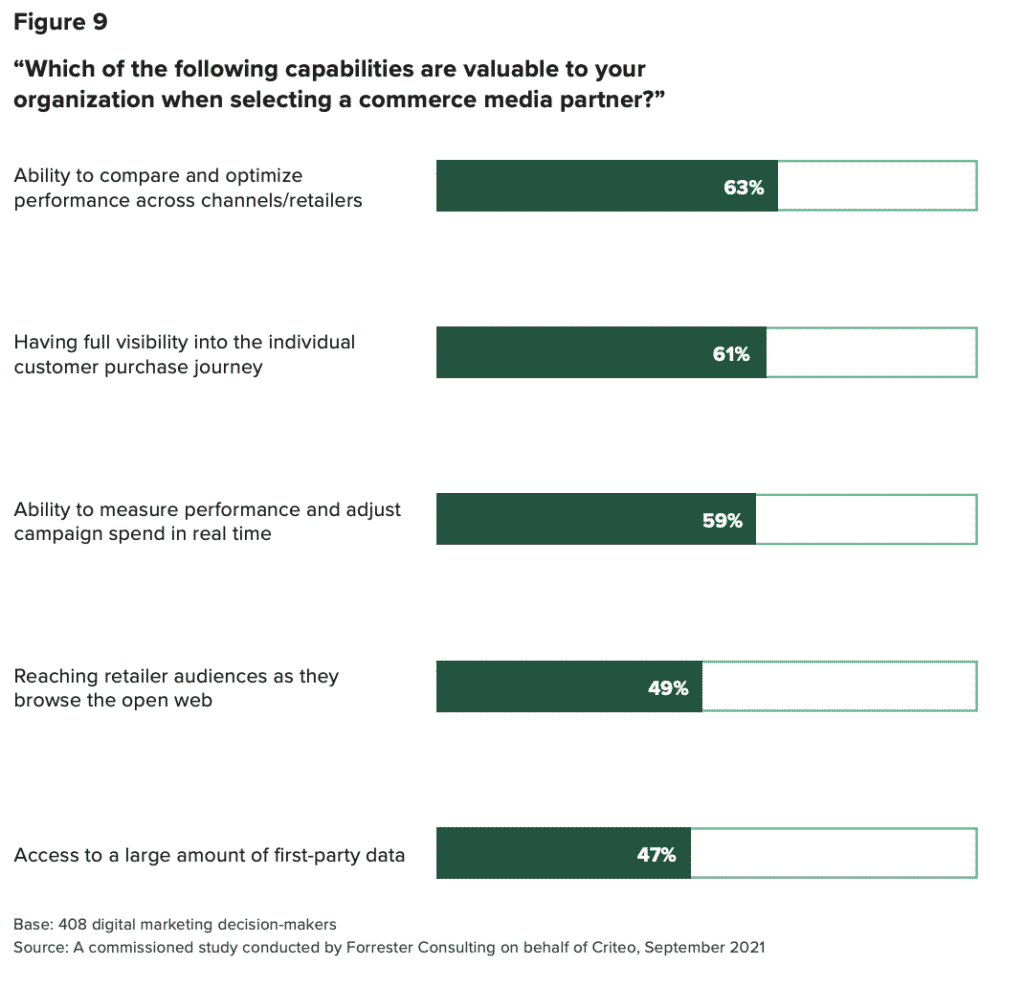 Streamlining to address these issues is a top priority.
More than 80% of marketers and retailers (as media owners) say implementing a single platform to manage all commerce media spend and performance in the next 12 months is an investment priority. Other top investment priorities for respondents include embedding commerce media strategy and outcomes throughout the organization (80%) and removing channel silos (69%).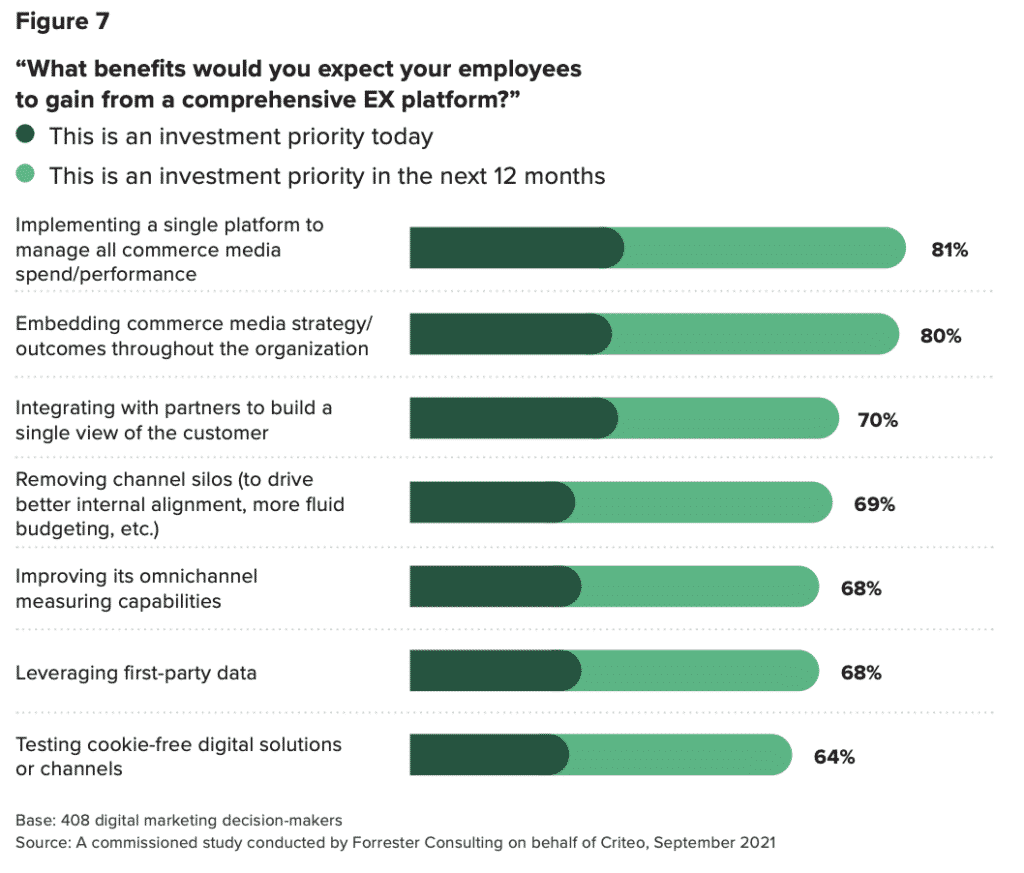 A unified commerce media approach will bring rewards.
Overcoming silos and simplifying management are soft benefits of a holistic commerce media approach. Survey respondents also believe that this kind of approach will deliver the hard business results that their stakeholders care about. More than 60% of respondents expect that taking a commerce media approach will deliver improved customer experience (63%), increased growth (65%), and increased profitability (61%).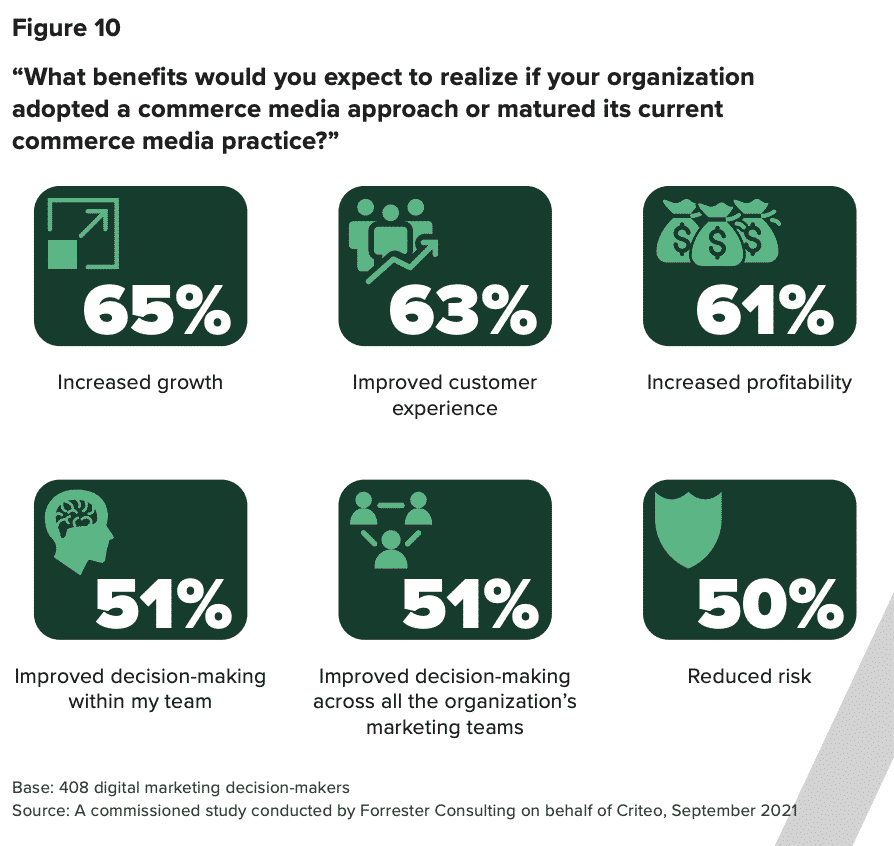 For more insights from brands and retailers on their priorities, challenges, and plans for future-proofing their advertising strategies, read the study in full here.