Widely celebrated throughout India, Diwali is one of the most important events of the year. With families coming together to exchange gifts, share festive meals, and enjoy fireworks, the holiday signifies prosperity. This celebration of abundance significantly impacts the shopping landscape as families increase their spending in preparation for the festival — from renovating their homes to purchasing new clothes to investing in big-ticket items like electronics. 
Diwali sales this year were remarkable. Criteo analyzed over 20 million online retail transactions from this year's festival to uncover the event's evolving impact. Check out what we learned. 
Early Diwali deals usher in the shopping extravaganza
Deal days kicked off early to engage proactive shoppers preparing for Diwali. During the second week of October, retailers already saw their online sales increase +26% on average and their traffic go up +8%.  
Sales continued to show an impressive surge as the event neared. Comparing the last week of October to November 10, two days before the event, sales rose an impressive +72%.  
Conversion rates (+22%) and traffic (+35%) also increased during the two-week period leading up to Diwali (October 29-Novemer 11). 
Retail Sales in India, September – November 2023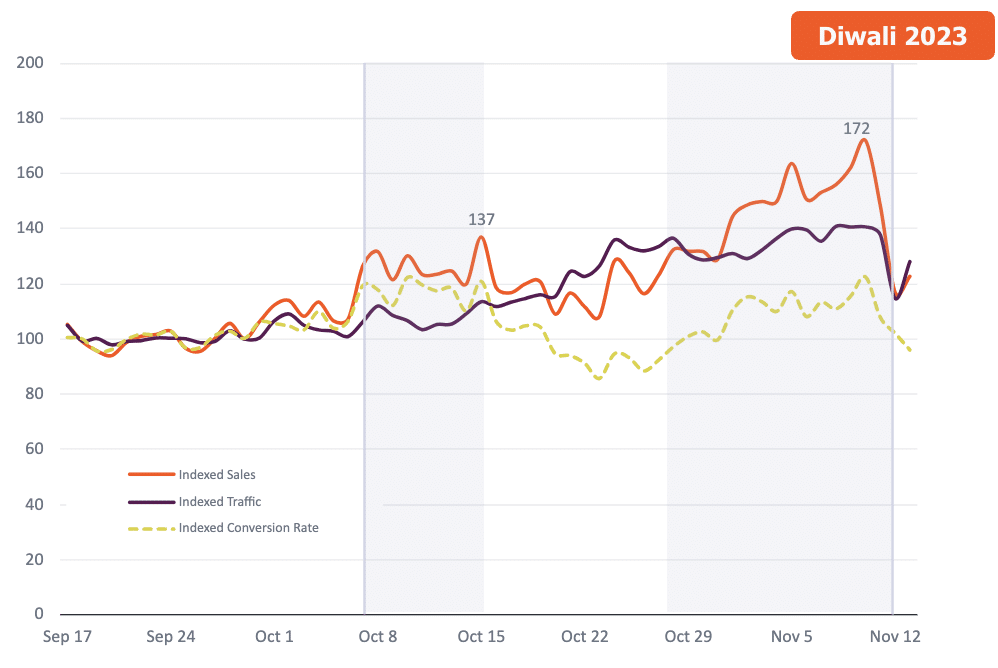 Diwali shopping is growing even bigger than years past
The event's popularity is maturing. Looking at the two weeks leading up to Diwali 2023, online retail sales rose +39% compared to the same period last year. 
During Diwali 2022, the event drove a +17% year-over-year growth. With each year, Diwali continues to expand its footing as an economic phenomenon. 
Product discovery starts early
For leading Diwali season retail products, the time between when a shopper makes their first visit and completes their purchase grows per quartile.  
Criteo data shows that consumers begin browsing products, on average, 18.3 days before they make a purchase during Diwali's peak period. 
Path to Purchase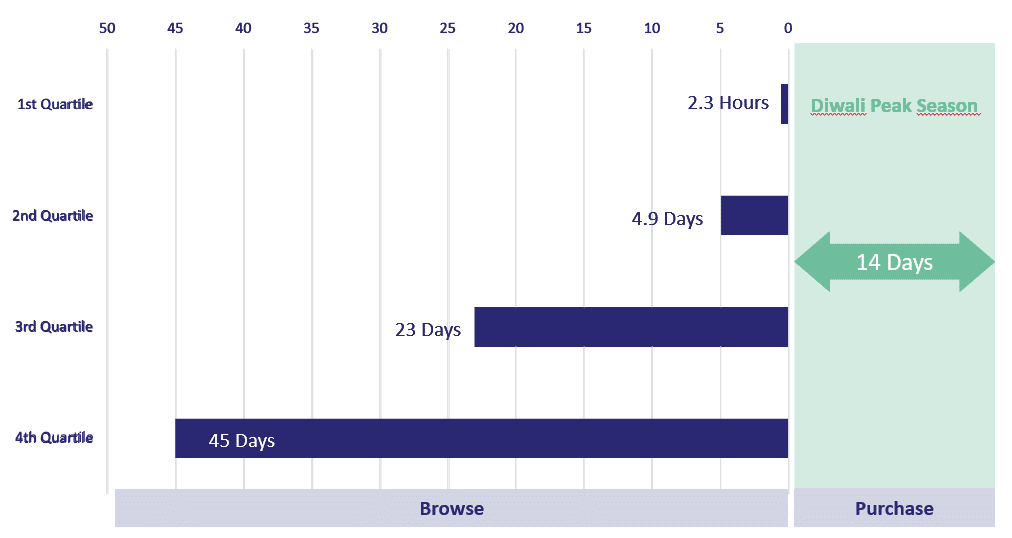 Marketing takeaways for the next big shopping event
Early festive discounts and promotions: Capture the attention of shoppers early by engaging them during every moment that they're preparing for the event. 

 

Flash sales and limited time offers: Shorten shoppers' path to purchase by introducing flash sales and limited time offers. Highlight the limited availability of products or discounts to encourage quick decision-making.

 

Loyalty programs: Introduce programs with event-themed messaging that reward repeat customers. Offer points, discounts, or exclusive perks for their continued support during the festive season.

 

Retargeting campaigns: Implement retargeting ads to remind potential customers about the top season products that they previously checked out on your website but did not purchase.