The permanent shift to more online shopping, accelerated by COVID-19, is widely known at this point. But what you might not know is that almost 7 out of 10 online shoppers go directly to a retail site, not search engines, when they want to purchase a product1. Kantar's State of Ecommerce 2021 report also found that retail sites are the most visited pre-shop touchpoint for online buyers, making them number one for product research. And according to the Path to Purchase Institute, almost a quarter of shoppers purchase at least two advertised products1.
All of this means that retail sites are a highly valued part of the product purchase journey—and that standing out on the digital shelf through onsite advertising is more important than ever for brands.
The Role of Retail Display in the Shopper Journey
In a brick-and-mortar retail store, shelf-talkers, panels, and point-of-sale (POS) in-store display advertising are key strategies that brands use to elevate their presence on the physical shelf and build awareness and influence consideration. As online has grown in importance, retailers and brands have embraced retail display as a way to achieve the same upper funnel objectives in the digital space.
Retail display is the online equivalent of shelf-talkers and POS displays and is arguably even more important for the 'infinite' digital shelf, where products can be hidden below the fold of search and browse pages . In fact, 90% of all products purchased appear on the first page of search results. Even for brands that are household names, if their product isn't instantly noticeable on a retailer site, the potential sales opportunities will be tremendously reduced. Retail display is the best way to boost visibility on retailer websites and influence the shopper journey.
From the retailer perspective, onsite ecommerce display ads are just as beneficial as their physical store counterparts. They make it easier for the shopper to find what they need, which benefits both the shopper and the retailer in terms of satisfaction. And by offering more premium placements and options for advertisers, retail display brings a new revenue stream to retailers without compromising or disrupting the shopper journey.
How Retail Display Differs from other Onsite Ad Formats
The point of retail display is to connect with the shopper and make sure they see your brand when they browse or search. But more than that, it's about telling a story, educating, and building recognition so that shoppers add you to their consideration set.
For comparison purposes, here's what a sponsored product ad, the most commonly known retail media format, looks like. These are great for lower-funnel strategies like driving the highest conversion rate: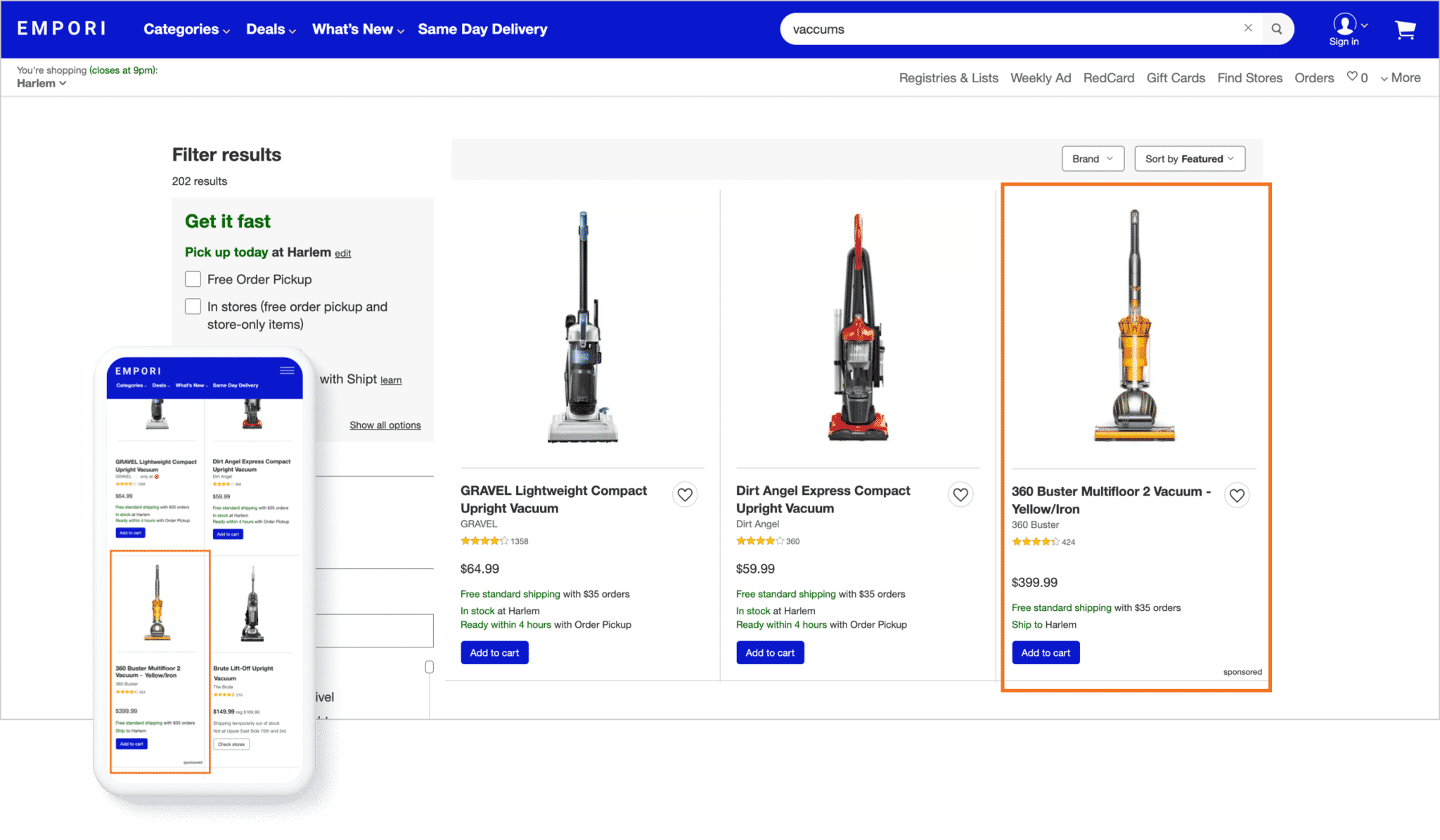 And here's an example of a retail/ecommerce display ad. These are ideal for upper funnel strategies geared toward awareness and consideration: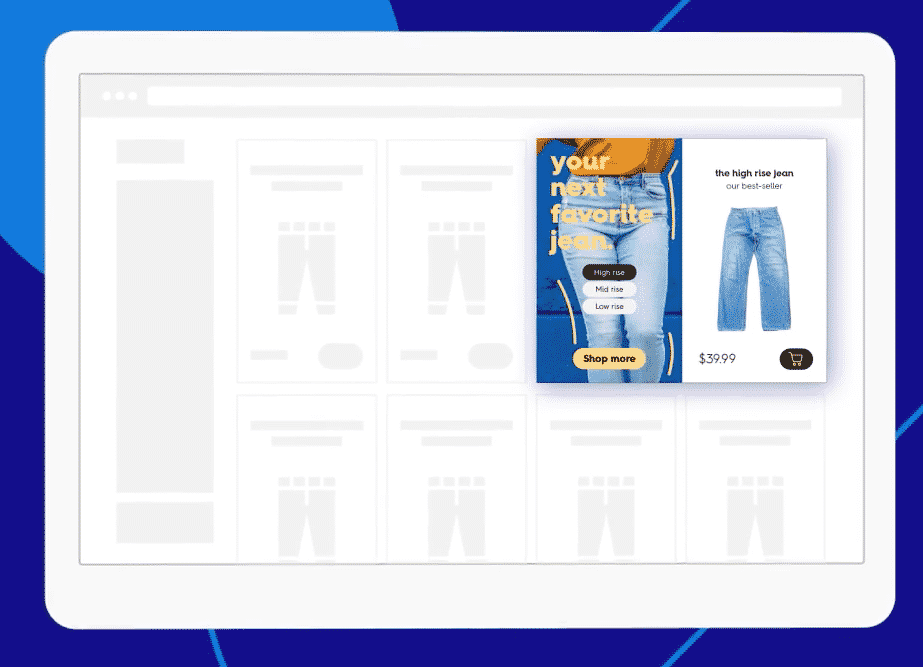 It's obvious from this example that retail display ads are more attention-grabbing. But that's not the only difference. Let's explore four things that make retail display a unique and impactful format for achieving awareness and consideration goals.
Display in Retail is a Hybrid of Branding and Conversion
Display formats that are custom built for retail are the perfect addition to standard IAB display formats. Standard display is great for scale, run-of-site strategy, and pure-play branding. When advertisers want to incorporate retail-specific elements, personalization, and a more seamless experience, then custom display is the way to go.
With retail display, brands can mix storytelling with features that encourage a purchase, like real-time pricing and add-to-cart buttons. The dynamic nature of retail display also enables brands to personalize each ad to the store and the page the shopper is browsing on, taking into account things like stock, price variation, colors, and special offers. This ensures retailers and brands don't advertise on products that are not in stock or communicate the wrong product information.
It's Built to Blend In
Because retail display ads are specifically built for retail, they blend seamlessly into the shopping experience, ensuring relevancy and visual alignment with each retailer's environment. This is crucial for retailers and brands who need to deliver the best experience possible to maximize conversions and loyalty.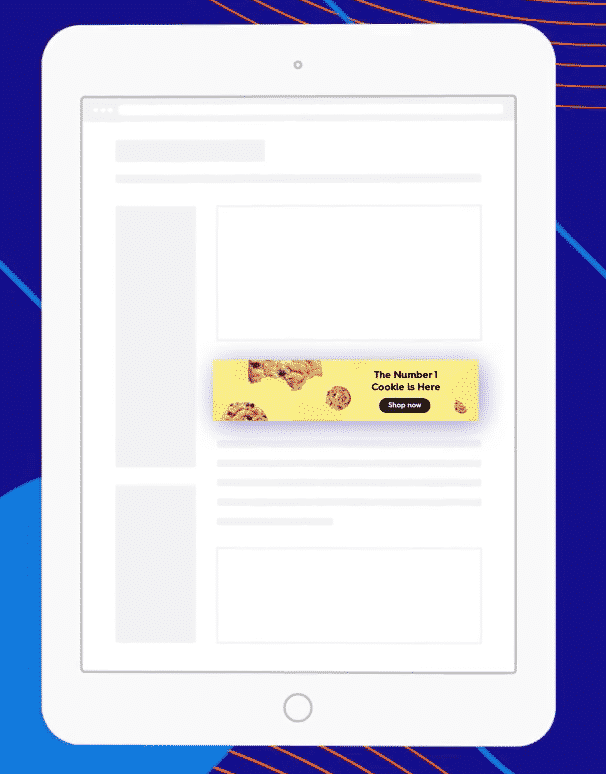 It's a First-Party Data Strategy
Retail display is cookie-free and powered by first-party data. This enables the most relevant targeting and personalization by leveraging keywords, categories, retailer audiences, CRM data, offline data, and other first-party data sources. With this higher level of relevancy, retailers and brands are better able to keep the shopper in the retail environment to discover more products on product pages or shop-in-shops.
Retail Display Can Be Tied to Sales
Though retail display is an upper-funnel tactic, the ultimate goal of standing out on the digital shelf is to drive more product sales. Retail display campaigns are measurable down to the SKU level, allowing brands and retailers to directly tie media spend to sales outcomes. Because it's not only about generating awareness and being there—it's also about influencing the purchase, directly at the point-of-sale.
Retail Display Benefits for Brands and Retailers
To sum it up, this premium, built-for-retail format has benefits for both sides of the retail media ecosystem:
Brand Benefits:
Grow your brand
Stand out on the digital shelf
Tell your story while engaging shoppers and driving sales
Activate first-party audience targeted ads
Scale your display advertising: re-use assets, extend reach, and increase sales with a point-of-sale display opportunity
Retailer Benefits:
Scale your retail media program
Enhance the shopper experience by offering relevant, eye-catching, but non-disruptive ads
Create new bottom-line revenue by tapping into upper-funnel brand budgets
Scale opportunities for inventory-constrained brands
Interested in learning more about retail display? Contact us.
Want to keep learning about retail media? Read our Retail Media Guide.
1 Source: Path to Purchase Institute "Shopping Behavior on Retailer Websites/Apps" (January 2021)