We usually think of Christmas as the final day for bi holiday sales and shopping opportunities. Stores are staying open late, and last-minute deals abound as retailers try to get the most out of the last few shopping days. But if you're planning on scaling back your ad campaigns on December 25…don't! Black Friday and Cyber Monday may be the Big Kahunas of the holiday season, but Cyber Week II is the season's biggest hidden opportunity for the US and UK.
Not sure I've heard of it – what is Cyber Week II?
Starting December 25th and running through New Year's, Cyber Week II is the period when shoppers head online or to the stores to redeem gift cards and/or return unwanted gifts. Our data shows that it translates into a significant lift in sales.
How big of an opportunity is it, really?
It's no Black Friday, certainly, but the increase in sales is quite noticeable. According to our data, the US saw up to a 46% increase in online retail sales between Dec 26th (Boxing Day) and Dec 31st.
Here's what the data looks like for the US in our Seasonal Sales Dashboard:

And here's the same view for the UK, showing an even steeper incline after December 25th:

When you look at specific retail categories, Apparel saw the biggest increase, with a sales uplift of up to 42% during the week (we're guessing lots of ugly sweaters are being returned and New Year's outfits are being purchased). Health & Beauty and Sporting Goods retailers saw sales increases of up to 20-30% during the week (shoppers gearing up to make those New Year's resolutions happen, perhaps?).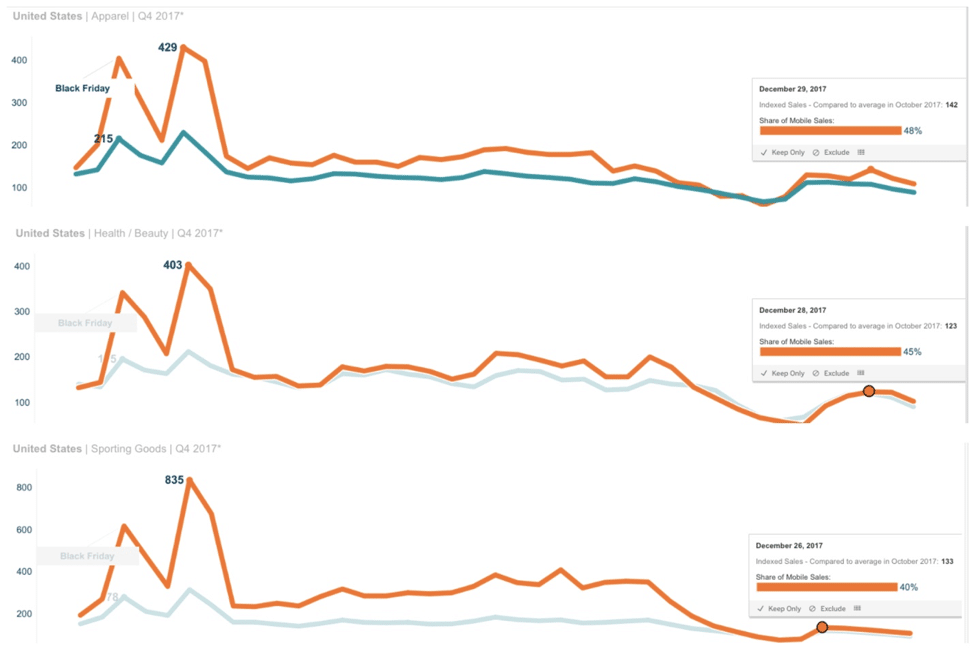 Average Order Value (AOV) increased during Cyber Week II, as well. The UK, for example, saw a 28% increase in AOV (Average Order Value) between December 26th (Boxing Day) and December 30th.

What can I do to make the most of Cyber Week II?
Be sure to keep your multi-pronged marketing tactics going to take advantage of impulse purchasing. Shoppers tend to be even more motivated by year-end deals and inspired to spend on themselves to wrap up the (often stressful) holiday season.
Revisit budget and CPCs for retargeting campaigns
Keep native product ads always-on all the way through New Year's, when gift card redemption peaks. This ensures that shoppers will see personalized product recommendations on their favorite retail sites.
Create special Cyber Week II offers to entice shoppers
And, remember, the brand that helps create more moments that matter for its shoppers will win loyal customers that stay true long after the holidays are over.