The evolution of media is inextricably linked to the societal and technological shifts that preceded or surround it. Gutenberg's printing press gave rise to daily newspapers. Post-World War II prosperity fueled the TV explosion. The internet gave birth to the first online banner ad. Today, it's consumers who are spurring the next evolution of online media.
After too long with little say in how their data is used and what ads they see, consumers have put their collective foot down. They want control, choice, and transparency. Regulations like GDPR and CCPA, Apple requiring users to opt-in to ads, and Google phasing out third-party cookies are responses to that demand for more privacy.
But the appeal for more control doesn't mean that consumers are no longer interested in relevant experiences. Balancing these needs in a cookie-less world while also continuing to drive revenue is now the chief concern for marketers and media owners. That's why first-party data has become the key to the future of performance-driven, targeted, and personalized advertising.
As the walls of the walled gardens grow ever higher, options that preserve marketers' access to and control over first-party data are critical. At the same time, media owners need solutions that help them manage first-party data collection, rights, and activation.
Now and when third-party cookies are gone, both parties need:
A high volume of high-quality, first-party (1P) data
To ensure their data is privacy-compliant
Ways to turn their data into impactful advertising
Criteo's First-Party Media Network is the solution for all of the above.
What is the First-Party Media Network?
The First-Party Media Network is an integrated system of commerce data and AI that lets marketers and media owners connect, enhance, and activate their first-party data to enable scalable targeted, personalized advertising and experiences that benefit all, including consumers.
To put it in simpler terms, it makes it easy for marketers and media owners to:
Onboard and share their first-party data. This helps marketers maximize the reach and effectiveness of their addressable advertising and media owners increase inventory monetization.
Enhance it with insights from our massive commerce dataset. We see $900B worth of commerce data across our client network, a bigger value than even Amazon generates on its platform. This data provides a better understanding of customer journeys for more relevant ads and on-site experiences.
Activate it to drive commerce outcomes. Build audiences and launch campaigns for a variety of marketer and media owner objectives.
What are the benefits?
Collect and connect more first-party data
 Marketers and media owners can enrich and grow their first-party dataset access​ with tools that help them create meaningful dialogues with consumers.
Ensure privacy-compliance
Criteo's Privacy Promise ensures that we never store any directly identifying information for consumers. All data in our First-Party Media Network complies with the highest privacy standards, including GDPR and CCPA.​
Have complete control
Marketers and media owners have full control to manage their data's usage within our network. Consumers have transparency and control over their data preferences. ​
Unify and build
Marketers can build audiences and reach them using a variety of channels and ad formats​. Media owners can monetize their audience data and ad space and create more relevant site experiences.
How does it work?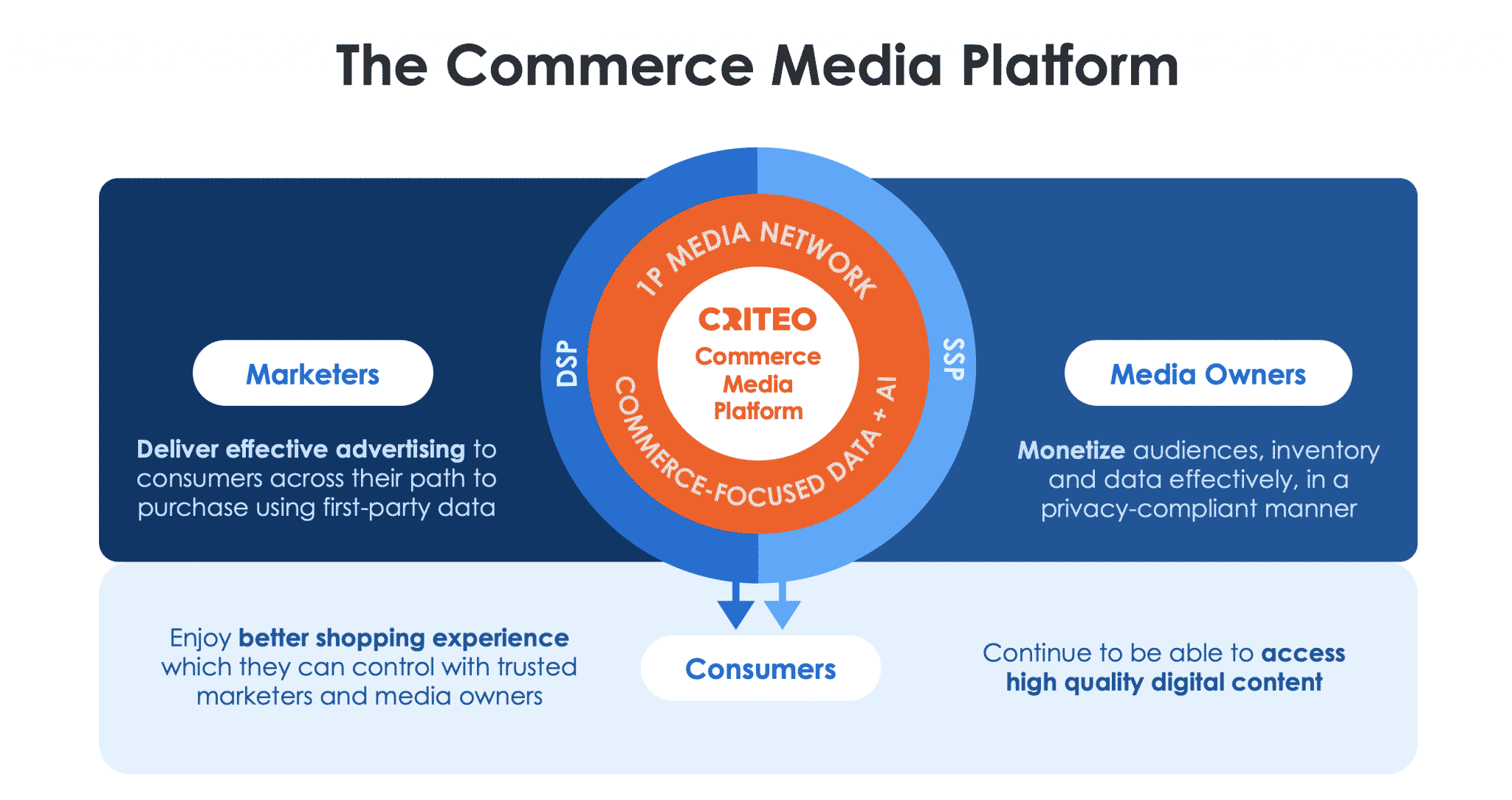 Marketers and media owners onboard their first-party data into our network through a direct or partner integration, or by adding a pixel to their site.
The data is then unified with our Identity Graph (part of the world's largest commerce data set) to find matches and build consumer profiles. The data provider can choose how (and with whom) their data is shared within our network.
Then we enrich the data with $900B worth of our first-party commerce data and the resulting patterns of behaviors and intent signals identified by our AI engine, for a deeper understanding of the total consumer
Finally, the data is activated by building audiences with options that span a variety of audience types, channels, and advertising formats.
First-Party Media Network Features & Outputs
Our unique combination of unparalleled commerce data and AI and our privileged position on both the demand and supply side make the First-Party Media Network a one-of-kind solution. These are the advantages that only Criteo can offer:
Shopper Graph: The world's largest commerce data set on the open internet:
650M daily active users
2B monthly active users
4B product SKUs and thousands of product categories
100+ global markets
Buyer Index: The audience planning and activation toolset that turns our Shopper Graph data into simple, easy-to-use audiences and personalization segments, based on any combination of identifiers.
First-party reach that's fully privacy-compliant:
20,000+ retailers and brands
5,000 direct publisher partnerships
100+ top retailers in the world
Criteo AI Engine: Our technology understands buying journeys and powers predictive bidding, product recommendations, and dynamic creative optimization.
Demand and supply-side:  As one of the few platforms with significant assets on both the demand and supply side, we're able to remove steps in the current process that create data and revenue loss for marketers and media owners.
Performance heritage: We've been in the industry a long time. We know consumers and their journeys better than anyone. And we know how to deliver outcomes for every stage.
Future-proof with the First-Party Media Network
Advertising is evolving. The First-Party Media Network ensures that marketers and media owners can make good on the promise of a rebalanced system where everyone—including consumers—win.
Read on for more insights about our First-Party Media Network from our Chief Product Officer, Todd Parsons.