With Single's Day quickly approaching, marketers can anticipate that this year's season of Double Dates events will massively impact businesses' customer growth and revenue expansion. According to research from MiQ Asia Pacific, six in ten shoppers across India, China, and Southeast Asia are expected to significantly increase their spending this holiday season compared to in 2021.1 With exciting commerce opportunities ahead this holiday season, marketers will want to plan their campaign strategies accordingly. 
To help marketers prepare, we analyzed commerce data from hundreds of our partner retailers across Southeast Asia during the Double Dates season (comprised of 7/7, 8/8, 9/9, 10/10, 11/11, and 12/12). Check out what we learned.
Double Dates bring more than double the sales
In Southeast Asia, Double Dates in H2 2021 showed tremendous spikes in retail sales – particularly on 12/12, when sales increased a whopping +453%. Other events throughout the Double Dates season also took the region by storm: overall retail sales rose +399% on 11/11 and +338% on 9/9.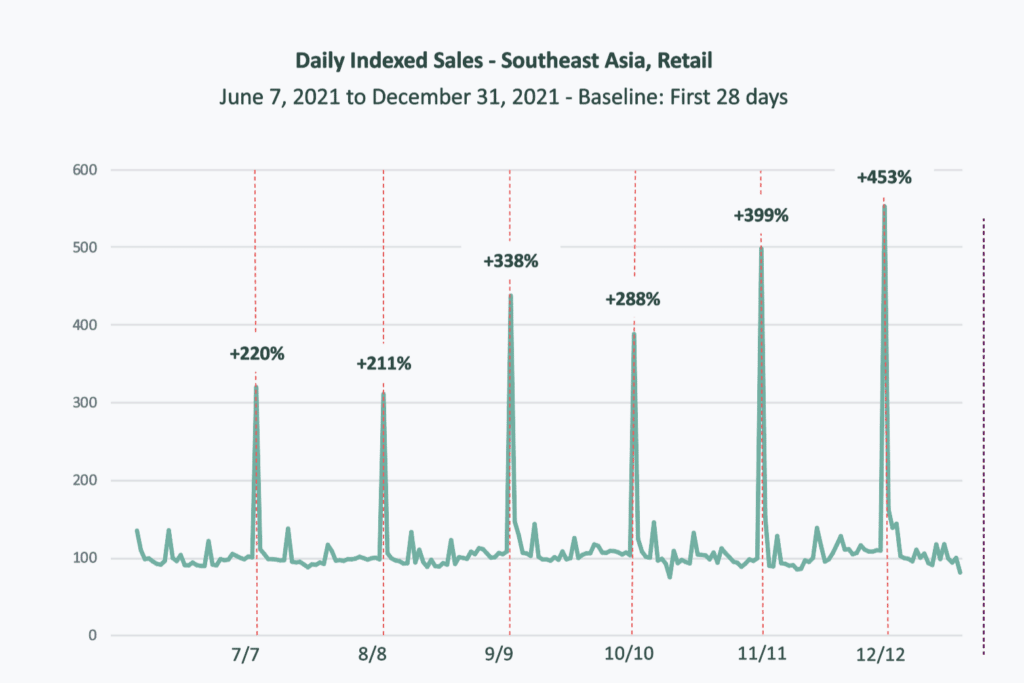 Let's take a closer look at how the Double Dates drove sales last year across Southeast Asia by country. Most countries saw the highest sales spike on 11/11. In Singapore, retail sales skyrocketed an impressive +223%.  
Other countries, such as Vietnam and Indonesia, saw their retail sales spike the highest on 12/12. In Vietnam, sales rose 143%, and in Indonesia, sales rose +188%. 
Beyond Southeast Asia, South Korea also witnessed a substantial increase in online retail sales. The uptrend began on November 1 (+47%), which marks the start of country's largest shopping event of the year, Korea Sale Festa. The shopping momentum continued into Pepero Day on 11/11, with sales up by +72%. 
Looking at the Greater China region, retail sales increased by +230% on Singles' Day and +114% in 12/12. 
Getting back to business with Apparel & Accessories
To understand the biggest product trends of last year's Single's Day, we tapped into Criteo's Commerce Trends Dashboard. Within the Apparel & Accessories category, sales close to Single's Day in Southeast Asia showed a rise in professional-wear. 
Pant suit sales shot up +72% in November 2021 compared to the year before. Accessories for work-related attire also rose year-on-year – including badge and pass holders (+58%), belt buckles (+51%), neckties (+12%), and business card cases (+11%). 
Interestingly, sales for coats and jackets declined in November 2021 YoY by –31%. Accessories such as handbags (-33%), necklaces (-33%), and earrings (-37%) also declined YoY.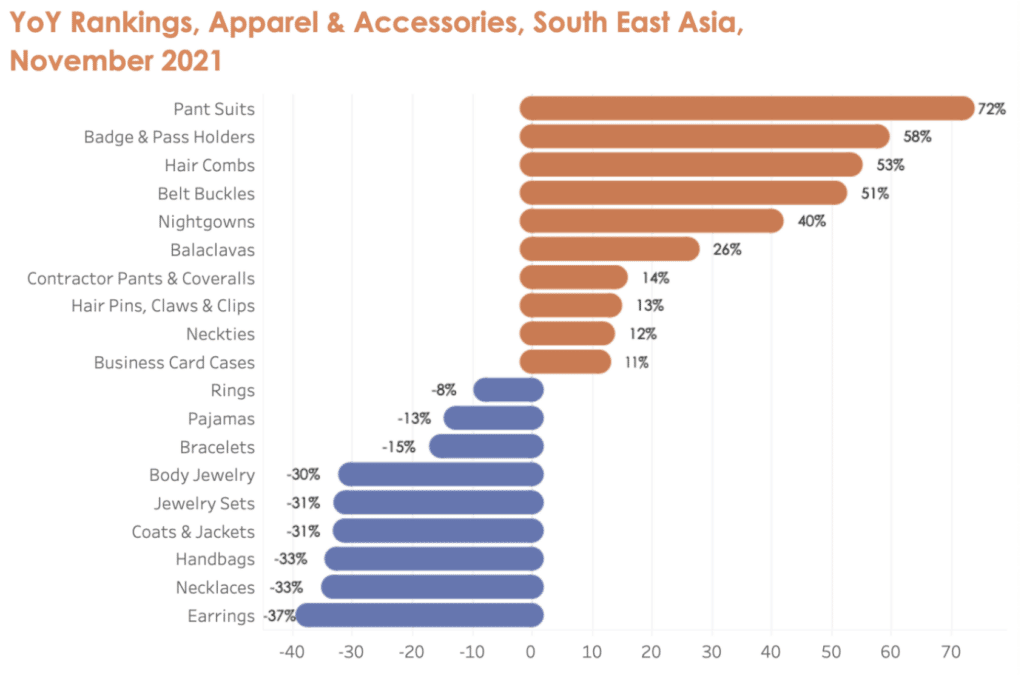 Furniture sales and the continued importance of home
According to our Commerce Trends Dashboard, the Furniture category had one of the strongest areas of sales growth in Southeast Asia around last year's Single's Day. This indicates that shoppers are continuing to invest in their homes as the pandemic persists. 
Gaming chair sales rose +72% in November 2021 compared to in November 2020. Sales for desks also rose +16% YoY, suggesting that shoppers are continuously leveling up their desk spaces – whether for work, school, or entertainment. 
As consumers collect more entertainment products throughout the pandemic, sales for media storage cabinets and racks also increased +66% YoY in November 2021.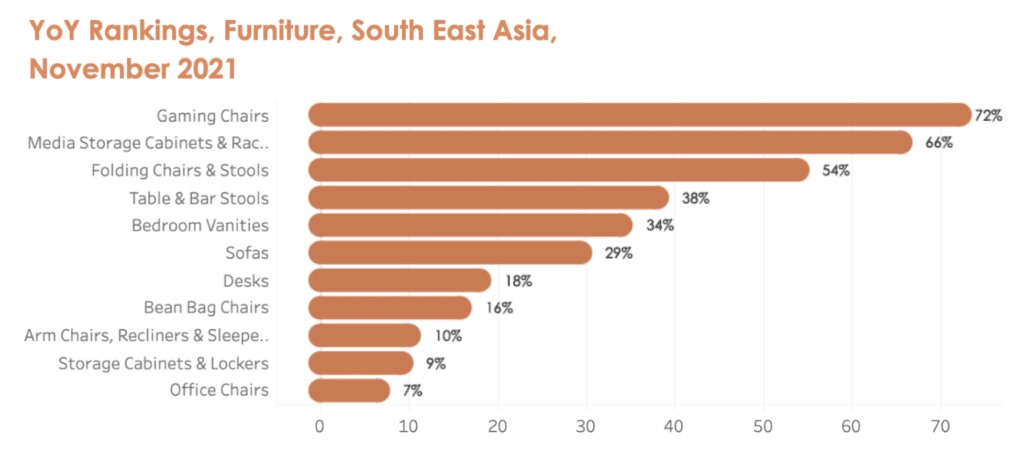 Deliver strong Double Dates performance 
Ready to give your end of year campaigns the gift of a full funnel strategy? Download our Holiday and Festive Season Playbook on a Page for a guide on how to maximize your advertising for the peak shopping season. Backed by Criteo data from more than 22,000 advertisers and $1 trillion in ecommerce sales, our playbook offers audience targeting strategies, ad format recommendations, messaging tactics, and more.

For even more global sales data from thousands of retailers, visit Criteo's Commerce Trends Dashboard where you can delve deeper into the Double Dates numbers. 
1 MiQ, SAPIO Consumers Research, May 2022