In any given year, the third quarter is a prime time for summer travel across the globe. However, this year's Q3 travel landscape held a distinctive character. With high costs throughout the industry, travelers worldwide found themselves in a unique position, balancing their determination for adventure with discernment to maximize the value of their trips. 
To help marketers understand today's travelers, Criteo tapped into our dataset of more than 2,000 travel players and surveyed over 10,000 travelers globally. Here are the travel trends that define the state of global travel in Q3. 
Air travel bookings continue to rise
More people around the world are eager to get away. Notably, APAC travelers generated the largest increase in air travel bookings year-on-year compared to other global regions. APAC's September 2023 air travel bookings soared an impressive +23% compared to the year prior. 
Following closely behind, the Americas reported a strong +15% increase in bookings during the same period. In contrast, the EMEA region saw a more modest +8% uptick in flight bookings.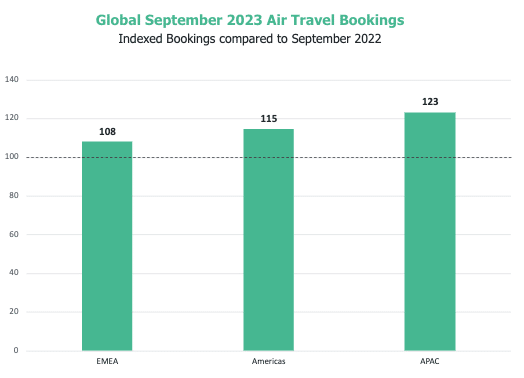 More travelers are also opting to venture further away. When it comes to international destinations, air travel bookings increased YoY in the Americas (+8.3%), APAC (+7.3%), and EMEA (+1.3%). 
Travelers are taking increased costs into account
Around the world, 70% of travelers are thinking about their trip's full budget—considering expenses for transportation, accommodations, food, and activities. This price-conscious mindset is particularly strong among APAC travelers (73%), followed by US travelers (69%) and European travelers (64%). 
As a result, travelers want the most value for their money. More than half of travelers around the world see special offers as a top factor when considering travel providers.  
Travelers are also growing more interested in offers that reward their loyalty. Globally, more than 1 in 4 travelers are influenced by loyalty programs.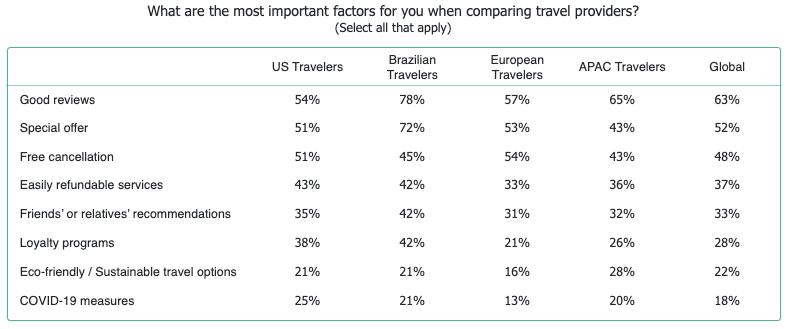 AI is a growing travel tool
In Q3, 1 in 5 travelers have already used AI-driven tools to plan their getaways. 
Travelers anticipate that AI can be particularly helpful for finding attractive destinations (43%) or suggesting accommodations (40%). 
AI has the potential to transform the entire travel industry, influencing every travel touchpoint. More than 1 in 4 global travelers believe that AI would be useful for planning their entire trip.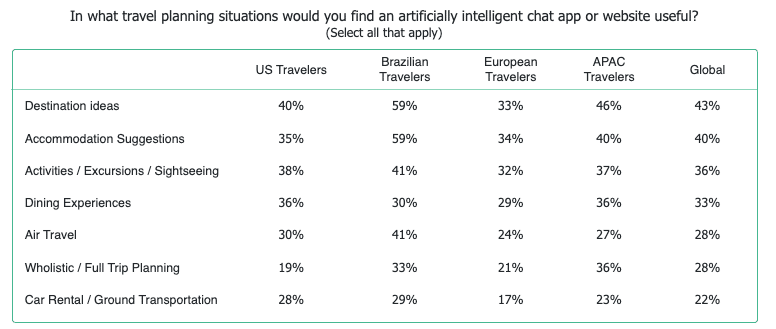 Gearing up for new year getaways
Now, in the fourth quarter of the year, is a crucial moment for marketers to start planning how they can proactively engage travelers during the new year's peak spending season. 
Based on Criteo data from a global aggregate of travel providers, indexed travel bookings skyrocket +50% during the first weeks of January, as consumers shift their focus from holiday retail shopping to travel reservations for the new year ahead. 
Equally striking, trips booked during these early weeks of January have an average anticipation period (time between booking completion to start of trip) of 41 days. 
Grow your travel customer base 
From catering to the budget-conscious explorer to empowering the inquisitive researcher with AI-driven chat tools, it's essential for marketers to craft experiences that resonate throughout the entire customer journey. 
Elevate your approach to acquiring and retaining travel customers with Commerce Growth. Leveraging the world's largest open commerce dataset, Criteo's solutions help marketers tailor enticing product offerings and creative content to trigger interactions, visits, engagement, and, conversions.
For even more global commerce data, visit Criteo's Seasonal Travel Dashboard and Commerce Trends Dashboard.