At Criteo, we make it a monthly practice to survey consumers worldwide to gain insights into their shopping behaviors. In our most recent survey of over 11,000 global consumers, we set out to understand shoppers' plans for the upcoming holiday season.  
For marketers gearing up for the peak shopping season ahead, here are just some of the 2023 holiday shopping trends we uncovered.
More shoppers are getting ahead of the game this year
This year, shoppers around the world have a strong planning mindset. More than half of shoppers have already thought about what gifts they'll offer during the holiday season. 
For some shoppers, the festive shopping season has already begun. Over one-third of consumers have already purchased some gifts for the holidays. This share of shoppers is up 13% since Q3 of last year. 
Not only are shoppers getting started early, they're also anticipating to spend more money during the holidays. 1 in 5 consumers believe they'll spend "much more" both in-stores and online.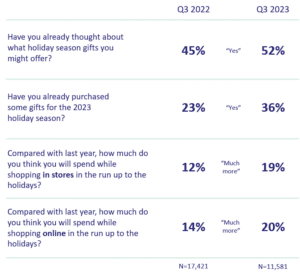 Finding the best deal is growing even more important
Over half of consumers check prices across multiple brand/retailer websites before making a purchase. 
Shoppers are also actively looking for promotions, with 46% of shoppers reporting that they seek out discounts to use for purchasing gifts and that they've focused more on sales days since last year.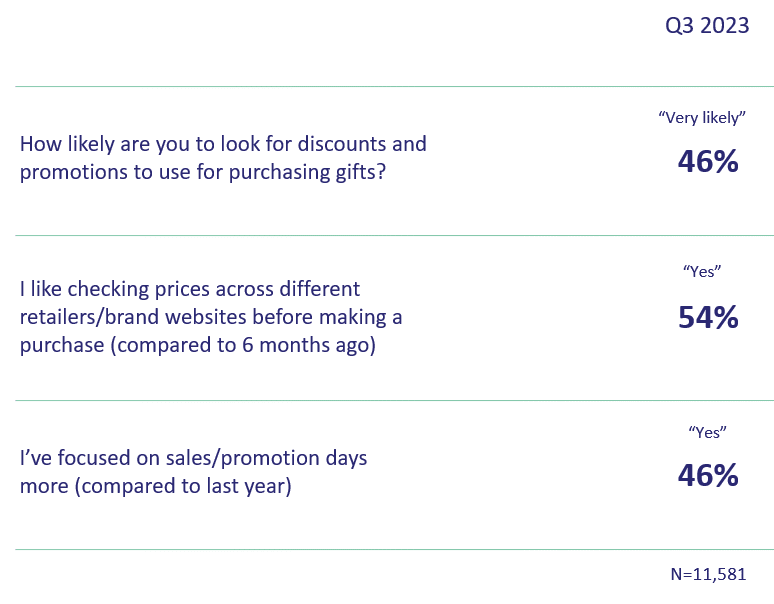 Shoppers are embracing AI as a research tool
More than 4 in 5 consumers believe that AI is a useful shopping tool. 
A solid 41% of shoppers find AI helpful for identifying the best price for a product, while 32% believe that AI is valuable for asking questions about products or identifying new gift ideas.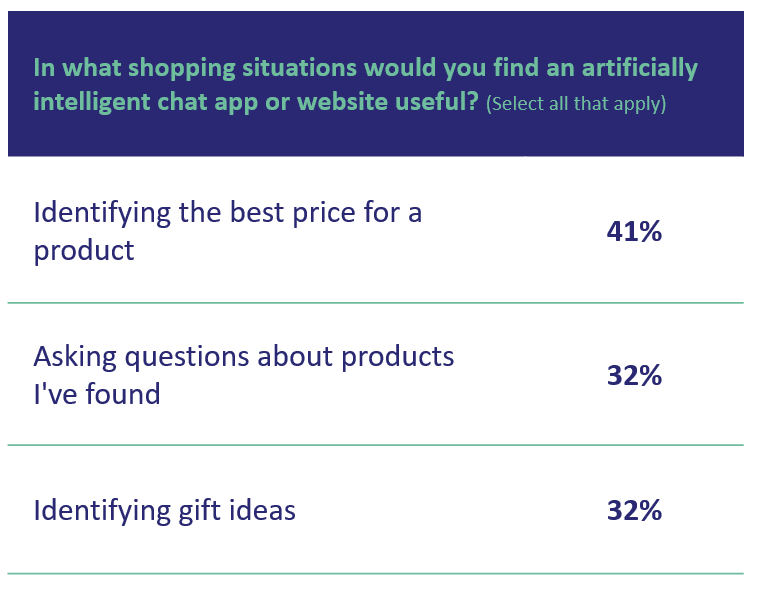 Online ads inspire holiday discovery
The majority of shoppers engage with product links that they see in places throughout the open web–such as articles, blogs, and videos. A full 68% of shoppers click on these product links throughout the open web "sometimes" or "very often". 
Shoppers are also growing more likely to click on ads that help them find the products they're looking for. About one third say they're more likely to click on ads with deals/offers than they were six months ago. 
Online ads are an important source of discovery, with 20% of shoppers stating that they frequently discover new brands or products through ads displayed on the retailers they shop from.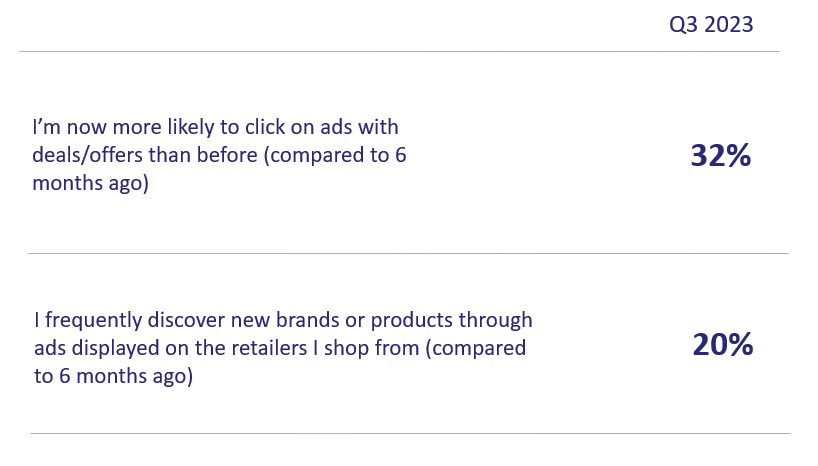 In-store purchases are shaped by a preceding online journey
Nearly 2 in 5 shoppers buy last-minute gifts in physical stores. However, our survey reveals that the online journey strongly influences these in-store purchasing decisions. During the week leading up to Christmas, 20% of in-store purchases are preceded by site visits as shoppers research and compare online. 
Buy Online Pickup In-Store is also a growing reason for gift purchases in physical stores. The share of respondents who prefer to buy gifts online and pick them up in a store rose 9% in Q3 2023 since the same period last year.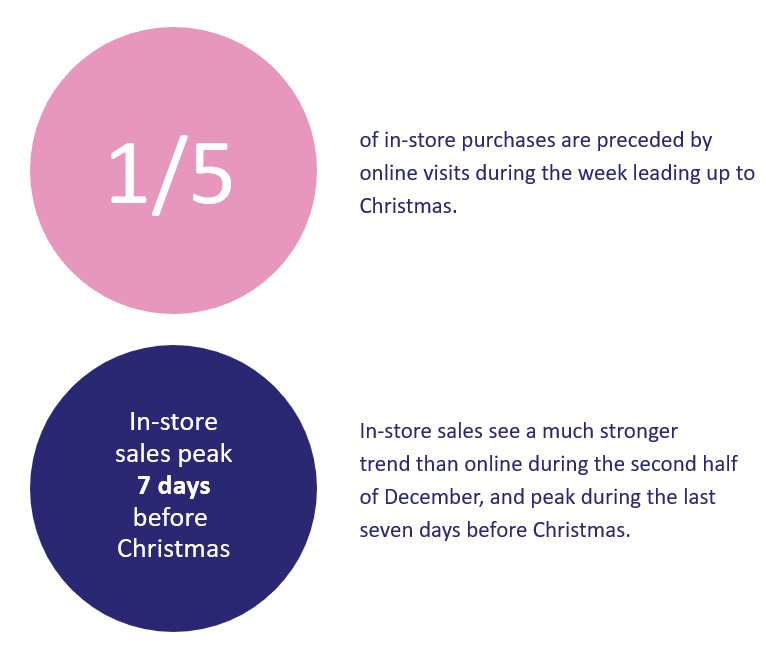 Shoppers love to try new brands during Black Friday
When deals take center-stage, shoppers become more open to shop from completely new stores. On Black Friday, nearly a fifth of shoppers "always" purchase from online stores they don't usually buy from during the rest of the year. Meanwhile, 6 in 10 consumers say they "sometimes" reflect this behavior. 
For shoppers who purchase from a new store during Black Friday, there are several factors that will encourage them to buy again from a store they already know and love. Great deals are the strongest motivator (56%), followed by free shipping (51%) and discounts that can't be found elsewhere (37%).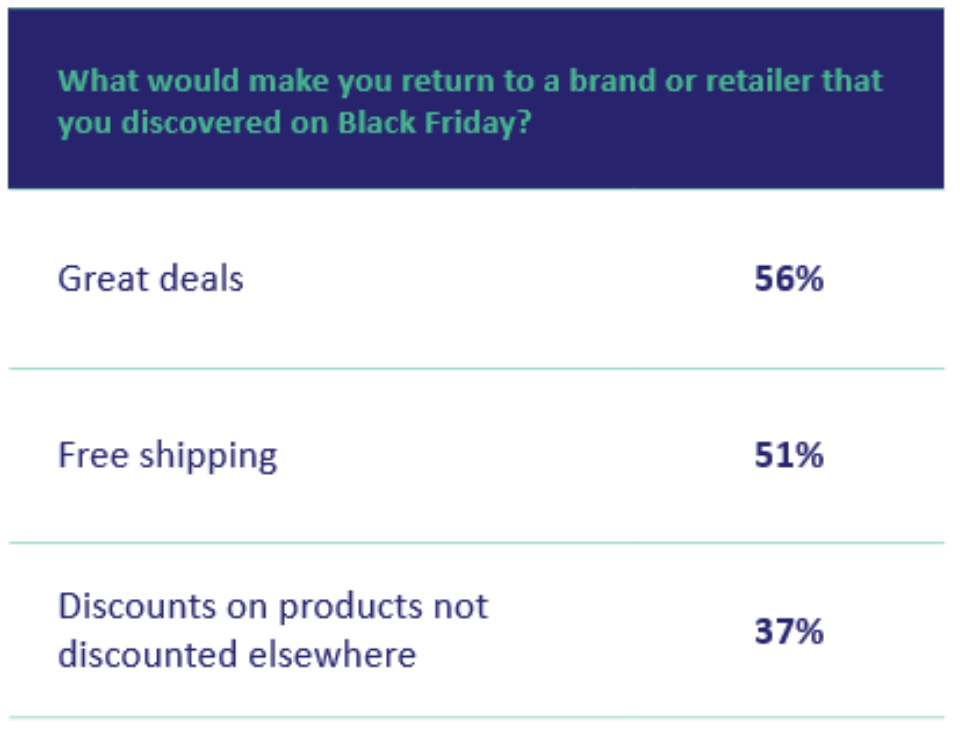 How to apply these insights to your holiday strategy:
With more shoppers getting ahead of the game this year, start your holiday offers even earlier to capture the attention of proactive shoppers and remain top of mind throughout the season.

 

Leverage messaging that appeals to the deal-conscious shopper, highlighting your brand's unique proposition while affirming that your product offers the best value on the market.

 

Meet the needs of research-savvy customers by incorporating AI throughout the customer journey.

 

From videos to articles, engage shoppers wherever shoppable moments happen to boost acquisition and retention opportunities.

 

Seamlessly connect the in-store and online shopping experience across more touch points of their journey.

 

Make the most of November's prime time for new buyers by investing in acquisition campaigns before, during, and after Black Friday.