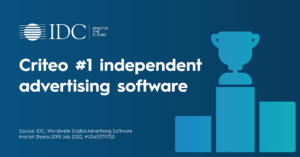 On the 27th July 2020, Karsten Weide (@KarstenW) Program Vice President, Media & Entertainment at IDC published an updated market share analysis report titled Worldwide Digital Advertising Software Market Shares, 2019: Ongoing Merger and Acquisition Activity, Fragmentation Remains (paywall, reference #US45379720).
Criteo remains the #1 independent Ad Tech player with 4.9%, after Google and followed by The Trade Desk, Xandr and Adobe.
This is an update from the 2017 shares, with a key taxonomy difference: Google revenues which were previously allocated in the media spend category are now split between media and technology.