The world's largest annual shopping event, Singles' Day, posted record numbers again this year. Alibaba, which began offering Singles' Day sales at the beginning of November, said it raked in $84.5 billion in sales from November 1 through the actual event on November 11.1 Though this was a record-breaking amount, it was a smaller year over year increase than in years past (+8% as opposed to +26% last year vs. 2019).
How did other retailers fare this 11/11? We analyzed sales from hundreds of our partner retailers across Greater China and Southeast Asia to see how 2021 compared to 2020. Here's what we learned:
Greater China: Retail and Travel Sales See Double Digit Growth YoY
In Greater China, retail sales on Singles' Day were up nearly 20% vs. 2020. Taiwan, in particular, had a strong year, with retail sales that were up 22%.
When we drilled down to the specific retail categories, it showed that the Apparel category was up 4% vs. 2020. The Lifestyle category grew 22% YoY and all other retail categories combined showed a 30% increase. Overall, retail online sales were up 186% compared to the average during the last week of October 2021. 
Travel sales in Greater China also showed growth, posting a 14% improvement over 2020 numbers.
Southeast Asia: Massive Growth in Vietnam and Singapore
Southeast Asia recorded a more moderate increase in retail sales, with a 4% jump year over year. There were a few countries within the region, however, that had significant growth year over year, including Vietnam (+35%) and Singapore (+22%). Overall, retail online sales were up 260% compared to the average during the last week of October 2021.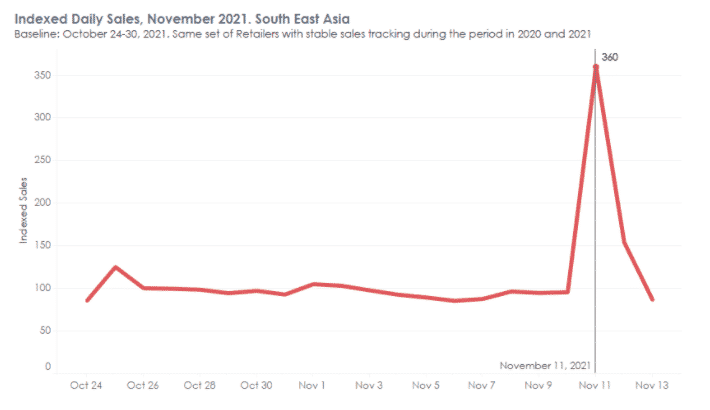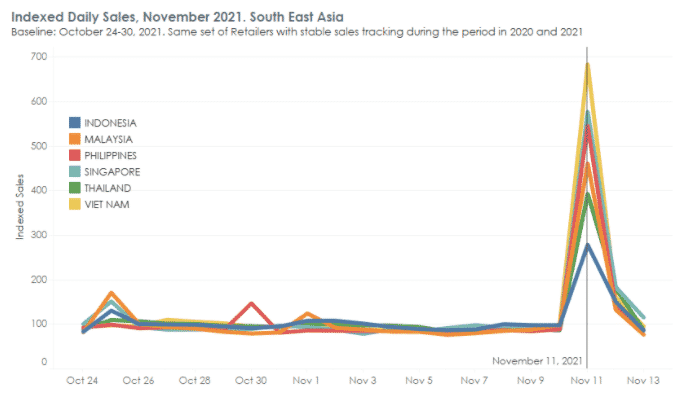 The Lifestyle retail category led the way in the region, generating 19% more sales this Singles' Day. Consumer Electronics and Apparel also had a strong showing, with +14% and +10% sales, respectively.
Travel sales also saw significant growth at +97% vs. 2020. This is a reflection of the overall recovery of the category throughout the period, not just on Singles' Day itself. Overall, in APAC, travel bookings were up 20% YoY during the first half of November.
Singles' Day is Becoming More Popular in Western Countries
Interestingly, Singles' Day showed a strong upward trend in Europe this year. Sales were up respectively by 80%, 68%, and 57% in Italy, Spain, and France, compared to the average in the last week of October 2021. Other European countries also showed a significant increase in online sales, such as Germany, the UK, and the Netherlands (35%, 22%, and 16%), where more retailers were driving promotions on 11/11 this year. In the US, a slight uptick of online sales on 11/11 did not seem to be directly related to Singles' Day.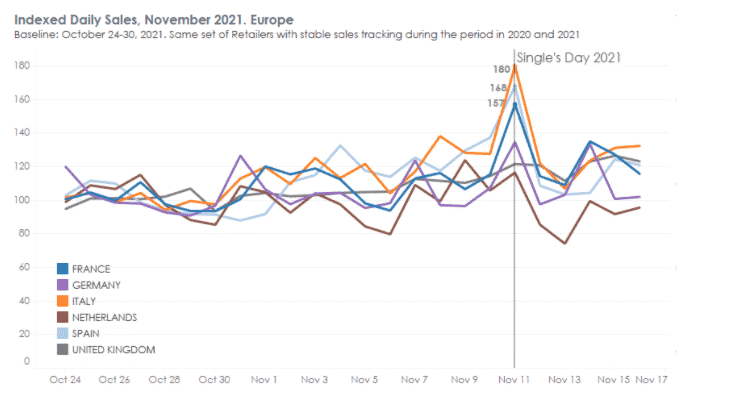 1https://www.cnn.com/2021/11/10/business/china-singles-day-intl-hnk/index.html