Spring Break is right around corner. That means a lot of people are getting ready to break free from gray winter skies and find the warmest, best possible beach, poolside oasis, or entertainment options the whole family can enjoy. At least that's what our data tells us.
At Criteo, our data from more than 1.4 billion active monthly shoppers lets us see seasonal shopping trends. So we decided to analyze what exactly happened as people were planning their getaways.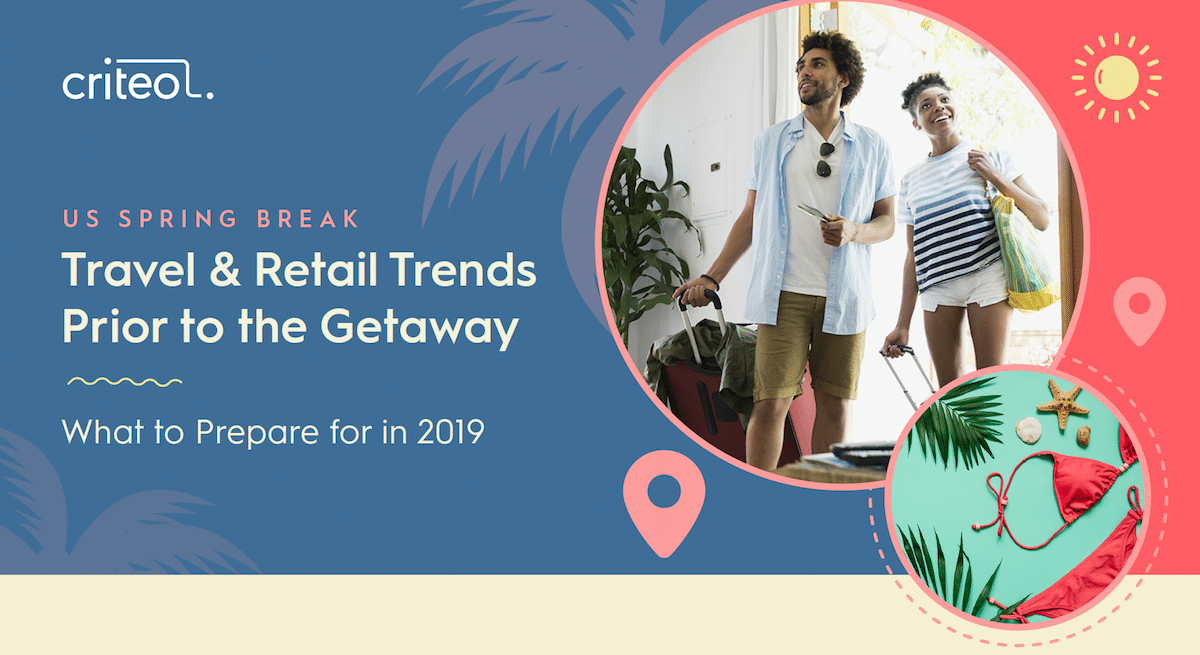 By looking into our 2018 travel and hospitality data from New Year's up until Spring Break, we found five key trends:
5 Spring Break Travel Trends
1. During winter, bookings for warmer cities rise.
Southern destinations surge after New Year's Eve and particularly in February as travelers search for better weather, or book Spring Break holidays.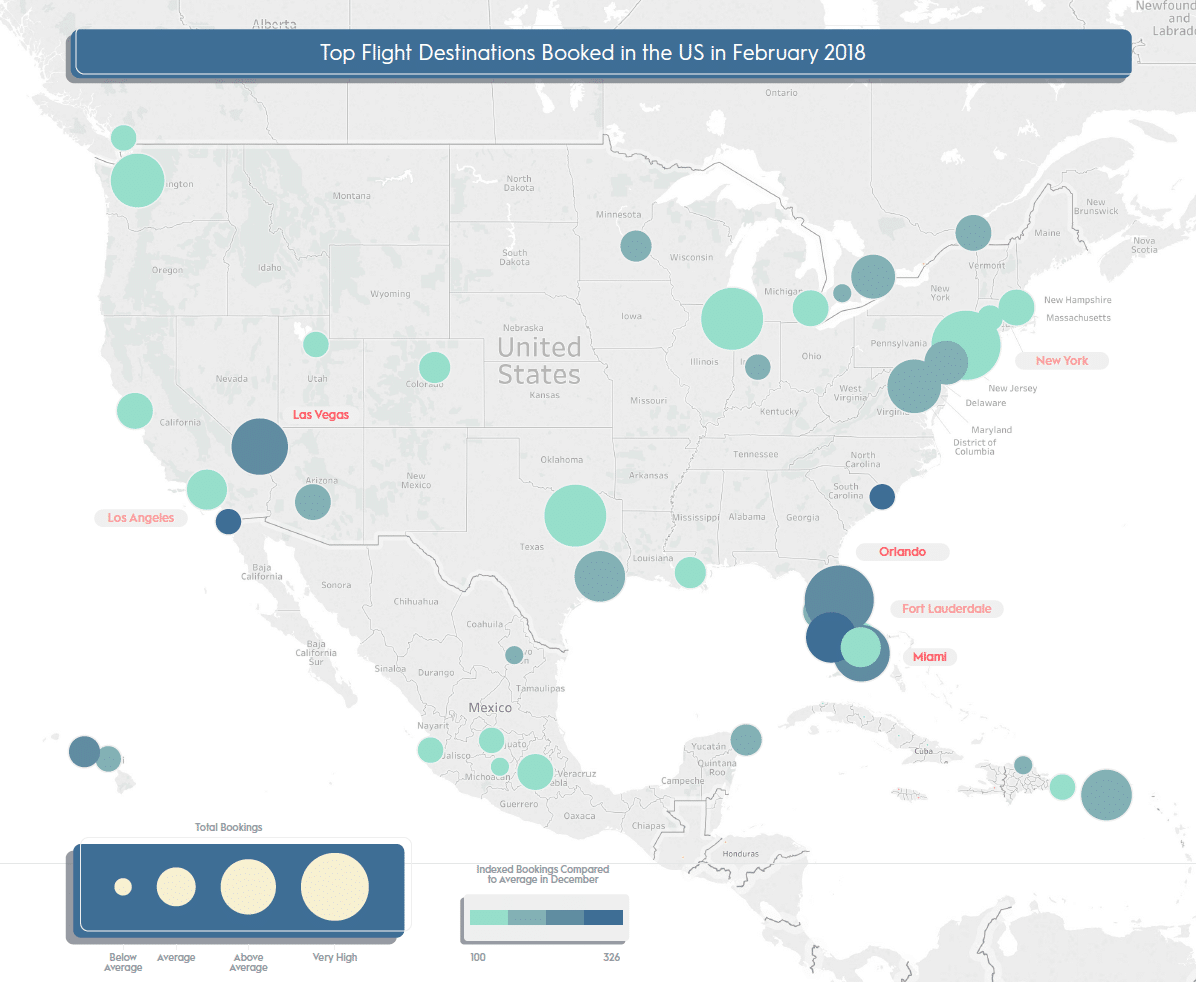 And it's no surprise — during dark and dreary cold months, people may be dreaming of sunny, warm, beachy getaways:

2. Warmer destinations top travel bookings in February.
Travelers flock to places made to unwind. Some destinations may not be the most popular in sales but are particular favorites to purchase tickets to in February. Many cities that top the list are well-known for their warmer temperatures and vacation-worthy offerings, like beaches, entertainment, and family activities.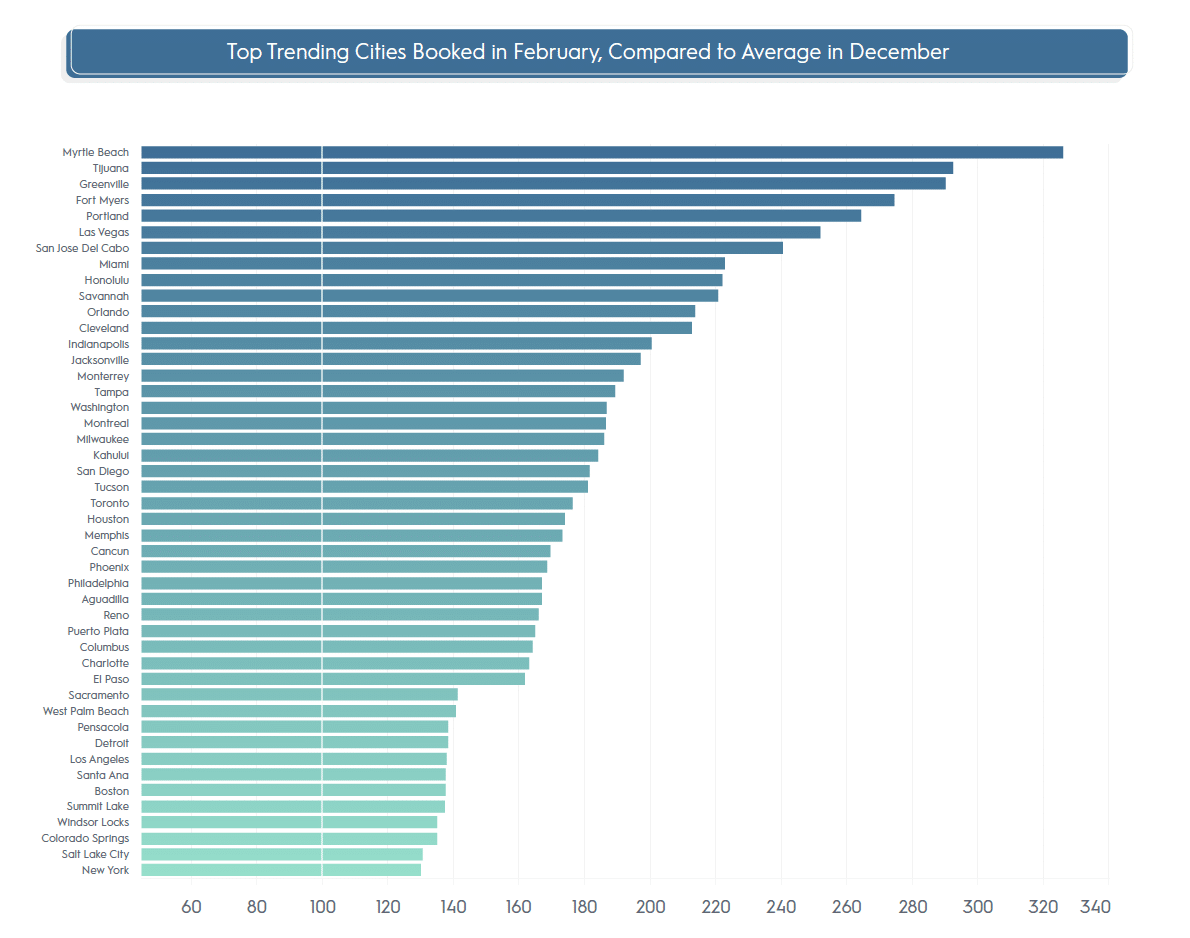 3. Students may book sooner than parents.
Most American colleges have spring breaks in March, and compared to overall US travel trends, travel to certain destinations is significantly higher at the top of the year. Bookings to Las Vegas and Miami see a quick uptick in early January. Planning trips to these two party cities starts early, more than doubling by the third week of January. Sales stay high, with increases of 156% for Las Vegas and 120% for Miami, for over a month through the final week in February.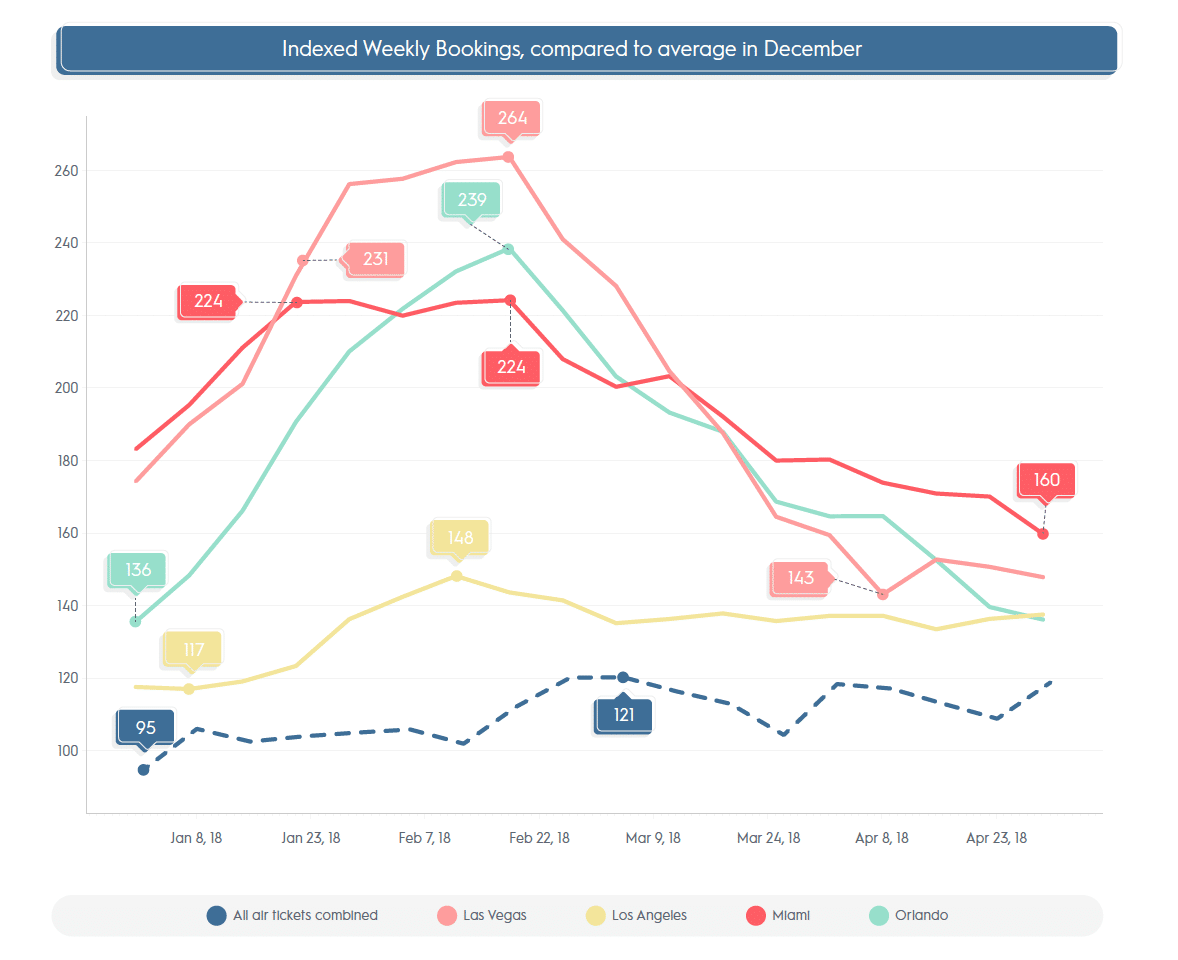 More family-friendly spring break destinations, like Los Angeles and Orlando, see a slower rise in bookings.
4. Many travelers book flights and hotels at the same time.
Travelers booking flights at this time are also booking hotels: Our data shows that the surges and peaks occur within a week of each other. Spring break's most popular destinations, characterized by limited supply and high demand, could be inspiring travelers to secure their accommodations as soon their air tickets are booked.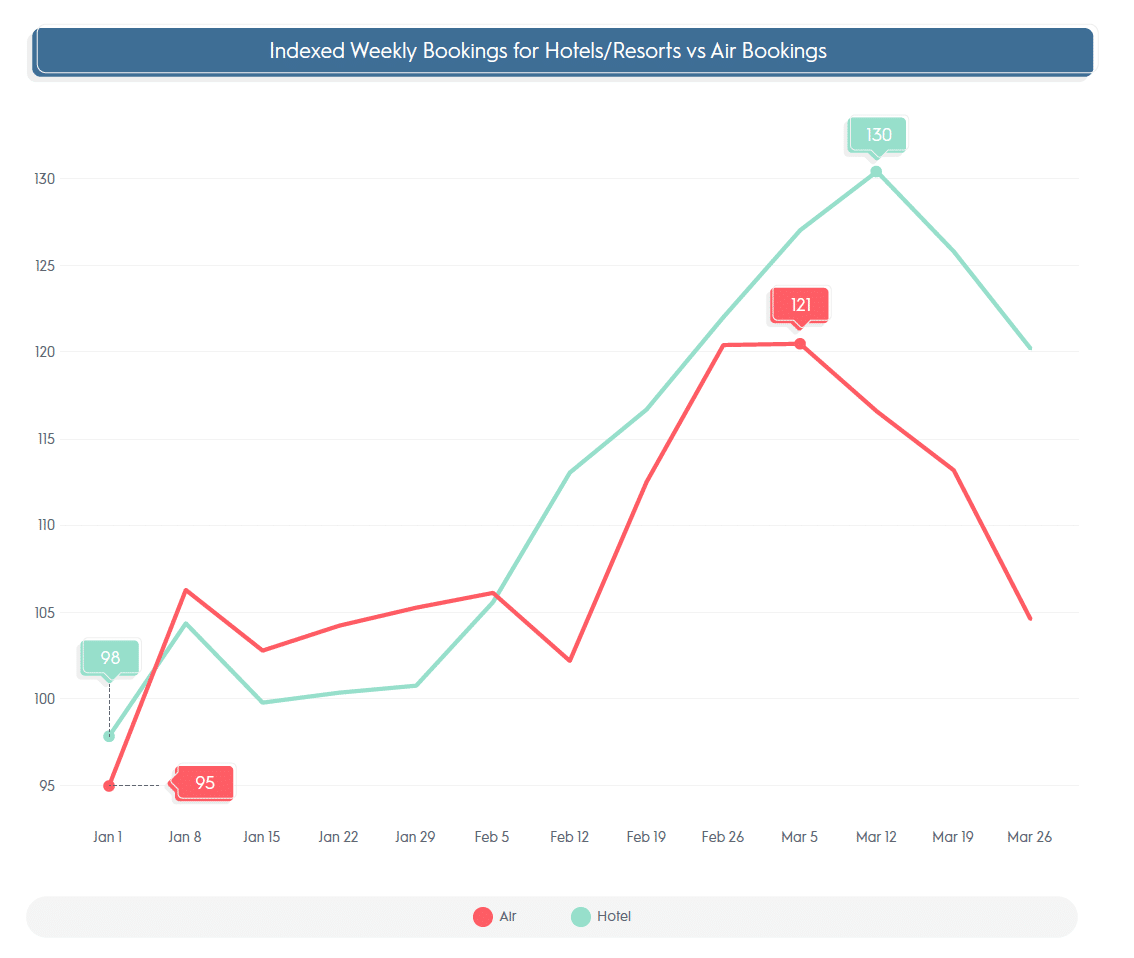 At the same time, many travelers book hotels up until the last minute, with the peak reaching a 30% increase in mid-March.
5. Spring travel bookings help boost retail spend.
To date, we've already seen increases in travel bookings during the first few weeks of 2019 that were similar to what we saw in 2018. In step with a rise in spring break travel bookings, we saw a 16% average increase in January for summer products, including skirts (+122%), shorts (+161%), and swimwear (+179%), compared to the average in December.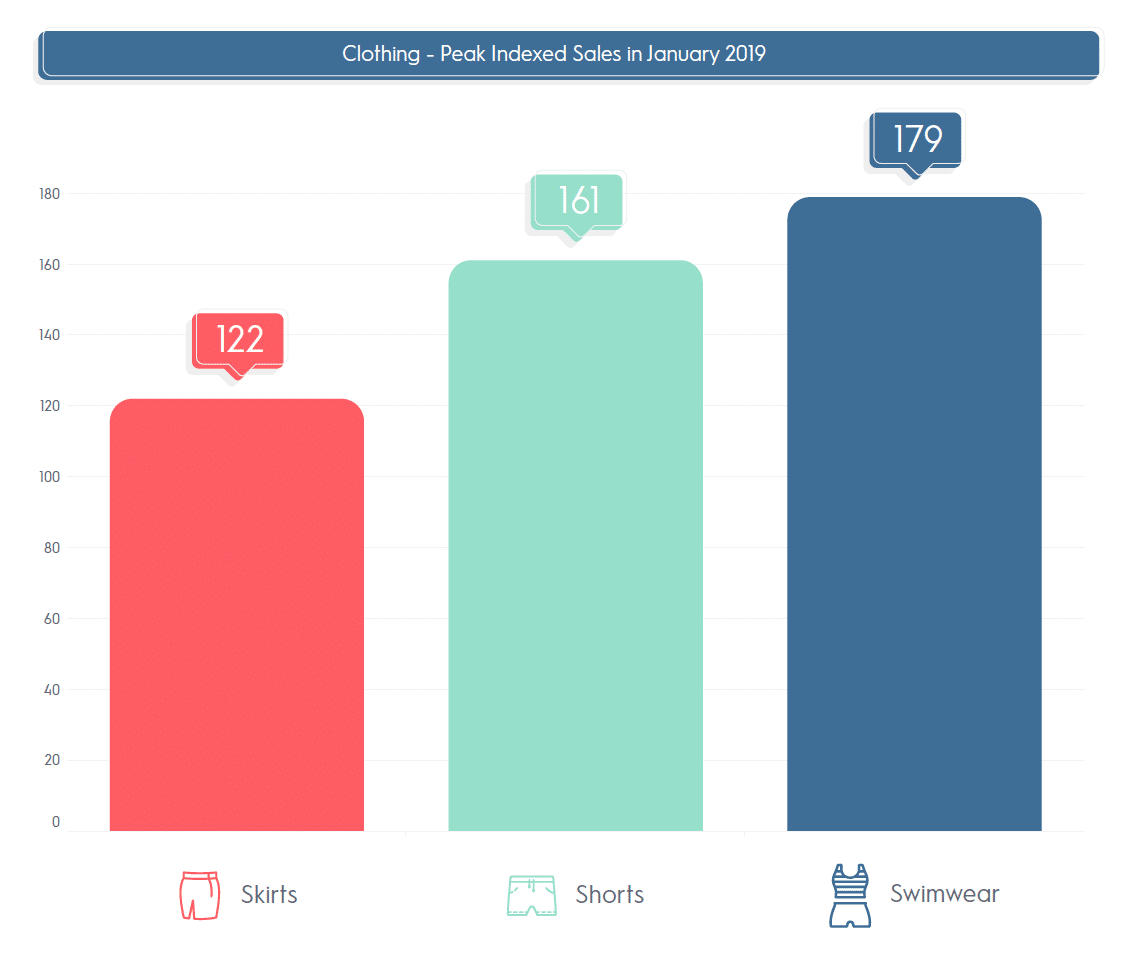 And travelers aren't forgetting their eye protection: There was a 55% surge of sunglass sales in January 2019.
Tap into the Spring Break Opportunity with Data
From college students looking forward fun in the sun with friends, or families that can't wait to get away from it all, spring break presents lots of opportunities for retailers and brands to tap into that consumer psychology. But you need the best data out there to connect all the dots along the consumer journey. Make sure your business stays top-of-mind while people daydream about and prepare for spring travel, all the way through the vacation itself.
For more insights, download the full spring break travel trends PDF here, and be sure to check out the Criteo Seasonal Travel Dashboard.