The end-of-year season is a make-or-break time of year for many marketers. To get ready for a (hopefully) much higher volume of traffic and orders, business often begin prepping months in advance: Budgets get aligned, strategies get discussed, goals get set.
Criteo wanted to gain some insight into whether marketers were anticipating a good holiday season in 2019, and whether they were planning on adjusting their marketing spend accordingly. We surveyed 289 marketers across the US, the UK, and France and asked them about their predictions and plans for this holiday season. Here's what we saw:
1. Marketers think the outlook for Holiday 2019 is bright.
Close to half of respondents to our survey said they expected higher sales this holiday season compared with last year: 50% in France, 45% in the UK, and 48% in the US.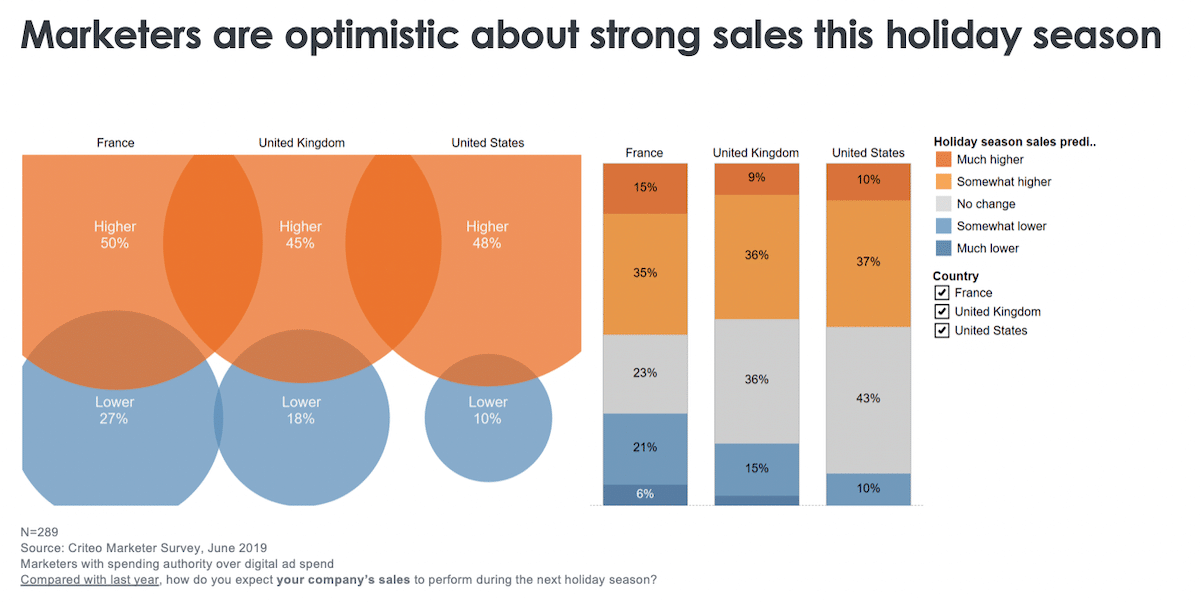 In France, this optimism may stem partly from the fact that Black Friday has steadily been gaining traction outside the US. Today, Black Friday in France is even starting to steal the spotlight from Winter Sales (January), which used to be the most-expected sales event of the year.
This applies across the board to all verticals, but retailers tend to be even more optimistic than other industries, with 53% predicting a sales increase.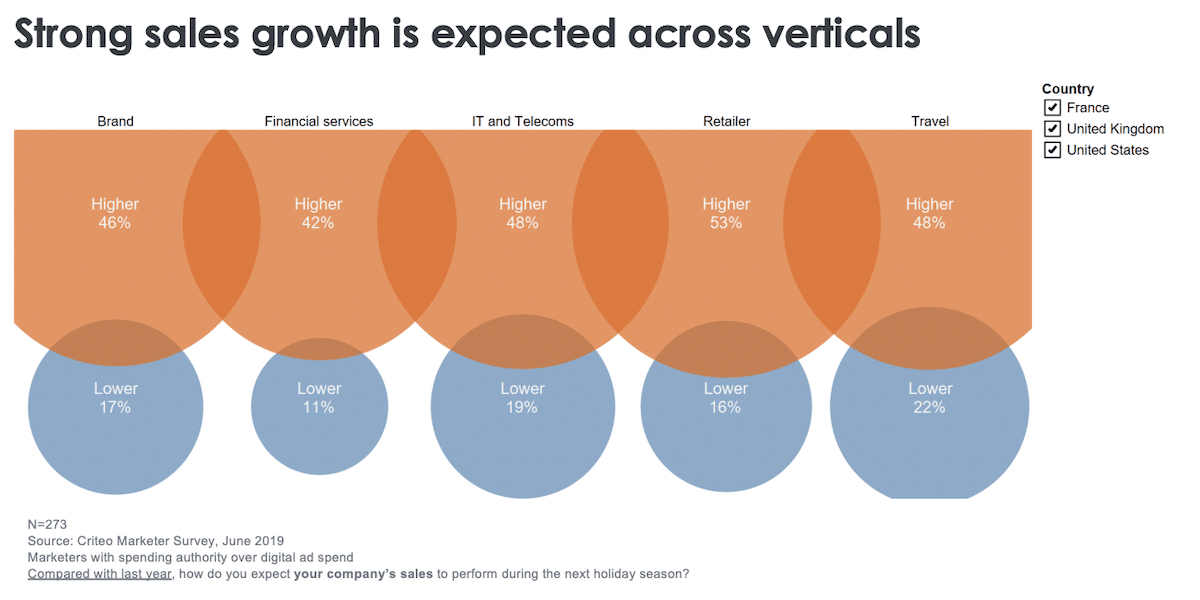 So no matter what industry you're in, end-of-year sales are on deck to be bigger than ever.
2. Early planning hints at how big Holiday 2019 could be.
Focusing on retail specifically, 28% of marketers say their company starts prepping up for the holiday season in Q2, and 26% start in Q3. And 3 out of 10 start planning even sooner (up to a year in advance).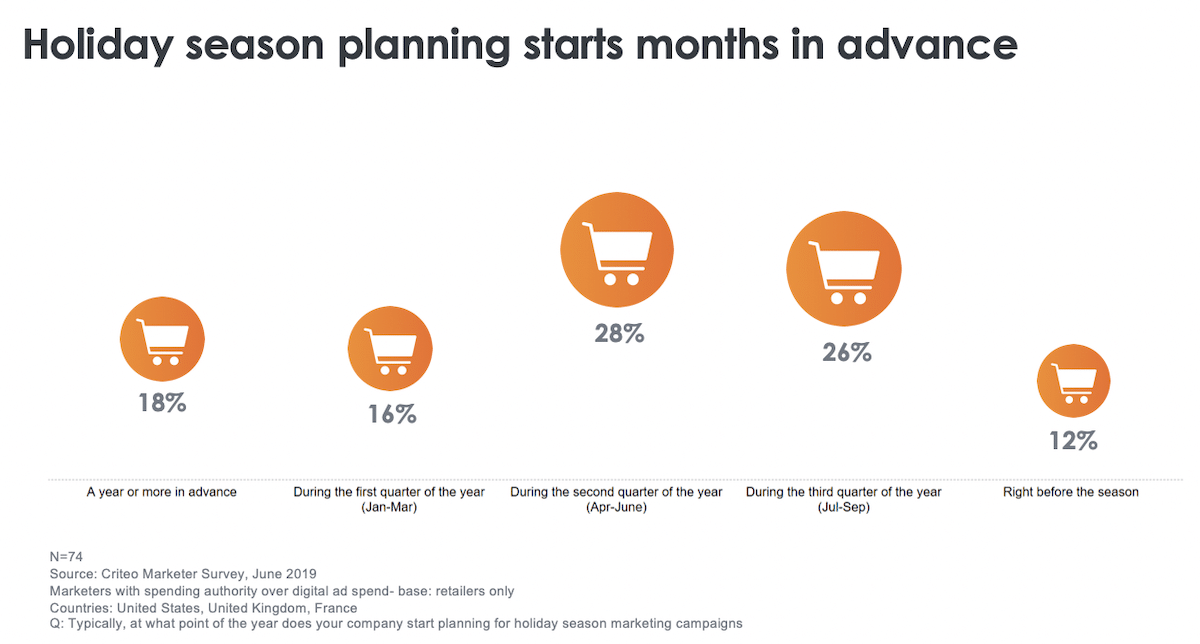 Given the need for a full-funnel approach to your marketing strategy, it makes sense that for holiday especially, marketers are getting all their Christmas ducks in a row as soon as possible.
3. Holiday 2019 marketing spend is expected grow.
A very significant fraction of advertisers plan on increasing their advertising spend this holiday season: 46% in the US, 38% in the UK and 41% in France. This is at least twice as much as marketers who say the opposite.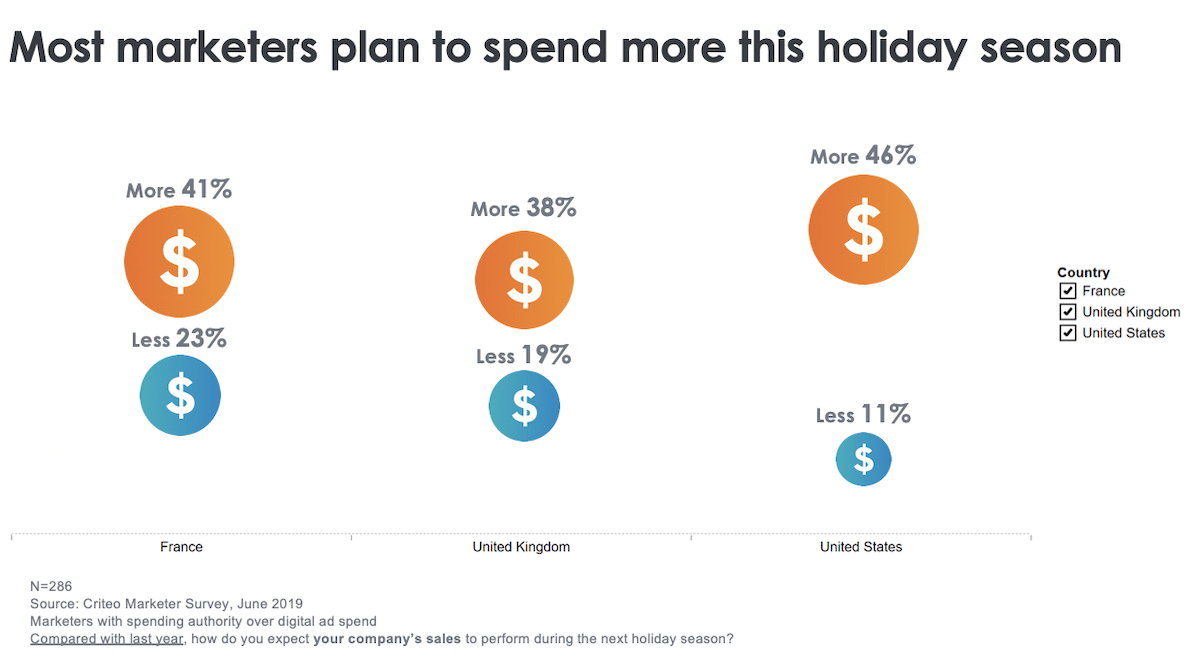 The main reasons why they plan on increasing their spend vary by market:
In the US, the number one reason is because advertisers need to keep up with an increasingly fierce competition.
In the UK, the number one reason is because last year's campaigns proved successful.
In France, strong sales expectations were named as the primary reason.
Dig into more of the survey's findings by clicking through the interactive Tableau workbook below!
*Methodology: For this study, Criteo interviewed 289 marketers with spending authority on digital media in the United States, the United Kingdom and France in June 2019. Industries represented: Retail, Travel, Classifieds, Financial Services, IT and Telecoms.