The holidays are a time for family and friends, laughter and sometimes tears. With giving and sharing on everyone's mind, it's also a great time for advertisers to experiment with storytelling across channels and mediums to take brand awareness to the next level.
With uplifting, heartwarming, and even yes, in some cases, tear-jerking campaigns that remind people about the spirit of the season, these marketers used six great campaign tactics that created ads to remind you about the spirit of the season.
Bring in Real People – Kraft: Family Greatly
Featuring real families instead of actors, Kraft's Family Greatly campaign aims to be more authentic than your average ad campaign. The messaging is powerful, and addresses the anxiety that many parents have: the need to be perfect.
Kraft conducted research that showed 80% of parents feel pressure to be perfect, but 80% of kids just want their parents to be "great" rather than "perfect." The campaign interviews real parents talking about the pressure they feel and real kids talking about how great their parents already are, and viewers can't help but feel the emotion emanating from the real people.
Debuting alongside more unified packaging, the campaign video is rolling out across Kraft's social channels and YouTube. Kraft's "Family Greatly" message is clear, and clearly hitting a chord with well over 3 million views since its debut on December 13th. There is no formula – or need – to be a perfect parent when kids probably already feel like their parents are doing a great job. What's most important is the bond kids feel with parents.
Use Animations to Inspire Customer Creativity – Microsoft: 3D Holiday
What better time than the holidays to remind kids and adults alike that inclusion and kindness make the world a better place? To showcase Paint 3D, Microsoft's 3D Holiday campaign features a girl and a yeti in an animated imaginary world, all built from Paint 3D.
With misfit characters like Gabe the Yeti, Terry the Three-eyed monster and Hermin the Ermine, all created and available on Remix 3D, a Microsoft library and community site for sharing and putting personal touches 3D creations, the spot celebrates inclusion. At the spot's conclusion, the characters find they've been brought to another world by Sasha the Astronaut.
Using eye-catching graphics and heartwarming storytelling, the spot promotes the possibilities of their Windows 10 Creators update, including Remix 3D and Paint 3D. But the larger message is one about inclusion.
According to Adweek, despite the rise of shorter videos and the decline of attention spans, marketers are discovering that animated spots can "cut through the clutter and really strike that emotional cord" with online viewers. Debuting just a week ago, the spots have already garnered over 1 million views each on YouTube. Microsoft hits the viewer's soft spot with cuddly animations, but also inspires their most creative customers to create their own magical and inclusive worlds using the tools the spot promotes.
Leverage User Data, Creatively, Across All Channels – Spotify: 2018 Goals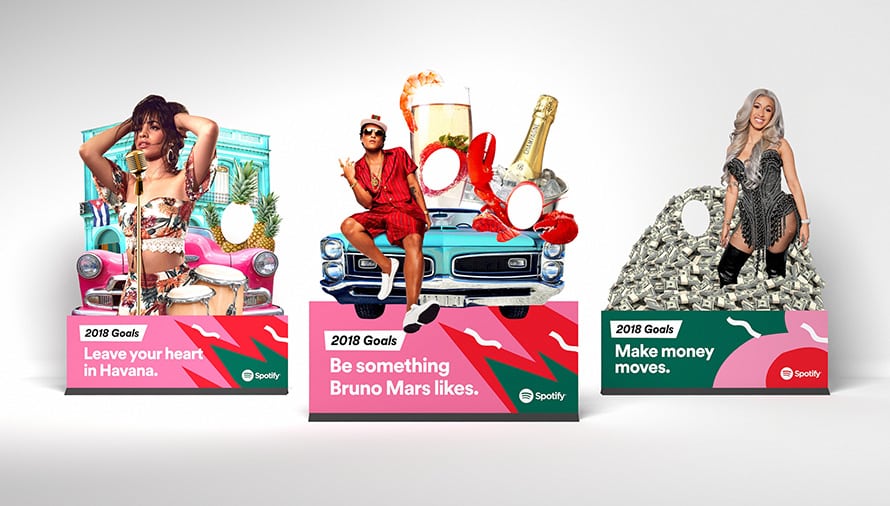 Increasingly, some of the best campaigns are data-driven, personal, and hilarious. For the Spotify's #2018goals ad campaign, the streaming giant featured user data in creative ways.
#2018goals' ads highlighted #winning behavior from their users in 2017, including a global ad that states, "Take a page from the 3,445 people who streamed the 'Boozy Brunch' playlist on a Wednesday this year."
Taking the campaign to the streets in early December, Spotify is deploying life-size cutouts of 70 artists from around that world in New York, Miami and Los Angeles as part of their #bringyourface social campaign. Passersby can stick their heads into the boards to pose with their favorite artists and the accompanying resolution.
Pop star Bruno Mars' cutout, for instance, says "2018 Goals: Be something Bruno Mars likes."
By taking advantage of user data and deploying it in funny, engaging and memorable ways, Spotify has created something that users are not only happy to participate in, but are also likely to want to see again year after year.
Chuck Marketing Advice Out the Window – Old Spice: Ye Olde Exploding Yule Log
A little humor never hurts. Neither does a whole hour. Clocking in at fifty-nine minutes and forty-one seconds, Old Spice's Ye Olde Exploding Yule Log spot consists of a static shot of a continuously exploding Yule log with the sporadic appearance of Old Spice spokesperson Terry Crews' head.
Crews appears periodically before the fire and elsewhere on screen to shout phrases that both promote Old Spice holiday packs "for all the good boys!" and the campaign's self-awareness – "Ho ho ho, marketing!"
Set against classic holiday songs, the "Ye Olde Exploding Yule Log" video is meant to be viewed and, for those looking for interesting holiday party background noise, kept on repeat as a conversation topic. Maybe. Either way, it's a funny, irreverent take on holiday marketing. And with its length and well over 75,000 views, this is proof that when it comes to creative marketing, going your own wacky way is sometimes the best way.
If It Ain't Broke, Make a Sequel – M&M Chocolates: A Very Yellow Sequel
Sometimes the recipe for success means recreating the recipe for success. More than twenty years since the debut of M&M's iconic "Christmas Faint" commercial – "They do exist!" – M&M has come out with a sequel.
The original ad debuted in 1996 and has aired every year since. It features M&M mascots Red and Yellow running into Santa on Christmas Eve with both Red and Santa realizing that the other exists and then fainting on the spot.
For those who've waited over two decades wondering, "And then what happens?" "Faint 2: A very Yellow Sequel" provides a worthy follow-up, with Yellow trying to do Santa's job with his characteristic clumsiness and unexpectedly cheery results.
M&M embraces the tradition of one of their most famous holiday ads and creates another holiday classic. The sequel debuted on Thanksgiving across M&M's social channels and broadcast and will surely be rebroadcast for years to come.
When planning your campaigns for next year, it would be helpful to keep these strategies in mind. Whether looking back to successful past campaigns as inspiration to continue the brand story like M&M chocolates, or using user data in creative ways like Spotify, these campaigns demonstrate that there is no set recipe for success.
When you think outside the box and harness the spirit of the season, you can create memorable moments that will still be associated with your brand, long after the snow has melted and the ornaments put away.