Q4 is, without any doubt, the most important time of the year for online commerce in almost every country. And with 2020 inevitably boosting digital transformation, most brands and retailers find themselves investing more than ever in their online campaigns, aiming their efforts at millennials and Gen Z, as well as new online shoppers from all generations that have had their shopping journey shifted by COVID-19.
The Luxury Fashion sector has the challenge—and the opportunity—of taking advantage of all the upcoming key dates. In order to help marketers make the most of peak shopping season, we created the Global Luxury Fashion Report 2020. This report is based on Criteo's data on consumer behavior, and it identifies key challenges, trends, and insights set to shape the Luxury Fashion industry going forward. Here are a few top recommendations:
Online Sales Boost
While the onset of COVID-19 may have contributed to fewer sales for Luxury Fashion in general, the online outlook looks more encouraging. Our analysis shows that globally, 24% of online Luxury consumers plans to buy less, while 34% plan to buy more than they used to. To make sure their ecommerce strategy is up to the task, luxury brands should refresh their technology toolkit and leverage AI-backed solutions as much as possible.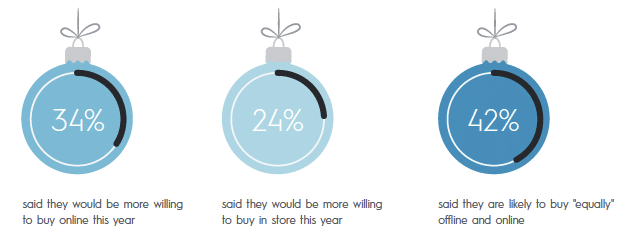 Source: Criteo Festive Season Survey, August 2020
Digital Acceleration
Digital disruption, consumer demand, and unpredictable events such as COVID-19 are individual game changers that combined to accelerate the need for Luxury Fashion brands to create a strong online presence. Digital catwalks becoming a 2020 trend is a good example of a creative solve! Luxury brands should explore new and innovative ways to showcase their brand in their digital channels, particularly during the festive quarter.
Younger Generations as a Driving Force
Generational differences are an increasingly important factor for Luxury Fashion brands. In particular, Gen Z and Millennials are becoming a driving force for sales potential. To appeal to many from those generations, brands should be conscious of a growing emphasis on social responsibility and sustainability.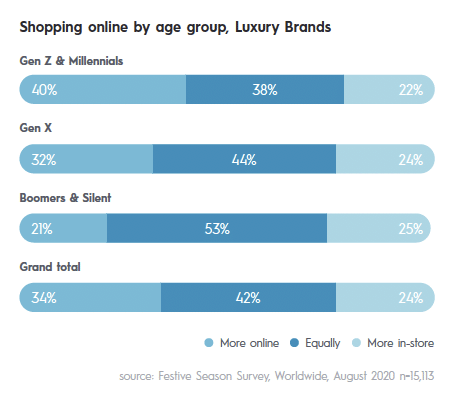 Signs of Regional Variance
Regions not only react differently to events, they can also apply different levels of importance to the same situation. Some dates such as Black Friday are becoming huge worldwide, while other celebrations such as Singles' Day are just beginning to become popular in certain countries. Lastly, many countries have national or even local festivities that brands should definitely add to their calendars. Clearly, one strategy won't fit all markets.
Americas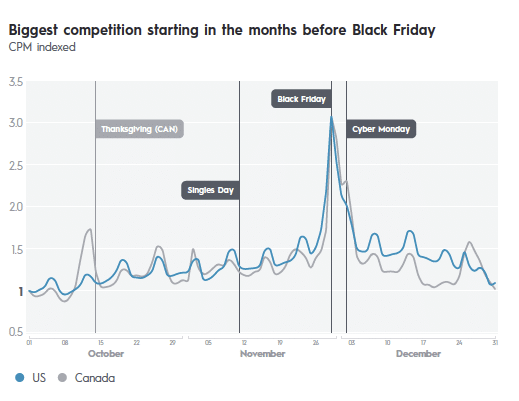 Europe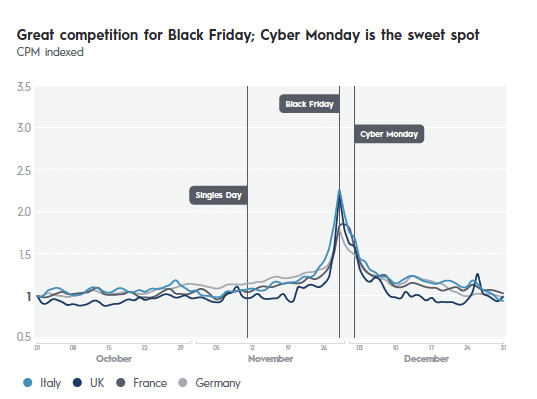 APAC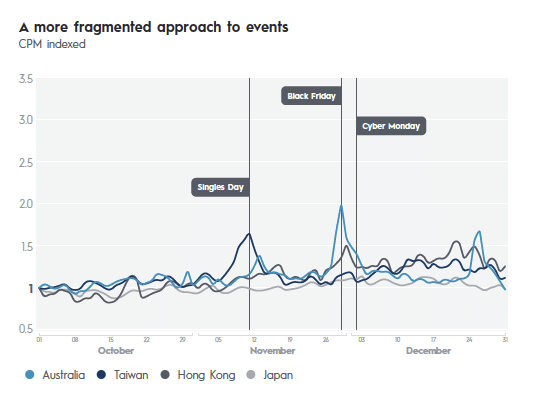 Source: Criteo Data – Country Trends, 2019
Luxury fashion brands must work on adapting to every region, relying on a thorough analysis of each market. The Criteo Holiday Product Finder, with data from 20 countries and 600 product categories, is a good resource.
Bounce Back Differences
Last but not least, countries are exhibiting different levels of recovery following COVID-19, with the US recovering slower than EMEA and Asia. Q4 strategies, usually based on strong certainties, must be very flexible and adaptive this year. Marketers should be ready for any possible setbacks or more optimistically, steps forward as businesses adjust their strategies to new consumer behaviors and expectations.
Our recommendations for Q4 will help brands carve a clear path to better online engagement with Luxury Fashion consumers. To optimize your festive period sales opportunities across the Americas, EMEA, and Asia, read our full report here!