It should come as news to no one that consumer adoption of ecommerce rose during the pandemic. And while real-life shopping is far from obsolete, the role that stores play in the customer journey has evolved to address new needs and preferences. Our Shopper Story 2022 survey results show that more consumers than ever are embracing what we call hybrid ways of shopping—carrying out their purchase journey across both online and offline channels. 
Online touchpoints are preceding offline events more often.
Our research shows that adoption of BOPIS (buy online, pickup in-store) and ROPO (research online, purchase offline) has grown since 2019.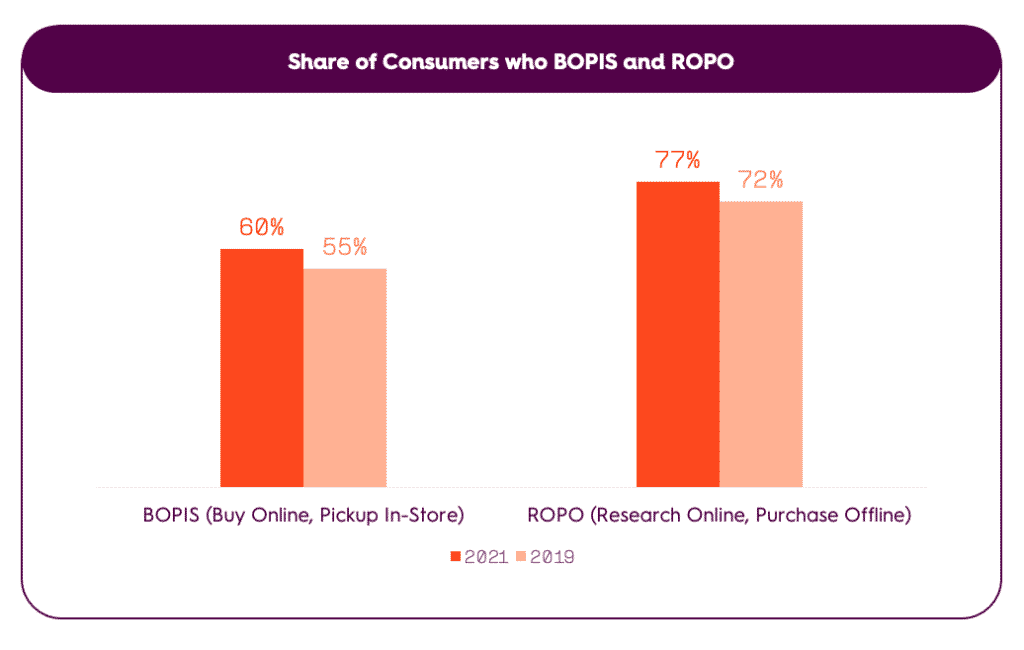 This indicates that an increasing number of shoppers are comfortable navigating a path to purchase that includes the benefits of ecommerce (e.g., more choice, ability to quickly compare) coupled with what an offline experience can provide (e.g., special incentives, like lower in-store prices). 
Buy Online, Return In-Store (BORIS) attracts new and repeat customers.
In step with the rise of convenient purchasing options, there are now more convenient ways to return. Enter BORIS (buy online return in-store), which makes it easier for consumers to get more of the frictionless experience they want. 
The concept not only creates opportunities to cross-sell and upsell by getting consumers back in stores, but BORIS may also make it more appealing for consumers to buy in the first place. According to research by Statista, one third of consumers globally cite "easy return policy" as a top reason why they decide to purchase a product when shopping online1: 

Research from Narvar shows that almost half of US consumers who rated their return as "easy" had the option of dropping items off at a convenient location. Easy returns also inspire more loyalty—76% of first-time buyers who had an easy return experience said they would shop with that retailer again.2  
Showrooming remains an important part of the customer experience. 
Despite pandemic-induced changes to the store experience (think health and safety measures, like wearing masks), 72% of consumers told us they still showroom (look for products at stores and later buy online), the same share as in 2019. 
What has changed is how often people buy online while inside a store. Our Shopper Story 2022 survey showed that 51% "click and ship" (buy from their phone while inside a retailer's store from that retailer's website) and nearly six out of 10 "scan and scram" (buy on their phone from inside a retailer's store from another retailer's website)3: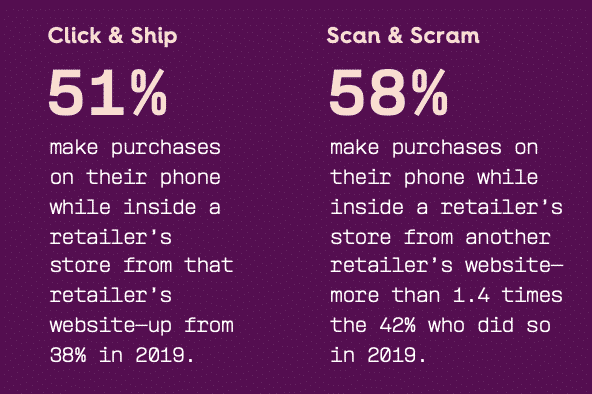 The takeaway? Most consumers still include stores as part of their consideration process, but the competition for where they end up buying is getting fiercer.  
Shopping in stores is still fun. 
Our research shows that stores are still as powerful a draw today as they were in 2019: Nearly six in 10 consumers look forward to shopping in stores when they have time, and four in 10 don't like to purchase unless they can see and touch items in a store.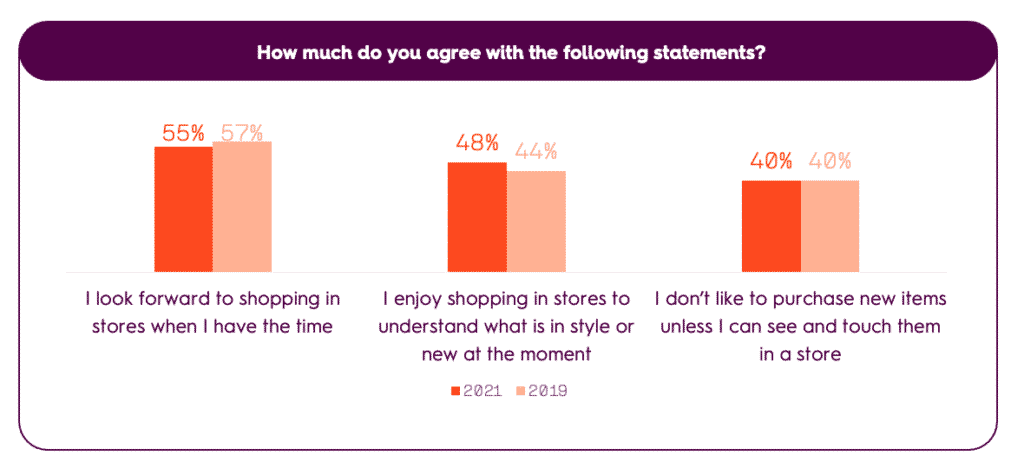 The data also shows the importance of stores for product discovery. In 2019, 44% of respondents said they enjoyed visiting stores to see what's new or in style. That number increased to 48% in 2021, indicating that consumers believe stores are a solid source for understanding the latest trends.4 
For more on these and other consumer trends for 2022, download the full Shopper Story 2022 report: 

1 Source: Statista, Leading reasons among internet users for purchasing a product when shopping online worldwide in 2020 
2 Source: Narvar, State of Returns: New Expectations 
3 Source: Criteo Shopper Story, Global (Australia, France, Germany, Japan, South Korea, UK, US), August-November 2021, N=7282 / July-October 2019, N=7102. 
4 Source: Criteo Shopper Story, Global (Australia, France, Germany, Japan, South Korea, UK, US), August-November 2021, N=6794 / July-October 2019, N=6346.