While the last few years have brought on more than a few challenges, they've also brought into focus the things that really matter and renewed our appreciation for the people and times that bring us joy. No matter what's going on, people around the world have shown that they are determined to make the most of precious moments—especially around the holidays.
In 2020, consumers kept the festive spirit strong despite lockdowns and store closings due to Covid. Retailers, brands, and marketers made it possible by expanding and improving commerce experiences to meet consumers' growing needs. In 2021, new problems threatened the holiday season, but again the industry rose above, with The National Retail Federation saying, "Despite supply chain problems, rising inflation, labor shortages and the omicron variant, retailers delivered a positive holiday experience to pandemic-fatigued consumers and their families."
This year, the upcoming peak season faces some of the same challenges as last year's along with a few new ones, as gas prices rise and inflation in some parts of the world brings fears of a recession. But history tells us that consumers won't let the problems of the day take away from their moments of joy. And that the brands and retailers they rely on won't let them down.
Our 5 predictions for holiday shopping trends in 2022
To help marketers make the most of the season–no matter what shape it takes–we analyzed exclusive data from thousands of our retailer partners (which includes millions of consumer transactions) and findings from our global monthly Consumer Sentiment Index survey. Here's what you need to know about holiday shopping 2022:
1: Cyber Month will continue to steal Black Friday's Thunder
Black Friday still gets a lot of attention, but except for 2020 (peak Covid), the Black Friday super-spike has softened considerably since 2015. Instead, over the years, sales have been rising across the entire month of November, showing that shoppers no longer expect to grab all the best deals in one day, and earning it the "Cyber Month" moniker.
In 2022, lingering supply chain challenges and labor shortage issues are likely to drive shoppers to get an even earlier start. In fact, 77% of Americans told us that they often purchase holiday gifts during Amazon Prime Day and the competing events offered by other retailers in July1.
The holiday spending statistics below show that in the US, the sales increase throughout November 2021 grew 10 points over 2020, while Black Friday sales were down 31 points. In the UK, November sales increased from 45% to 63% from 2019 to 2020 and held steady in 2021, while the Black Friday sales spike declined 125 points from 2019 to 2021.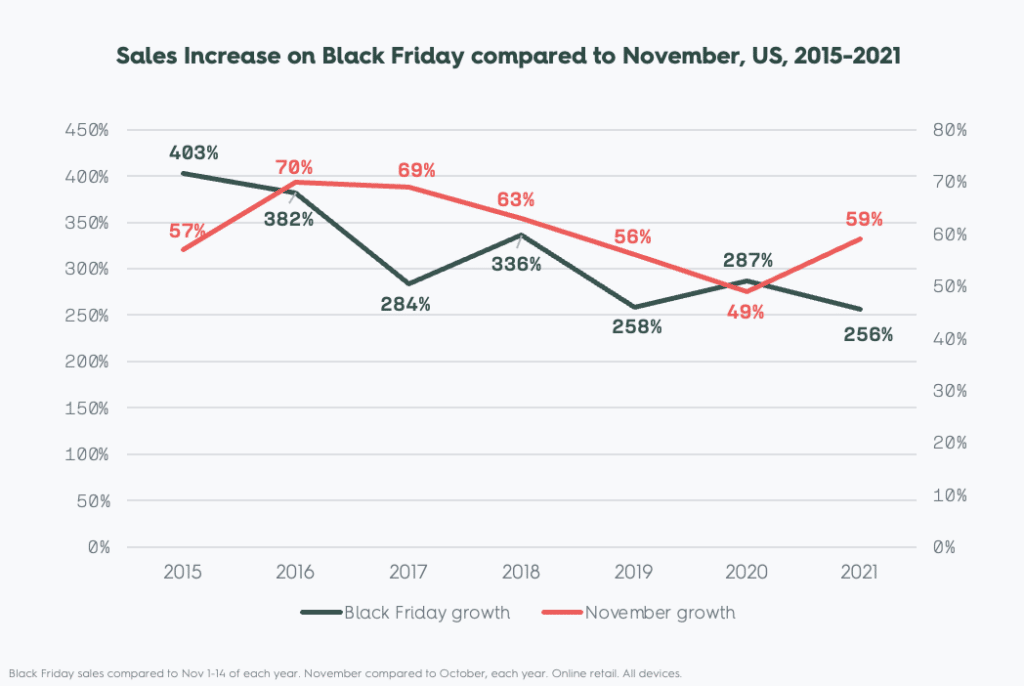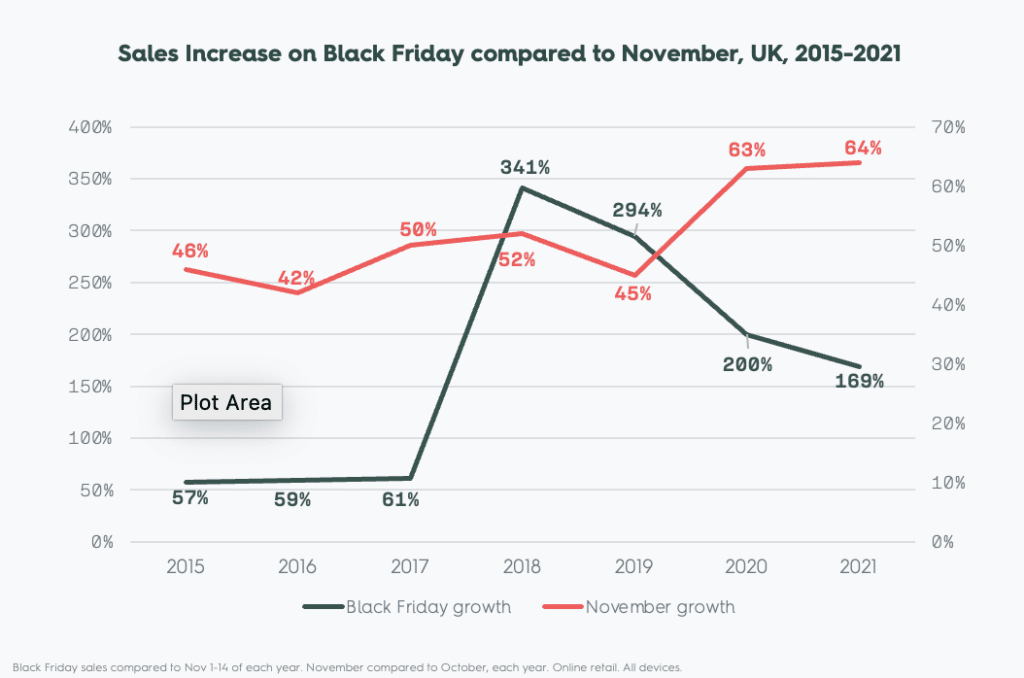 2: Acquisition opportunities will be strongest in the beginning of the season
Criteo data shows that in the US and much of Europe and Brazil, the share of new buyers (consumers identified as new clients) begins to rise in early November and peaks on Black Friday. That makes this period a crucial time to acquire new customers.
Later in December, the focus should be on returning customers and client loyalty, as the share of new clients is at the lowest.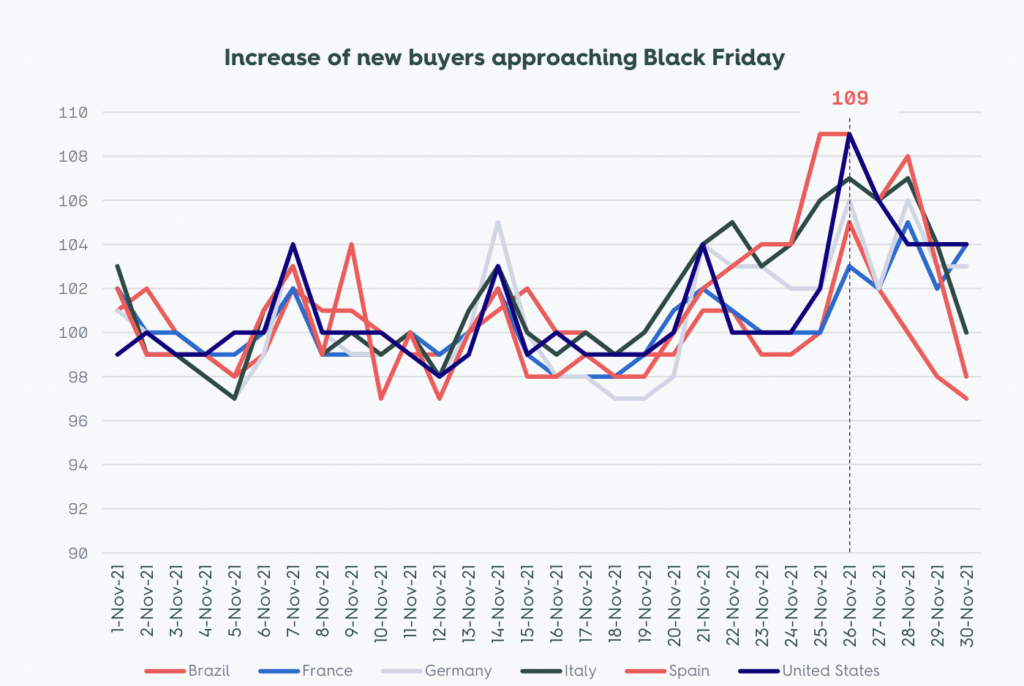 Indexed share of New Buyers in November 2021, compared to November 1-14
3: Highly variable shopping journeys will require agile marketing
Last year in the US and UK, some consumers moved from discovery to purchase in less than an hour, while others took almost two months.
Our sales data showed that last fall, for the one quarter of US consumers who had the shortest path to purchase, the average time between a first page view and a purchase was just 30 minutes. For the one quarter who had the longest path to purchase, the average time between a first page view and a purchase was 48 days. Consumers in the UK and Germany had a similar range, while the fastest converters in France took a bit longer—between 1-2 hours.
This reinforces what we already know—consumer journeys are all unique. But with the right data and intelligence, you can know when and how to reach each shopper based on where they are and how fast they are moving in that journey.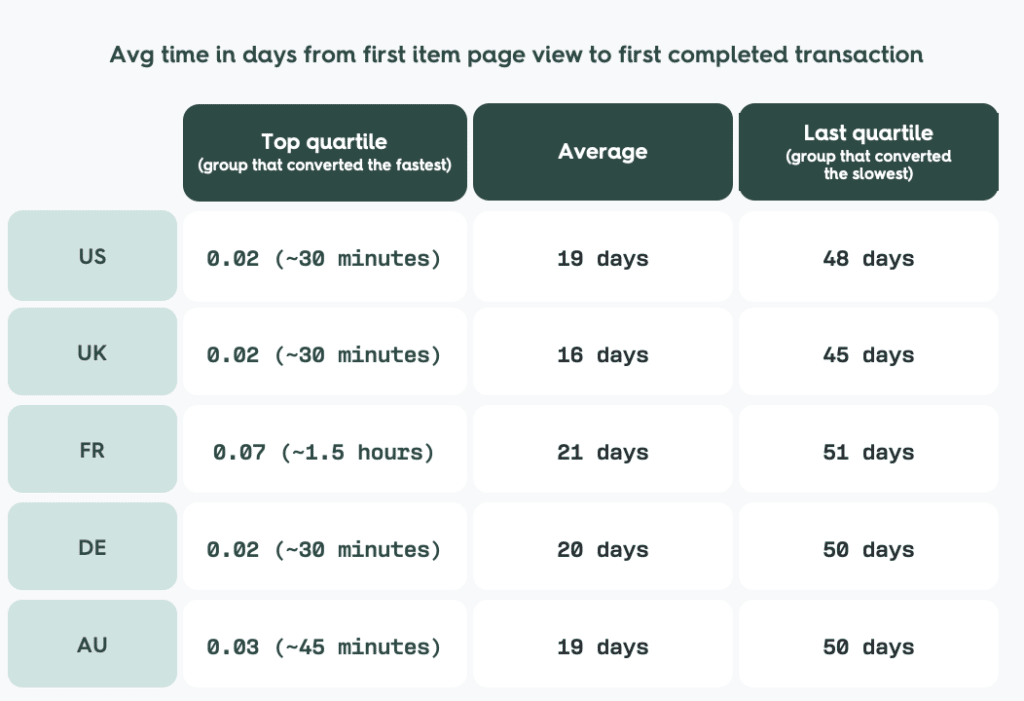 Criteo data, Mass Merchant and Fashion, September 1 – November 30, 2021. Desktop and mobile combined.
4: Stores and online will BOTH be strong this season
According to our global consumer survey, physical stores are more popular than they were a year ago, not only as a place to buy stuff, but also as a source of inspiration for purchases. Online ads are more popular than they were last year for discovery, as well. In addition, our sales data shows that in-store shoppers purchase almost twice as often when they also visit the retailer's website. Survey respondents also reported doing a lot more buy online, pick up in store (BOPIS) vs. last year.
This peak shopping season, new challenges, including higher gas prices, may push consumers to make fewer, but larger in-person trips. Possible supply limitations will also encourage people to go in store if they know the product they want is available there. Longer shipping times and earlier last ship dates will also bring shoppers into stores earlier than past years. This, combined with the data above, point to a need for a strong omnichannel strategy that helps guide consumers from online or offline discovery through to purchase on the channel of their choosing.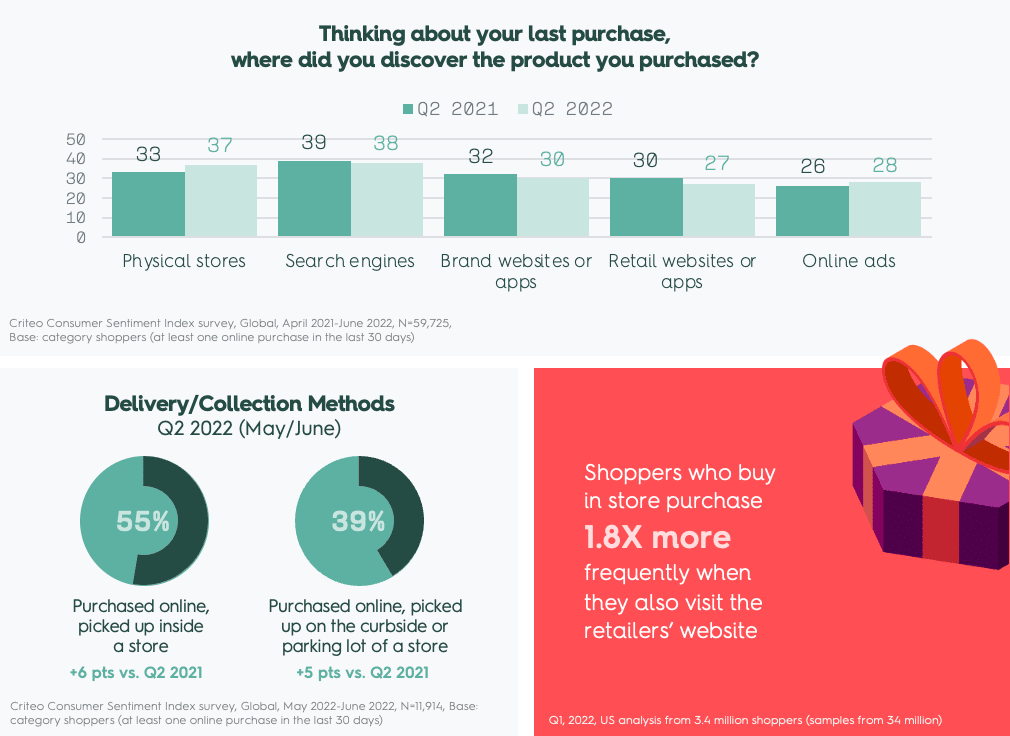 5: Shoppers will start checking off their gift lists now
Our ongoing global consumer survey found that half of respondents started thinking of holiday gifts in July 2021, and 30% had bought gifts in August 2021. Our data also showed that a larger percentage of Millennials and Gen Zers began buying gifts earlier than Gen X and Boomers. These holiday consumer trends reinforce the importance of getting acquisition campaigns going long before Black Friday.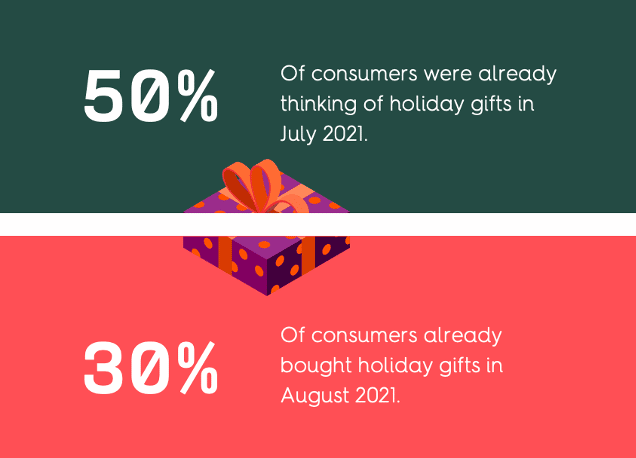 Ready to turn this data into action?
We've put together a Holiday and Festive Season Playbook on a Page to help marketers make the most of the busiest season (and their budget) from start to finish—and beyond. No information overload, no giant report to sift through. Just a straightforward guide to maximize your advertising for the peak shopping season, based on our data from more than 22,000 advertisers and $1 trillion in ecommerce sales.

1 Criteo Consumer Sentiment Index, June 2022-June2022, N=328.