When Amazon announced an October Prime Day, many wondered how its proximity to Black Friday would impact holiday shopping. Would it spur shoppers to start checking off their holiday lists earlier and steal Black Friday's thunder? Would other retailers offering holiday promotions at the same time (i.e. Target's Deal Days and Walmart's Big Save Event) steal share from Amazon? How would the current state of affairs impact consumer confidence and spending?   
In our survey of holiday shoppers, three quarters of Amazon Prime members in the US said they were likely to purchase some of their holiday presents and spend some of the money usually reserved for Black Friday on Amazon Prime Day. Many consumers across other countries said the same: 60% in Germany, 70% in France, and 75% in Brazil.1  
But according to Citi, based on data from SimilarWeb, Amazon's Prime Day web traffic was flat year over year. And numerous news stories point to a fairly sedate response from Amazon regarding their results this year. The shift from a summer sales extravaganza to a fall event may have impacted results. A lack of splashy promotion, competition from big box retailers, and a world of other worries brought on by an uncertain year could also be to blame for their lackluster performance. Explanations aside, this means that the sales opportunity of Black Friday and Cyber Monday still remains strong. 

There's plenty out there about Amazon's results. But how did Amazon Prime Day impact everyone else outside of Amazon's walls? To find out, we analyzed our retailers' sales and traffic data during Prime Day compared to the average from September 1-28. Here's what we discovered:  
Amazon Prime Day 2020: 
An Earlier, but Lower Halo Effect
The "halo effect" is the increase in traffic and sales that retailers outside of Amazon enjoy as a result of the event. In some cases, these are retailers that held their own promotions at the same time (who we'll call 'participating retailers', defined as having a sales increase of 20% or more on 10/13 compared to the average on the same weekday during the prior four weeks), but not in all cases (in those instances, we refer to 'All retailers'). 
What we observed this year is that the halo effect on US sales began a full 48 hours before October 13 and carried on through Thursday, the day after the event ended. In the chart below, you can see that sales were already almost at the peak at +13% on October 12. In 2019, the halo effect didn't start before Prime Day, which happened from July 15-16.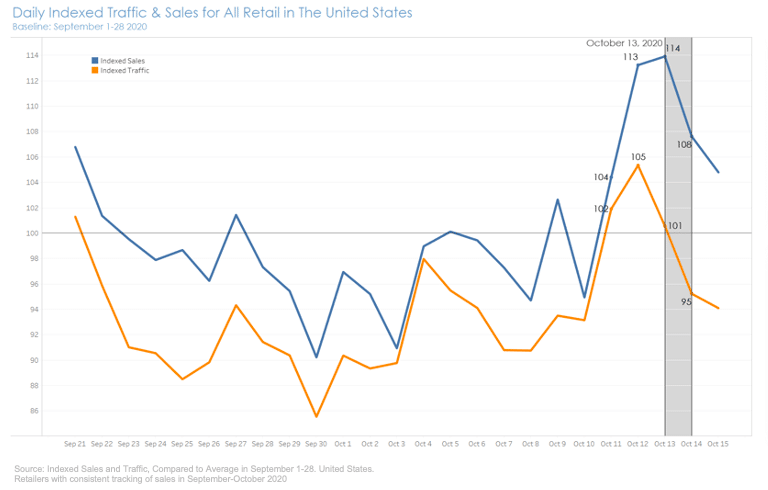 This year's data also showed a lower halo effect for all retailers in the US than what we saw in July 2019. Prime Day 2019 saw a 24% increase in sales compared to the month before (June), whereas Prime Day 2020 recorded a 14% increase compared to the month before (September).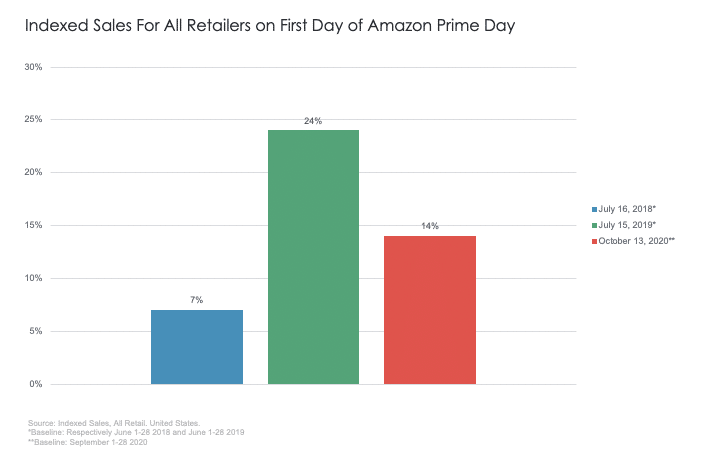 A Smaller Increase in Sales than 
Prime Day
 2019
Our data shows that sales increased by 43% for participating retailers. This is much lower than the 71% increase that participating retailers enjoyed on Prime Day 2019.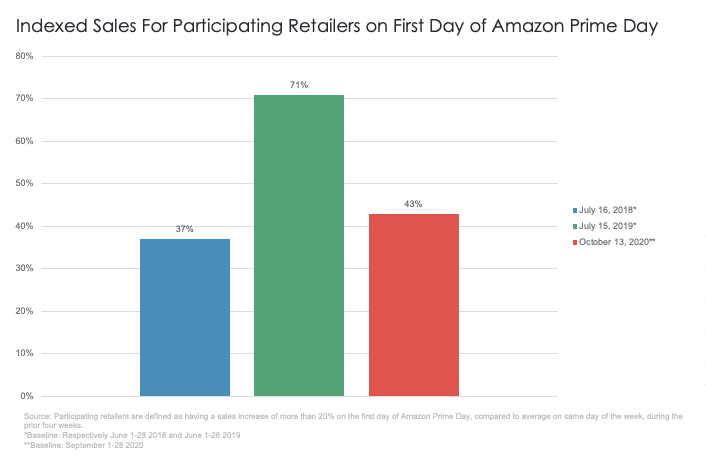 Since the period we're comparing the uplift to this time around is the first four weeks of September 2020, it's possible that Back to School shopping or other deal days, like Wayfair's Way Day from Sept 23-24, translated to slightly higher sales in September and thus a lower perceived "bump" in October. Either way, this tells us that an October Prime Day hasn't negatively impacted the sales potential of Black Friday and the rest of the Q4 peak sales season.    
Trending Products During Prime Day
 2020
Using our Holiday Product Finder, which includes data from 20 countries, 600 product categories and more than 15,000 retailers, we identified several products that had breakout growth in the US during Prime Day, compared to the average in September:  
Apparel & 

Accessories

:

 Shoppers started stocking up for cold weather, with long johns (+100%) and gloves & mittens (+80%) both experiencing huge spikes.

 

Electronics

:

 People were also upgrading their entertainment systems, with TVs and record players seeing big increases, up 96% and 56% respectively.

 

Health & 

Beauty

:

 Self-care and health were obvious concerns, with Bath & body gift set sales doubling, and medical thermometers spiking 73% during Prime Day.

 

Sporting 

Goods

:

 Inline roller skates have been in demand throughout the pandemic and had a strong showing on Prime Day as well, with a 60% increase.

 

Toys & Games:

 

A

s we reported earlier this year, a

nalogue games lik

e

 

jigsaw puzzles

 have been making a comeback in 2020

,

 

and 

Bingo sets have grown tremendously since the end of September, with a 100% increase in sales on Prime day. Toy kitchens & play food also saw strong growth, with a 74% increase on October 13.

 
Halo Effects Outside the US (Amazon Prime Day & Other Major Sales Events)
Though Prime Day was held in 19 countries this year, we didn't observe any significant sales spikes in major EMEA, LATAM, or APAC markets. These two were standouts:   
Eastern Europe experienced the same 48-hour early halo effect as the US and saw a 31% increase in sales during Prime Day this year.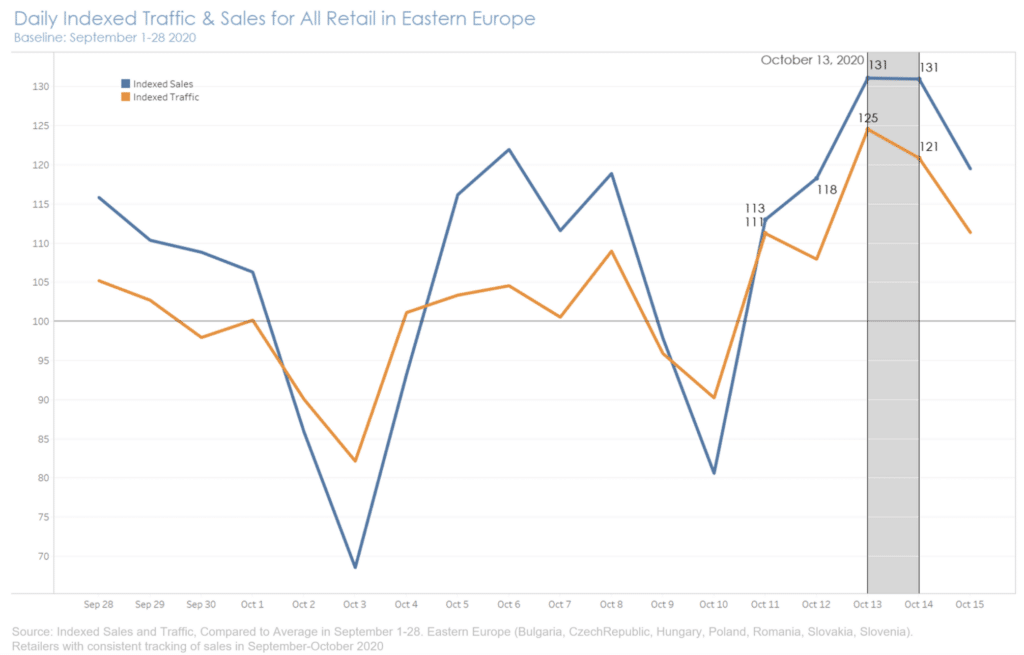 Australia did see a moderate 11% increase in sales, though this was not as high as their Labour Day sales on October 5. 
Where does all this leave Black Friday and the rest of the holiday shopping season?   
Key Takeaways from Prime Day 2020
The lower performance of Amazon Prime Day leaves a high sales potential for Black Friday.
Historically, the sales spikes on Amazon Prime Day were nowhere near what we see on Black Friday. And the subdued performance this Prime Day leaves the window open for Black Friday and beyond. Campaigns should be in full force to influence consideration now and drive sales on Black Friday and throughout the season   
Piggybacking on big sales events remains a winning strategy.
Though the sales gains were lower this year than last, the moral of the story is still the same—retailers that offered their own promotions during Prime Day saw a significant increase in sales. This is also true for other big sales events around the world, like Singles' Day in China and Click Frenzy in Australia.
Promotions will be key this holiday.
Shoppers are looking for deals and free shipping more than ever this season. Keep track trending products with our Holiday Product Finder to help guide your promotions and maximize sales. 
To make the most of this Black Friday and Cyber Monday, download our guide: 

1Criteo Holiday & Festive Season Survey, Global, August 2020.  
Explore holiday product sales information in our dashboard: