The coronavirus pandemic has caused significant changes in consumer behavior, especially due to ongoing social distancing measures that have prompted people to spend more time at home than ever before. That also means that kids are at home, when they're supposed to be at school.
The new wave of remote education and increased time spent in close quarters, with restaurants and playgrounds and parks mostly shuttered, has caused consumers to battle a psychological menace: boredom.
Online gaming sales saw a huge spike at the beginning of the social distancing economy, jumping by 75% in the US in mid-March. Streaming video remains on a steady upward trajectory, too.
To balance all that screen time, many households are turning to classic games, arts and crafts, and backyard-friendly activities for screen-free fun and entertainment.
Screen-Free Fun for the Whole Family
Kids and grownups of all ages have been on the lookout for ways to take advantage of the extra time together at home, and toy makers are responding.
According to MediaRadar, ad spend on toys and games grew from an average of less than $3 million per week in February to $7 million per week in March. Toy brand heavyweights Mattel, Hasbro, and LEGO spent a combined $5.8 million on ads in February and nearly $19 million in March – representing a nearly 230% increase month-over-month.
Criteo's insights, based on data from 2 billion active monthly shoppers and more than 15,000 retailers, shows that consumers all over the world have been rediscovering (or finding for the first time) analogue toys and games in the wake of a new social distancing economy. Here are a few highlights from our latest analysis:
Jigsaw Puzzles
In the last half of March, US puzzle maker Ravensburger saw sales jump by 370% year over year, and sales on March 25 were 10 times higher than the same day in 2019.
The brand, which discusses the calming effect of "bringing order to a pile of chaos," hasn't seen anything like this in its 136-year history, CEO Filip Francke told CNBC. In 2019, the company sold 21 million puzzles globally, at an average of seven puzzles per minute in North America. The coronavirus-induced surge in puzzle demand means that in 2020, Ravensburger has been selling 20 puzzles per minute in North America.
According to Criteo data, Jigsaw Puzzles started rising globally in mid-March and have largely stayed at historic highs.
In the 30-day period from March 27 to April 26, sales were up in the Netherlands (+138%), Russia (+140%), France (+171%), Japan (+269%), the UK (+321%), Italy (+379%), the US (+509%), Germany (+539%), Australia (+563%), Spain (+677%), and Brazil (+1011%).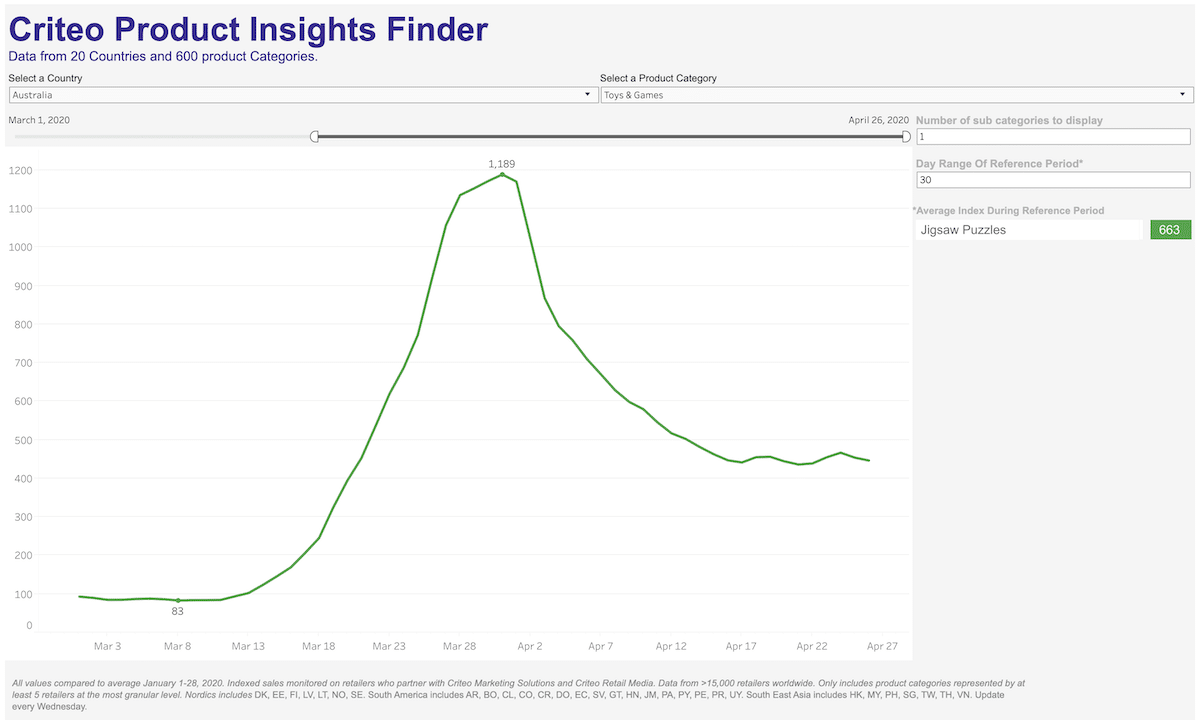 Building Toys
In late April, sales of Legos were up 64% year over year on eBay Australia, and rose as high as 92% one Sunday night. Basic Fun, the maker of Lite-Brite, Lincoln Logs, and K'nex—old-school toys that require users to think creatively and put things together with their bare hands—has also seen sales soar. Chief Executive Jay Foreman told the New York Post that the company had its best first quarter ever this year.
Looking at Criteo data, we can see that in the 30 days from March 27 to April 26, sales of Building Toys—which includes products like construction set toys, foam blocks, and wooden blocks—went up in Mexico (+58%), Italy (+60%), France (+79%), Germany (+96%), Brazil (+119%), Japan (+130%), Australia (+131%), the US (+140%), and the UK (+143%).
Trampolines, Swing Sets & Playsets
Toys that let kids get their energy out have jumped: The Japanese are interested in mini trampolines, while Americans are furnishing backyards with bounce houses, playground sets, and slides. The Chief Executive of MGA Entertainment, which manufactures play houses, basketball hoops, and trampolines, recently reported that sales were up 100% in March compared to 2019.
Criteo data shows that from late March to late April, Trampoline sales were up in Australia (+66%), Brazil (+179%), Germany (+196%), the UK (+342%), Russia (+392%), the US (+485%), France (+592%), and the Netherlands (+893%).
Sales of Swing Sets & Playsets went sky high in the US (+694%), Germany (+824%), and France (+1387%), compared to January.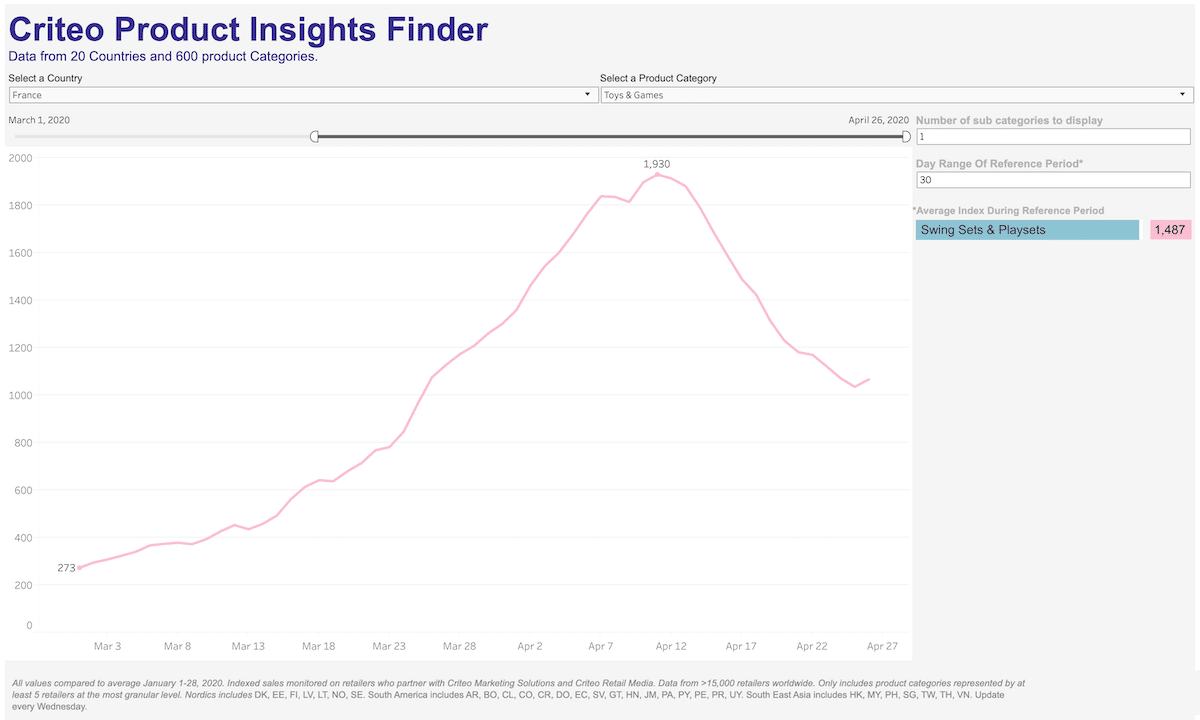 Musical and Art & Drawing Toys
Without formal art classes to attend, children are expressing themselves through drawing, painting, coloring, sculpting, and crafting. Music classes have been canceled along with the rest of school (not to mention live festivals and concerts). Meanwhile, kid-friendly music streaming has seen double-digit increases in recent weeks.
Art & Drawing Toys, which includes play dough, putty and drawing tablets, went up in Russia (+35%), the UK (+141%), Germany (+159%), France (+261%), the US (+653%), and Brazil (+674%), compared to January.
Musical Toys were also up in the Netherlands (+40) and Brazil (+166%).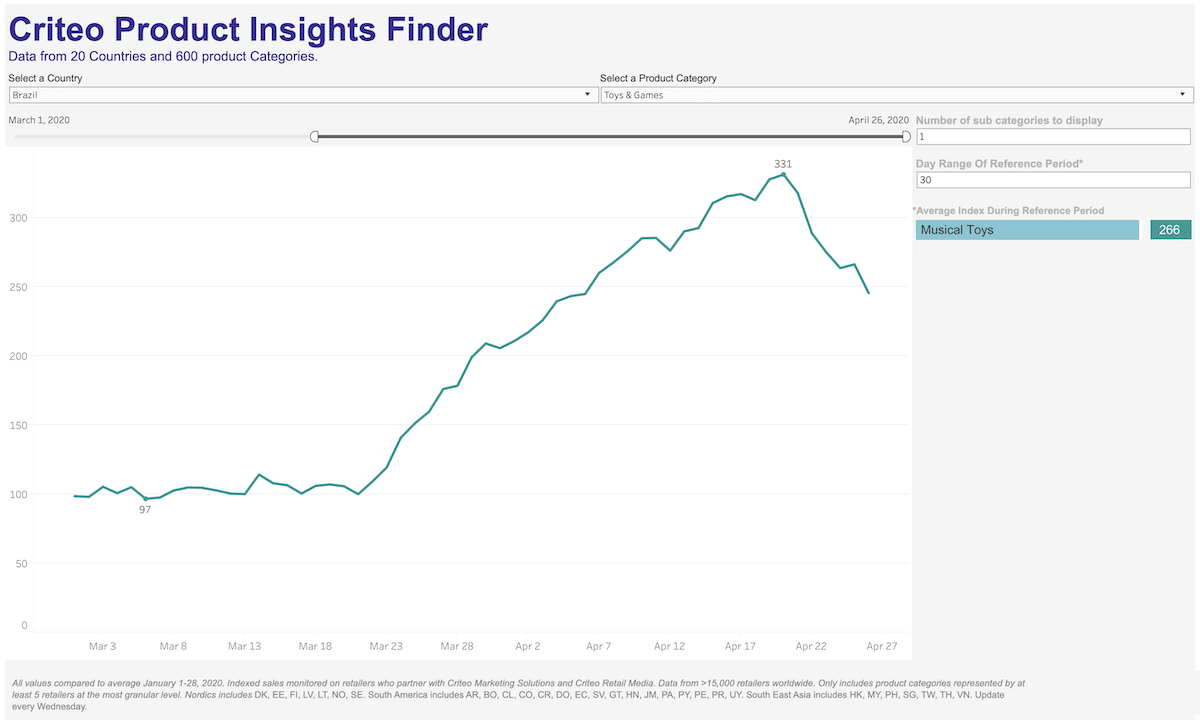 Social Distancing 2.0
With recovery from the coronavirus pandemic and the re-opening of businesses on the horizon in some countries, many marketers may be wondering: What will shopping trends look like once this is all over?
The truth is that no one really knows. However, we do know that once the economy gets going again, many people will still choose to keep their distance from others. This mindset, something we call Social Distancing 2.0, characterized by half empty restaurants, bars, stores, theaters, event spaces, and more, will fuel the next wave of consumer behavior.
What Marketers Can Do
Whether you're marketing toys and games or in another retail category, here are few things you can do to adapt to your customers needs right now:
1. Reach out to offline customers.
If you have a physical location that's closed, use your customer and store sales data to advertise to in-store shoppers online. It's important for you to stay connected with them during and after this challenging time.
2. Identify relevant audiences.
Get in front of the right in-market audiences based on category growth and monitor product trends week-by-week. The Coronavirus Impact Dashboard is one helpful resource.
3. Expand the segments you're talking to.
Criteo offers a full range of options which can be used to build and reach your ideal audience based on purchasing and browsing habits, like the "kids-at-home", "exercise-at-home", or "work-from-home" crowds.
Stay up-to-speed on the latest consumer trends and marketer strategies with our newsletter:
Criteo Product Insights Finder
Take a closer look at the data with our interactive Criteo Product Insights Finder. Use the dropdown menus to choose a country and a product category to see the most recent numbers: