A new from-home normal has emerged because of coronavirus. Extensive social distancing mandates started rolling out across the globe in February, and by early April, 3.9 billion people were doing most of life's daily activities—learning, shopping, exercising, dining, resting, and relaxing—from the safety of their houses or apartments.1 Topping the list of from-home activities: remote work.
With offices closed around the world, many workers are doing their jobs from their homes for the first time. For others, remote work is already normal and widely accepted.
In all cases, this remote work trend has started to show that many businesses can succeed when employees don't come into the office every day. It's hard to predict the future, but the time, energy, and money saved on commutes and real estate alone could start making companies reconsider how and where work is done.
At Criteo, our analysis includes insights drawn from data that covers 80+ countries and two billion active monthly shoppers across about 20,000 ecommerce sites.2 By analyzing major ecommerce categories driven by remote work trends, we start to get a picture of how consumer behavior is evolving.
Here are three remote work trends we discovered by analyzing our data:
1. Connectivity.
Zoom, a video conferencing app, catapulted into public consciousness with its ability to help people stay in touch and keep companies operational in the wake of coronavirus. Usage took off in March when lockdowns were put in place—to the tune of 200 million daily meeting participants. For comparison, in December 2019, the maximum number of daily participants was just 10 million.
As a result of the coronavirus outbreak, fielding face-to-face calls on platforms meant to handle large groups—be they colleagues, family, or friends—has never been more welcomed for both personal and professional reasons.
Our coronavirus shopping trends data has shown that webcams are super popular right now. In addition, complementary electronics have been taking off. Over the last 28 days in the US, sales of Audio & Video Cable Adapters increased an average of 366% compared to the first four weeks in January. Computer Monitors went up in South Korea (+19%), France (+30%), Italy (+65%), Spain (+77%), and Australia (+240%).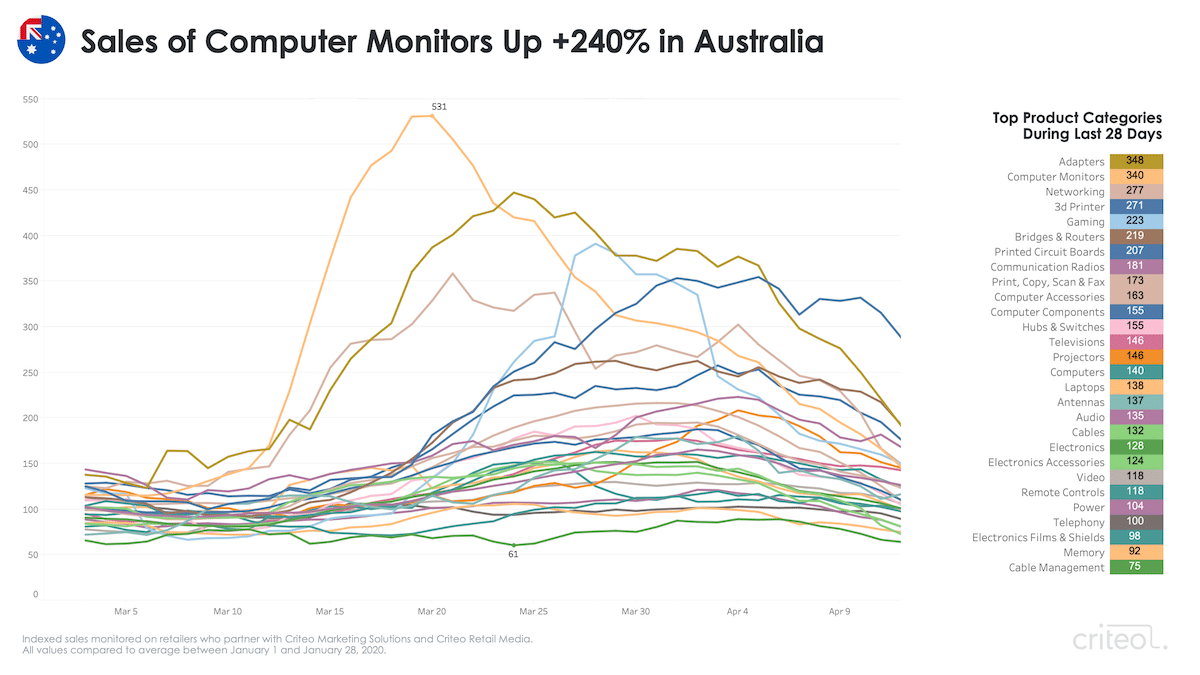 2. The Home Office.
According to the Federal Reserve, the share of the US labor force that works from home has tripled in the last 15 years. Coronavirus and the social distancing economy is only accelerating the trend.
When stay-at-home mandates for coronavirus first started, many may have initially thrown a laptop on the kitchen table, repurposed the nightstand, or converted the liquor cabinet into a workstation. But now, many consumers are transforming spare rooms, garages, closets, attics, and other forgotten corners into home offices.
As families and roommates are pressed to work or study in the same living space, the milkcrate-turned-makeshift-standing-desk is no longer enough to inspire concentration.
Over the last 28 days, Desk sales went up in Spain (+25%), Germany (+45%), Switzerland (+93%), and the US (97%). Office Chairs rose in Italy (+24%), the UK (+198), and Australia (218%). Sales of general office furniture increased 94% in Japan.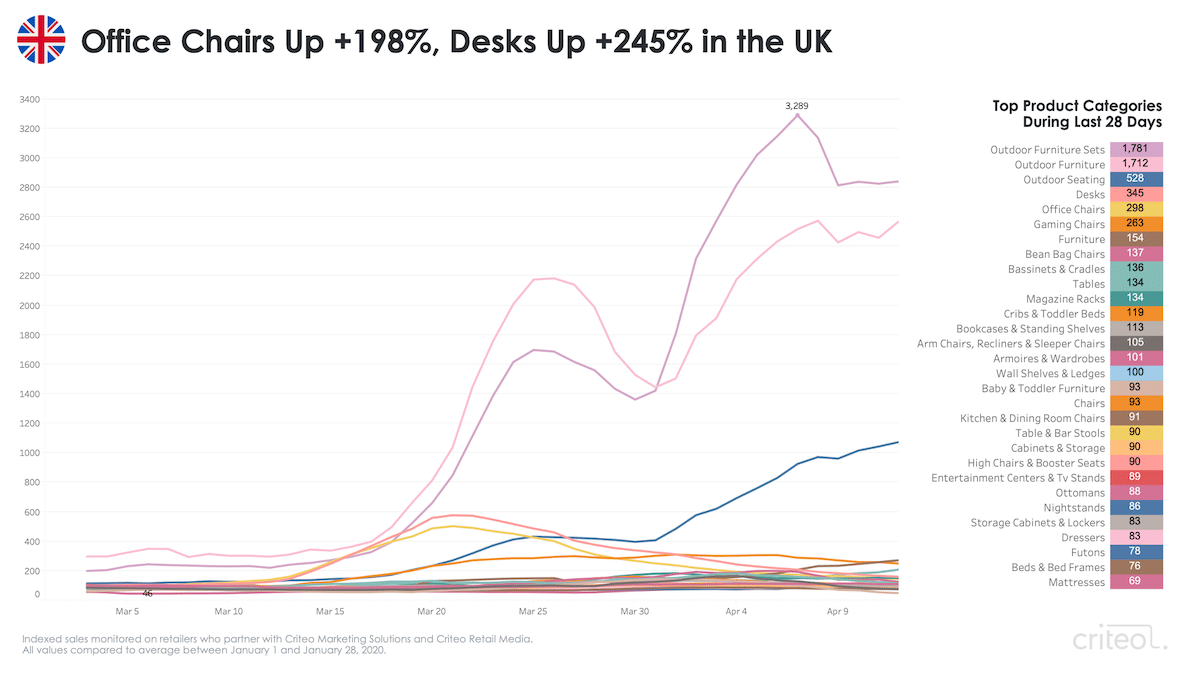 3. Productivity.
Whether it's to keep doing what they normally do or in order to do their jobs better, people have been buying more software recently. Unlike popular food categories consumers grabbed when the outbreak began, these programs (hopefully) have a longer shelf life.
In the last 28 days, many types of software have seen surges. Computer Software grew in Australia (+17%), Germany (+39%), France (+41%), the UK (+50%), and Russia (+53%). Multimedia & Design Software was up in Japan (+4%), Australia (+16%), the UK (+34%), Germany (+35%), the US (+84%), and France (+110%).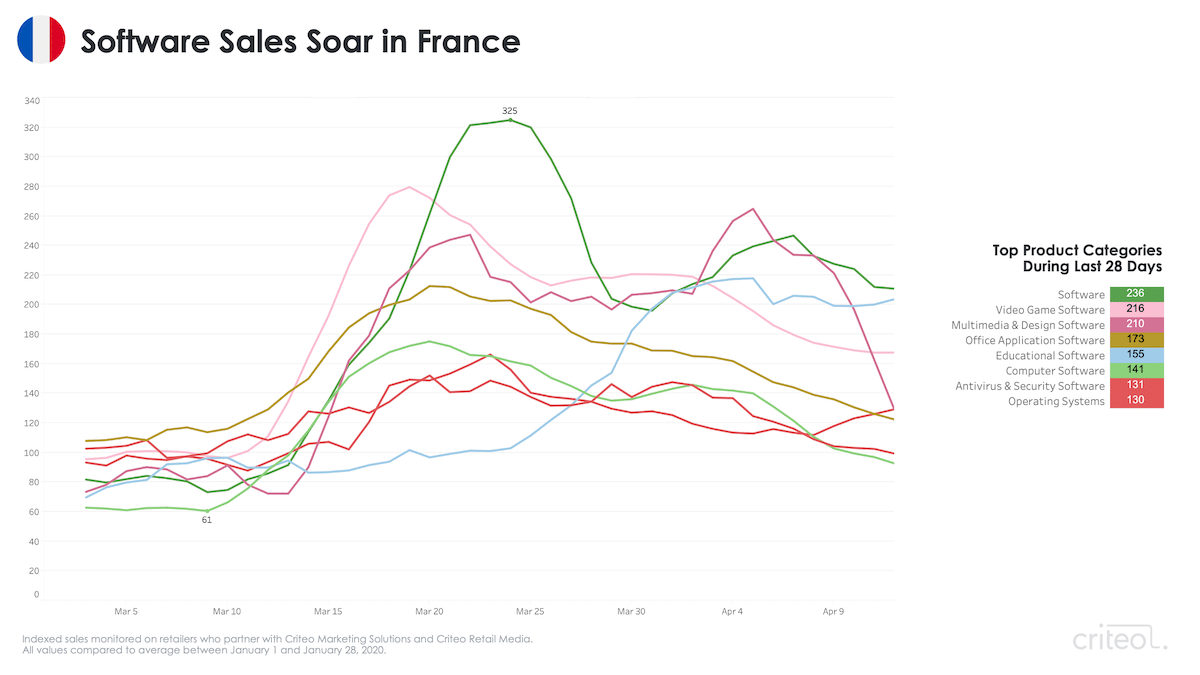 What Marketers Can Do
As marketers prepare for the recovery period after the pandemic peaks, it's important to think about what lifestyle changes might stick around long after coronavirus is gone. Trends like remote work are here to stay, and monitoring what consumers are purchasing as the crisis resolves will be key for companies that want to reach the right audiences and build long term loyalty. Brands that can help consumers stay connected, comfortable, and efficient—far from the office—are primed for success.
Every business is seeing shifts in how consumers buy products in a social distancing economy. The faster you adapt, the better you can serve your customers' needs. Criteo can help you build and reach your ideal audience, including a growing work-from-home crowd, exercise-from-home enthusiasts, and many more.
Understand what's important to your customers by keeping an eye on our Coronavirus Impact Dashboard, and stay in-the-know with strategies for marketers by signing up for our newsletter.

1Source: AFP, March 30, 2020.
2Source: Online sales, Criteo data, Q1 2019 and Q1 2020. At least five retailers at the most granular level.
Criteo Product Insights Finder
You can also dig into the numbers yourself using the interactive Criteo Product Insights Finder. Simply select a country and a product category from the dropdown menus to see the latest figures: