Last week, Criteo debuted data that showed how the global coronavirus outbreak has affected consumer trends and behavior. We found that the social distancing measures put in place by many countries created new consumer trends in how people buy and what they buy. Specifically, our research focused on the sales of groceries, cleaning supplies, and home goods.
This week, we analyzed our latest data to understand consumer trends in uncertain times.
Social Distancing Brings More Consumers Online
Wuhan, China, a city of 11 million people and the first epicenter of the coronavirus crisis, began a state-imposed lockdown on January 23. Italy initiated a country-wide lockdown on March 9, ordering upwards of 60 million residents to stay home. On March 14, Spain declared a state of emergency and implemented a general confinement order for over 46 million people. On March 17, France announced its lockdown, banning all public gatherings and asking people to stay indoors except for essential errands. The UK was put on lockdown on March 23.
In the US, over 158 million people are being urged not to go out. Just this week, India's prime minister ordered the country's 1.3 billion residents to stay inside their homes for three weeks.
Social distancing efforts, like shelter-in-place and other containment measures aimed at slowing the spread of the virus, have radically altered people's daily routines. Web traffic has surged by 50% as quarantines are put in place and recent Criteo research shows that over half (52%) of consumers in the US and UK say they plan to shop online more as a result of COVID-19. The same is true for over 70% of consumers in South Korea and 67% in Brazil. When you factor in that figure from other countries like Spain (42%), Germany (41%), Russia (39%), and France (36%), it appears that globally, close to half of consumers say they'll purchase more online because of coronavirus.1
The Omnichannel Outlook
When we looked at our data from omnichannel retailers in the US, we saw that retailers are trying to make up for lost in-store sales with the booming online channel.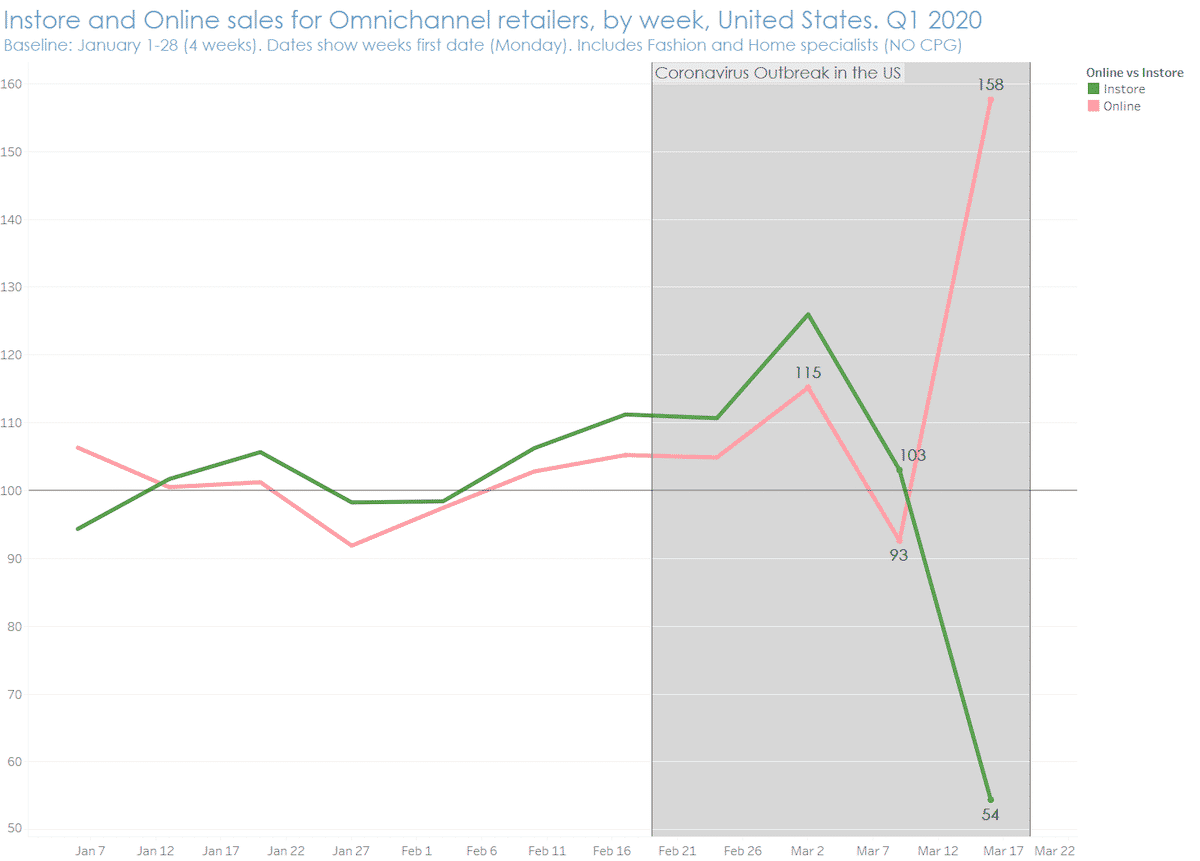 As the chart above shows, during the first weeks of the outbreak in the US, both in-store and online sales steadily increased until the beginning of March. Since then, in-store sales have been steadily declining. In-store sales were down 46% last week, compared to January. At the same time, online sales have grown by 58%.
By analyzing the rest of our data set, composed of data from more than 80 countries and two billion active monthly shoppers2, we're starting to understand how consumers are adapting to current changes.
Here are a few highlights from this week's analysis:
1. Sales of Consumer Electronics are up.
As more people adjust to working, studying, and in general spending more time at home, the sales of consumer electronics have increased significantly.
On March 22, the US saw sales of webcams skyrocket (+534%). Similarly dramatic rises occurred across computer monitors (+357%), modems (+379%), and educational software (+223%), compared to the first four weeks of the year.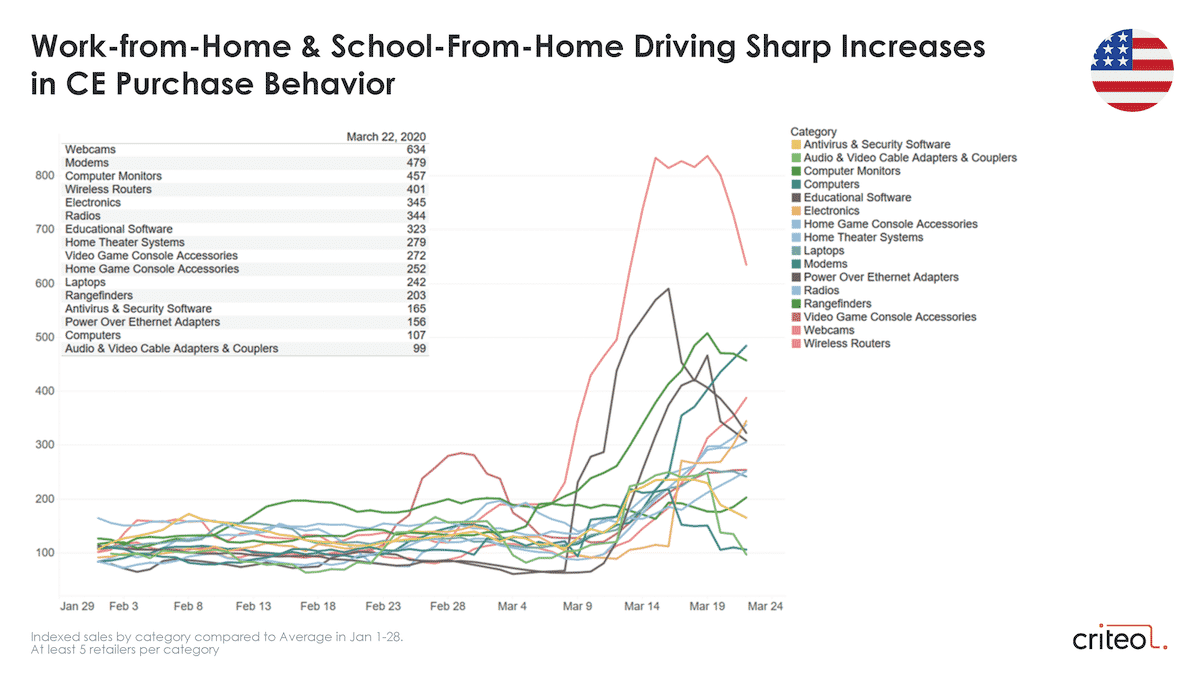 In France, printer products did well in March, with sales of printer consumables up by a whopping +1199% and sales in the category that includes printer supplies, copiers, and fax machines(!) up by +313% compared to January.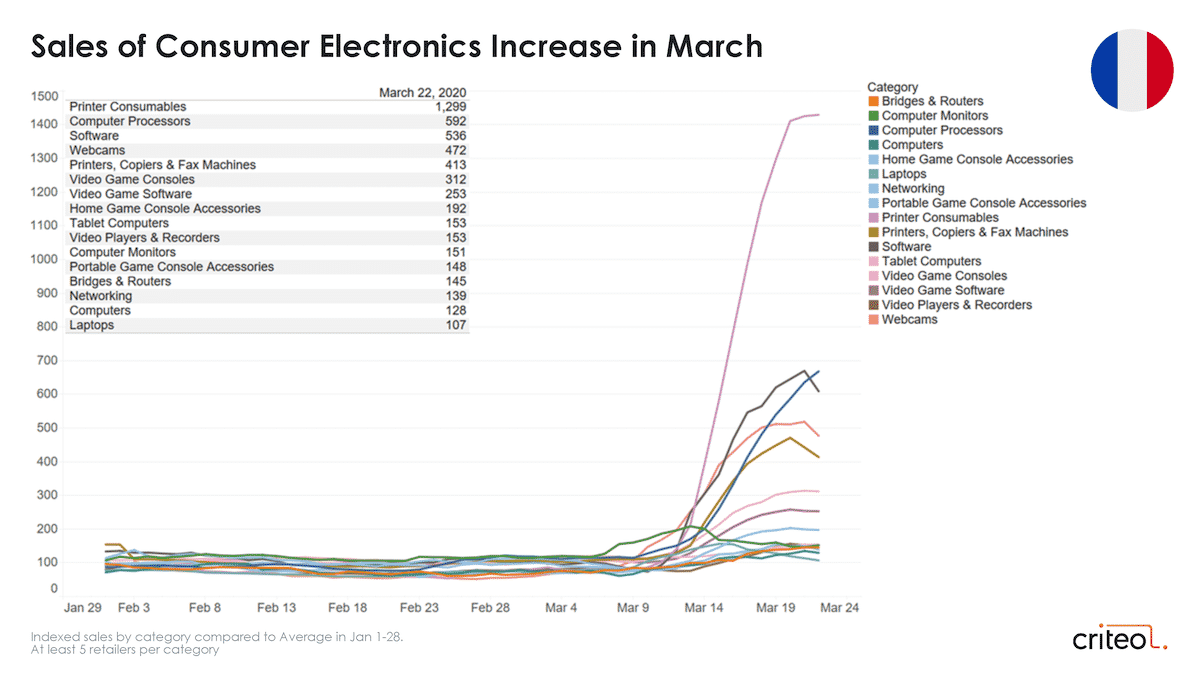 In South Korea, Computer Monitors and Tablet Computers spiked in February. In March, sales of Cameras & Optics (+56%) took the lead.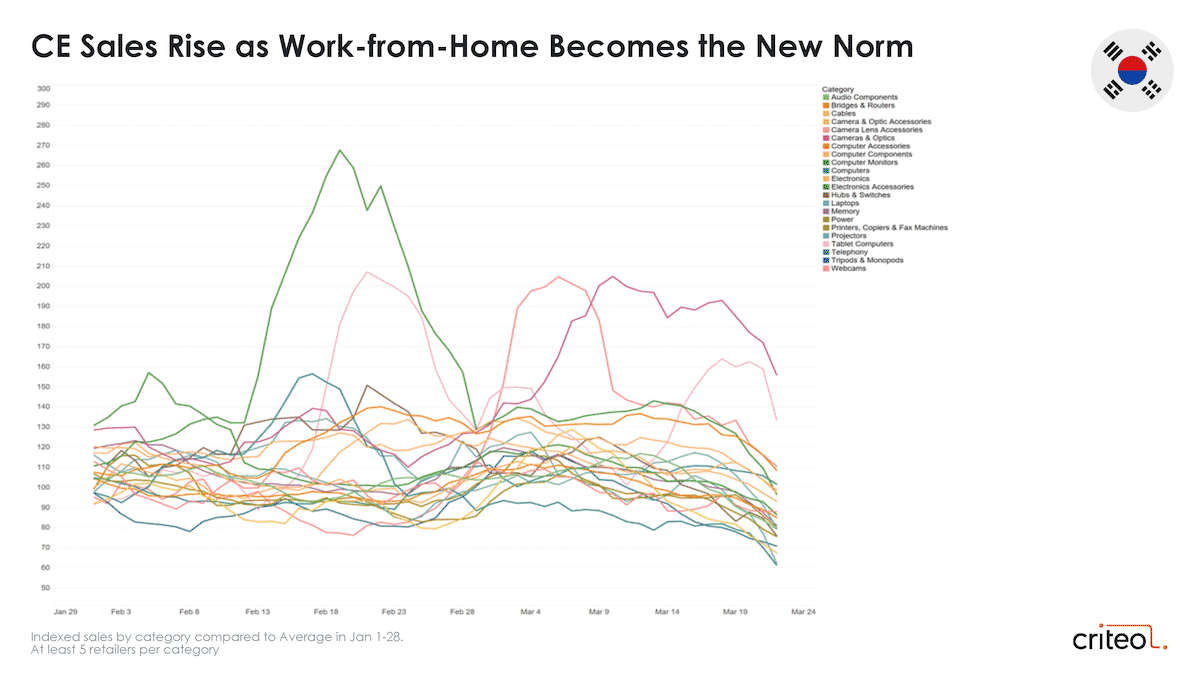 2. Pet supplies climbed in March.
Americans were looking to take great care of their furry friends, with increased sales of Cat Food (+401%), Cat Supplies (+204%), and Small Animal Supplies (+175%) topping the list of category performers.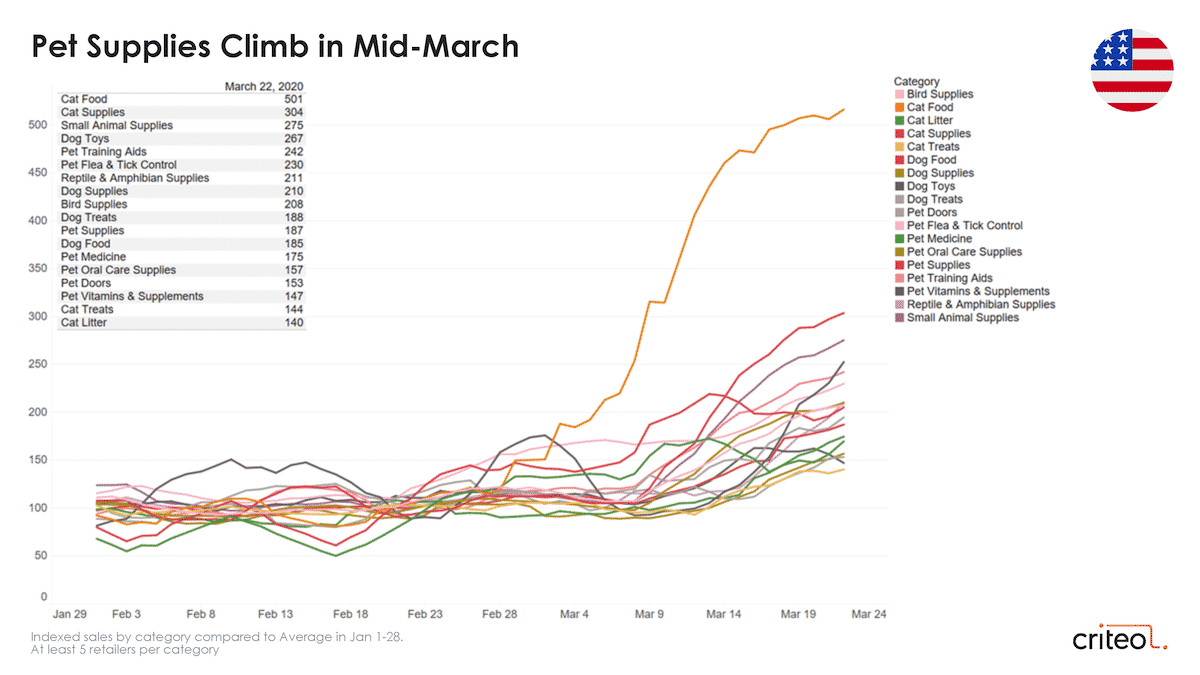 In Italy, Dog Supplies and general "Pet Supplies" took off in March, hitting +995% and +679% in sales, respectively.
South Korea saw sales of Pet Vitamins and Supplements rise in February, while Fish Supplies remained above average levels and hit +42% in sales on March 22, compared to January.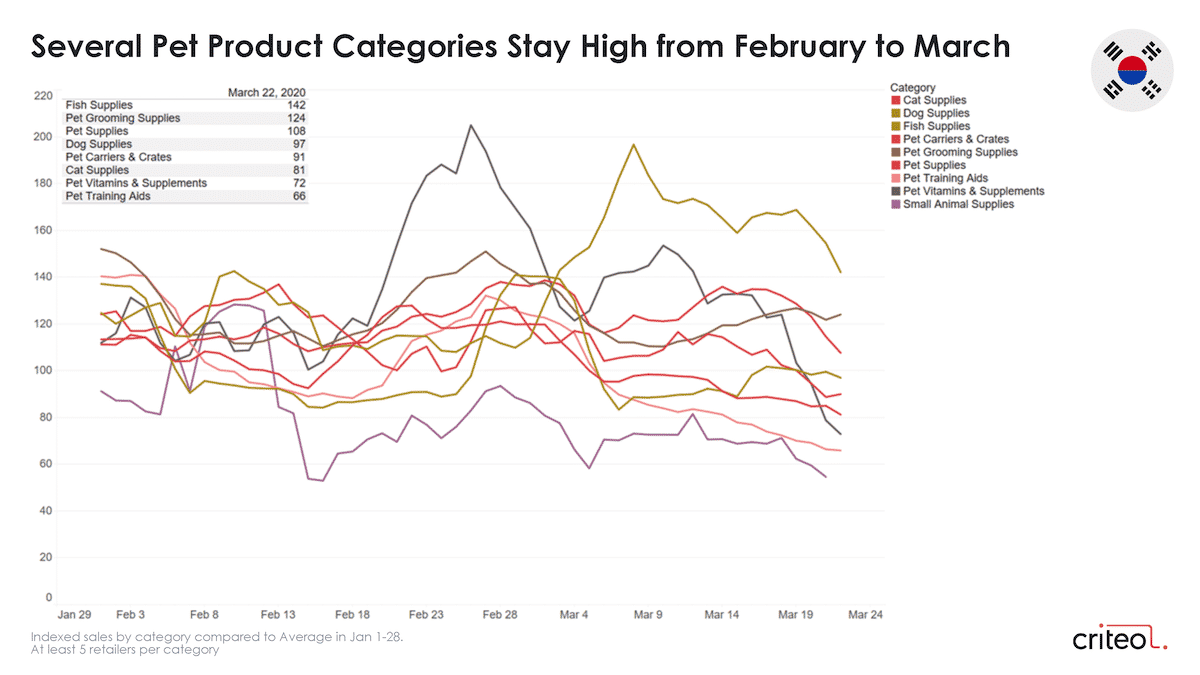 3. Sales of fresh products are growing.
A few weeks ago in the US, as more stores were shuttered and city-wide curfews were enacted, American shoppers stocked up on non-perishables. This past week however—perhaps to complement the now-full pantries of rice, flour, and canned foods—we saw that sales of fresher items started to rise, like Fruits & Vegetables (+600%), and Meat, Eggs & Seafood (+373%).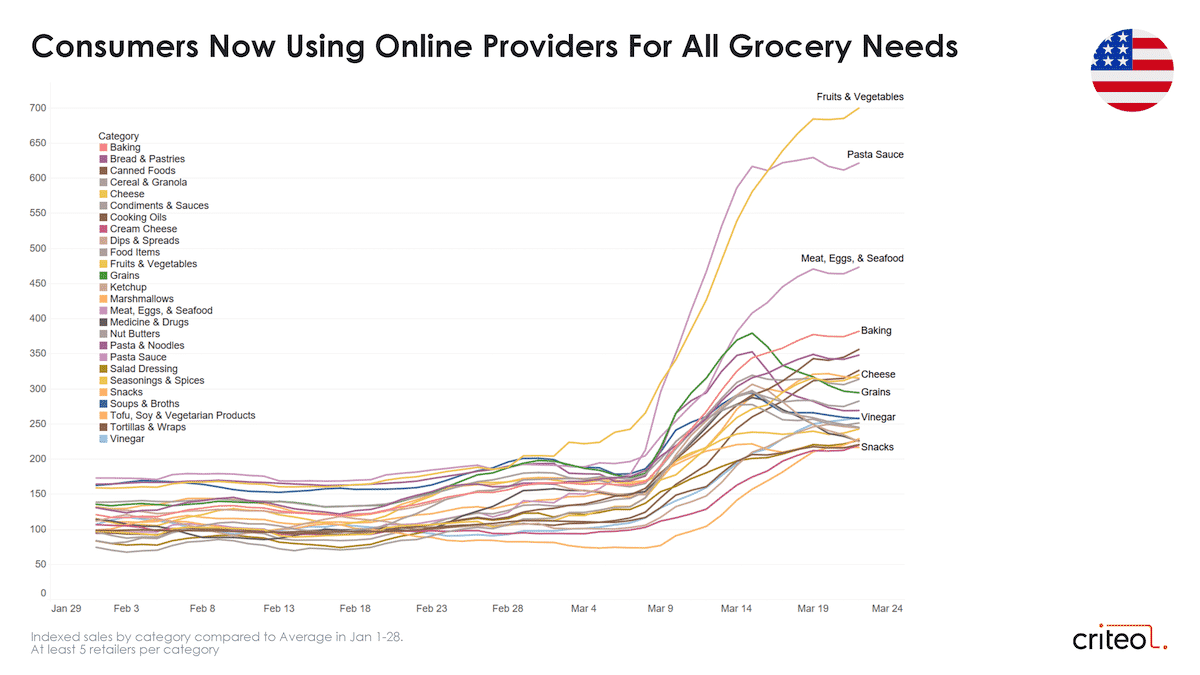 In the United Kingdom, sales of Dairy are up by +887%. Sales of Fruits & Vegetables also saw an uplift of 724% on March 22 , compared to the average in January.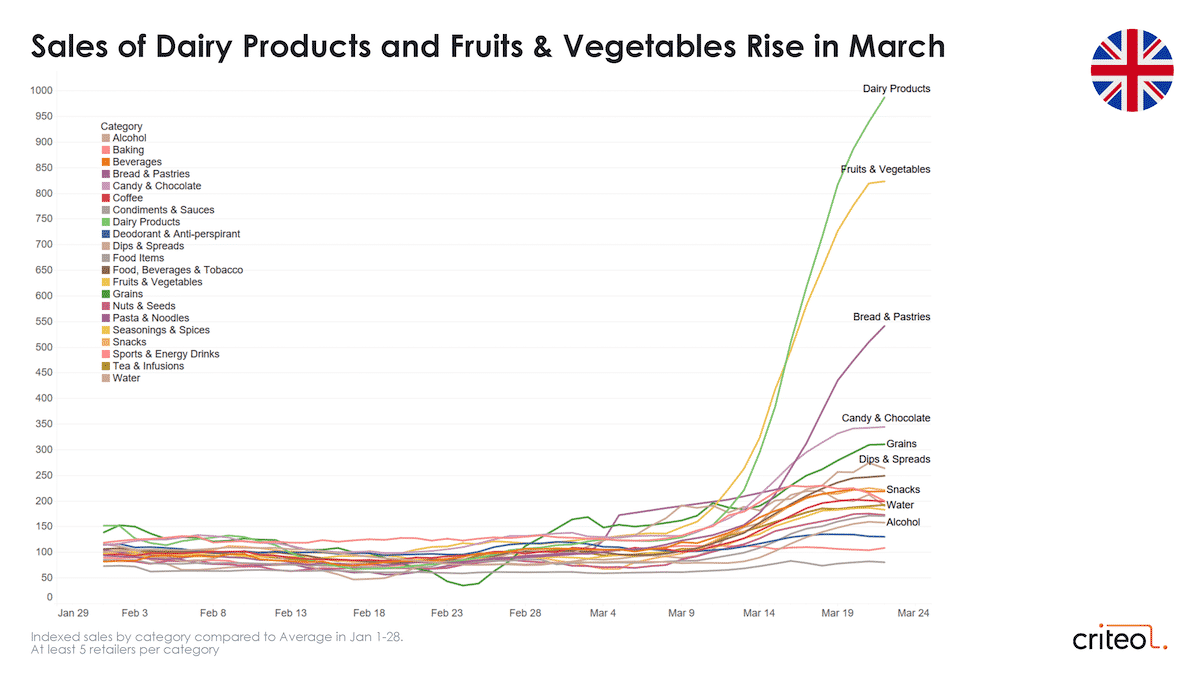 Over in Japan, grocery shopping appears to have normalized, with several categories staying strong, but showing no huge recent peaks. The frenzy to stock up on groceries seems to have diminished along with the threat of widespread viral infections.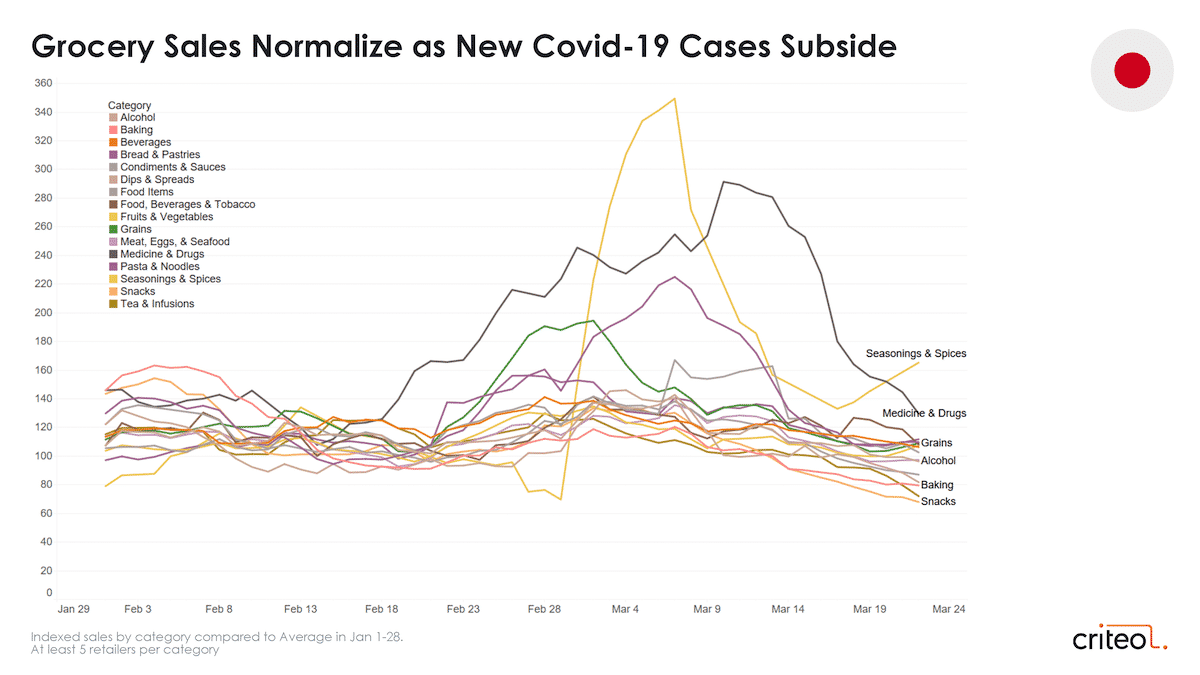 Understanding Uncertainty
Every Wednesday, we publish our latest findings showcasing the impact of the coronavirus on global consumer trends.
We know that the coronavirus has caused uncertainty around the world for consumers and businesses alike. By looking at the raw data of how people are adjusting their purchasing habits, we hope that we can help show a picture of adaptation in a time of uncertainty.
Stay informed with the latest consumer insights and marketing strategies by signing up for our newsletter.

1Source: Criteo Coronavirus Survey, Global, March 2020, N=7,886.
2Source: Online sales and online bookings, Criteo data, Q1 2019 and Q1 2020. At least five retailers/travel players at the most granular level.
Criteo Product Insights Finder
Examine the data more deeply using the interactive Criteo Product Insights Finder. Choose a country and the product category you're curious about to see the latest numbers: