The busiest season of the year for retail is upon us. Most retail marketers are already deep into their holiday campaign planning to make the most of the biggest sales event of the year, Black Friday.
To help every business have an awesome Q4 2019, we analyzed our huge shopping database to figure out which product categories saw the most action last Black Friday in countries across the world. Here's what we discovered:
UNITED STATES
Sporting goods and suitcases saw huge spikes last year. It would seem that Americans were keen on either getting in shape or getting away in the New Year. Sales of books and music as well as clothing accessories also doubled on Black Friday.
Our research also showed that home products like duvets and mattresses surged, then quickly returned to baseline, as consumers readied their homes to welcome holiday guests.
FRANCE
Televisions saw an enormous spike last Black Friday, with sales almost 12X higher than normal. Vacuums also saw a 7X increase. High-ticket electronics are always a top category during the holidays, but your guess is as good as ours on the vacuums. The standard holiday favorites of apparel and luxury items recorded big increases in France as well.
GERMANY
With above-normal temperatures in Germany lasting well through autumn last year (the average was about 10 degrees warmer than usual in October) and some predicting a cooler than usual winter season, winter clothes didn't become a hot item until Black Friday 2018. Scarves and shawls recorded a 412% increase, and sales of snow pants & suits grew more than 200%. Off-season items likes shorts and swimwear also surged, likely in preparation for upcoming travel plans or because of off-season deals.
NETHERLANDS
The Dutch stayed true to the usual Black Friday trends, with sales of shoes, shirts, coats and pants all tripling last year.
RUSSIA
Russians were tapping into their inner rebel in a big way last year, with motorcycle jackets posting a 190% increase. Other apparel categories posted high increases too, including shoes, dresses, and coats & jackets.
SPAIN
In Spain, Apparel was a big winner on Black Friday, especially Shoes, which saw a huge spike of 494%. Sales of Shirts & Tops also increased by +222%.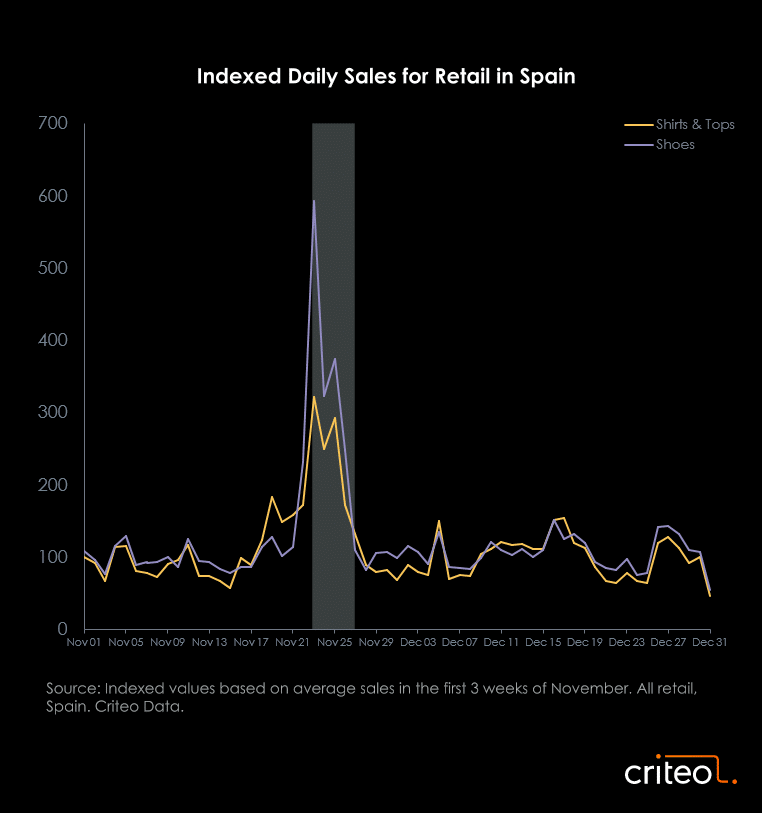 A merrier season for you and your customers
With this data in hand, you can make smarter decisions about how to allocate your end-of-year advertising budget. But there's more to learn in order to make this your best season yet. Download our new Holiday Marketing Report or Festive Season Report for important takeaways that'll help you improve the customer experience, drive more conversions, and deliver more holiday magic to every single shopper.