In many conversations with our clients this year, a recurring theme is how difficult it is to navigate the complex, fragmented advertising ecosystem. In short, they need better tech — not more tech. That's why in building our Commerce Media Platform, we want to give our clients solutions that not only work better, but come together to work more seamlessly. This week, at Criteo's 2022 Investor Day event, we unveiled four client solutions that we're building in our platform, which will connect demand and supply to help fight fragmentation, while delivering more useful commerce experiences across the buyer journey.
By offering more efficient and effective technology from a single platform, purpose-built for commerce outcomes, we're able to drive our clients' performance and enable them to be successful in commerce media, the next wave of digital advertising. Our solutions are grounded in consent-based, first-party commerce data and activated by advanced AI that allows us to make 100 million commerce predictions per second. This commerce-tuned AI delivers more utility to consumers on their buying journey, and in turn, better results for marketers and media owners at every consumer touchpoint.
Solving our clients' commerce media needs
The world is moving towards a state of commerce everywhere, where shoppable moments can happen in nearly any environment — from in-stream to in-game, and at any point on the buyer journey. For each of these moments, marketers and media owners are looking to achieve better commerce outcomes.
Our product roadmap is focused on enabling shoppable moments across retailers, traditional publishers, and in new environments where consumers are browsing and buying. We are the leader in commerce media and now offer the only platform with the scale to help our clients address three critical needs in our emerging marketplace:
Consumer engagement throughout increasingly fragmented buyer journeys. While commerce is everywhere, marketers don't always have the full picture of consumers' paths to purchase. Through our massive scale, we analyze and understand billions of buying journeys, which enables us to deliver the richest commerce insights and analytics to our clients and optimize their commerce strategy towards the best possible outcome.
Relevant, useful, and seamless native experiences

.

Once marketers reach the right audience, they need to ensure their advertising brings utility to them. Through our commerce insights, we find the perfect products for consumers and recommend them through innovative and useful commerce experiences designed to work natively at every consumer touchpoint.
Safe and secure first-party data activation across the buyer journey

.

Data privacy and security is of the utmost importance to our clients, and to Criteo. Our platform enables compliant interoperation of data between buyers and sellers, increasing data fidelity towards better outcomes, while satisfying data security and compliance requirements.
Our Commerce Media Platform leverages our access to commerce data and advanced AI to solve these three needs, and more, as we continue to make our product vision a reality through the four client solutions we're building.
The four solutions within our Commerce Media Platform
Our new portfolio of client solutions underpins Criteo's Commerce Media Platform strategy and helps us deliver on our vision to create richer commerce experiences for every consumer. We were able to accelerate our strategy through the tremendous work of our product and R&D teams, as well as through the acquisition of IPONWEB's innovative tools, technology, and teams, to build on our strong foundation of commerce data and AI.
With commerce data at the core of our platform strategy, our four solutions will address the specific needs of both our demand and supply clients.
Commerce Max: For our brand and agency clients, the Commerce Max demand side platform maximizes engagement across retail media and the open internet. This allows us to increase return on ad spend across environments, without additional costs for operating multiple systems. Critically, Commerce Max provides closed-loop measurement in near real-time for both onsite and open internet campaigns, enabling more seamless activation of buyer journeys.
Commerce Growth

: For our direct-to-consumer clients, this solution is designed to fulfill a full range of customer acquisition and retention use cases that fuel our clients' growth.

Commerce Growth

offers simplified workflows and automation that enable our clients to execute "always on" marketing strategies that continuously acquire new customers and re-engage them with useful messaging and product recommendations. We've designed Commerce Growth to secure performance across the buyer journey as third-party signals wane.
Commerce Yield: For our enterprise retail and marketplace clients, Commerce Yield is our one-stop monetization platform. Leveraging years of experience powering retail media, our solution offers retailers a complete set of monetization capabilities, including search, display, and sponsored listings for retail sites and apps. Commerce Yield makes it easy to extend retail audiences and commerce experiences to offsite media.
Commerce Grid: For our media owner clients, this solution is a supply-side platform that opens new ways to monetize audiences and inventory for commerce. It connects the digital storefront to offsite media to enable commerce everywhere and generate multi-channel yield for media owners.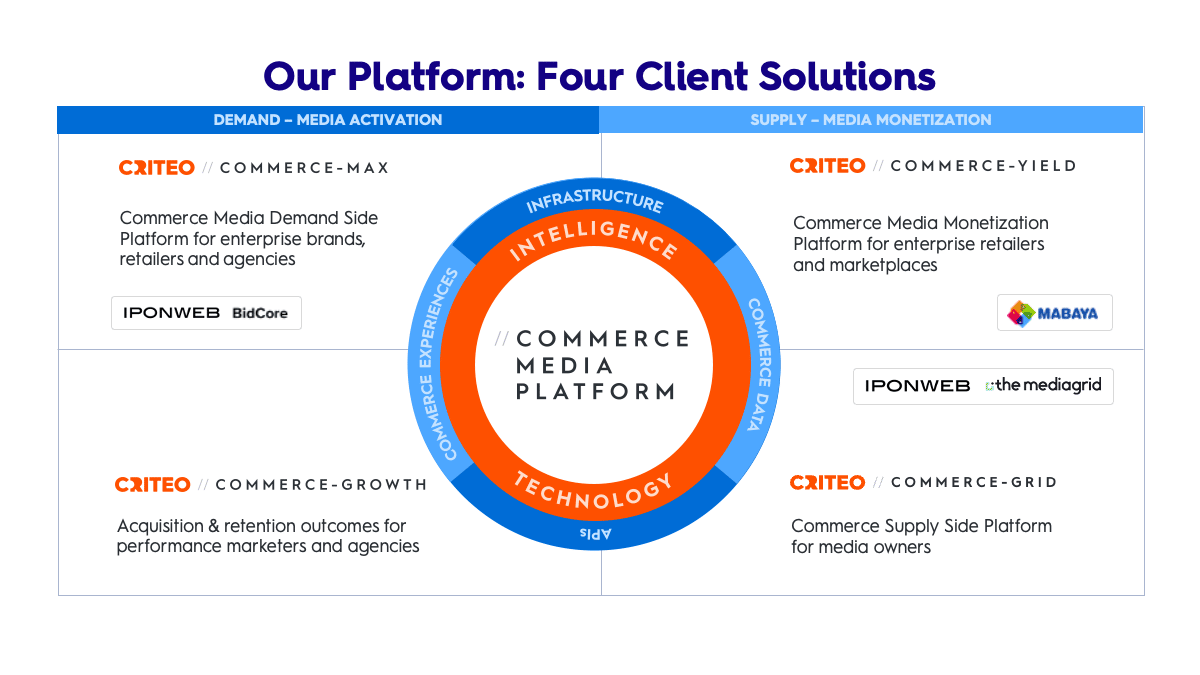 Having both demand and supply capabilities across our Commerce Media Platform offers several benefits for a fragmented industry. It helps remove ad tech value chain inefficiencies by consolidating workflows and removing extra systems and associated tech tax. Marketers get more return from their ad spend while media owners benefit from a higher take rate. And since Criteo does not own any media or retail business, all of this occurs with complete transparency and neutrality.
We unveiled our Commerce Growth solution earlier this year, and began testing our Commerce Max as well, which we aim to make more widely available in the coming year. We also expect to share updates on our Commerce Yield and Commerce Grid offerings this year as we further build out our full suite of solutions.
Engineering future products for commerce everywhere
The solutions we are building will undoubtedly help our clients drive better commerce media performance across the buyer journey, in a wider array of shopping-friendly environments and in media deprived of third-party signals. With our unparalleled access to commerce data and the AI which makes sense of it, we're able to find and engage the most valuable commerce audiences for our clients. And all of this is done through one independent platform, with solutions that are purpose-built to work across both demand and supply for better activation and monetization.
We're rapidly innovating to support new commerce experiences everywhere, including in-game and livestream media solutions, as well as immersive ads and shoppable videos to bring retail storefronts and other interactive commerce experiences across our network. We strive to continuously strengthen our clients' ability to reach commerce audiences and drive performance across the buyer journey — and look forward to bringing many more commerce outcomes to our clients in 2023.
For more details on Criteo's four client solutions from Todd Parsons, as well as our CEO, Megan Clarken, and members of our executive leadership team, watch the replay of our 2022 Investor Day.