Most marketers know that personalization is the most powerful way for your ads to stand out, especially in the noisy digital world of today. If your ad isn't customized to what a shopper wants at that moment, it's essentially invisible.
That's why Dynamic Creative Optimization has risen in the digital advertising industry over the last few years as a powerful way to improve the performance of display campaigns. With powerful machine learning technology at your fingertips, you can ensure that your ads continuously change according to each shopper's preferences and browsing history.
If you're an advertiser already using dynamic creatives to fuel your campaigns, you may want to spend time reviewing the principles of dynamic creative optimization (DCO) in order to bring your creatives to the next level.
Here's how it works:

Dynamic Creative Optimization 101
Let's go over the concepts of Dynamic Creatives and Dynamic Creative Optimization, since the differences can be tricky:
Dynamic Creative refers to the integration of graphical components in an ad's creative using the shopper's specific data: products seen, geolocation, time of display, etc. The graphical components are defined manually at the setup of a display campaign and the dynamic information is filled in real-time for each shopper before the creative is served.
Fig.1: Campaign with dynamic data (products and geolocation) and static graphical components and look and feel
Dynamic Creative Optimization goes further. Rather than just filling a generic creative with personalized data, this technology uses machine learning to choose – in real-time for each shopper and context – the most relevant set of visual components to display, optimizing both the content and the creative.
The objective of such optimization is to improve the campaign's performance; click-through-rate, conversion rate, sales, etc.

Fig.2: Campaign with dynamic data and dynamically optimized components (geolocation vs. ratings) and look and feel
The optimization process falls into two tasks: The engine must (i) pick which graphical components to display and (ii) choose the look and feel of the global creative and the components.
A lot of progress has been made in terms of effectively picking the graphical components to display. Typically, in a retargeting scenario, the number of products displayed can be optimized for each shopper.
This task is complex, so a long-term goal of DCO is to be able to pick all creative components in real-time, including information – such as geolocation – that may be relevant for a particular shopper.
The optimization of the components' look and feel has been subject to a lot of study and development in the market, bringing huge increases in performance.
For instance, machine learning technology is able to choose the color set of the creative, Call-to-Action wording, and the relative size of the components that a shopper would most likely to lead to a conversion.
In the future, as machine learning tools are fed with more data, there will be a broader spectrum of creative optimizations available. We'll be able to optimize animations, branding messages, and more.
Why DCO Matters Today
DCO offers plenty of benefits for advertisers.
First, the machine at the heart of the dynamic creative optimization learns quickly from each campaign. For a given population, which global look and feel works best? Which type of CTA messaging is the most powerful? Which display environment performs best?
Questions of this kind are limitless and dynamic creative optimization is here to help advertisers answer them effectively.
Second, DCO enables personalized marketing at its best.
Since the technology operates on a per-shopper basis, a large part of the creative displayed to a shopper is specifically personalized for him or her. Only elements relevant to the shopper will be displayed, and in the best way possible when it comes to size, position and color.
This is why DCO brings such great results for campaigns where performance is key, especially lower-funnel campaigns like retargeting.
The optimization process also drastically reduces the duration and complexity of campaign setup without compromising shopper-relevance or advertiser brand guidelines. DCO delivers on not just personalization, but also handles all the manual work of data preparation, analysis, and delivery at scale.
This frees up creative staff to do what they do best: create imaginative content as a foundation for marketing campaigns. The campaigns in turn are continuously informed by real-time, relevant behavioral data, collected by machine learning.
Why Dynamic Creative Optimization Will Matter Even More Tomorrow
Even if DCO already delivers an increase in performance to advertisers, the technology is still young. As it continues to develop, it will likely be a key component of the advertising industry in the future.
Indeed, Dynamic Creative Optimization will be able to master more aspects of creative over time. The limits of this are yet to be seen – check out our machine learning white paper "Can Machines Be Creative?" for more on this topic.
As a result, the performance differential between Dynamic Creatives and Dynamically-Optimized Creatives will continue to grow.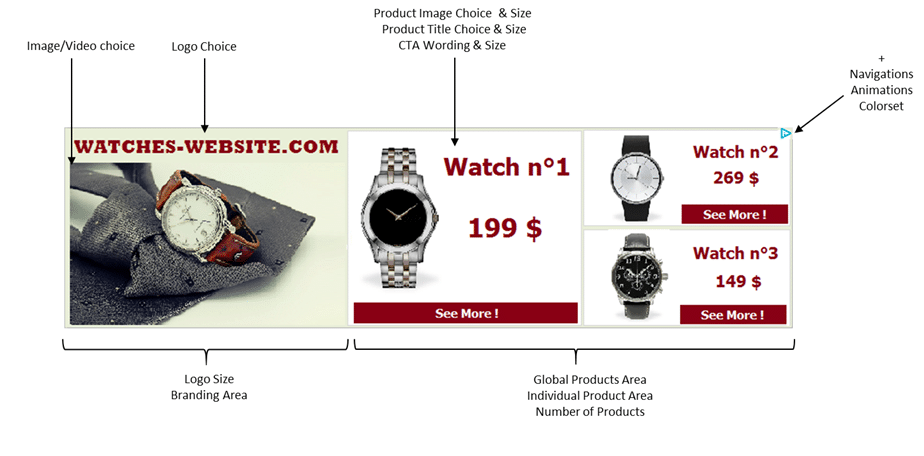 Fig.3: Ideas of dynamically-optimized parameters for a whole DCO creative.
Another important point to take into account when considering DCO is its focus on the shopper. Because DCO optimizes creatives for each impression, advertisers can be sure that their marketing communication stays relevant to shoppers on publisher websites, where it's becoming increasingly difficult to reach users as a result of ad-blocking.
Last but not least, DCO is mainly used for lower-funnel campaigns at present, but it has the potential to expand to other use-cases. Whether it's other types of campaigns, such as customer acquisition or omnichannel, or other kinds of inventory behind HTML banners including native and video inventory, DCO's usage potential is broad and limitless.

Real-time Creative Optimization in the Criteo Engine
Criteo's dynamic creative optimization solution is Real-time Creative Optimization (RTCO), patent-pending machine learning technology which uses real-time contextual awareness and behavioral data from 1.2B+ monthly active shoppers to select and optimize ad creative at a granular level for each individual shopper and context.
RTCO is a component of DCO+, which, together with advanced Predictive Bidding technology and powerful Product Recommendations, form the Criteo AI Engine.
RTCO is fed by a machine-based brand framework which contains an advertiser's brand guidelines, creative elements, and imagery. Once creative is selected and optimized for the shopper and context, the final ad is rendered in real-time to suit the device and available inventory. RTCO (and the Criteo Engine as a whole) benefits from continual growth of the Criteo Shopper Graph; the more data available, the better the predictions and optimizations that are made.
Criteo's DCO+ offering serves visually stunning ads in line with brand requirements, with the highest level of one-to-one creative personalization for individual shoppers across devices, channels, and formats. The result is increased engagement and conversion.
With proven benefits and the potential of further use-cases on the horizon, Dynamic Creative Optimization is a powerful marketing tool, providing an unmissable opportunity for advertisers to improve their campaigns and drive results.
Looking for more ways to improve your ads? Download our latest Shopper Story 2022 report for consumer trends and advertising strategies that will help you serve your clients in new ways.