What happened on Black Friday around the world? The event may have originated in the US, but it's been spreading to countries near and far in recent years. With our global list of advertisers and our massive data set, we can get a clear picture of performance and trends both here and abroad.
To get a global view, we looked at 3 billion transactions in Q4 2019 and 2020 from more than 5,500 retailers in markets across the Americas, APAC, and Europe. Here are the main takeaways to know:
Black Friday sales were up 139% globally when compared to October (October 1-28).
Black Friday year over year (YoY) sales were down in the US, but up in most EMEA and APAC markets. From a global perspective, there was no significant change YoY on Black Friday. The 2020 spike was on par with 2019. Instead, growth came from the days before and after Black Friday.
Sales in the first three weeks of November were up 17% YoY globally. This is interesting because it shows that, just as we predicted in our Black Friday mini-guide, the single day event evolved into a much longer sales period this year. It may also help explain the slight drop in the US, since sales happened earlier this year than ever before.
Sales for the Black Friday through Retargeting Tuesday period were up YoY (+18% in APAC, +17% in EMEA, and +2% in the Americas).
In countries where COVID-19 is surging again, lockdowns have been reimposed, and online shopping is the only option, so online sales are higher.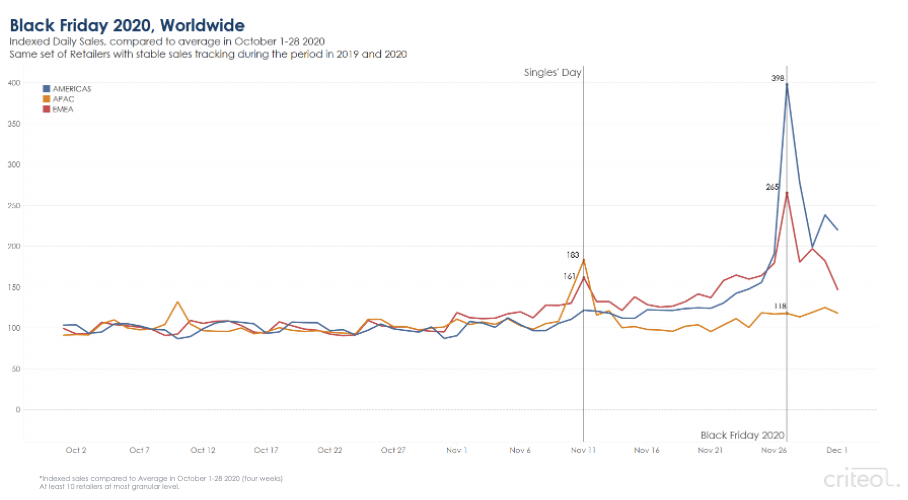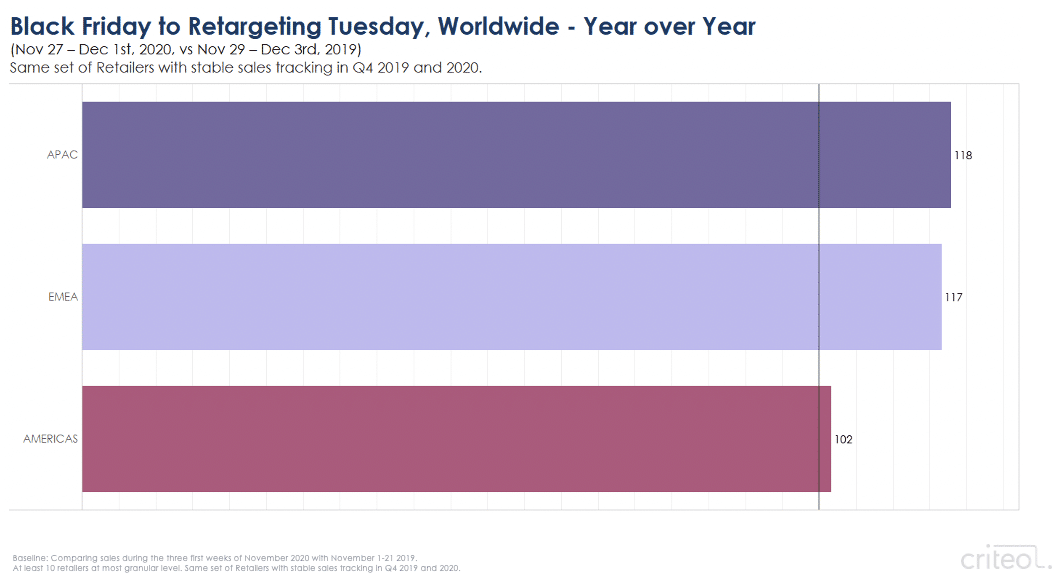 Black Friday 2020: Americas
In the US, Black Friday sales were up 177% vs. October, but were down 5% YoY. Canada saw +251% in sales vs. October, and a 25% YoY sales increase. Sales for the first three weeks in November were up 7% in the US, and up 48% in Canada.
In Latin America, Brazil had the biggest Black Friday increase when compared to October, at +656%. It's interesting to note that in Colombia, Tax Free Day (November 21) resulted in a much larger spike than Black Friday. Sales for the first three weeks in November were up 15% in Brazil.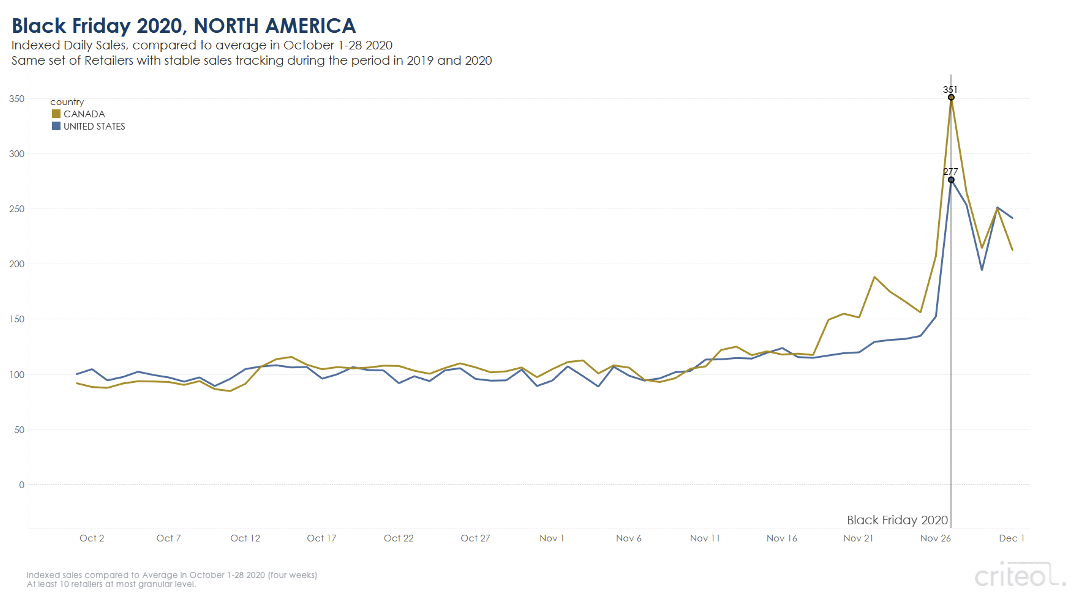 Here, we see a country-by-country breakdown of YoY Black Friday sales. Canada and Mexico saw big increases, while the US and Brazil saw declines.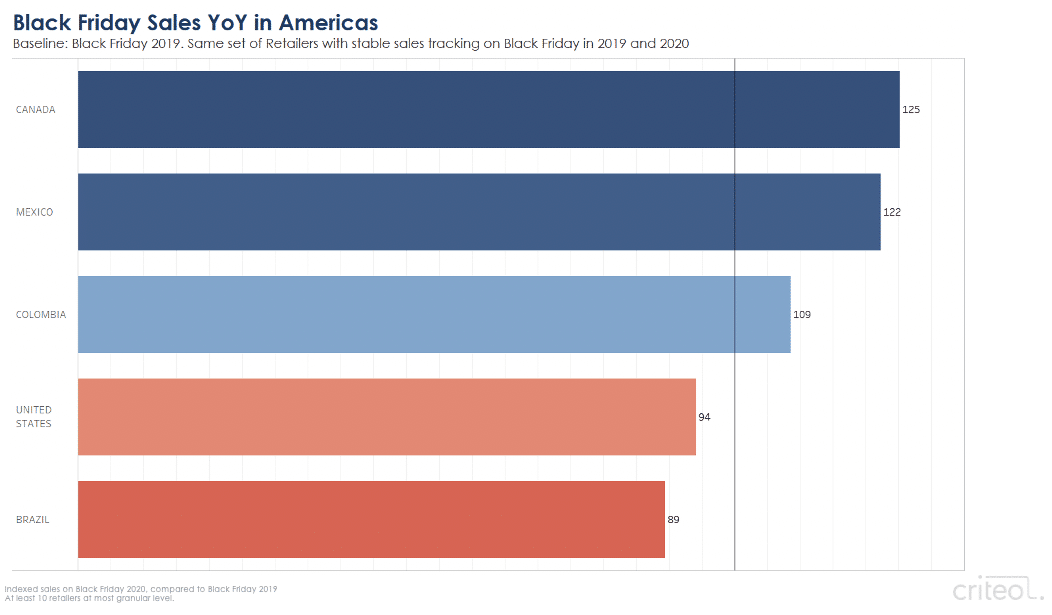 The chart below shows the increase in sales during the first three weeks of November vs. the same period in 2019. Again, this highlights the shift to earlier holiday shopping.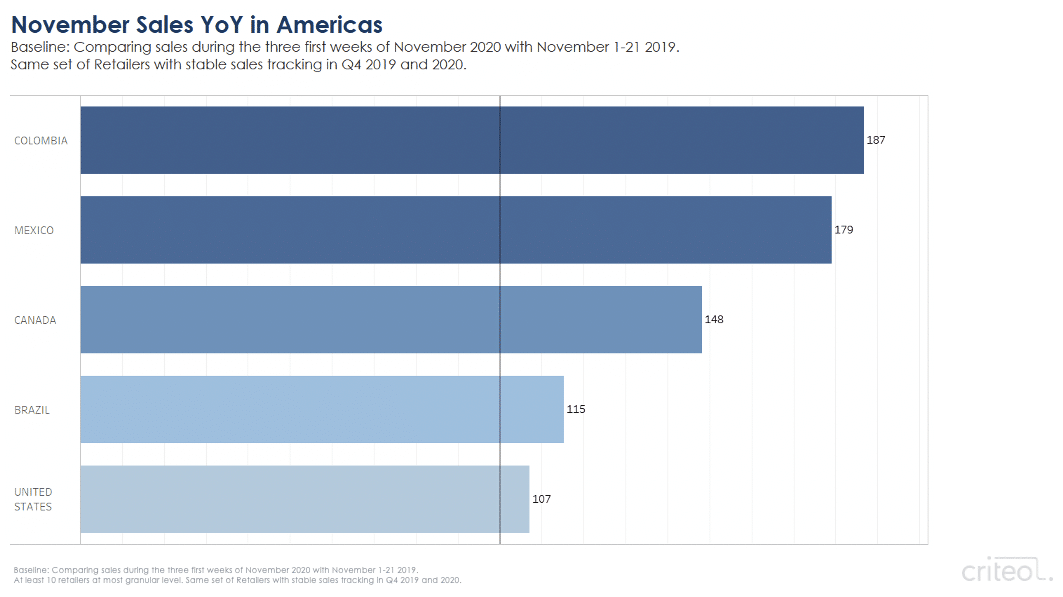 The product categories with the most and least growth on Black Friday in the US are shown below. Cameras & Optics led the field, with telescopes, rangefinders, and cameras topping the list. Basketball and bath toys were the most popular in the Toys & Games category: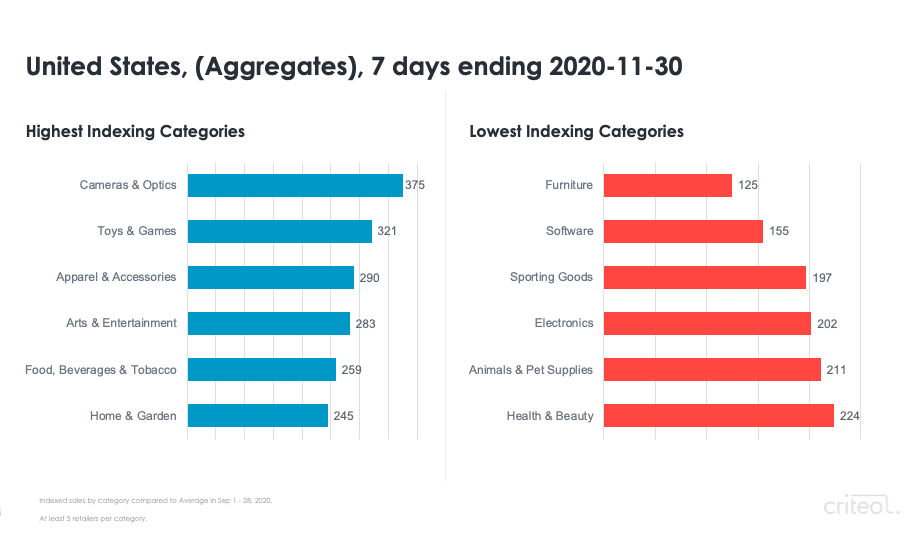 Black Friday 2020: EMEA
Black Friday has been growing in Europe over the past few years, and the event saw strong increases across the region in 2020. When compared to October, it generated +165% sales, and significant sales spikes in all EMEA markets, from +33% in Slovakia to + 512% in Saudi Arabia.
Online sales on Black Friday were also up YoY in a majority of these markets (20 out of 27 countries). France was the outlier, as the country postponed the event to December 4.
Online sales in the first 3 weeks of November were also up 30% YoY in EMEA and in particular in the countries under a new lockdown.
Below is a sampling from the EMEA region, showing +331% sales for Ireland and +271% sales for the UK vs. October data.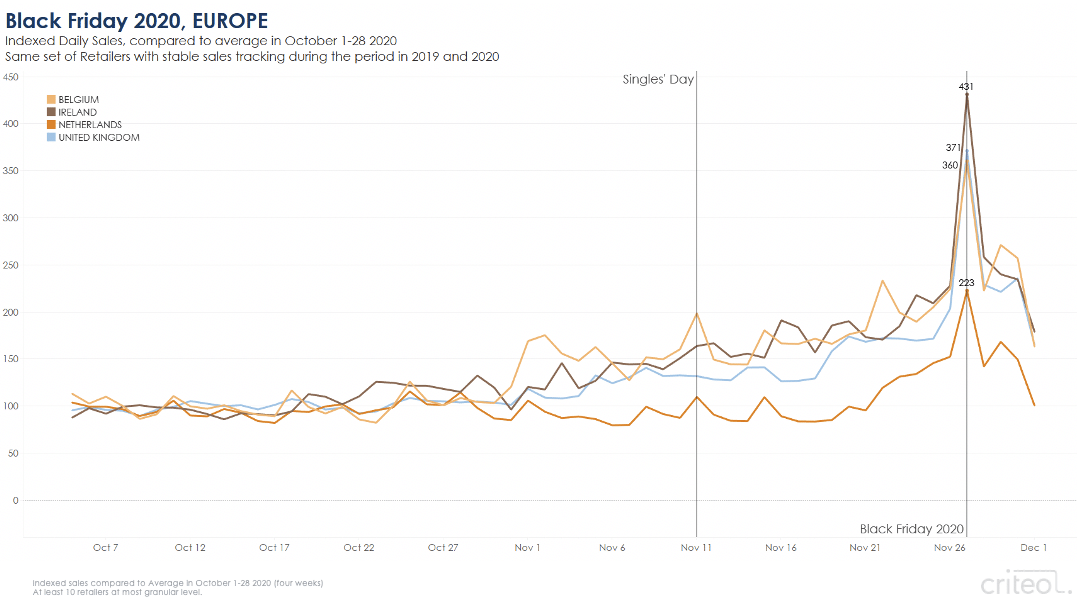 Greece, Belgium, Slovakia, and Austria saw the biggest YoY increases, with +91%, +76%, +73%, and +70%, respectively. No doubt about it: While Black Friday looked a bit different this year, the momentum surrounding the event is in EMEA to stay.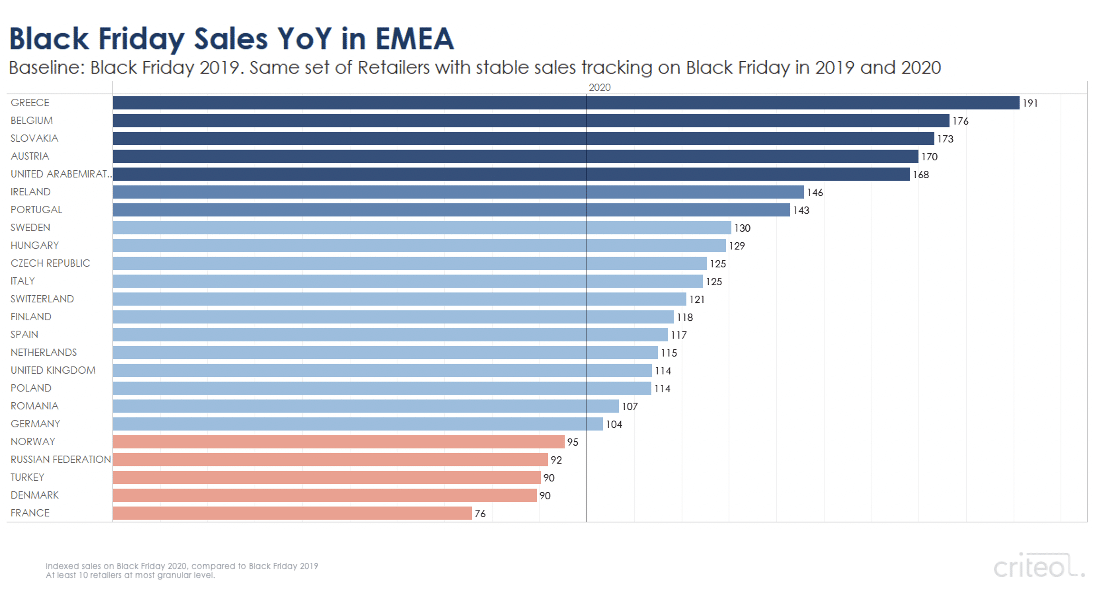 Black Friday 2020: APAC 
Though not nearly as popular as Singles' Day or other local events , Black Friday has begun to make a showing in APAC. Several markets experienced a sales spike vs. October, including Hong Kong (+247%), Singapore (+197%), New Zealand (+194%), and Australia (+156%).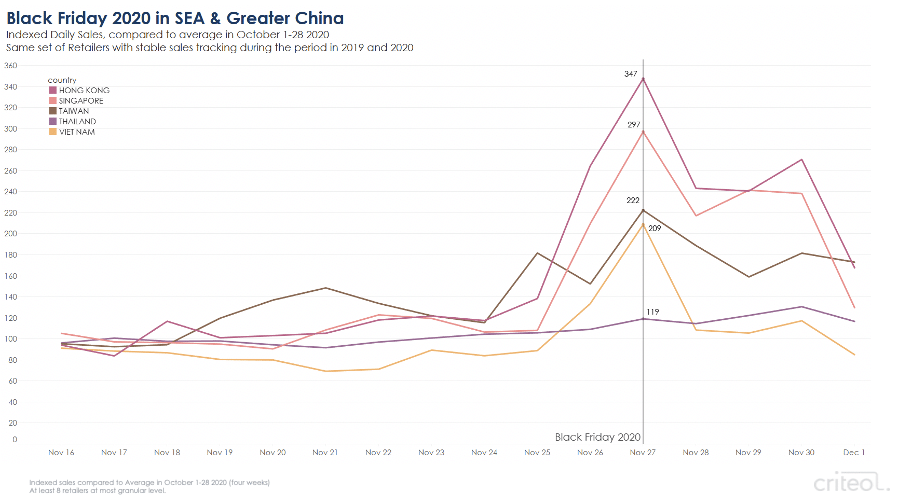 With the exception of Taiwan, most markets in APAC saw a YoY increase in Black Friday sales. These markets also had YoY increases in sales for the first three weeks of November.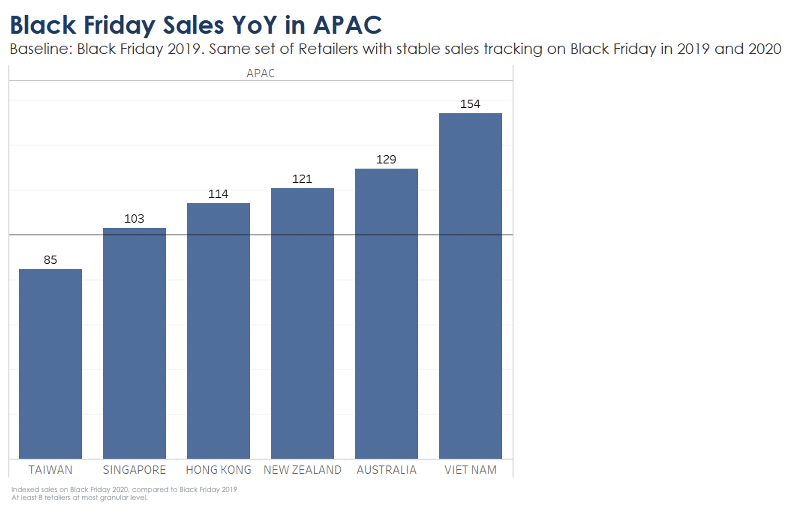 That's a Wrap:  Summarizing Black Friday 2020
What does all this data mean? Most importantly, the increase in sales earlier in November and the YoY increases in many markets around the world means that shopping is still happening. Despite COVID, economic concerns, and a world of other worries, consumers are still embracing the spirit of giving. Black Friday and Amazon Prime Day may have passed , but there's still plenty of time for advertisers to help customers find the perfect presents for everyone on their list
For more sales data, check out our Seasonal Sales Dashboard and the Criteo Holiday Product Finder. Get access to Criteo's latest consumer research by downloading The Gifting Guide: