2022 has been a comeback year for the travel industry, and Criteo data shows that there's a lot to look forward to in 2023. In Q1, we saw consumers around the world regain travel confidence, and in Q2, air travel accelerated to new heights as bookings surpassed pre-pandemic levels.  
As marketers prepare for what's ahead in the travel category, we tapped into our dataset of more than 2,000 travel players in over 50 countries to unpack the current state of global travel. Check out just a few of the trends we uncovered to prepare for travel's rapidly evolving industry. 
Bookings for air travel continue to soar
Across all regions, air travel in Q3 has seen healthy gains since the industry was first disrupted by the pandemic.  
Air travel in APAC proved especially resilient. When comparing September 2022 with September 2019, bookings for travel in APAC surpassed pre-pandemic levels by +30%. In Japan in particular, bookings were up a whopping +316% year over year. 
In the Americas, air travel bookings in September increased +4% compared to the same (pre-pandemic) period in 2019. While overall bookings across the region (which includes the US, LatAm, and Canada) were slightly down compared to 2021 (-9%), travelers in some areas are ready to take flight. For instance, in the US, bookings more than doubled, at +102% year over year.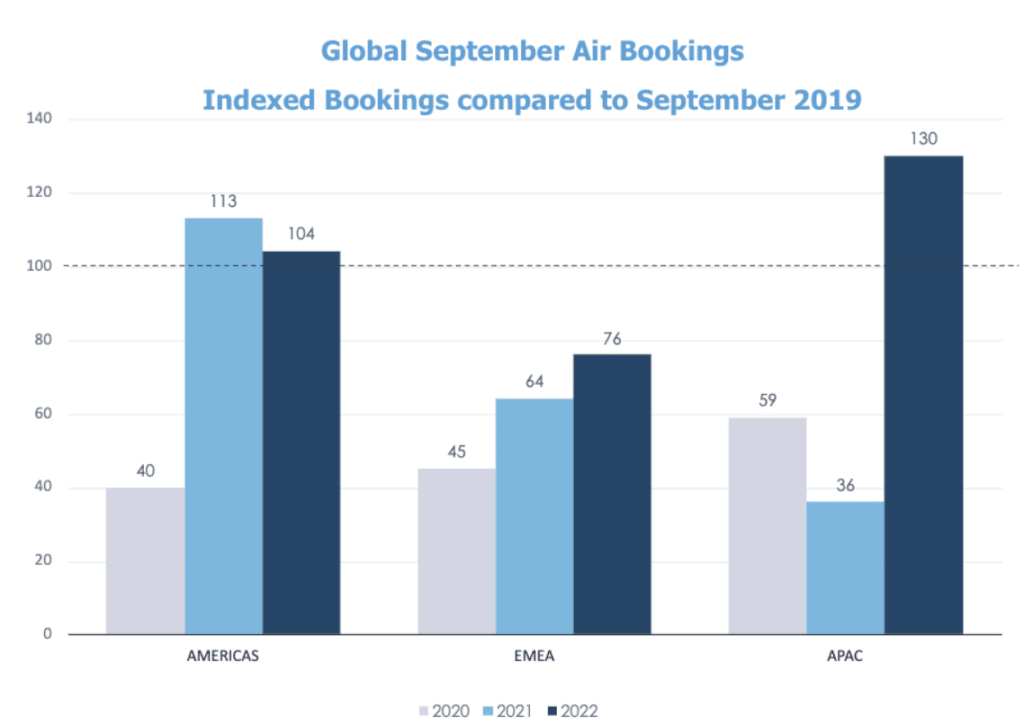 Air bookings in EMEA haven't quite reached pre-pandemic levels, however, compared to 2021, many countries are surging back. Bookings increased year over year in France (+92%), Germany (+65%), Italy (+76%), and the UK (+93%). 
Travelers are venturing further away—including internationally
Looking at global air travel data by distance, many travelers around the world are booking flights further away than they did last year. 
Criteo data shows that in EMEA, the share of air travel bookings classified as a "long haul" (greater than 2,500 nautical miles) from September 24-30 increased +30% compared to the same period last year. In the Americas, the proportion of long-haul flight bookings increased +41%, while in APAC, the share long-haul flight bookings skyrocketed by +75% YoY. 
Percent Change in Share of Flights Booked by Distance 

In EMEA, the proportion of air travel bookings for international destinations increased +8% when comparing September 24-30, 2022 vs. September 24-30, 2021. The proportion of international air travel bookings in the Americas rose +39% year over year. Far-off destinations for APAC travelers were especially appealing, with the proportion of bookings for international air travel jumping +155% year over year. 
Conversion rates show growth in popularity for Online Travel Agencies
In the Americas, conversion rates for Online Traveler Agencies (OTAs) increased +46% when comparing September 2022 with pre-pandemic levels in September 2019. Meanwhile, conversion rates for suppliers* were softer – yet they still saw a +13% increase over pre-pandemic benchmarks. 
APAC's conversion rates for OTAs also exceeded pre-pandemic levels: In September 2022, OTA conversion rates increased +27% compared to September 2019. Conversion rates for suppliers in APAC were still below pre-pandemic benchmarks.  
In EMEA, conversion rates for OTAs and suppliers have seen vast improvement in recent years, though they still remain below pre-pandemic levels. In September 2022, conversion rates for OTAs were up 11% compared to September 2021.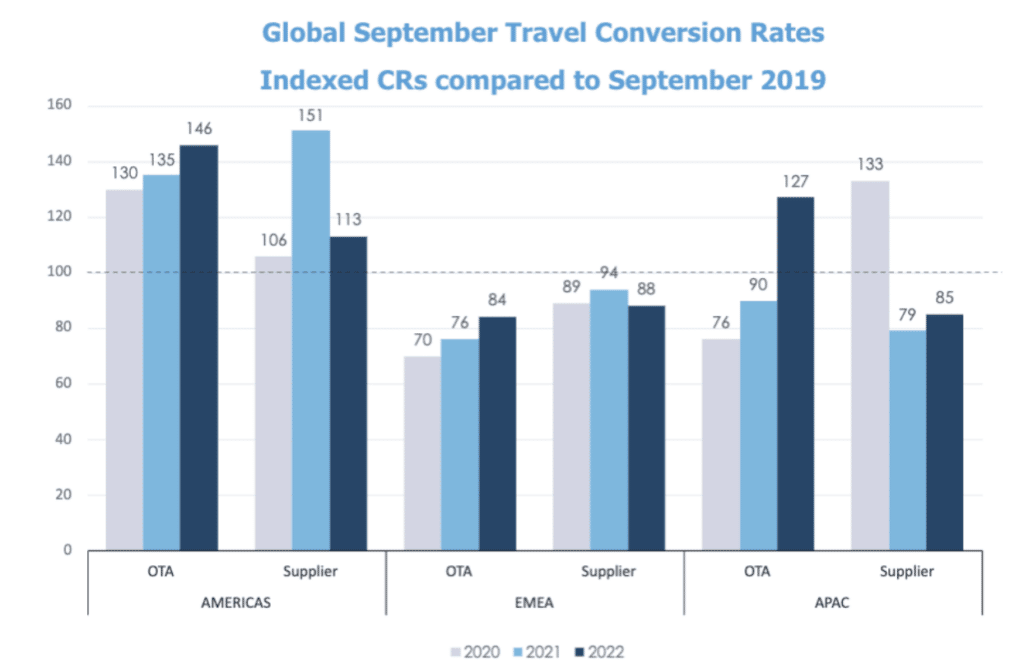 *Suppliers – Travel players who own and operate hotels, aircrafts, vehicles.   
Looking ahead to New Year travel
Criteo's historic data shows that during that past two pandemic-era winters, consumers have shown a strong intent to travel just after the New Year.  
Based on early January air travel bookings globally, it's clear that many travelers were planning their next trips following New Years — at levels that exceeded the pre-pandemic benchmark. 
When looking at bookings for hotels and rentals, travelers around the world regularly demonstrate the same pattern. Across regions, booking volumes historically increase as travelers plan to go on memorable getaways during the year ahead.  

Tap into the travel industry's growth with commerce media
From embarking on more international getaways to booking more frequently through OTAs, consumers' travel behaviors are shifting as the industry continues to recover from the pandemic. With Criteo's Commerce Media Platform, marketers can tap into the travel category's continued growth by harnessing the largest commerce dataset on the open internet to identify, engage, and convert the right travelers throughout their buying journey. 
For more travel trends, register for immediate access to our "Pack your bags, travel is taking off" on-demand webinar where data experts at Criteo uncover what to expect from the industry in 2023. 
Visit Criteo's Seasonal Travel Dashboard and Commerce Trends Dashboard for even more data on the state of global travel and commerce.