The latest research estimates that the average cost to develop an app can be anywhere from $50,000 to more than $200,000[1]. But with more than two million apps to choose from in the Apple App Store and Google Play Store, building an app doesn't mean that users will automatically flock to it, and keeping the users you do get is increasingly difficult.
To recoup the development expense, and drive long-term value from an app, companies need more than ASO (App Store Optimization) and push notifications. This is where app advertising comes in.
Most of the conversation around app advertising has been focused on the top of funnel: driving app installs. Getting new app users is critical, of course, but today's mobile marketers need a more complete strategy. Especially given these stats, which speak to the abandonment crisis that plagues the app industry: 49% of users abandon an app after just 1 day[2]. One-third of users only have one app session[3].
The solution? A full-funnel approach that follows the entire customer journey, from installs to re-engagement and retargeting. Here's what it looks like:
Upper funnel in-app advertising: App install for new audiences
Effective app install campaigns boil down to this: finding the right users. That means spending your budget on users who will not only download, but actually use your app. In order to do that, marketers need data and machine learning (ML) so that they can use advanced predictions to acquire the ideal users.
The ML that mobile marketers need should be powered by a wealth of real-time data, including:
Behavioral and transactional data across a large data set of cross-device IDs
Analysis of user intent signals including in-app conversion frequency, type of device, location, and engagement level
Historical and real-time data to evaluate user conversion intent at any given time
This level of data and ML can help marketers create accurate user profiles for precise targeting. It can predict the probability of app users clicking an ad and installing an app, as well as their lifetime value. It can then change bidding based on a user's attributes. And, it can use cross-device mapping to analyze a user's behaviors and browsing activity from across devices and apply that to the same audiences being targeted for an app.
Upper funnel in-app advertising: App install for existing mobile web users
Another highly effective install tactic is to transition your mobile web users to your app. If you already have a strong mobile user base, you should focus on an app install campaign that targets those existing users and drives them to your app. The in-app experience is smoother and more attractive for users, which can create more engagement and conversion than the mobile web experience:
In-app ads lead to three times higher conversion rates vs. mobile web[4]
Shoppers make 56% more purchases in-app than on the web[5]
Apps are designed and programmed for specific mobile operating systems, ensuring they run quickly, efficiently and provide a better experience for the user
Look for a partner who can identify the most engaged users on mobile web and run ads that deep-link the user to the exact same page in app that they were viewing on mobile web.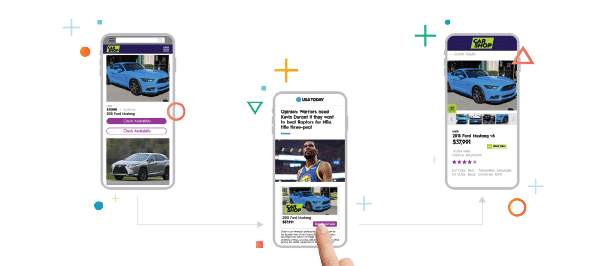 Mid-funnel in-app advertising: App re-engagement
With dozens of apps on our phones, how many are actively used? Statista data shows that more than 75% of our time is spent on the top three apps only. The competition is high for the remaining 25% of a user's attention. How can mobile marketers ensure they are activating their newly installed users, and continuing to connect with most their loyal users?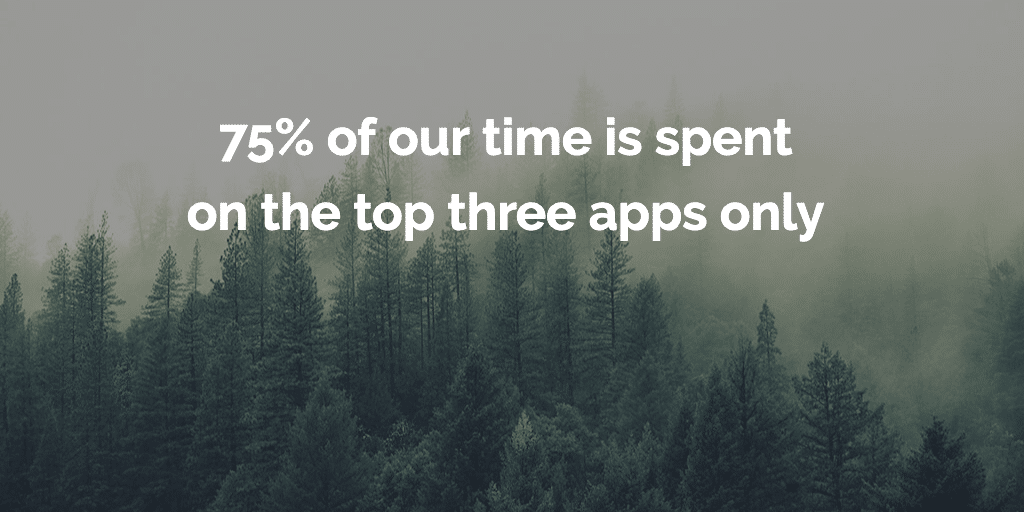 This is where tracking post-install data to effectively re-engage with users comes in. By closely monitoring post-install behavior, marketers can develop app re-engagement campaigns for the following cases:
Engage audiences that have never converted. With AI-driven personalized ads, marketers can ignite first-time installers and drive them to convert.
Get reinstalled. Boost app engagement and revenue by encouraging users who deleted your app to re-install.
Reactivate users who have become inactive. Remind lapsed users of what they're missing–promote seasonal offers, announce an upgrade to a product they bought previously, and more–to inspire them to take action.
Through these campaigns, app marketers can maintain an active user base, grow loyalty, and increase lifetime value.
Lower-funnel in-app advertising: App retargeting
The final phase of the journey is of key importance to the marketer: increasing in-app conversions. By understanding the real-time behavior of your app users, you can reach them with personalized ads after they leave your app and bring them back to convert, otherwise known as app retargeting.
To maximize conversions, you need dynamic, hyper-personalized app retargeting ads. Since up to 28% of purchases are products that weren't previously viewed, you also need ML that can predict items of interest and show shoppers products they might like, in addition to previously viewed products. An engine that takes into account cross-device behavior is also key, as it will base recommendations on activity across desktop, mobile web, and app, for a more accurate experience.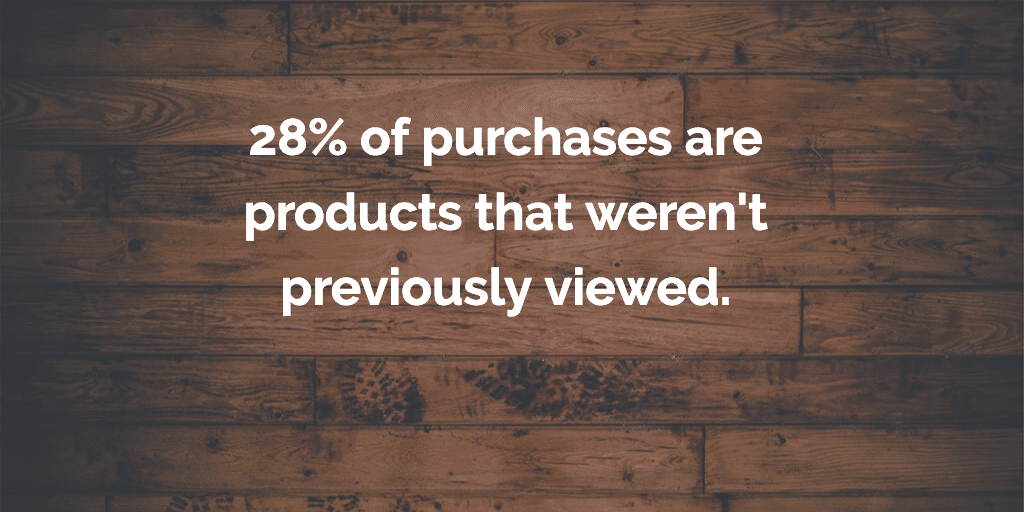 Full-funnel app advertising made easy
Many mobile marketers are balancing multiple solutions to achieve a full-funnel strategy. But it doesn't have to be that way. Criteo's mobile app advertising platform is an all-in-one solution for app installs, engagement, and retargeting. Using one unified platform, marketers can accelerate growth across the entire customer lifecycle. Our solution works across all verticals, from gaming apps, to financial, retail and everything in between. To learn more, visit our mobile advertising platform page!
[1] https://mlsdev.com/blog/app-development-cost
[2] Source: Criteo data of 15 highly active countries from December 5, 2019-January 8, 2020, n=1,091
[3] Source: Criteo data of 15 highly active countries from November 25, 2019-December 29, 2019, n=865
[4] Source: Criteo Global Commerce Review, Q2 2018
[5] Source: Criteo indexed global app sales/leads based on web sales from December 5, 2019-January 8, 2020, n=1,000 ​