This blog post is not going to tell you how to more effectively "sell" customers in your store. It won't give you tips for improving the flow of your floorplan, or advice on how to price your products.
It WILL tell you how to take one of your most valuable assets – the customers who have purchased in your brick-and-mortar store before – to drive more in-store sales. The twist is that you'll be using online display ads to do it. You just have to find your customers online first.
The problem of the invisible audience
According to NRF (National Retail Federation), 90% of sales still happen in-store. And our survey of 10,000 shoppers around the world showed that while 70% or more say they prefer shopping online, an almost equal percentage also say that they like to shop in stores when they have the time.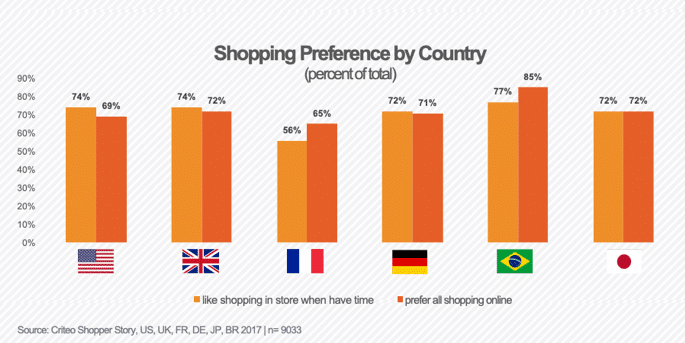 What this shows is that, contrary to the news of the day, physical retail is alive and well. But it doesn't exist in a vacuum. To encourage an in-store visit, retailers know they need to reach shoppers online, where they spend a majority of their time (almost 6 hours per day, according this report).
Yet our retailer data shows that 53% of advertisers' addressable audience are offline only buyers that can't be reached online with a digital campaign. They are, essentially, invisible.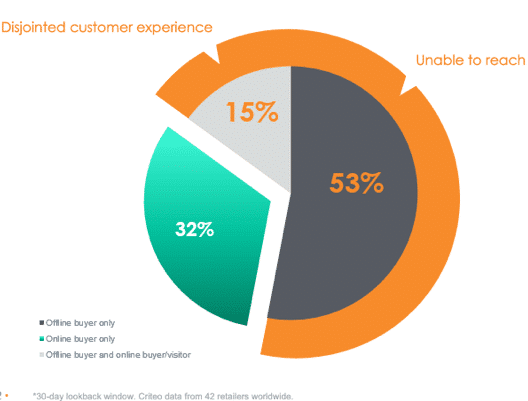 See and connect with your in-store shoppers online
Luckily for retailers, there is a way to close this gap. Solutions like ours can take your offline sales data and compare it with a data set of active online shoppers to find matches. Each match provides you with a more complete view of the shopper and both their online and offline behaviors and preferences. You can then use this enhanced insight to serve personalized display ads to your offline customers online, complete with products that will entice them and store info that will get them back in the door.
Here's a step-by-step look at how an in-store conversion campaign like this typically works:
Add a tag to store-specific pages of your website to capture online intent (i.e. shopper category and product interests)
Provide your offline sales data to your solution provider, who will onboard it and identify matches from within their online shopper data pool
Serve personalized dynamic display ads to the shoppers that were matched and found online, using insights gathered from both the offline and online data sets. Ad creative, products, and store info will be tailored for each shopper to have the most impact.
Measure success based on actual in-store sales
Finding the right solution
If you're ready to connect with the half of buyers that you can't see online today, here's what you should look for in a partner:
Deterministic matching, with a match rate of at least 60% (deterministic matching is more accurate than probabilistic matching)
A large shopper data pool – the bigger the pool, the more likely you are to find matches
AI technology that can provide personalized product recommendations based on an analysis of user behavior/intent across all channels
Dynamic creative optimization technology to deliver ad creative and store info that's personalized for each customer
Reporting that includes in-store sales attribution based on exact transaction data
Increase retail sales with the power of online ads
Online display ads aren't just for ecommerce. By connecting the dots and bringing your offline data into the picture, you can harness the power and efficiency of online to drive real-world results. Increase the audience you can reach online, better understand your shoppers and deliver a more seamless experience, and see more in-store sales.
Want to learn more about how Criteo can help connect online and offline sales?