By now we all know that 2020 was a year of massive ecommerce growth. But as vaccinations rose and COVID cases declined, in-store shopping came back to the forefront. In early July, eMarketer predicted that brick-and-mortar retail spending would grow 6.3% in 2021, the strongest growth rate seen since 2011. 
However, so much has changed since just a few weeks ago. In late June, when eMarketer was making its predictions about brick-and-mortar spending, COVID-19 cases in the US were averaging around 12,000 per day. By early August, that number was closer to 100,000 cases per day. Major retailers like Target, Kroeger, and The Home Depot have announced mask mandates for their employees and are recommending masks for customers in high transmission areas.
What does all of this mean for in-store shopping in the US? Will ecommerce once again become the preferred method of shopping for many consumers? Or will in-store shopping continue, but with some of the same precautions as in 2020 (i.e. masks and social distancing)? While we don't have all of the answers, we can look at data from the past year to determine how consumers may shop in the coming weeks and months, and how you should adjust your strategy accordingly.
What categories have had the strongest in-store growth?
Overall, in-store shopping saw rates that were 12-24% higher in June of 2021 than they were in January of 2020. Keep in mind, in January, COVID rates were averaging nearly 200,000 cases per day (double the current rate), and vaccines had not yet been rolled out.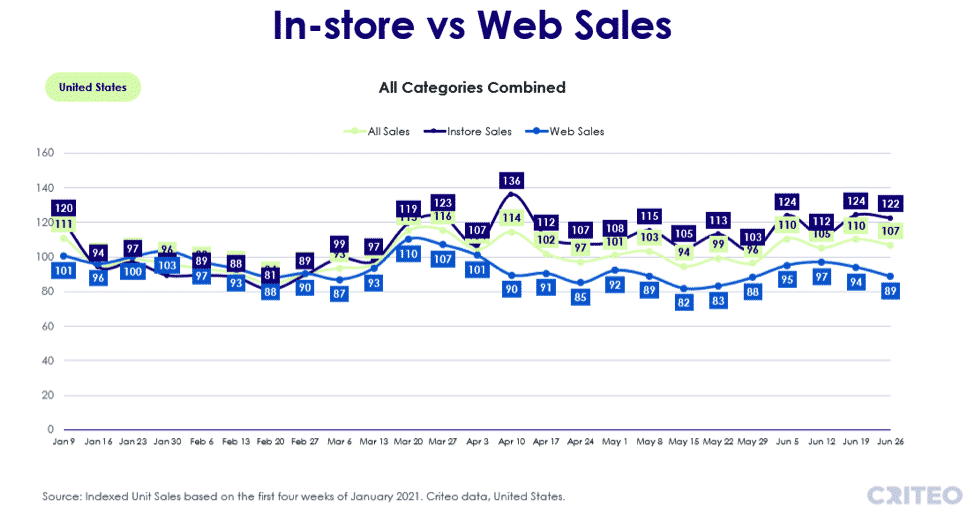 Some categories have seen massive in-store growth in the past few months: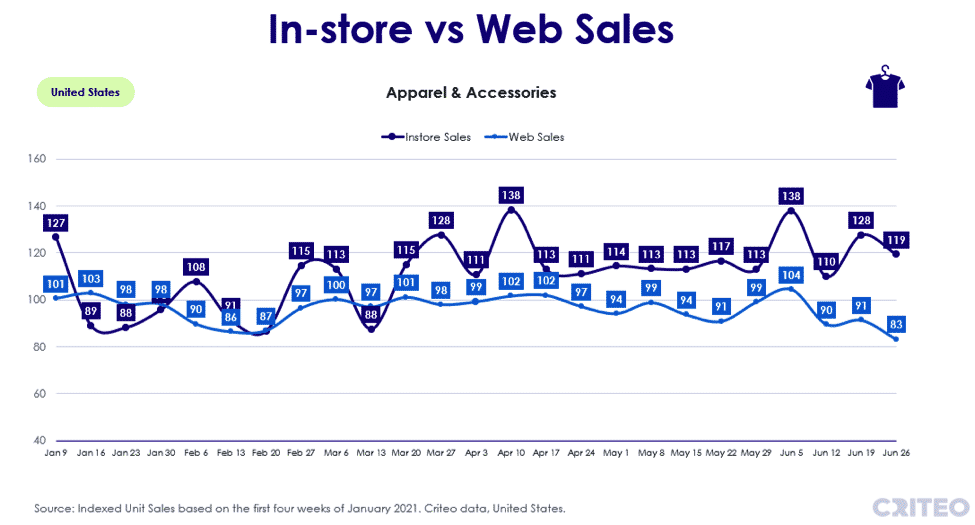 The Apparel and Accessories category is one in particular that has seen major growth recently. One of the likely reasons for this is the re-opening of fitting rooms. In a recent Criteo survey, 55% of US respondents told us that they miss fitting rooms.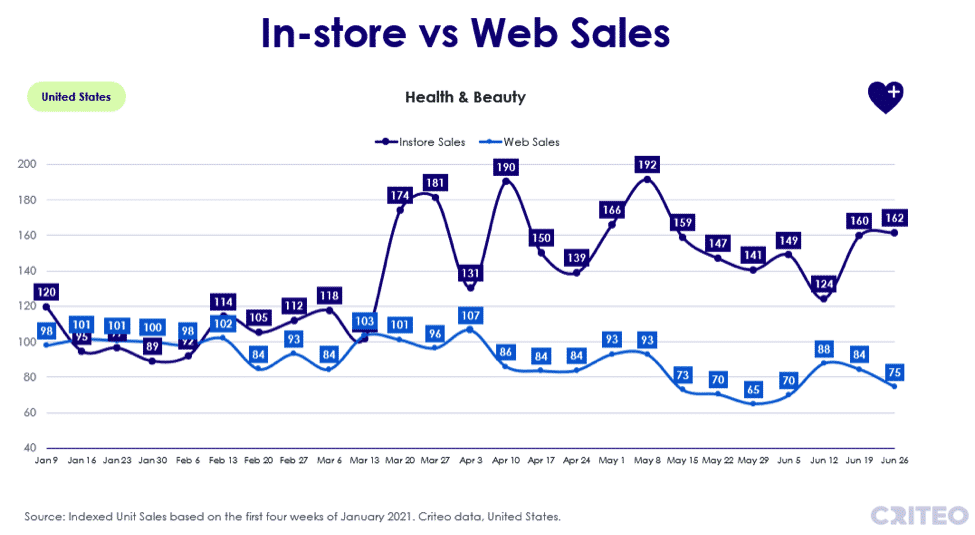 The Health and Beauty category has also seen massive growth over the past few months. While the ability to test products in-store has been impacted by the pandemic, consumers do have the opportunity to view shades and products in-store, as well as take home individually sealed samples. This could be one of the reasons consumers currently prefer to shop in-store for these products.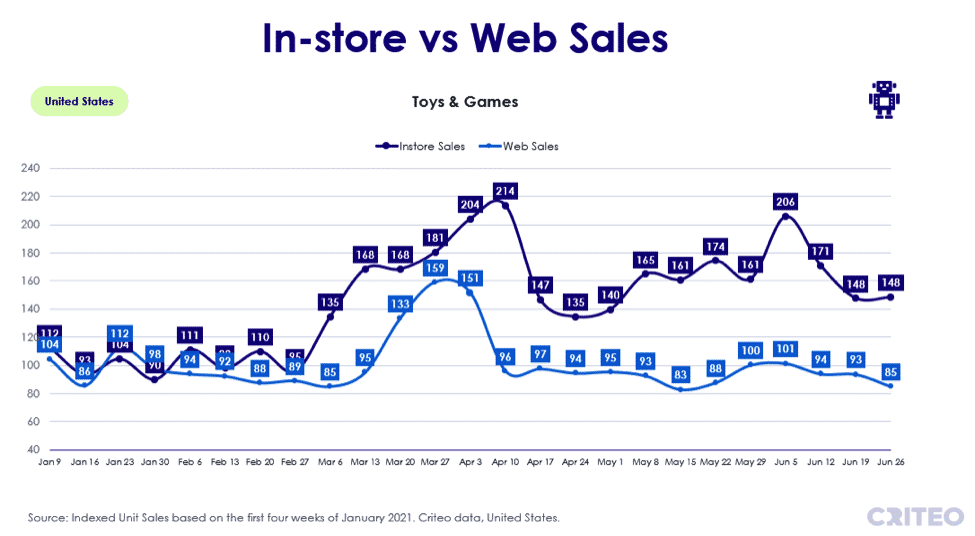 Finally, the Toys and Games category has also seen large growth over much of 2021, but over the course of May and June in particular. Recent Criteo data shows that many families were planning vacations this summer, including road trips, where toys and games may have been needed more urgently, which could explain the growth in early summer. 
Which categories have grown both in-store and online?
While some categories are certainly seeing large in-store shopping growth, there are other categories where in-store and ecommerce are growing at largely the same rates. The Baby and Toddler, Furniture, and Luggage and Bag categories have all seen growth in recent months, but in-store and online sales are growing at the same pace.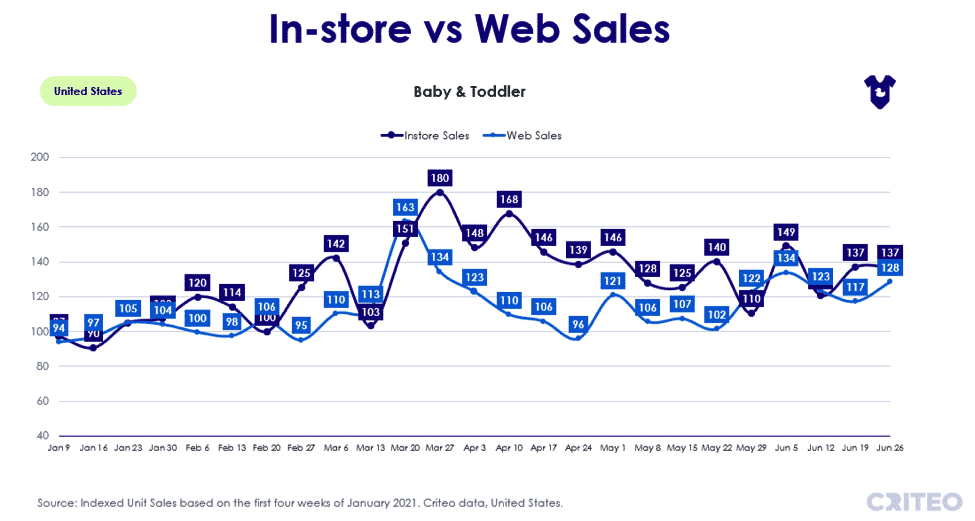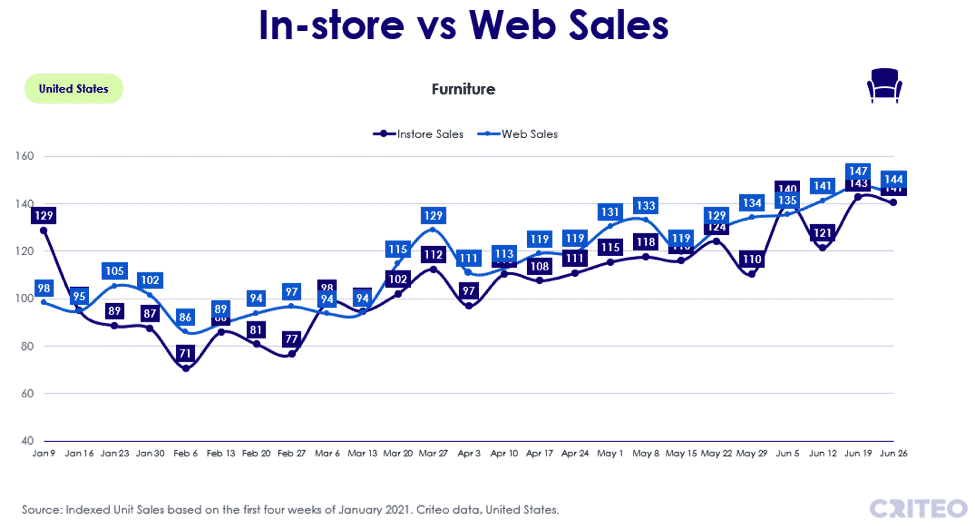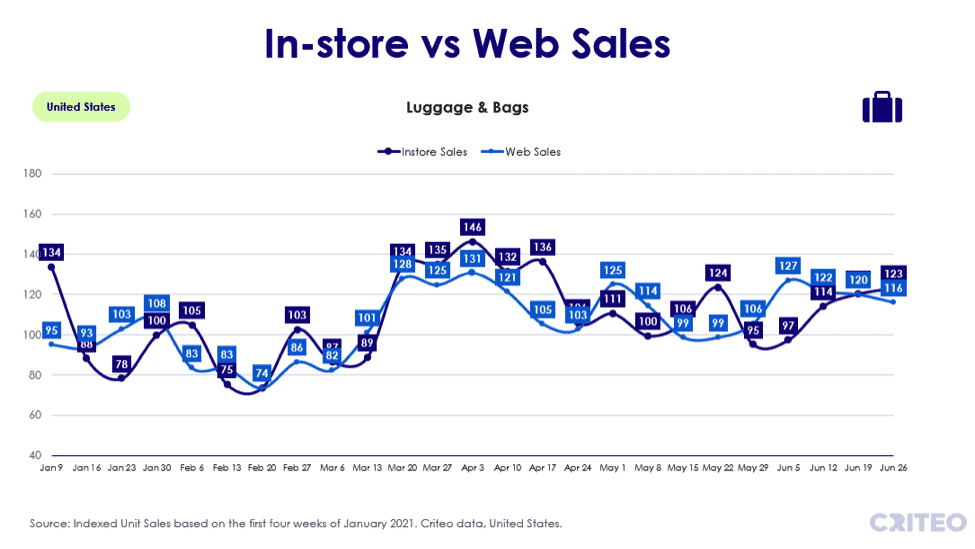 What does all of this mean for your current omnichannel strategy?
Based on this in-store versus online sales analysis, we have a few recommendations:
Keep an eye on current trends. The Criteo Commerce Trends Dashboard allows you to look at product and category level data in real-time. We will also be publishing in-store data trends on a regular basis.

 

Give consumers an option about how they want to shop. An evaluation of Criteo data found that omnichannel shoppers (those who shop in-store and online) averaged 40% more transactions than online-only shoppers, and 72% more transactions than in-store only shoppers over a 3-month period. Make sure that your consumers know their options.
Consider advertising click-and-collect methods such as curbside pickup and buy online, pick up in-store (BOPIS). According to eMarketer, click-and-collect usage will reach over $140B in sales by 2024.
To learn how Criteo's Omnichannel offerings can help you drive better outcomes, visit our Omnichannel page.