Mother's Day is just around the bend. This year, the holiday will fall on Sunday, May 13th in the US. The month before presents a huge opportunity for retailers and brands to help shoppers connect with more of the things their moms need and love.
To understand and plan for the trends to expect this year, we analyzed Criteo data* from 2017. Here's what we found gets a boost as Mother's Day approaches.
1. Sales of flowers and gifts grow by +1200%.
What mom doesn't love a beautiful bouquet? Criteo data shows that the rise is sales of flowers and gifts starts happening 3-4 weeks before the big day. Last year, overall sales of flowers and gifts jumped by +1200% just 3 days before Mother's Day. Other popular items include apparel and accessories, like wallets, purses, jewelry, and fragrances, as well as household gadgets like vacuums, washing machines, and blenders.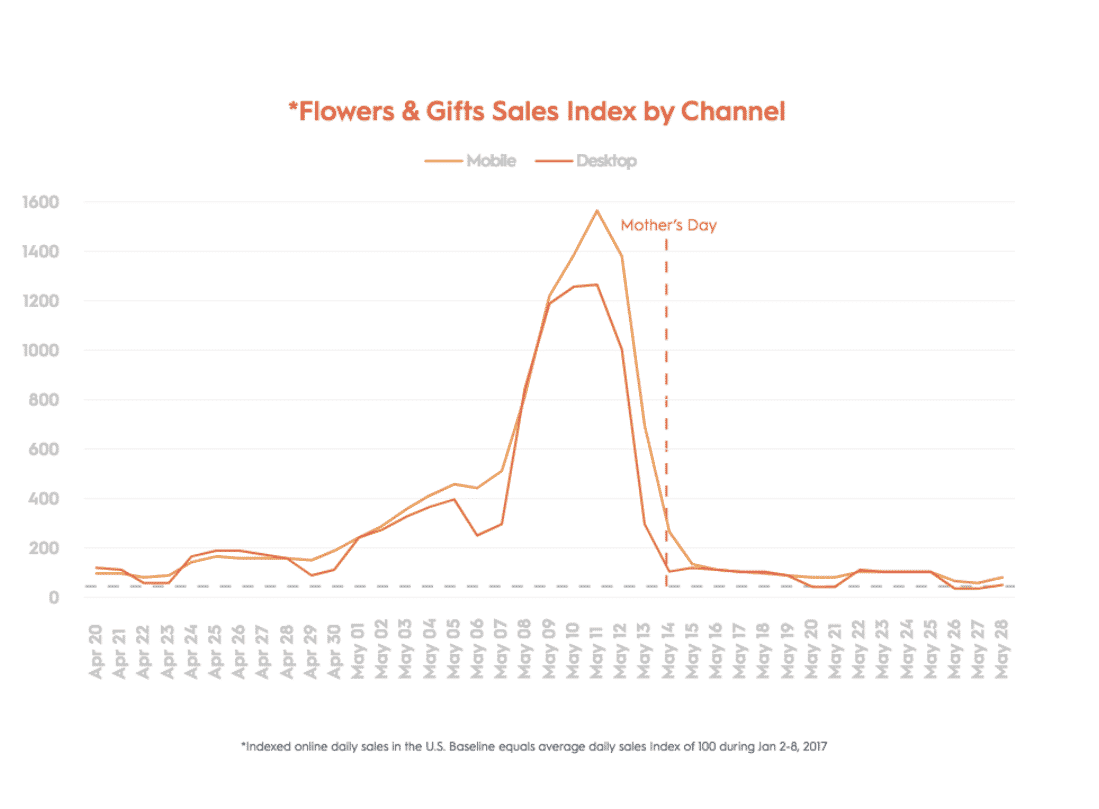 As Mother's Day approaches and shoppers become more active, consider ways to achieve more visibility across every category. Criteo Audience Match enables you to accurately target and re-engage your customer base with dynamic paid display ads from the web to mobile browsers and apps. Go even further by leveraging Criteo Sponsored Products, and maintain high CPCs to win the most revenue.
2. Mobile sales see a whopping +1400% increase.
Buying for mom on-the-go is the way to go, and a popular last-minute buying option. Criteo data reveals that the rise in mobile sales for flowers and gifts is up to +1400% — even greater than the +1100% sales uplift seen on desktop. In the last week before Mother's Day, shoppers increasingly place orders via their mobile devices.**
Take advantage of spontaneous purchases through a comprehensive mobile strategy. Criteo's Global Commerce Review shows that app usage dominates sales made on smartphones.
3. Conversions improve by +70% before the big day.
For flowers and gifts, conversion rates jump by 70%+ in the days leading up to Mother's Day. Be sure you're prepared by utilizing Criteo Dynamic Retargeting to capture all that extra shopper interest and revenue. To really maximize your retargeting campaigns, increase your CPCs and run with budgets uncapped throughout the final days before the holiday.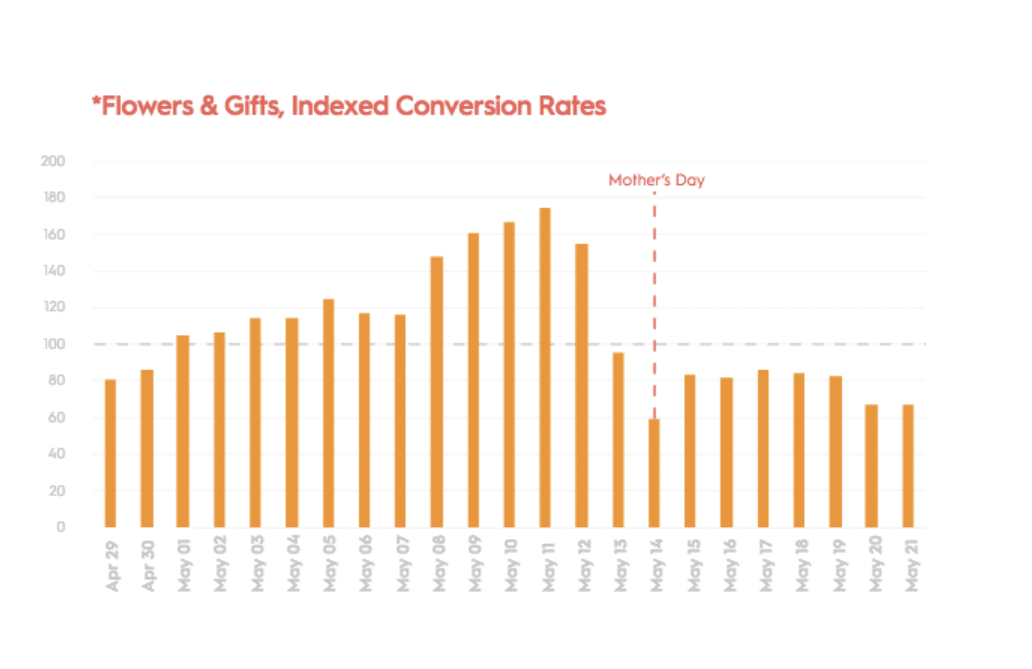 This year, look for smart home tech (think Amazon Echos and Google Homes) to fly off shelves and into more shopping carts just prior to Mother's Day.
Start marketing early to make it a great Mother's Day.
Be in market early enough (at least 2-3 weeks before) and personalize your marketing campaigns to every shopper (not their device) to create the most relevant ad experiences. No matter what gifts people end up buying, actively managing your CPCs across categories throughout the month before will help you connect more shoppers to things their moms need and love.
For all the holiday insights, download our Mother's Day flash report and our Mother's Day marketing timeline.
*Indexed online conversion rates in the U.S. Baseline equals average Index of 100 during Jan 2-8, 2017
**Share of online daily sales of Flowers & Gifts in the U.S. during Mother's day week (May 8-14, 2017)