Only 3% of groceries in the US are purchased online, but that number is only growing. With ecommerce penetration on the horizon, it was the perfect time to attend GroceryShop 2018 with over 2,000 attendees to talk disruption and learn which strategies will converge to provide omnichannel experiences for consumers.
Here are some of our top takeaways from Groceryshop 2018.
1. If you say you're customer-centric, make sure that's truly the case.
Jet.com's VP of Analytics, Jack Hanlon, proclaimed "everyone says they are customer-centric…" but not everyone executes on this promise. Jet.com certainly is. Jack and his team have interviewed thousands of customers and studied their carts to understand their shopping habits. As a result, Jet has transformed the onsite shopping experience for customers based on two different buckets of products: the weekly shop (core weekly products like grocery, household supplies, and health and beauty), and the outer core (random items like patio and garden, electronics, and office products).
More traditional retailers are balancing the acts of maximizing their brand partnerships, while improving customer loyalty. This requires a lot of effort; with abundant sets of consumer insights brands can leverage to better target their customers, and their cross-channel loyalty programs that reward frequent shoppers. Many of these retailers have been around for 50-100 years, and the entrepreneurial, startup-like initiative they have taken, to keep their customers in the center in a digital world, is impressive.
2. Rethink what you know about omnichannel.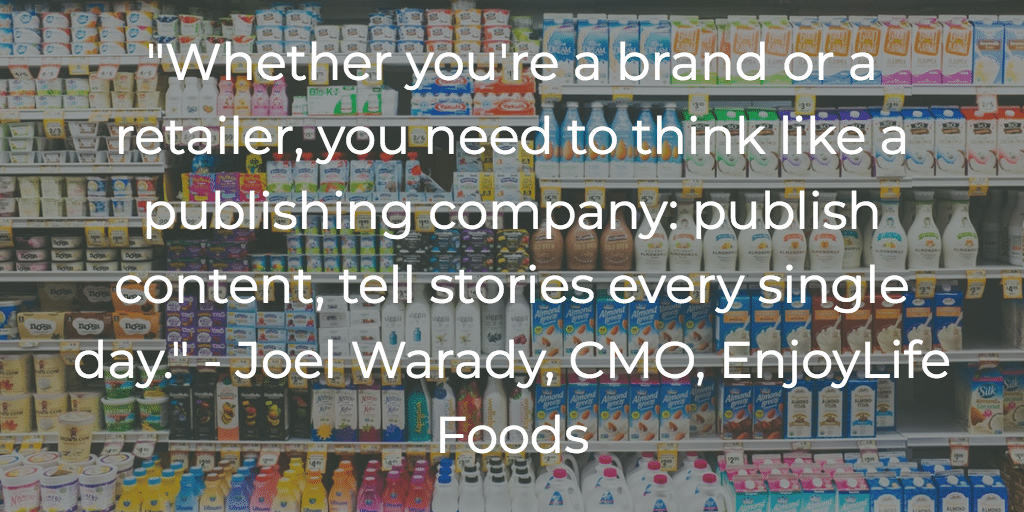 Grocery shopping shouldn't feel like a chore, and retailers are doing their part to make it as enjoyable as possible at every touchpoint. GVP of Loyalty, Personalization and Analytics at Albertsons Companies Vivek Kalpande said that providing a unique, personalized experience for each consumer should stem from their initial in-store purchase. From there, customers who sign up for Albertsons' loyalty program will receive personalized offers and pricing based on the items they shop.
The push for omnichannel shopper marketing will inevitably require a different way of thinking. Mondelez' RVP of Shopper and Consumer Activation, Steve McGowan, explained how brands can build a more connected digital world. Branded content will evolve into personalized content, tailored to shoppers; interruption will evolve into integration into a shopper's journey; and advertising will evolve into experiences that complement shopping habits and lifestyle.
According to Joel Warady, CMO of EnjoyLife Foods, a Mondelez brand, the transformation can start with content.
"Whether you're a brand or a retailer," said Warady, "you need to think like a publishing company: publish content, tell stories every single day."
The shopper marketing evolution is only just beginning. The customer experience is being transformed through retailers and brands providing seamless ways to discover, purchase, receive (and even consume) new products. Convenience is key for consumers; RXBar's Chief Operations Officer Sam McBride framed product strategy in a conversion funnel of availability, usability, and improved decision-making process. Today's consumer makes decisions differently, and brands are realizing that the way they develop new concepts should complement that.
3. Customers know what they want, but the journey can be messy.
In a world of choices, consumers need to make tons of decisions. They're increasingly relying on recommendations to aid in their shopping journeys. Drizly CEO Cory Rellas spoke about Drizly's business model in terms of the promises to consumers: a great selection, pricing transparency, and helpful, relevant product recommendations based on price, time for delivery, and minimum delivery spend.
According to Avocados from Mexico Head of Digital Marketing Ivonne Kinser, consumers also need relevancy. She announced Avocados from Mexico's new partnership with Instacart, where customers can shop over 700 recipes on their site, and instantly add the ingredients to their shopping cart.
The focus on complementing customers' shopping journeys was admirable; brands are looking to integrate into shoppers' lives and retailers are looking for inventive ways to reward their regular customers.