Travel loyalty has changed. More than ever, travelers are looking for a rewarding, easy booking experience that manages to meet and exceed their expectations. To drive more loyalty, online travel agencies (OTAs) need new tech tools that put the customer at the center of the process.
Criteo worked with PhocusWire on a recent whitepaper to break down just how OTAs can deliver more value and seamless experiences to each and every traveler. Here were the top takeaways:
1. Make the booking process simple and easy.
As you can expect, Phocuswright data shows the share of mobile travelers is increasing. Millennials are still the most active group on mobile (23%), while the distribution of mobile travelers across age groups is balancing out as more people get used to the idea of booking on their phones. That's why having a "sticky" travel app is more important than ever. In fact, research from Criteo's own travel data shows that the conversion rate for app users on travel apps is up to 5x higher than on mobile web.  and becoming a super effective portal through which to reach and re-engage customers.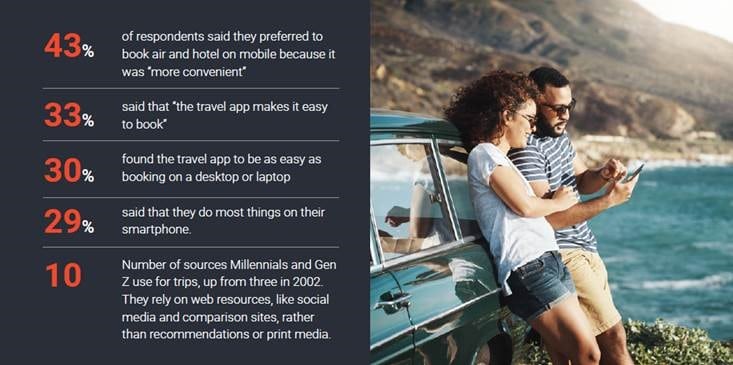 Phocuswright research shows 43% of respondents said they preferred to book air and hotel on mobile because it was "more convenient". Additional Criteo research (Why We Book survey, May-July 2019) found that the number one reason people book their ticket on an OTA is that they are "used to booking travel this way."
2. Offer a frictionless payment experience.
For consumers, choosing travel options is a tricky business. They are picking and choosing different flights, hotels, times of departure, and dates. They're probably considering a lot of OTAs in the process. By eliminating any potential friction points across channels, you can reduce your chances of losing that business. And don't forget about other factors, like cultural preferences and global region. 
"Payment is one area of friction where preferences are often based on culture and location. For example, in Europe online payments are common, whereas in other markets the preference can be to make payments directly to the travel agency"
— Pauline Lemaire, Industry Director, Travel and Classified at Criteo.
OTAs need a wide range of payment options to avoid friction at the payment step of the booking journey and boost conversions. This is especially true on mobile, where providing a convenient payment experience key.
3. Deliver relevant ads at the right moment.
Personalization is nothing new. Today, predictive artificial intelligence and cutting-edge technology are taking personalization to the next level. Delivering relevant ads to every consumer based on their unique preferences and stage in their booking journey allows marketers to leverage a wealth of data to serve up custom content in real-time.
Offering the right product, at the right price, at the right time, seamlessly, will provide customers with an experience that is sure to generate loyalty and return visits.
For more on how to leverage AI, check out the new whitepaper: "Can AI Help OTAs Earn Customer Loyalty?"