As temperatures reach record highs across the northern hemisphere, let's turn our thoughts to a different kind of spike—the skyrocketing sales associated with the holiday and festive season. Inflation appears to be easing, supply chains are improving, and consumers have shown strong resilience, giving hope for a better than previously expected 2023 peak shopping season.  
To get a better sense of what marketers can expect this year, we dug into our data from thousands of retailers and millions of dollars in transactions, and from our monthly consumer survey for unique insights into the 2022 holiday season and how sales are trending in 2023. Here are the holiday shopping statistics and predictions marketers need to know: 
Bank on these 2022 holiday/festive season winning categories
Where should you place your bets this season? A good place to start is to look at what categories saw the most growth in 2022. In the US, UK, France, and Germany, Apparel & Accessories, Health & Beauty, and Toys & Games were the top trending retail categories during the 2022 Black Friday weekend. In all countries, Toys & Games was the leading category throughout the entire season.  
Since many consumers fully geared up for work and entertainment during the pandemic, Electronics did not increase as steadily in 2022 as in prior years. Will this pave the way for a potential resurgence in 2023? 
Plan for varying purchase path lengths
Understanding the length of the holiday shopper journey is crucial to helping marketers optimize their strategies. The data reveals varying timelines, with some customers taking weeks before Black Friday and others only a few hours to complete their purchases. To maximize holiday campaigns, businesses should plan to target and engage both early planners and last-minute shoppers.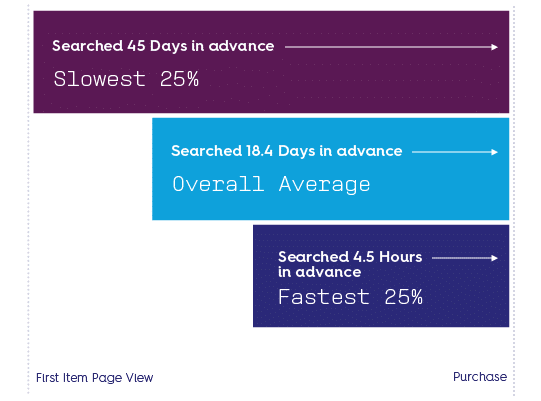 Take advantage of "New Buyer November" (and December)
Don't just focus on existing customers this season. Shopper loyalty is up for grabs and the chance to win new customers is high before, during, and after Black Friday, with the most significant rise in new buyers during Black Friday. In the US, the share of new buyers on Black Friday compared to October was up 14%. In the UK, France, and Germany, the share increased 9%, 10%, and 6%, respectively.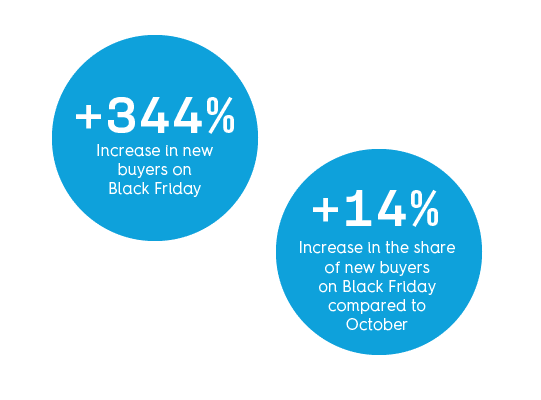 Win Black Friday with can't-miss deals and exclusive discounts
We asked shoppers what draws them to new retailers during Black Friday. Here's what they told us: 
Deals and exclusive discounts reign supreme: Half of respondents said a great deal was a primary motivation to try a new retailer, while an additional 38% said that discounts they can't find anywhere else will draw them in. In the UK, those numbers were 65% and 53%, respectively. In France, 62% said great deals and 42% said exclusive discounts, and in Germany the numbers increased to 67% and 58%, respectively.

Early deals for the win: To fuel new customer acquisition, early deals before Black Friday proved to be a winning strategy. Nearly 4 out of 10 US shoppers admitted to trying out a new retailer because of enticing early deals (In the UK, France, and Germany, 43%, 21%, and 30% said the same).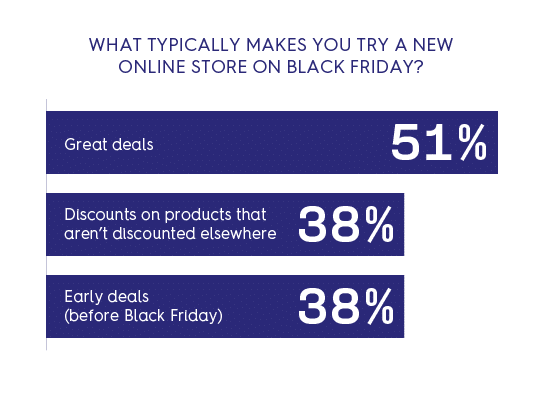 Memorial Day and Amazon Prime Day show exciting potential for the rest of the year
Recent Memorial Day (May 29) and Amazon Prime Day (July 11-12) sales results predict a promising holiday/festive season. The spike in the US, especially in the Apparel & Accessories category, surpassed last year's figures. Amazon Prime Day's halo effect also resulted in sales spikes of +111% for CE , +67% for Sports/Outdoor, and +56% for Jewelry.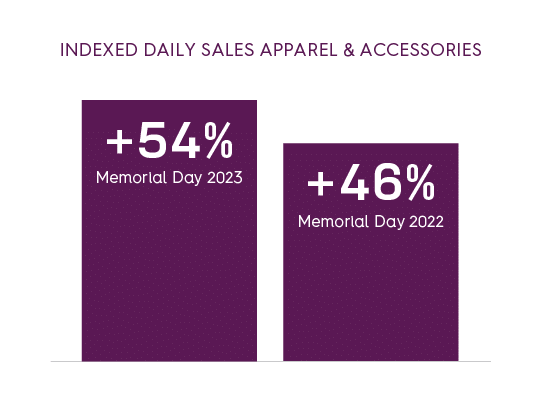 Get ahead of the holidays
Consumers are starting their holiday journeys earlier than ever, which means marketers need to be planning their end of year strategies now. Consider these takeaways from the data: 
Ensure plenty of budget and make full use of your product catalog for the winning retail categories from last year

 

Plan campaigns to target and engage both early planners (up to 45 days in advance of Black Friday) and last-minute shoppers (just hours in advance of Black Friday).

 

Make sure acquisition campaigns are part of your strategy. Shopper loyalty is up for grabs and the chance to win new customers is high

 

Create irresistible deals, offer exclusive discounts and promote deals ahead of Black Friday to win more new customers and more sales

 

Check back here – we'll be releasing new consumer survey insights, a Black Friday recap, and more in the coming months