I once heard someone say that Criteo is "the best-kept secret in ad tech." Well, not anymore.
Today marks the beginning of a new chapter in our transformation story that will make it hard for this new Criteo to fly under the radar. In the last year, we made significant progress towards becoming a global technology company that enables marketers and media owners to drive better commerce outcomes through Criteo's world-leading Commerce Media Platform.
While we've shared ongoing updates about our strategy, today we're excited to unveil our new visual identity and brand positioning, which reflect our immense progress and transformation. To see our new branding in action, watch the video below. We hope you like it!
As you can see, the new logo brings to the center the two dots that were previously connected at the top of our logo — to better represent how we put both our clients and the consumers they serve at the center of our product strategy. In the new logo, the two dots now include open space, nodding to both discovery and openness, along with a bolder, uppercase font signifying the building of modern capabilities on top of our existing strengths to help our clients achieve growth and scale.
We're so proud of how far our previous logo has taken us on this remarkable journey and can't wait to see what the next chapter holds.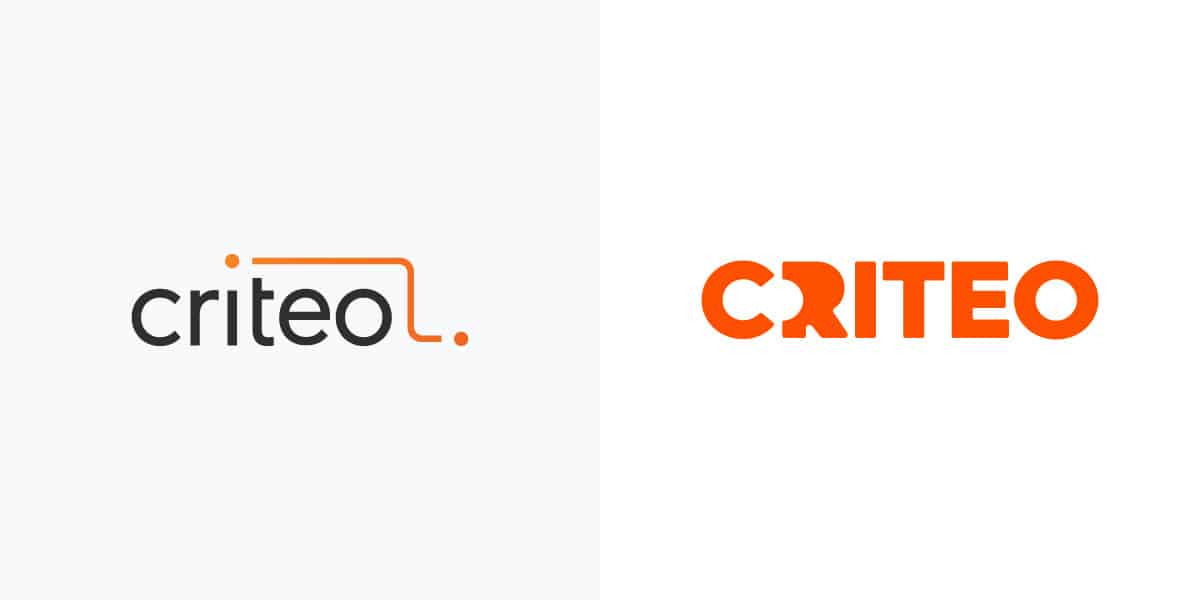 Rebranding Criteo is about so much more than evolving our aesthetic. It's about telling a story that encompasses everything we offer, outlines the steps we've taken to better serve our clients, and cements our place as a leader in commerce media. It puts a stake in the ground that furthers our mission to power the world's marketers and media owners with trusted and impactful advertising. This leads me to our new tagline: The future is wide open.
While this is a new tagline for Criteo, it isn't a new sentiment for us. This statement recommits us to the purpose of supporting a fair and open internet that enables discovery, innovation, and choice — and helps fulfill our vision of bringing richer experiences to every consumer. It also speaks to the vast opportunities ahead for us by being open to collaboration and evolution for the good of marketers, media owners, and consumers – as well as the overall advertising industry.
And these advancements will keep the future wide open for our clients. We are committed to helping our clients navigate a future without third-party cookies by growing our First-Party Media Network through deepening our relationships with more than 25,000 brands, retailers, and publishers, while also enhancing our AI capabilities. This will not only help our clients collect, enrich, and activate their data to drive better commerce outcomes, but also explore more test-and-learn opportunities — now, and long after the third-party cookie countdown is over.
The future is also wide open for consumers. With the industry increasingly focused on enhancing privacy, consumers will have more transparency into and ownership over their advertising experiences and preferences to ensure they get the value they're looking for from the marketers and media owners they trust. Overall, these abilities will create better online experiences for consumers and will help them see positive impact in the advertising value exchange.
And last, but not least, the future is open for our employees. There are more than 2,500 people who make Criteo an incredible place to work, and each one of them makes unique contributions that help take us to the next level. That's why it's no surprise that when I ask our clients what the best part of working with Criteo is, their first answer is often, "the people." So, while our brand may be different, our team's strong dedication to our clients hasn't changed, and we'll continue to support our employees throughout this transformation.
Rallying around our vision and mission to bring every consumer richer experiences by powering the world's marketers and media owners with trusted and impactful advertising drives us forward on a clear path, with the right data, technology, team, — and the right brand identity. The secret of Criteo is out — and the future is wide open.
Read on for more insights on the commerce media trends that are driving Criteo's transformation.