2020 forced a dramatic shift in marketing strategies of retailers and brands. The need to demonstrate ROI on marketing spend has become even more important as businesses continue to cope with declines in sales, margins, and revenues due to the pandemic. Among all the objectives, scaling their online presence and digitalization of business operations have now become most the important priorities for retailers and brands.
Revenues dropped, but online sales surged in 2020.
Criteo surveyed 1,000 senior marketing executives across different industries around the world for our State of Digital Advertising 2021 report. In the study, 61% of respondents confirmed that their organization has seen a drop in total revenues due to COVID-19. 1 The silver lining is that many marketers also saw a strong surge in online sales: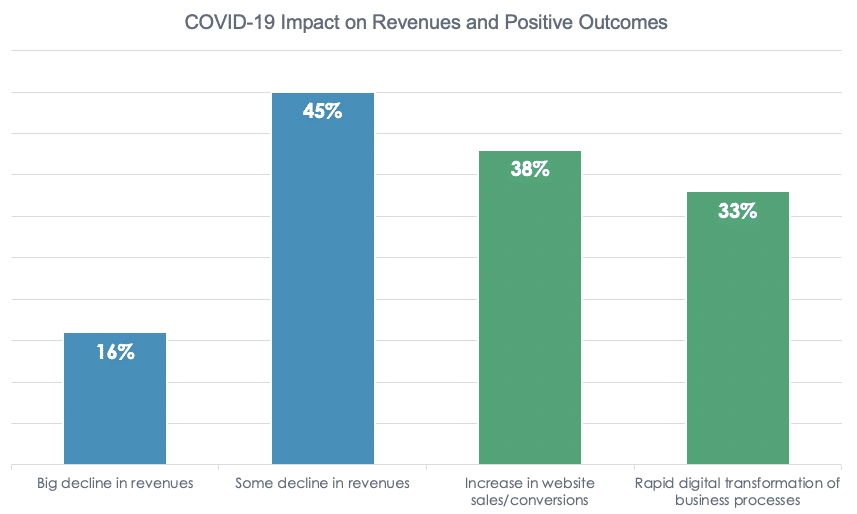 Source: Criteo COVID-19 Impact on Marketing Survey, Global, October 2020, n=1039.
On the data front, Criteo data for retail shows that ecommerce sales were up +14% globally in December 2020, compared to December 2019.2 Let's take a closer look at why marketers are doubling down on their digital marketing strategies in 2021.
Customer acquisition and customer retention are top priorities in 2021.
In 2021, as businesses focus on recovery, customer acquisition and customer retention are top priorities, and digital marketing is enabling companies to reach consumers that are looking to buy online more and limit store visits. Digital has become the bridge for retailers and brands to maintain customer engagement, to retain existing customers, and to win new customers — particularly in acquiring customers from competitors trailing in ecommerce.
Our survey found more than half of respondents globally believe that marketing has increased in importance due to a greater need for acquiring new customers and to retain existing customers – and for which increased digital marketing and performance marketing campaigns are needed.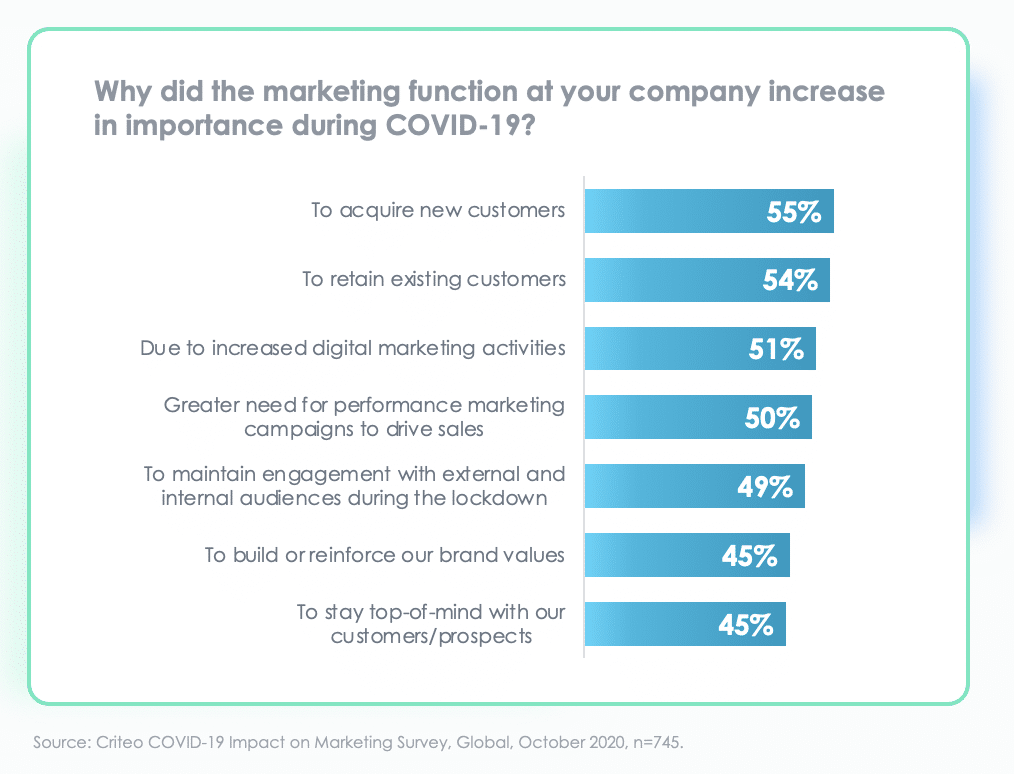 Ecommerce investments are paying off.
Many online-focused companies and those with a mature digital strategy have excelled in the last year. Online fashion group ASOS was struggling before the pandemic and had reported a year-on-year decline of 68% in profits in 2019. However, the company's fortune changed in 2020 when it saw profits jump by 329% as customers bought more online and returned fewer items during the pandemic.
Ecommerce has been a savior also for many brands that own and sell through a large number of physical stores. Online sales helped Levi Strauss to keep its revenue loss to 12% for the three months ending November 2020. This was despite nearly 40% of its physical store footprint remaining closed in Europe and most other stores operating during reduced hours. The company managed to achieve a strong 38% increase in ecommerce revenues which helped to offset the loss in physical store revenues. The brand is now investing to further strengthen its digital business and become more agile moving forward.
Marketers in our study also confirmed that digitalization of business processes and scaling online presence were key priorities to become better at facing similar situations in the future.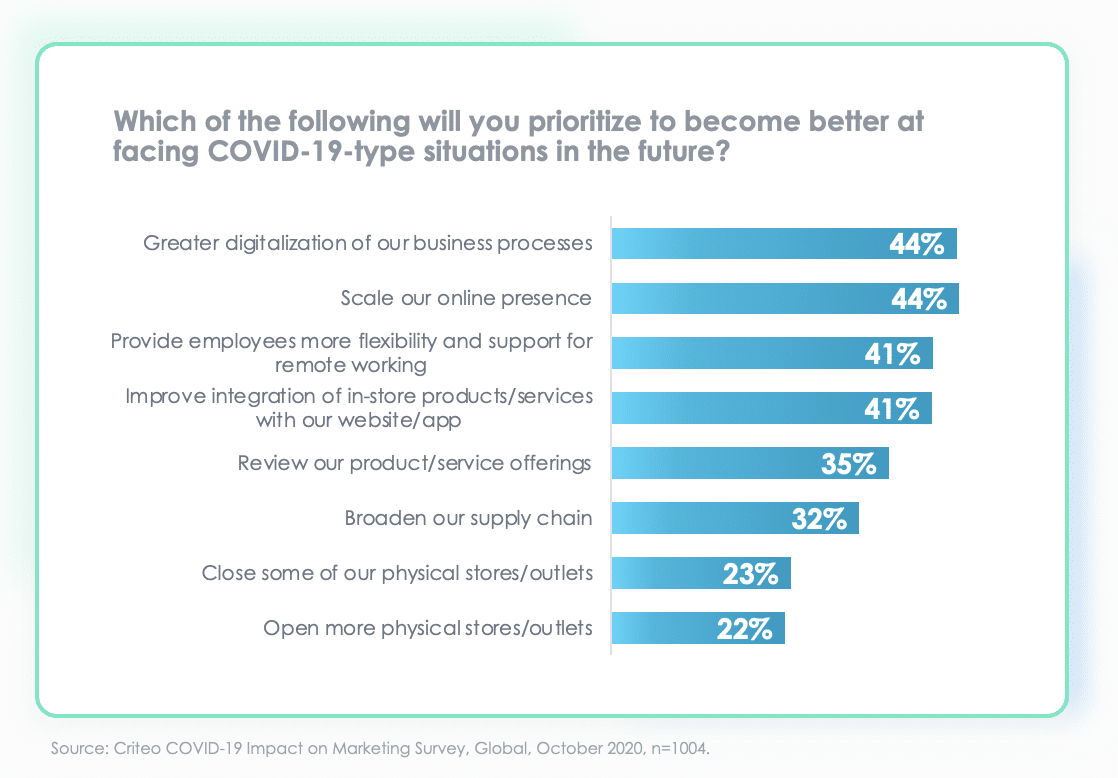 What's clear is that businesses with a greater degree of digital maturity have managed to fare better, and focusing on optimizing the business for a world that's increasingly online is essential. Ecommerce gave a new lease on life to many retailers and brands as they were still able to reach, engage, and sell directly to customers through different digital marketing channels.
Scaling online for 2021 and beyond
In 2020, consumers were pushed to look for everything online, from fashion and luxury items to food, pet supplies, home goods, and more. With the welcome availability of vaccines, we are starting to see light at the end of the tunnel, but the shift in consumer behavior towards buying more online will remain. In the new customer journey, shoppers have become used to the convenience of getting things delivered to them, as well as to hybrid buying options like curbside pickup.
On the advertiser side, the pandemic also brought a harsh realization about the urgency for businesses to scale their online presence. Already, many companies have changed so much within a year — changes which otherwise might have taken them four to five years. As competition grows to win customers online, companies that continue to invest more in digital marketing and in optimizing their ecommerce operations are setting themselves up for longterm growth and success.
1Criteo COVID-19 Impact on Marketing Survey, Global, October 2020, n=1039.
2Criteo data, Retail, December 2020 compared to December 2019.