While more of the world spent an increasing amount of time online in 2020—reading news websites, streaming videos, and scrolling social media—a major shift happened.
Previously in-public activities, like exercising, learning, and working, began happening from the safety and comfort of home. At the same time, consumers adopted new hybrid-channel buying habits, like BOPIS and curbside pickup—and they did a lot of online shopping.
Advertising for a New Paradigm
Here at Criteo, we wanted to understand more about how COVID-19 affected businesses, and what digital transformation means for them moving forward. For our latest report, we surveyed 1,000 senior marketing executives around the world, including those in the US, UK, France, Germany, Italy, Spain, Australia, Japan, South Korea, and India, to learn about their plans for 2021.
Among the findings, 61% of the marketers from the various industries we surveyed reported lower overall sales (online plus in-store) compared to 2019. However, the top cited positive outcome of the pandemic was increased website sales.1 For retail specifically, Criteo data shows that despite a tumultuous year, ecommerce sales were up +14% globally in December 2020, compared to one year prior.2
Here are three more top takeaways from the research:
1. All eyes are on marketers to drive full-funnel results.
Seven out of 10 respondents in our study agreed that the marketing function in their organization became more important during the pandemic, for reasons that span the entire customer journey. Now more than ever, the pressure is on for marketing teams to drive results across every stage of the funnel, from customer acquisition all the way through sales and retention.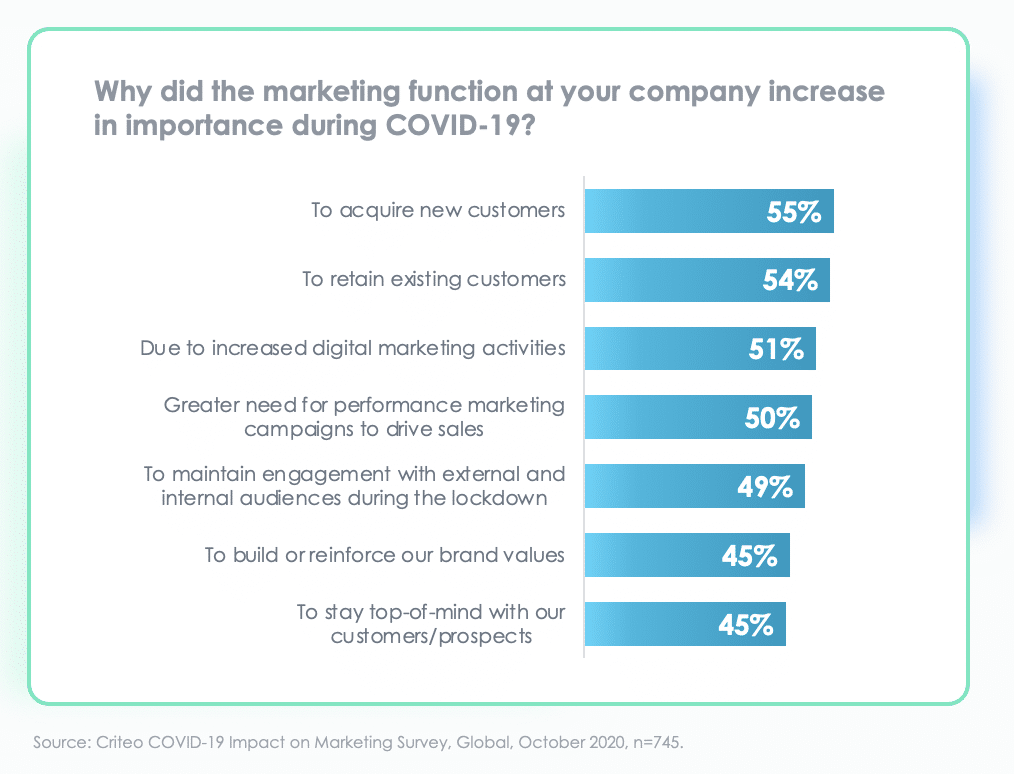 For marketers, re-engaging lapsed online and offline customers, in addition to reaching new audiences — like those that have similar browsing behaviors and interests to their current website visitors — will be a critical part of success moving forward.

2. Digital marketing spend is being spread across more channels in 2021.
Despite a rapidly changing landscape, 87% of marketers plan to spend the same or more on a proven performance driver, paid display / retargeting on publisher sites and apps, in 2021. At the same time, many marketers also intend to diversify their hard-won budgets across the open internet: 43% plan to spend more on retail media in this year than they did in 2020.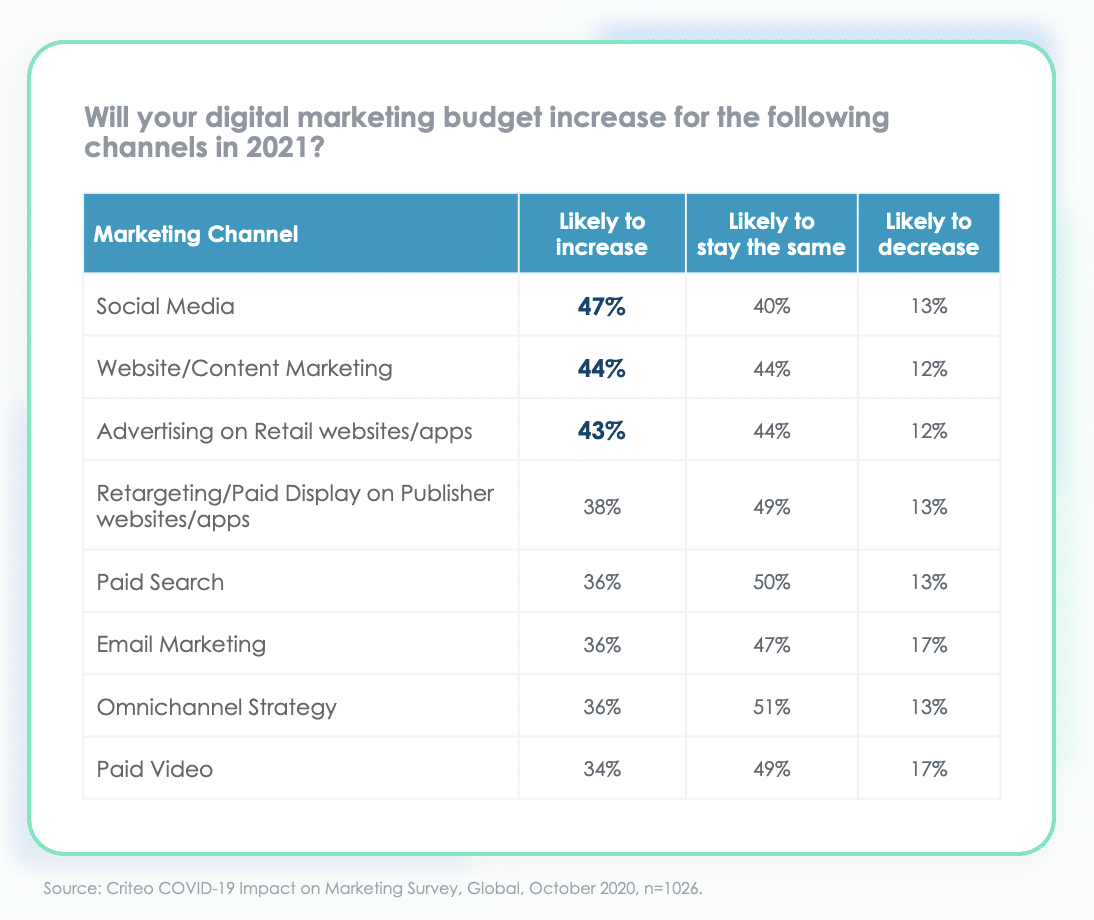 The need to connect all touch points where consumers discover, evaluate, and buy became even more pronounced in 2020, and businesses are responding: More than one-third of marketers plan to increase spend on omnichannel and paid video in 2021.
3. Marketers are making louder calls for brand-safe alternatives.
Businesses are more tuned in than ever to how they're being perceived in a non-stop news cycle. A full 64% of marketers say that not showing up next to hateful or fake content is a top concern. One third say their campaigns are too dependent on Facebook, Amazon, and Google.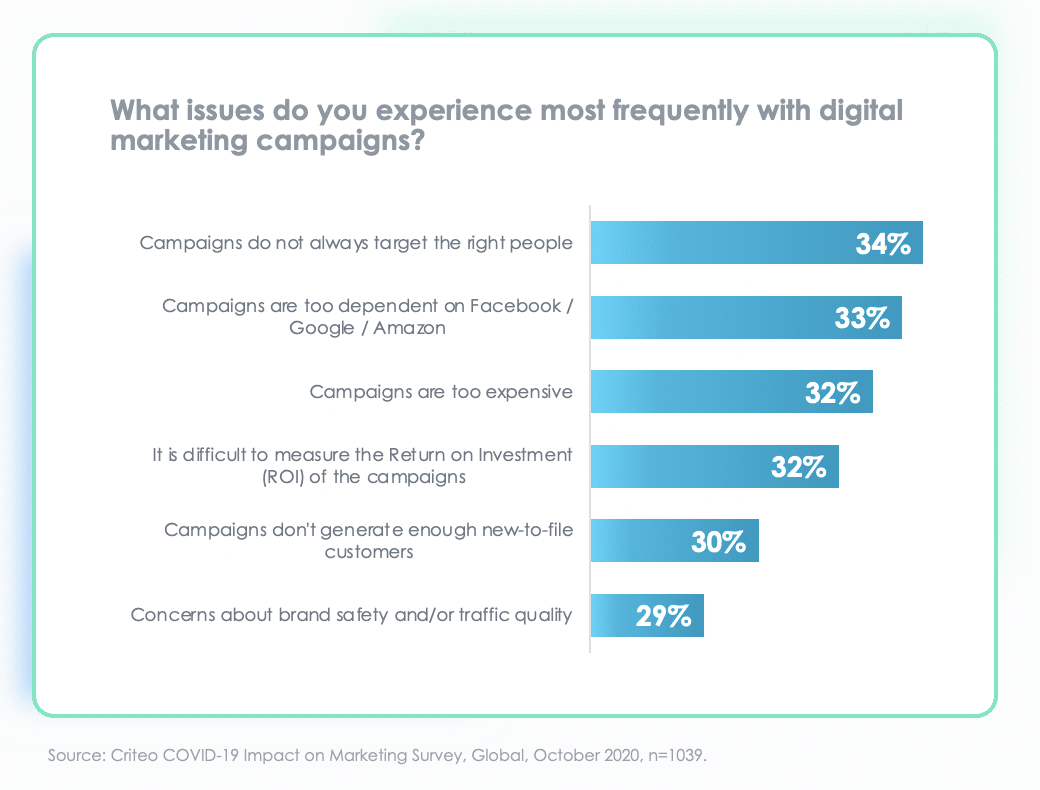 A separate Criteo survey found that many consumers also have reservations about social media, from seeing posts with fake news and misinformation to worrying about how their privacy and personal information is handled.3 This is paving the way for more ad spend on brand-safe publisher and retailer sites and apps in 2021.
The Age of Pragmatism and Performance
In 2021, businesses are bracing for a year of recovery or more. Marketers will be focused on driving tangible results in a world where more consumers than ever are online, and the economic and health impact of COVID is still a major concern.
Businesses know that success in 2021 means rethinking how they connect with consumers through everything from digital marketing channels to new products and distribution models. As brands adapt to how today's consumers want to be approached, marketers will be on deck to partner up with those who can help them deliver customer-centric experiences throughout the journey.
For more on these and other findings, download the report:
1Criteo COVID-19 Impact on Marketing Survey, Global, October 2020, n=1039.
2Criteo data, Retail, December 2020 compared to December 2019.
3Criteo State of Social Media Survey, US, Q4 2020, n=1440.