In years past, a post like this might have been a bit ho-hum, with little in the way of surprises. But in the wake of the wild year that was 2020, the status quo is no longer.
Huge growth in ecommerce, the rapid spread of hateful or fake content, and the continuously uncertain state of COVID-19 has digital marketers everywhere rethinking their marketing mix this year.
To find out exactly what changes they're making, we surveyed more than 1,000 senior marketing executives around the world, including those in the US, UK, France, Germany, Italy, Spain, Australia, Japan, South Korea, and India.1
Here's what we learned about which channels they'll be spending more – or less – on in 2021.
Digital marketing campaigns are seeing the least disruption.
Of the marketers we surveyed, nine out of 10 across all verticals told us that they made changes to their strategy last year. But it wasn't all bad: When asked about moving forward, about six in 10 (59%) said that their digital marketing campaigns would go ahead as-is. As expected, activities like events and hiring were more likely to be in review or delayed.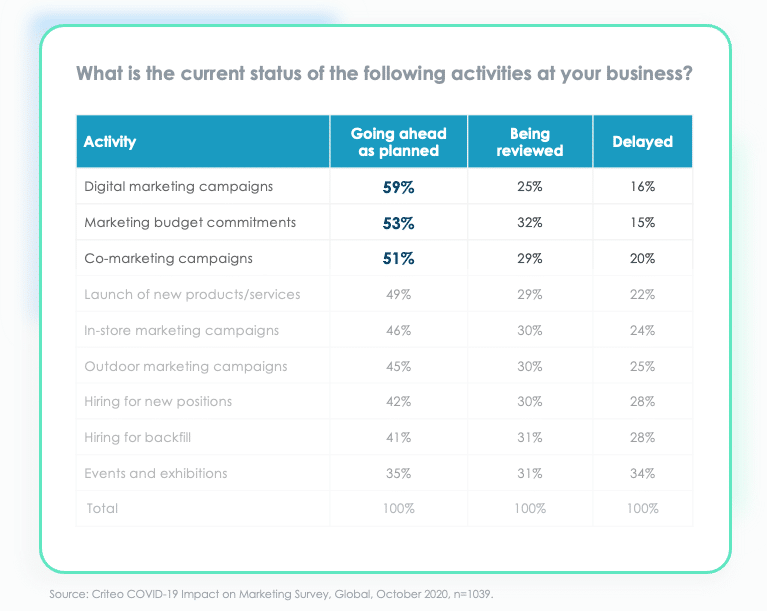 Retargeting/Paid Display are on track to see a sizeable share of spend in 2021.
The vast majority of marketers (87%) plan to spend the same or more on social media and on retargeting/paid display channels.
At the same time, more than a third of the respondents said that not showing up next to hateful or fake content is an important consideration when running digital campaigns. Perhaps the ease and scale of social media is outweighing safety concerns for the time being. But as other, safer options become more proven, we may start to see more dollars shift away from social.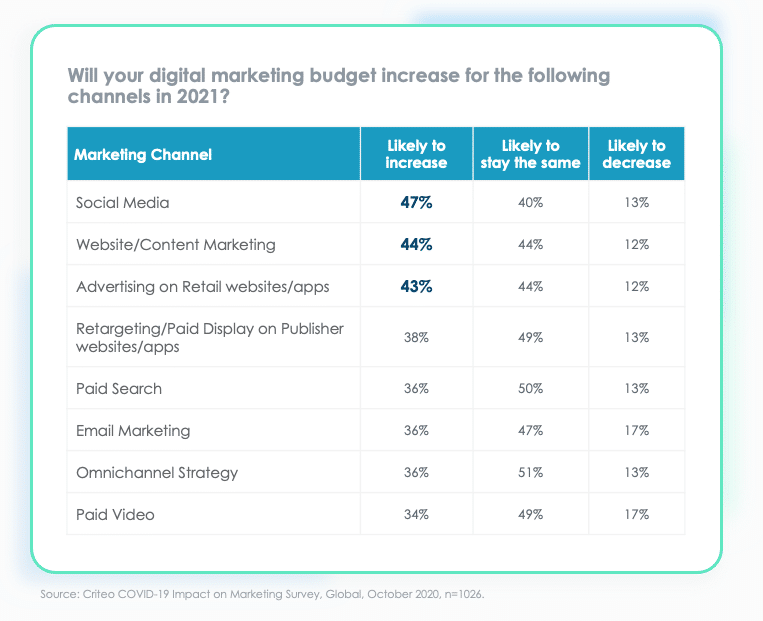 Retail media is now a leading digital marketing channel.
Our study shows that in 2021, advertising on retail websites and apps is now in the top three channels that are likely to see an increase in budget. More than four in 10 marketers told us that they would be putting more funds into retail media advertising.
Findings from a Forrester Consulting survey that Criteo commissioned this past July showed that 76% of US and 92% of EMEA respondents said that the growth of their business depends on retail media advertising.
And it makes sense: Retail media is a measurable and brand-safe channel that doesn't rely on third-party cookies. Early adopters of the strategy are reaping the benefits.
Omnichannel and paid video are climbing the ranks.
The pandemic accelerated many retailers' efforts to integrate their digital and physical stores. Buy-online-pickup-in-store (BOPIS), curbside pickup, and contactless checkout all emerged as must-haves to accommodate consumers' new needs. And as our Peak to Recovery consumer survey conducted in May 2020 indicated, shoppers returning to brick-and-mortar stores are still likely to continue the new online shopping habits they developed during lockdown.
That explains marketers' continued focus on omnichannel strategies in 2021. Forty-one percent of respondents say they will prioritize improving the integration of in-store products and services with their website and app this year. More than one-third (36%) expect to increase their marketing budget for omnichannel strategy in 2021: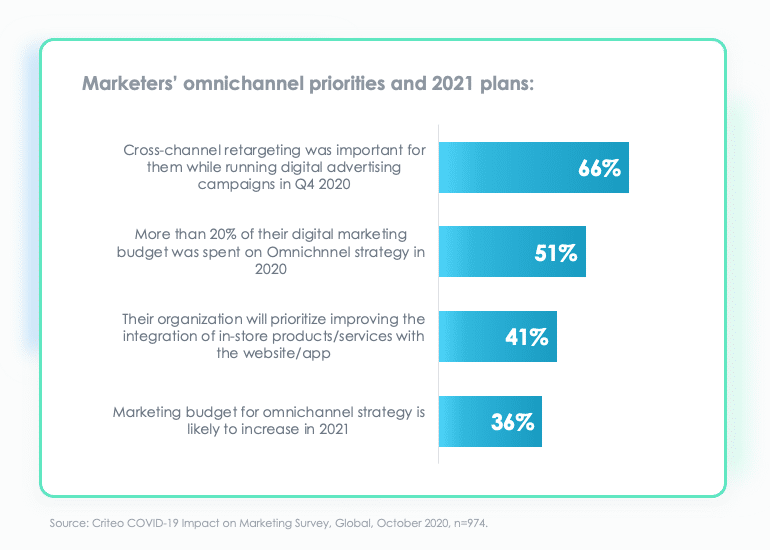 It's no secret that the world took to their screens in greater numbers than ever during the pandemic. According to a global study by DoubleVerify, online content consumption doubled in 2020, with nearly half of respondents saying that they've increased their time spent on streaming services and social media.2
As a result, marketers are upping their paid video investments in 2021 to reach consumers where they're spending more of their time. In fact, more than a third of our survey respondents said their paid video budget is likely to increase this year: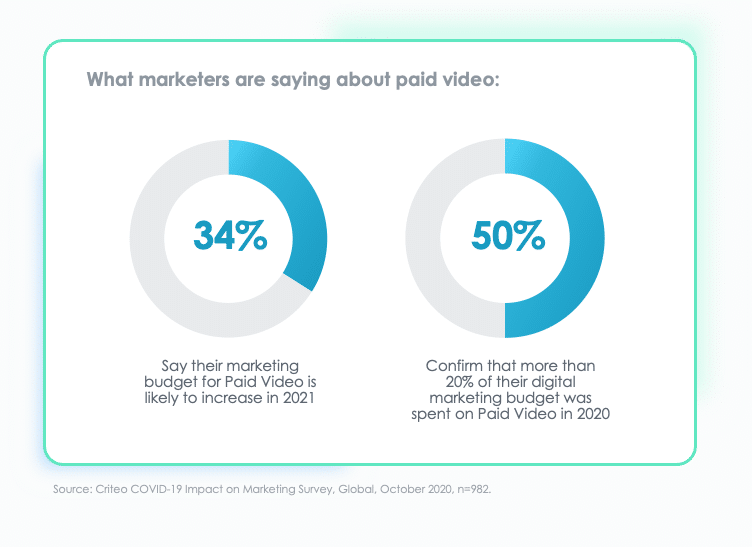 Looking beyond channels
Understanding where marketers are placing their bets is a good start, but our State of Digital Advertising 2021 report goes much deeper. As part of our global survey, marketers shared their top objectives, KPIs, priorities, and more.
To learn more on these and other findings, download the report:

1 Source: Criteo COVID-19 Impact on Marketing Survey, Global, October 2020, n=1039.
2 Source: https://www.forbes.com/sites/johnkoetsier/2020/09/26/global-online-content-consumption-doubled-in-2020/?sh=1bc866032fde