You've put all your energy into getting new app installs, but now you have a new problem: users are dropping your app.
Mobile app user retention is a critical challenge for mobile marketers around the world, including in Asia Pacific. Criteo's recent consumer survey data in The Ultimate Guide to App Retention shows that almost half (49%) of app users abandon an app after one day.1
In fact, most consumers use an app only a few times, and many drop it within a week. The real question, then, is how do you keep people coming back to your app?
APAC Leads in Mobile App Downloads
Consumers in APAC are app crazy, accounting for 64% of global app downloads. That's two-thirds of all app downloads globally. Whoa!
APAC also leads the world in mobile app download growth. India has seen a whopping 190% growth in app downloads since 2016 and Indonesia 70% growth, according to App Annie. While download growth has leveled off in Japan and South Korea, more than 2 billion downloads were recorded in each country in 2019.
Yet, while consumers in APAC love downloading apps, they quickly drop them too.
The App Abandonment Problem
In our study across mobile app retention, we looked at how users abandon apps in five different regions. We also broke the categories down by games, entertainment, e-commerce, and utilities. Here's what we found: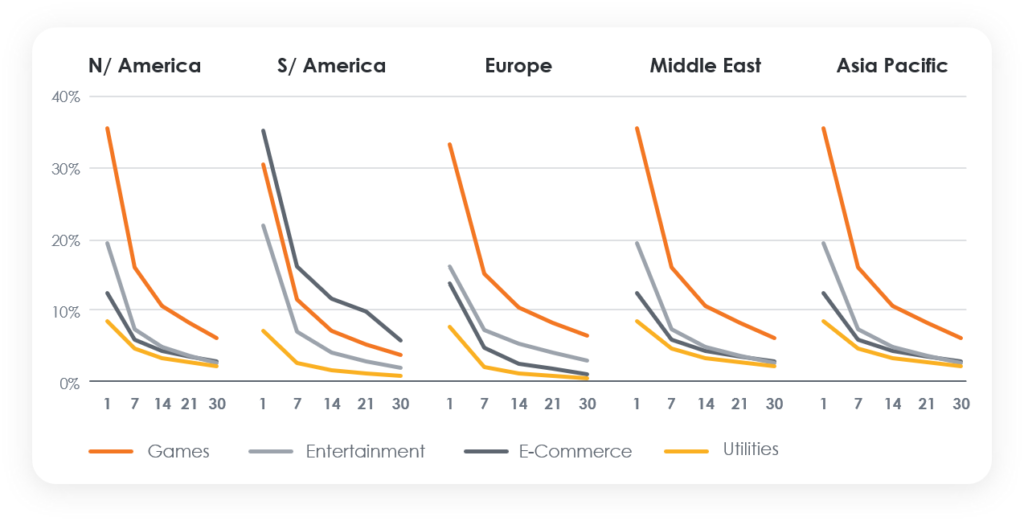 This graphic showcases three major findings for app marketers in APAC:
Shopping apps retain the most users in mobile-first regions like APAC in proportion to how many users download
Gaming apps are top performers when it comes to installs
Entertainment apps have long-term retention challenges
Below, we can see the frequency of app sessions across 15 countries. Over one-third (35.5%) of users have only one app session and the drop-off from there is precipitous.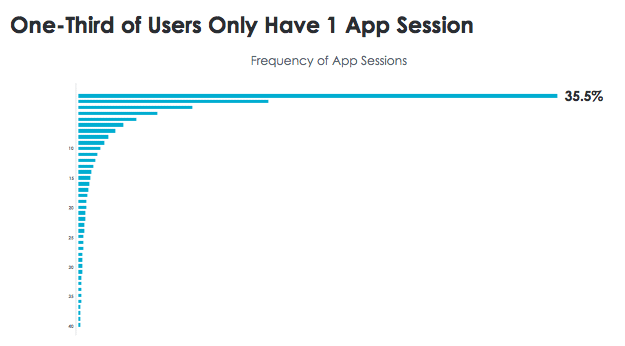 The Silver Lining: Shopping Apps
Our research shows that people are snapping up and using shopping apps. A majority of mobile shopping transactions worldwide now happen in-app, with global consumer spending via apps across iOS and Google forecast to swell to $156 billion by 2023, up from a projected $85 billion this year.
And the rise of shopping apps is a global phenomenon. Based on our latest Criteo data, apps now account for 70% of all mobile sales.
Still, after 30 days, even shopping apps have only a 4% user retention rate in APAC, according to this chart by Adjust.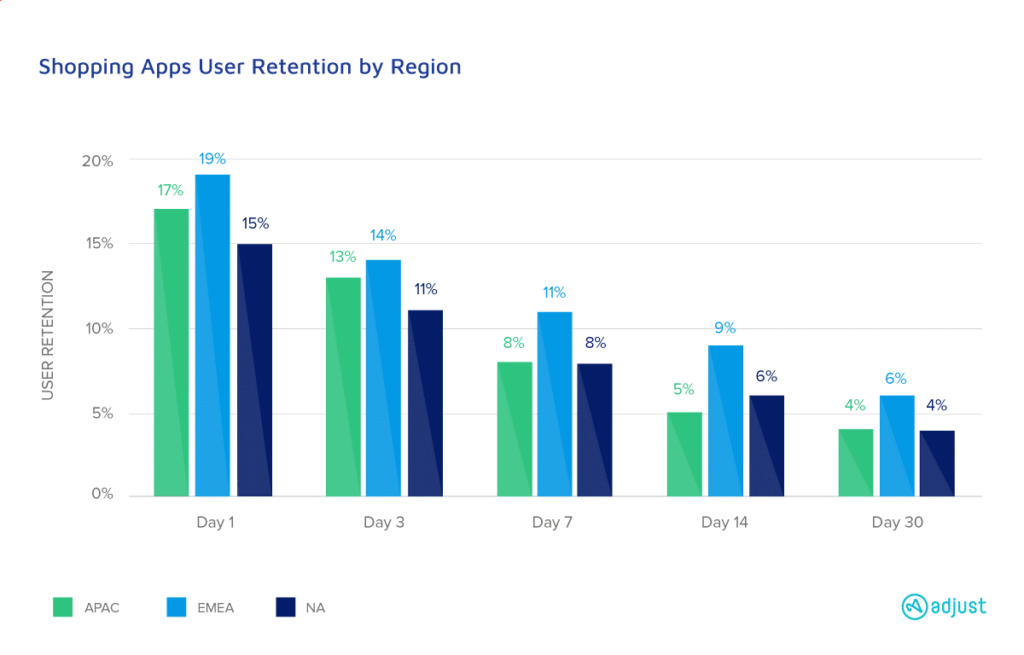 What's a Mobile Marketer To Do?
For all the downloads, if marketers can't get consumers back in the app, they'll likely never return. You monitor your install count, but what are you doing about those who drop your app?
Push notifications and email have long been go-to strategies for app marketers to engage mobile users, but they may miss a lot of people. App retargeting, which might appear more expensive or complex to implement, can go much further in driving retention.
By reaching people who have downloaded your app across social media channels and prompting them to engage again, you can ensure that usage remains steady. And for retailers and brands, apps can become a crucial cornerstone for conversion.
Appsflyer data shows apps with a medium and high share of retargeting conversions in their marketing mix see 60% higher retention rates than apps with a low share or no share of retargeting.
With so many users preferring to purchase via apps – but with such low retention rates – app marketers in APAC have a huge user base to tap into. The best strategy for reaching app users from all angles: use app retargeting alongside push notifications and email.
Takeaway: Catch them before they drop your app and keep them coming back for more.
To learn more, download our full guide, The Ultimate Guide to App Retention or visit Criteo's mobile app advertising platform page.
This is the first in a three-part series of blog posts exploring the issue of mobile app abandonment and what marketers in Asia Pacific can do to increase retention. Next, we'll explore push notifications and email (and their limitations) and app retargeting campaigns.
1Criteo data of 15 highly active app user countries from December 5, 2019-January 8, 2020, n=1,091