The world's biggest annual shopping event, Singles' Day, is known to rake in big sales as businesses engage consumers with festive deals, loyalty promotions, and ecommerce experiences. Following years of steady growth, this year's Singles' Day sales results point to an important shift in how consumers are now approaching the event.  
We looked at Criteo data from hundreds of our partner retailers across Southeast Asia to understand how consumers shopped during this year's Singles' Day and what marketers can learn from the evolving shopping holiday.  
Singles' Day sales point to new customer opportunities ahead
Across Southeast Asia, sales rose +205% on November 11 compared to October 11-17. When looking at the data by country, Singles' Day sales increased +263% in Singapore, +131% in Indonesia, and +79% in Vietnam.  
While the region showed large sales spikes during the weeks leading up to Singles' Day, Southeast Asia's sales were down (-23%) on 11/11 compared to the same date last year. This indicates that, even if the event didn't quite perform the way it did in 2020 and 2021, sales were still very strong, and many consumers were still keen to shop for the best deals and products for their needs. 
Rising prices due to inflation and economic slowdowns in some countries presents the opportunity to pay even closer attention to the needs of consumers and focus on building stronger customer loyalty for the long run. When consumers navigate uncertainty, marketers can meaningfully engage their audiences by delivering experiences that drive customer retention and lifetime value. 
 Singles' Day Retail Sales – Southeast Asia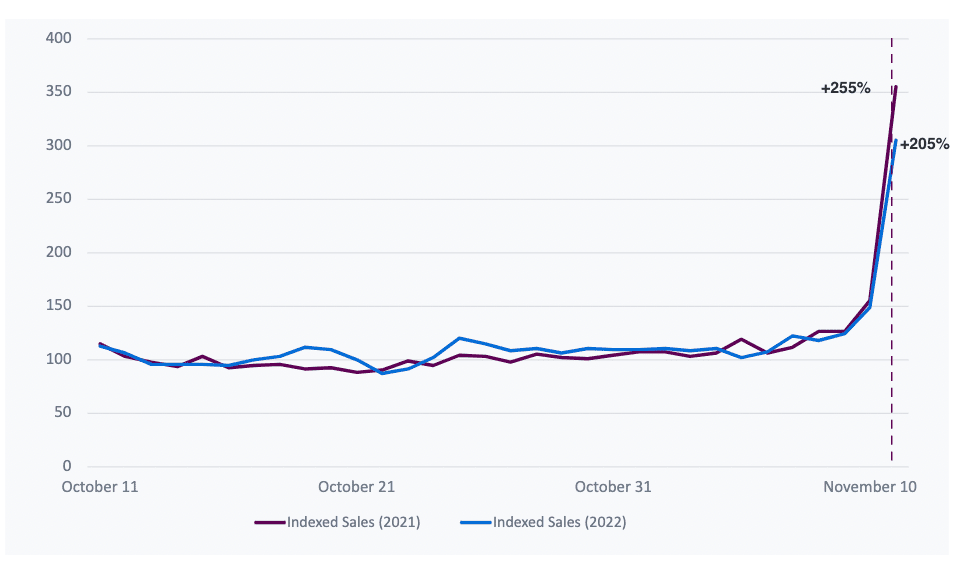 App takes the lead with Singles' Day purchases
When looking at the devices used to complete Singles' Day transactions in Southeast Asia, App and Desktop were in the lead–with App slightly ahead. App purchases showed a +234% increase on November 11 compared to October 11-17. Desktop purchases rose +231%. 
Behind App and Desktop, transactions carried out through Mobile increased +189% on Singles' Day. 
Indexed Singles' Day Retail Sales by Site Type – Southeast Asia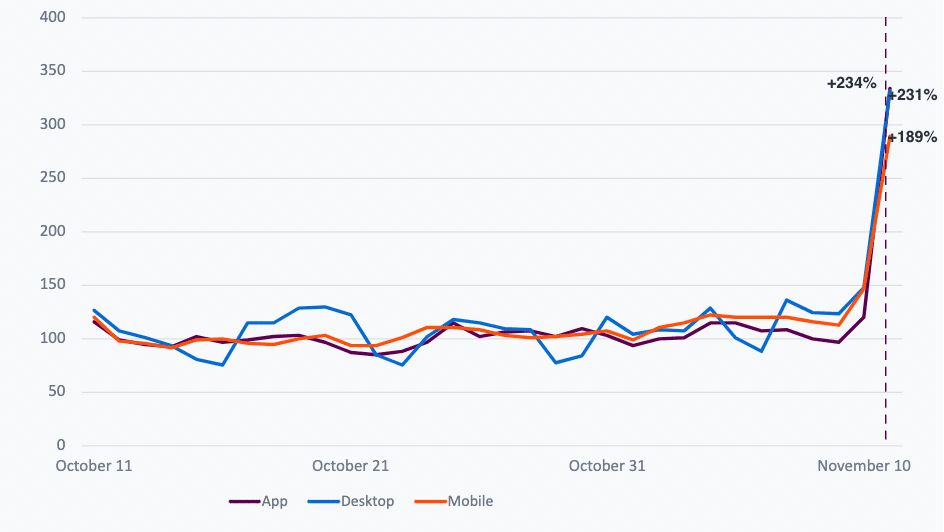 Our data also indicates that consumers tend to complete more purchases via app during promotional events. Share of mobile also increased 13% (+1.3 percentage points) on this year's Singles' Day compared to the previous four Friday's sales.  
Singles' Day Retail Sales Site Type Share – Southeast Asia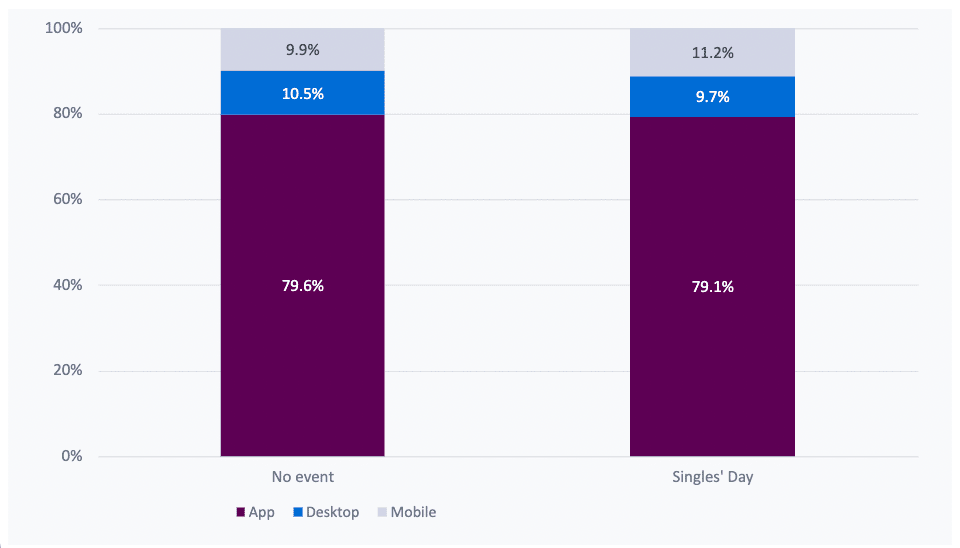 Prepare for the future
Check out our Holiday and Festive Season Playbook on a Page for a guide on how marketers can maximize their advertising for the peak shopping season. This straightforward playbook is packed with audience targeting strategies, backed by Criteo data from more than 22,000 advertisers and $1 trillion in ecommerce sales. 

To dive even deeper into the latest Double Dates trends, visit Criteo's Commerce Trends Dashboard for more global sales data from thousands of our partner retailers.