Each day, Criteo records 600TB of data created by the 1.4B monthly active users in our data pool. This includes people shopping for their next getaway. From more than three billion bookings per year across desktop, mobile sites, and applications, we've compiled our Summer Travel Report 2018 with insights into how and when people are booking travel.
Here's what we found:
1. Europe sees significant increases in summer bookings – just not Germany and the UK
In Europe, travelers booked plenty more travel in the summer of 2017 compared to the average in Q4 2016, with the average increase in June through August as high as 77% for Scandinavia, 79% for Eastern Europe, and 61% for the Netherlands. France saw increases of 62% and Switzerland wasn't far behind with a 54% increase. Yet Germany and the UK saw much smaller increases of summer bookings – just 17% and 35% respectively.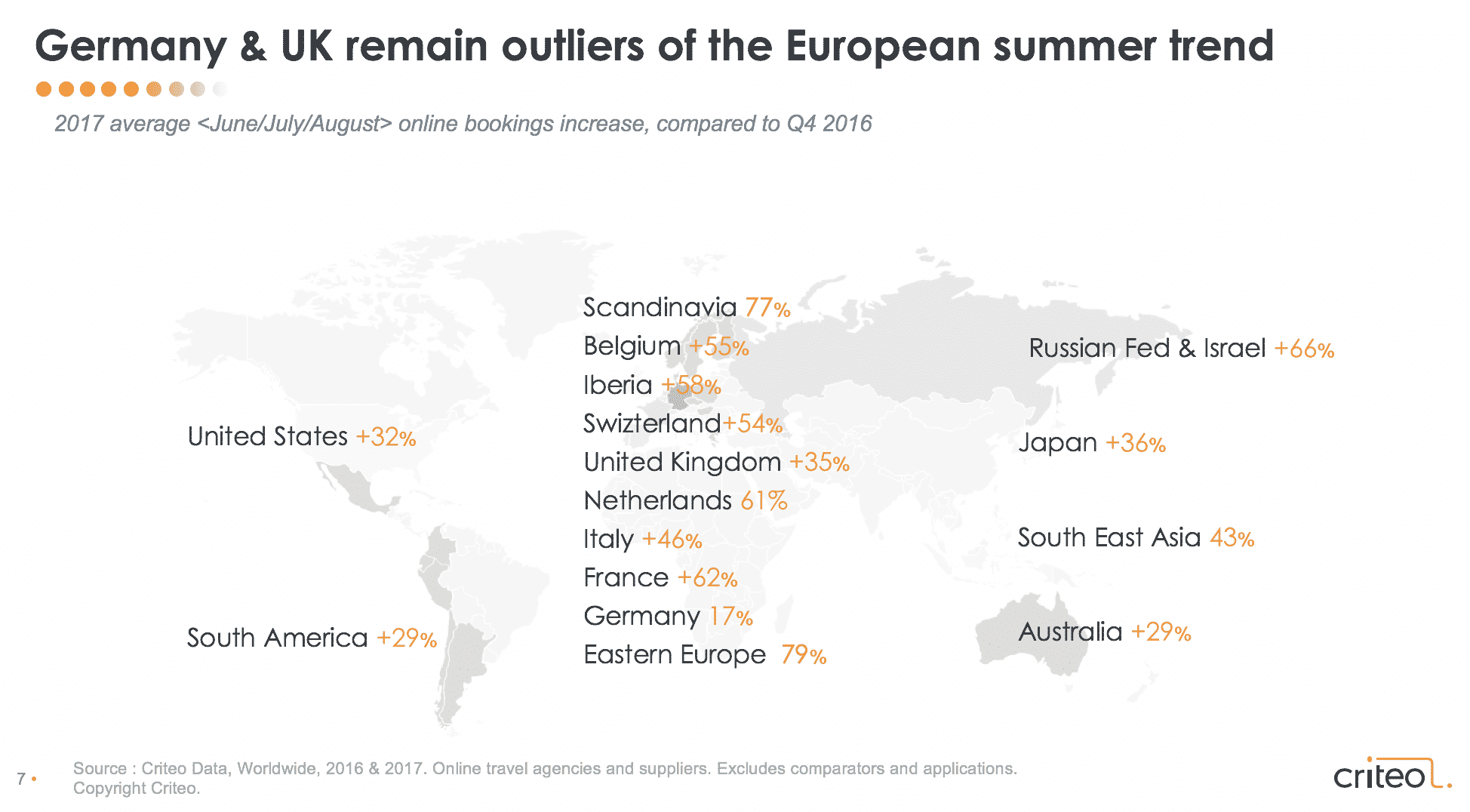 For the UK, the increase is still somewhat significant, but much of the country books travel in January. In Germany, a similar trend is afoot, with the strongest seasonal peak for travel booking in Germany being in Q1. German travel booking behavior revolves around families with kids who, already knowing when their vacations are well in advance, book their travels earlier in the year. Additionally, the German travel industry is heavily active in promoting and advertising in Q1, when huge discounts are available to early bookers.
2. Mobile is the summer hit – growing 3-10X faster than desktop compared to 2016
It's not just Southeast Asia that's seeing a steep rise in mobile usage (55%). South America is close behind with a 49% increase in smartphone bookings vs a 7% increase in desktop bookings, reflecting that today, smartphones account for 60 percent of the 690 million connections in Latin American mobile networks.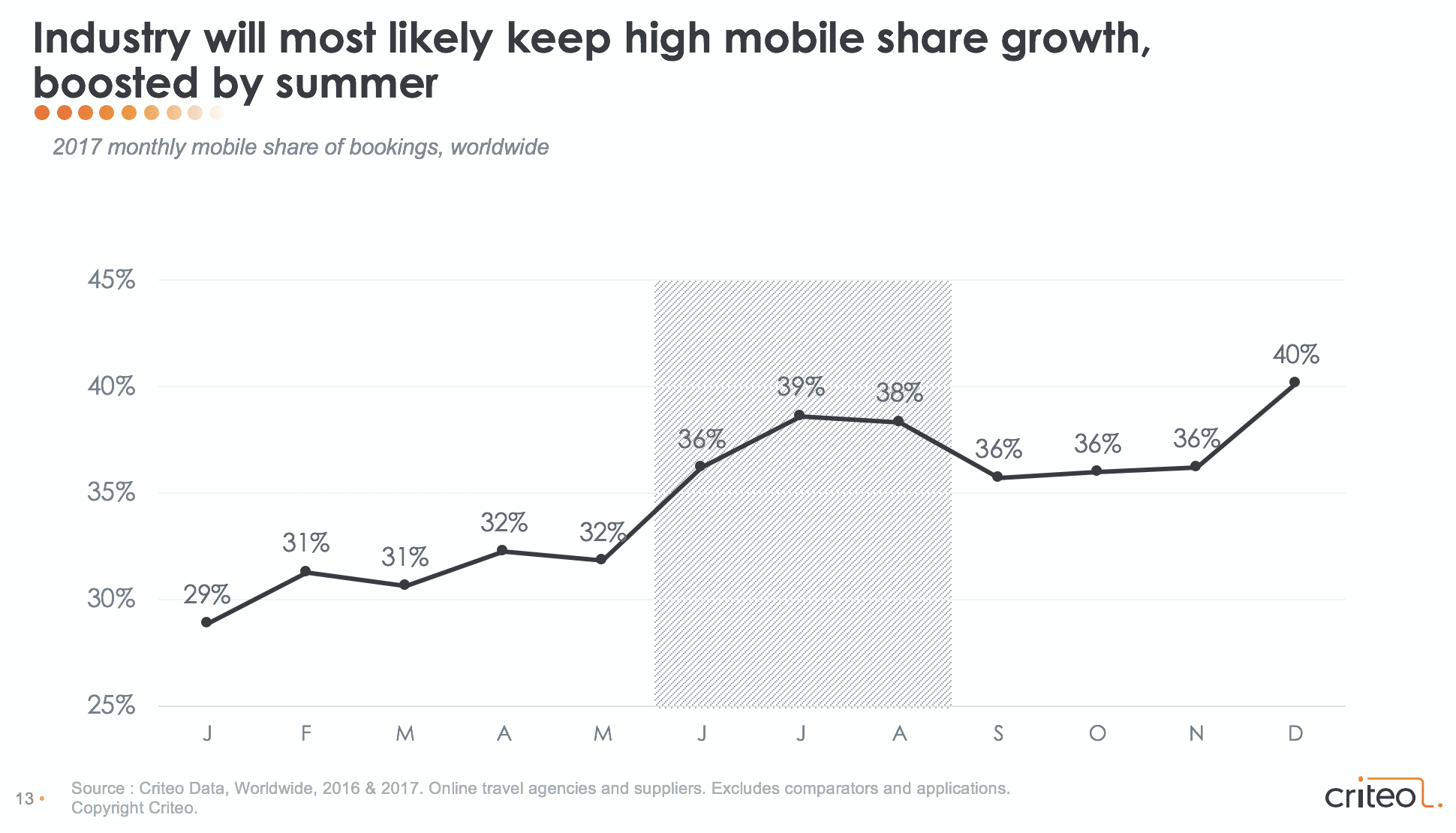 Next is Southern Europe with a 46% increase and Central Europe and MEA with a 39% increase. While this data excludes apps, it shows that booking travel from mobile devices has become so easy shoppers are no longer heading home to their desktops to book their trips, which brings us to our next trend…
3. OTAs capture most of the mobile bookings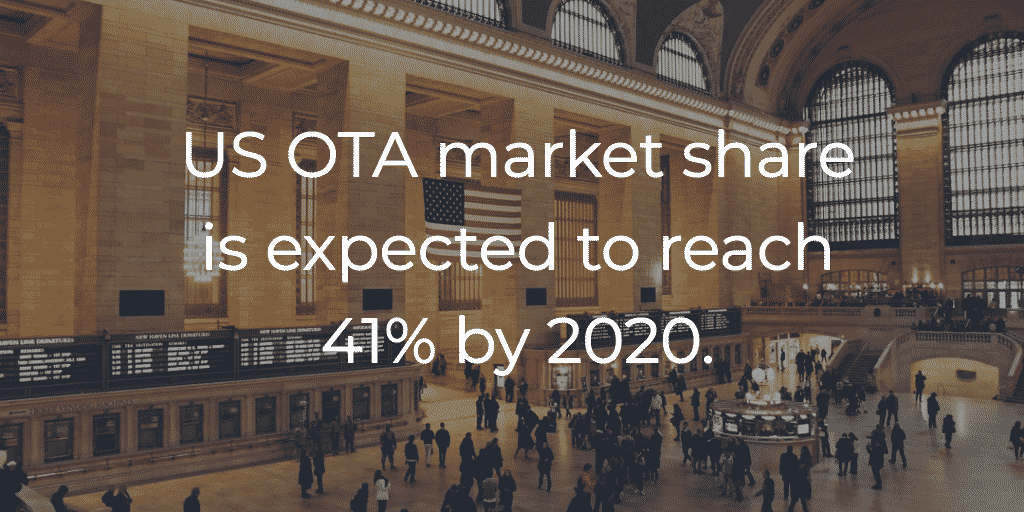 For those in the travel industry, it's long been known that online travel agencies are dominating the travel booking market. Why? They offer more choices and one-stop-shopping than suppliers can, and with the dominance of OTAs like Expedia and Priceline, the US OTA market share is expected to reach 41% by 2020. For now, Criteo data show that OTAs capture most of the mobile bookings: worldwide, 39% of OTA bookings are made on a smartphone, vs. just 10% of supplier bookings.
4. To capture last-minute bookings, mobile is key
More and more, companies like Hotel Tonight and even AirBnb are making it easier to score deals on last minute trips. Though having an app is the best and easiest way to capture these sales, having a seamless mobile experience is the number one asset for both online travel agencies and suppliers to ensure they're where their shoppers are.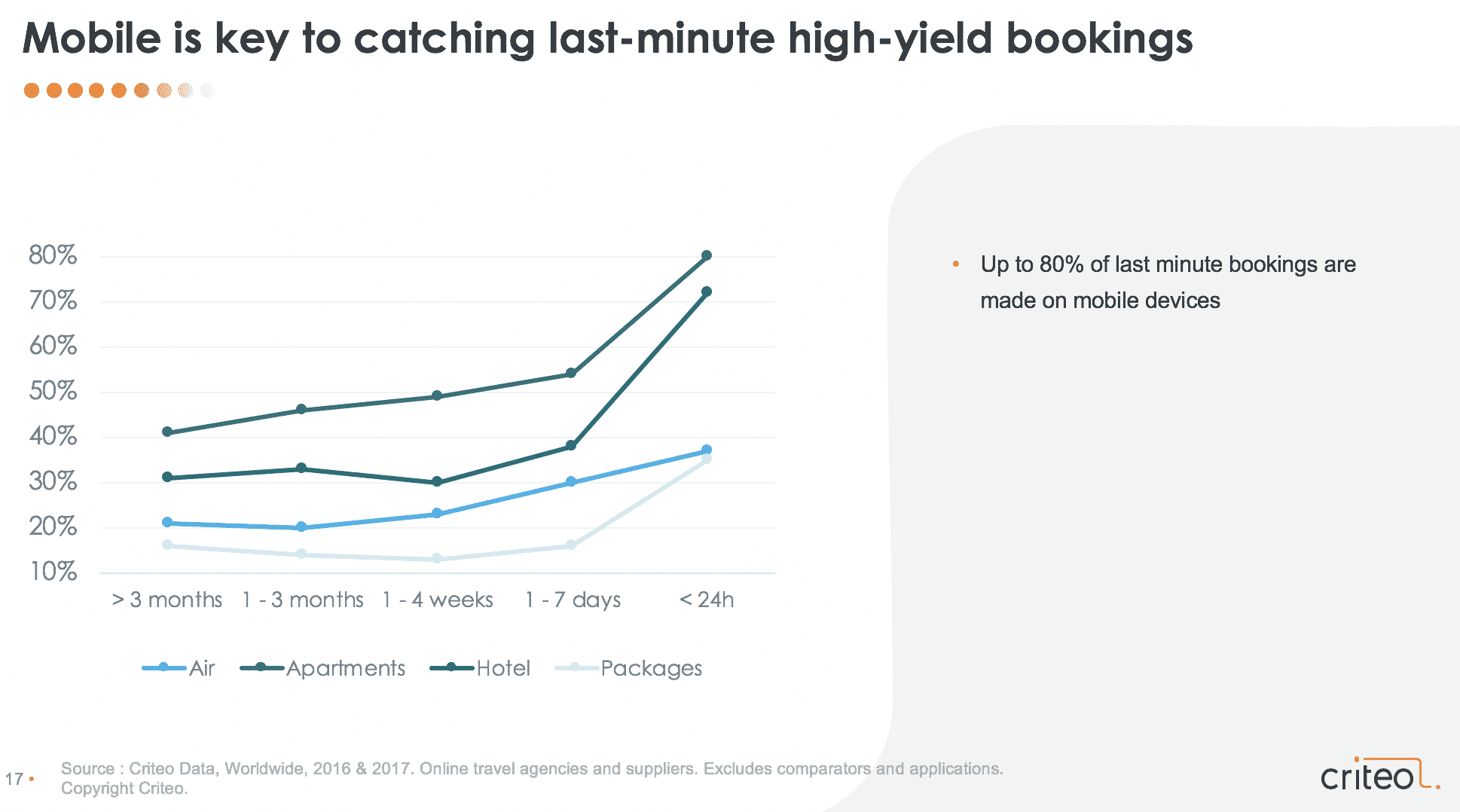 Criteo data show that up to 80% of last-minute bookings are made on mobile devices. With apartments being the top booked item for bookings less than 24 hours in advance. Next up were hotels, with a little over 70% of last-minute bookings made on mobile devices, indicating that people were more likely to book last-minute lodging than airfare, which requires a bit more advanced planning.
(Read more: [RESEARCH] 7 Key Trends for the Travel Industry in 2018)
The Modern Traveler: Cross-Device, App-Focused
Armed with our findings, marketers in South APAC can take advantage of a growing middle class who want to travel while those in Europe should make sure to be in front of travel bookers before summer begins. And for marketers without a strong mobile site or app, now is the time to build one, to capture both long-term and last minute trips, and especially for OTAs. More than anything else, we saw that travel bookers are turning to OTAs to get the deals for where they want to go.
But how do you reach your shoppers when they're considering their trips, and then again, when they're ready to book? The journey for any traveler is often a complicated one. Data is the key to connecting the different pieces of this puzzle, but businesses may need to consider partnering in order to maximize the effectiveness of that data.
Travel agents are relying on mobile marketing more than ever to attract clients and with dynamic retargeting, travel marketers can not only increase ROI, conversion rates, and revenues but also reach more new customers. But Criteo's online travel agent clients around the world already knew this. Check out how Italy's Bravofly, Spain's Atrápalo, and South Korea's Interpark Tour all increased ROI with Criteo's Dynamic Retargeting.